Eye Candy: We Talk Urban Farming with Eugene Chua of Citizen Farm and Edible Garden City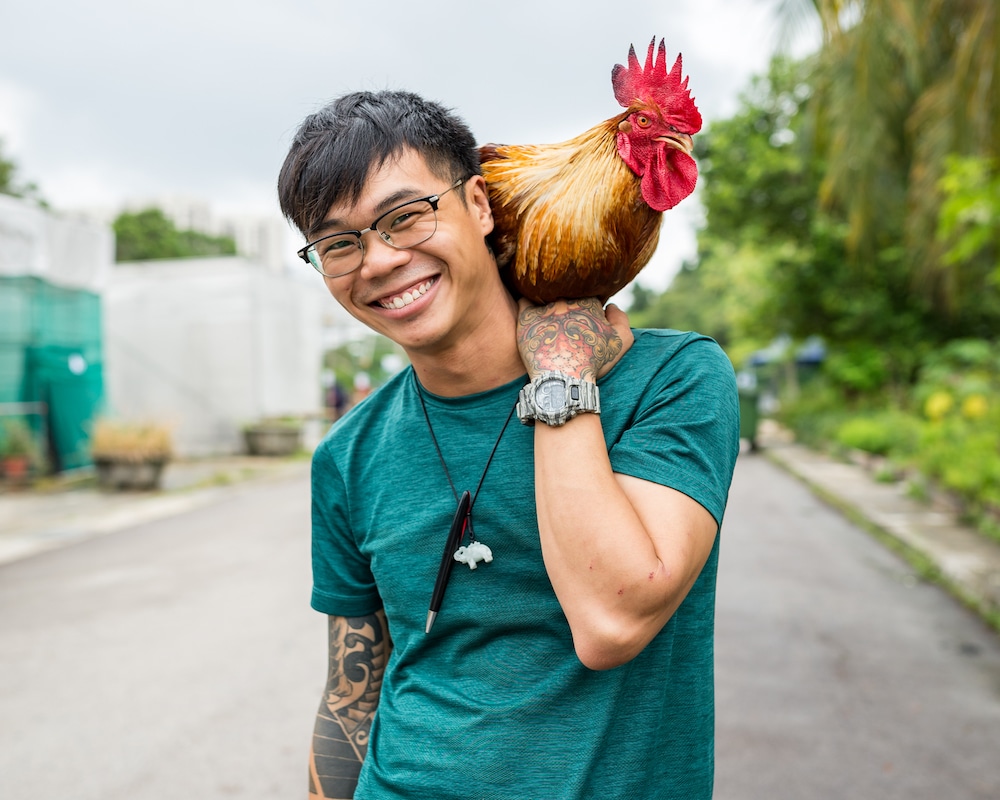 PUBLISHED November 23rd, 2018 06:00 am
Three years ago, we first met Eugene at
FRESH!
– a now-defunct
cocktail bar
that paid tribute to local flavours and pop culture of the 90s. Earlier this year, we certainly didn't expect to be sitting at the judging table of La Maison Cointreau Singapore 2018's semi-finals together at his current workplace,
Citizen Farm
. Intrigued by the switch in profession, we spoke the friendly bartender-turned-urban farmer on how urban farming can be sustainable, edible plants beyond farming, and his favourite farm animals.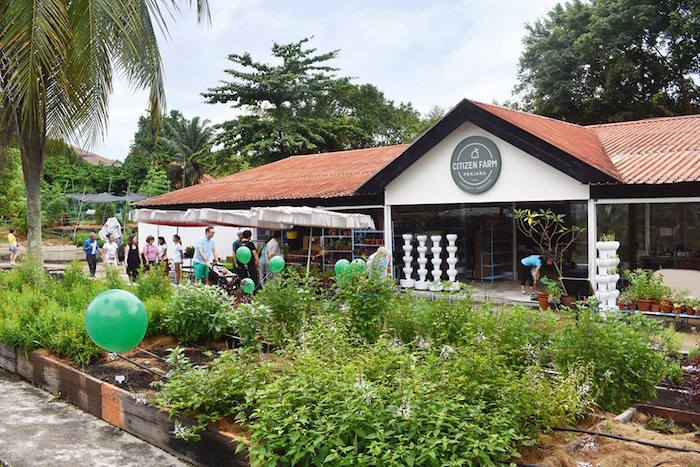 Hi

Eugene

! We previously saw you behind the bar at the now-defunct FRESH! on Jalan Sultan in 2015; how and what got you into farming in the last three years?
After FRESH!, I spent 2 years traveling to many parts of the world, as a form of self enlightenment. Being someone who loves produce and nature, I got into farming in late 2017, as the industry in Singapore is still developing and not many establishments are keen to hiring individuals without prior experience. Eventually, the friendly folks at Citizen Farm accepted me into their young team of aspiring farmers.
Tell us more about the Citizen Farm model. How does it work and how is it sustainable?
Citizen Farm incorporates both traditional and modern farming in an urban setting, as we sit in the middle of a dense residential area. We champion the 'Grow Your Own Food' movement in Singapore, to educate the public about the importance of local food supply, as 90% of our food is imported. Though without 'Organic' certification, we took it upon ourselves to grow our produce naturally, without the use of any form of chemicals or pesticides.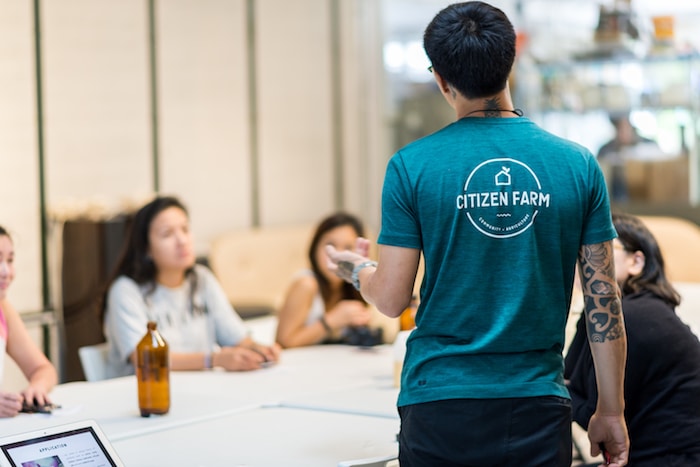 As it is our social responsibility to grow food whilst leaving little to no impact on the land, our farming systems correlate with one another, to what we refer as circular economy. Meaning the wastes generated by one model, is supplemented in another as a form of material; such as compost or insect feed. Our team also collects waste like spent coffee grounds, cocoa husks and general food waste from establishments such as hotels, food manufacturers, restaurants and even residents who stay nearby. One man's trash, is another man's gold.
Any interesting stories from your first week on the farm?
As the farm is situated in an area with heavy vegetation, my first week's experience was fun-filled with activities like catching and relocating spitting cobras to a better habitat and even interacting with the vibrant wildlife that resides around our premises. I even made friends with a really big rooster, conveniently named KFC; he followed me everywhere like a pet dog would.
How do you think your bartending background has helped you in the pursuit of urban farming?
Bartending involves the understanding of flavours, both spirits and produce alike, and the ability to manipulate these flavours to your bidding. Therefore, it was easier to identify the wide array of flavours from our produce. Armed with such knowledge, I could confidently recommend produce to our clients, or of ways they could employ it into their craft.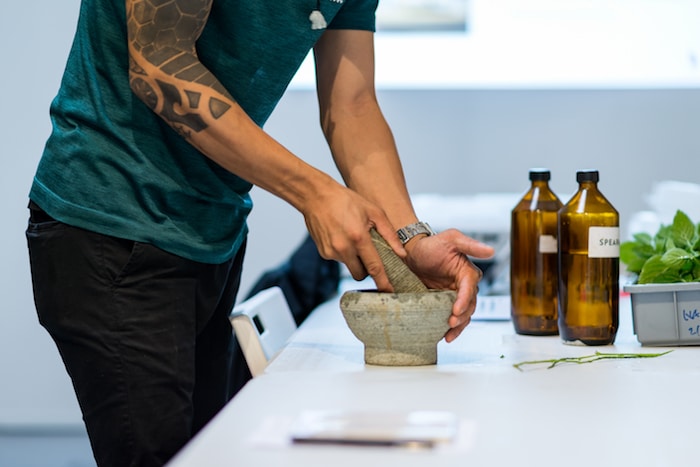 We hear that you're making your own hydrosols and balms too. Tell us more about the project, will you be retailing them soon?
Besides being edible, many plants have vast medicinal properties if we look to identify the benefits of such compounds within. Through extensive research and testing, I employ them in the formulation of healing salves, soaps and hydrosol body mists. My goal was to reintroduce natural remedies that people can make at home, free of harmful chemicals and preservatives, as my target audience were individuals who suffer from eczema/atopic dermatitis. Such a practice was usually associated with an apothecary, someone who has in depth knowledge on natural healing.
As we are still in the development stage, it would take some time before we launch the products for retail, so that we can further improve our formulas.
What are the unseen roles of your job as an urban farmer that people tend to not realise?
We have daily tasks such as removing weeds, hot composting, plant propagation and even general housekeeping to maintain a productive yet tidy farm as we host many public workshops, as an outreach to the masses.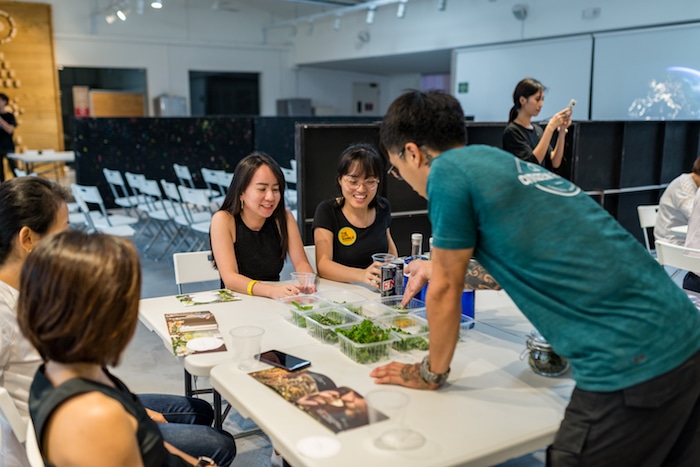 A silly question, but indulge us. Which are your three favourite animals on Citizen Farm?
First would be our pet rooster, Popeyes. He's the biggest of the 9 chickens that we care for. Followed by random snake encounters as I love them all, venomous or not. Lastly, it would the Hornbills that snack on the fruit from the fruit trees around the farm.
Before we go, any advice for people who might be interested in following in your footsteps and getting their hands dirty?
Don't let the elements of nature scare you, come engage and embrace. There is so much to learn in the great outdoors than in a classroom!
Top Image: Eugene with Popeyes, his favourite animal on Citizen Farm
All images courtesy of Eugene Chua and Citizen Farm.