7 Fabulous Restaurants & Bars at Esplanade Theatres on the Bay in Singapore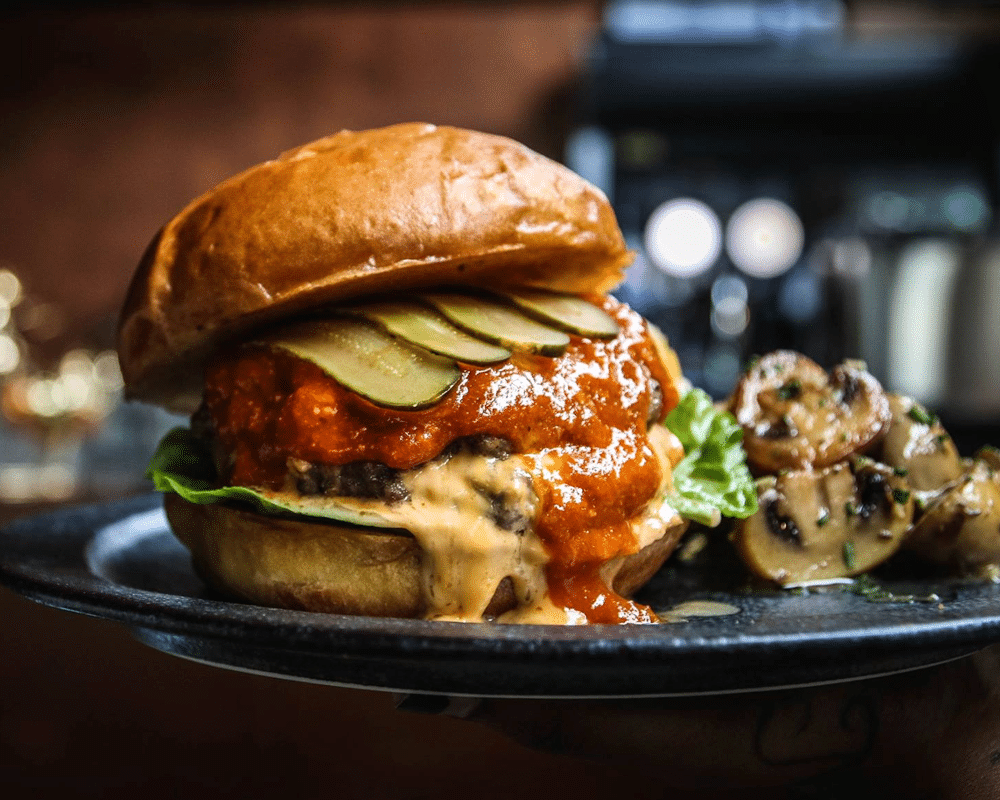 PUBLISHED April 11th, 2017 07:00 am | UPDATED December 21st, 2017 02:25 pm
Catching a performance at The Esplanade? Then you're well-positioned to make a night out of it, since the sprawling complex is itself host to a number of restaurants and bars. A pre-theatre dinner is the perfect prelude to the evening ahead; and sometimes ending the night straight after a performance can seem too abrupt, so round things up with a drink or two. Here's our pick of 7 restaurants and bars at the Esplanade to do just that.
Mischief

Founded by the owners of Rookery, Suprette, and TAB, along with actresses Cynthia Koh and Michelle Chong, Mischief is a playful and casual venue dishing out classic American street favourites like the Philly Cheesesteak, Chicken Waffle, and Sloppy Joe. Amidst the chilled out atmosphere, fearlessly funky drinks – from signatures cocktails and sangrias to wines and beers – are served up by dozens. And If you're not stuffed yet, how about sweet treats like the Muchos Churros and Nutella Addict?
Mischief is located at #01-10, 1 Esplanade Dr, Singapore 038981, p. +65 6532 0481. Open Mon-Thu 5pm – 1am, Fri-Sat 5pm – 3am, Sun 5pm – 11pm.
Alter Ego

Aptly named, Alter Ego is the other half of A Poke Theory, the Hawaiian poké joint along Boon Tat Street. You'll find the same bowls here by day, but once the sun goes down, look forward to sinking your teeth into unapologetically sinful bar grub (Pizza Fries, Grilled Cheese, Southern Fried Chicken Sandwich), IPAs, and all kinds of craft beers against the unrivalled backdrop of Marina Bay. Grungy, edgy, and 'underground', there's no better space to unleash the appetite of your alter ego.
Alter Ego is located at #01-13D, 1 Esplanade Dr, Singapore 038981, p. +65 6327 9301. Open Mon-Thu 11am – 11pm, Fri 11am – 2am, Sat 11am – 2am, Sun 11am – 11pm.
Wah Kee Big Prawn Noodle

Since its Pek Kio flagship stall was founded in 1951, Wah Kee's signature dish has been its flavourful prawn noodles, winning the hearts of gourmands all around the world – even Hong Kong superstar Chow Yun-fat. The Esplanade restaurant sees the same gigantic prawns, perfectly-firm noodles, and robust soup coming together in one dish, at more or less the same price as the original. But that's not all: other seafood dishes here include Boston lobster, oysters, flower crabs, and blue mussels.
Wah Kee Big Prawn Noodle is located at #01-13C, 1 Esplanade Dr, Singapore 038981, p. +65 6327 9187. Open Sun-Thu 11am – 2.30pm, 5pm – 10.30pm, Fri-Sat 11am – 2.30pm, 5pm – 11.30pm.
Suzette

This little dessert bar offers up familiar and comforting desserts, with a touch of playfulness in terms of flavour pairings, whether it's the White Chocolate Durian Tart or Ice Cream Waffle. Head down from Tuesday to Friday to enjoy delectable $18 brunch sets, and if you want to picnic out in the lawn, Suzette has you covered with picnic baskets and mats, along with darn good coffee and cakes. Try a cocktail too; the gin-based Miss Suzette with orange liqueur, strawberry, and vermouth; or whiskey-based Monkey Business with banana liqueur, maple, and bitters.
Suzette is located at #01-13E, 1 Esplanade Dr, Singapore 038981, p. +65 9387 0743. Open Mon-Tue 12pm – 7pm, Wed-Thu 12pm – 10pm, Fri-Sat 12pm – 11pm, Sun 12pm – 9.30pm. Brunch hours daily 12pm – 5pm.
Restaurant Labyrinth

"Excuse me, there's er, chilli crab in my ice-cream." More a lab than a restaurant, Labyrinth is all about exploration and creating experiences. Singapore chef Han Liguang reinterprets traditional recipes and local cuisines to take diners on a culinary journey that challenges the very perception of fine dining. It's difficult, but imagine the likes of roasted pork served on risotto cooked in ramen broth; and chendol – a collection of red bean, coconut spheres, and grass jelly cubes wrapped in a xiao long bao.
Restaurant Labyrinth is located at #02-23, 1 Esplanade Dr, Singapore 038981, p. +65 6223 4098. Open Mon-Fri 12pm – 2.30pm, 5.30pm – 11.30pm, Sat-Sun 5.30pm – 11.30pm.

Tomo Izakaya

Compared to the traditional pubs frequented by Japanese salarymen, Tomo's modern izakaya-style dining is more refined. Every dish – from sushi to soba – is paired with sake, shochu, beer, wine, or other spirits, made with the freshest ingredients. And the happy hour? A glass of Sapporo premium beer at $5.50 every day from 5pm to 7pm.
Tomo Izakaya is located at #01-09, 1 Esplanade Dr, Singapore 038981, p. +65 6333 0012. Open Sun-Thu 12pm – 3pm, 5pm – 11pm, Fri-Sat 12pm – 3pm, 5pm – 1am.
Orgo

This list wouldn't be complete without the mention of Orgo. Located on Esplanade's roof, let bartenders Satoshi Iwai and Uno Jang shake up some delicious cocktails (pro tip: get the Watermelon and Chilli Martini) while you watch the people mill below. Using only the finest fresh ingredients in its extensive menu, Orgo's drinks can also be complemented with a modern Spanish tapas and French dining experience.
Orgo is located at #04-01, 1 Esplanade Dr, Singapore 038981, p. +65 6336 9366. Open Sun-Wed 6pm – 1am, Thu-Sat 6pm – 2am.
---
Top Image: Alter Ego