Forlino: Where sublime views and excellent food await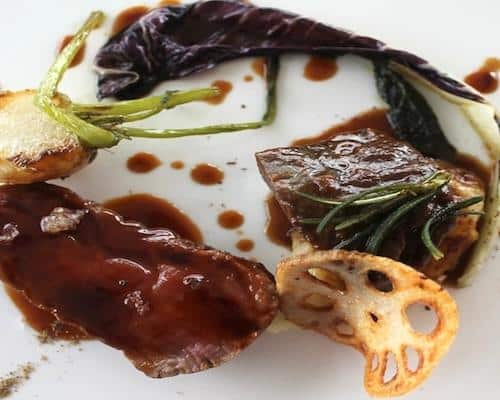 PUBLISHED March 7th, 2013 02:03 am | UPDATED May 30th, 2016 03:06 pm

Restaurants with killer views love to trumpet their scenic surrounds, therein lies the potential of gastronomic hubris – is the food also en par in standard?
Forlino is a success story that shows that sublime views and excellent food do not have to be at odds. While taking in the picture-perfect, if not slightly touristy, collage of Marina Bay Sands, Singapore River, the Merlion and the ArtScience Museum, you can also gush and fawn at the premium culinary masterpieces set before you.
A small mound of Stracciatella cheese with Datterini tomatoes is a celebration of Italian simplicity and an exercise at finessed seasoning. Just the right amount of salt and pepper lifted the flavour of the caprese salad interpretation of stretchy mozzarella-like cheese and sweet rounds of tomato.
A Sea Bream Carpaccio is an exemplar of the growing affinity to flat plating presentations, away from stacked arrangements of yesteryears, consisting of the raw fish arranged to form a perfect, almost two-dimensional wheel. It is embellished with dots of champagne mayonnaise, leaves of microgreens and pearls of caviar, equal parts clean, fresh flavours and eye-catching, artful plating.
In between bites of fragrant, housemade focaccia, served complimentary with streamers of parmesan cheese the thinness of pencil shavings and the lightness of air, take time to soak up the understated elegance of the dining room. Feel the crispness of the starched tablecloths, take in the golden baroque accents, or listen to the soft murmur of lunchtime tai-tais or the showy laughter of lunchtime executive types.
Your tasting proceeds as the poised server arrives again with his much-rehearsed dish explanation, 'This is the Tagliolini pasta with Pancetta and Truffle.' It is a comforting dish, with bacon flavours thoroughly imparted to the firm noodles. The truffle shavings, however, are upstaged by the rich, creamy pasta, an unnecessary addition, and a very expensive one at it.
But true mastery is evident in Head Chef Kentaro's main of a Wagyu Duo. On one side is a beef cheek cooked till its fibers surrender to the long braise, soft and flavourful like a well-executed beef rendang, except that it's dressed in a coffee sauce. A crispy lotus root, a half of a small roasted potato and mashed potatoes which has a playdough texture but a surprising buttery richness separates the other half – a textbook version of a beef tenderloin done medium rare and fatty enough for successive, hearty bites. A drizzle of marsala sauce is an aromatic and classic accompaniment.
In a restaurant where beauty is more than just what lies before the eyes, you are likely to find dishes with nuanced flavours and painstakingly constructed components. At Forlino, you're in for a visual feast, but more importantly, a gastronomic adventure.
The above degustation menu, in addition to a choice of dessert, is priced at $108++.
---
Written by Mr Nom Nom
On this occasion, the meal was compliments of Forlino