The Greenhouse at Nosh: Garden Dining in Rochester Park, Singapore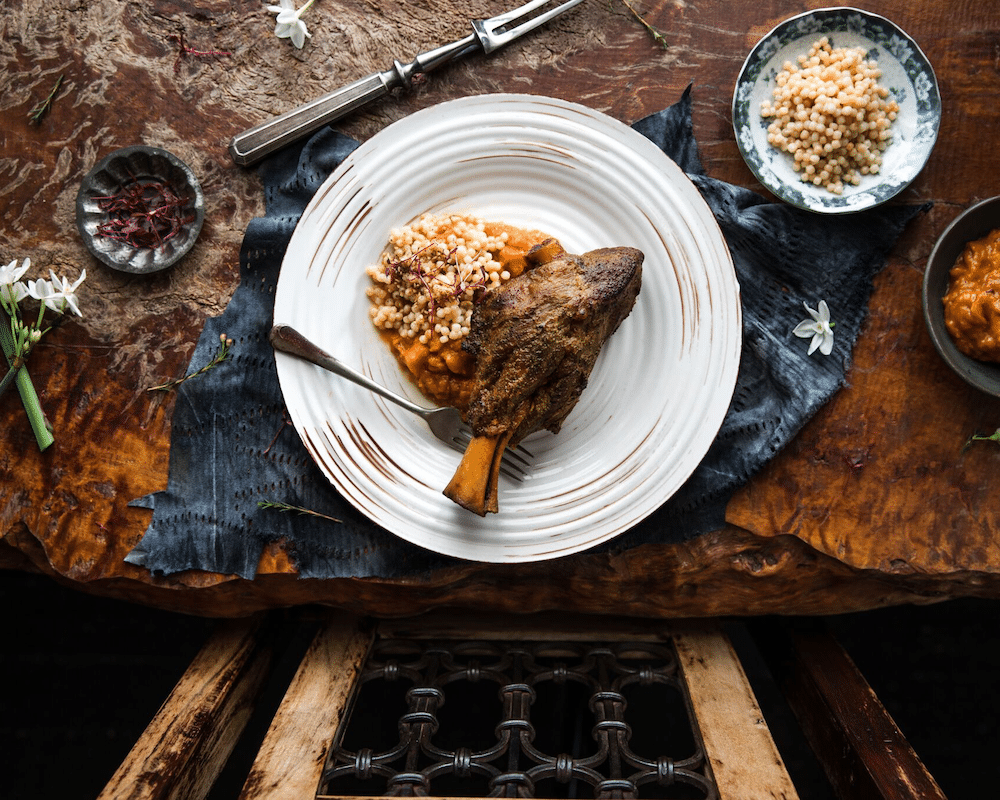 PUBLISHED August 14th, 2017 11:16 am | UPDATED November 10th, 2017 12:13 pm
Update: Nosh is slated to move out from One Rochester at the end of 2017
Nestled in a lush tropical forest setting, The Greenhouse at Nosh is a great urban respite from the rush of city life. Boasting an expansive al fresco area littered with portable fans, it's the one place other than the beach where you'll appreciate Singapore's balmy climate. At this beautiful Rochester Park establishment, you'll be able to escape the painful predicament of sand in your clothes while still soaking up the equator's best Vitamin D to your heart's content.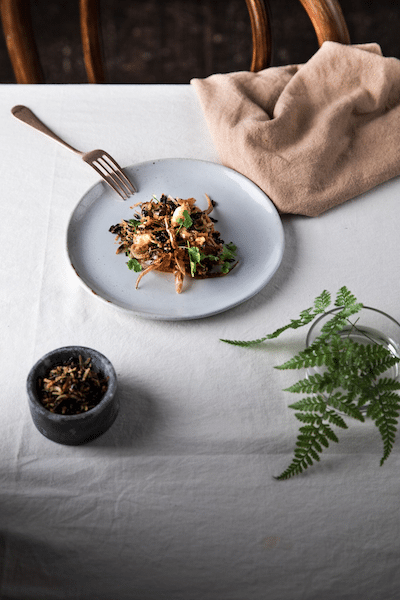 Bursting with summery flavours to fit the location, the Thyme Ricotta ($10) sees buttery homemade ricotta, zesty pomegranate and earthy hazelnuts bound together with a sweet lemon confit. Bright and colourful, it's a pretty dish that brings to mind tropical holidays and sunny picnics. Serving up stronger flavours is the Iberico Jowl ($17), a generous slab of slow cooked pork jowl that's coated in stout glaze and finished on a charcoal grill. The intricate cooking process results in a tender meat that perfumes each bite with an umami aroma. Accompanying it is kimchi apple and scallion, which kept the dish from being too heavy.
United by a common Asian theme, the different elements of the Soft Shell Crab ($18) create an unexpected, addictive starter. The familiar flavours of tempura soft shell crab are complemented with a mild red coconut curry, while popped wild rice and sambal coconut flakes keep things crunchy. Savoury, briny, and delightfully crispy, this is definitely an elevated dish for soft shell crab lovers out there.
Inspired by an ancient North African recipe for roasting whole lambs, the Lamb Shank Méchoui ($30) is a meaty, hearty main that doesn't let its source material down. The fragrant lamb is the product of a four-hour slow roast and a comprehensive ras el hanout spice blend made of cloves, cinnamon, coriander, cumin, turmeric, and ginger. Mellowing these flavours out is a sweet potato ragout and pearl couscous that rest below the hunk of lamb, serving as a perfect landing spot and vessel for any precious drippings.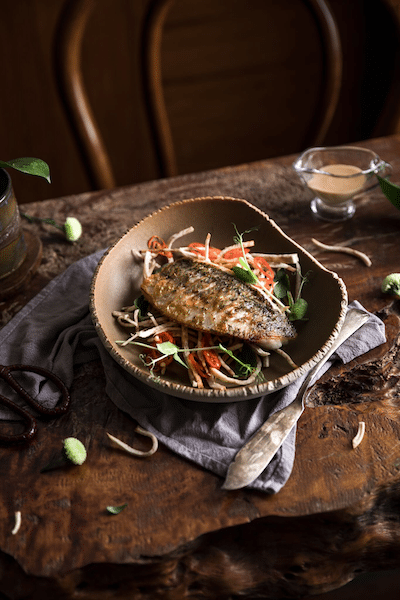 Similarly satisfying is the Braised Beef Short Rib ($32), which is dressed in a bourbon glaze and braised overnight with lemongrass and star anise. The result is a complex, tender meat that's paired with an orange watercress salad and cauliflower. Smoked with hickory, the woody, meaty cauliflower proved to be a standout with its incredible depth of flavour.
An easy choice for the hungry pesectarian, the Pan Roasted Barramundi ($28) is certainly not the diet-friendly light fish dish you'd expect. Served with a creamy coconut-tamarind velouté, which went excellently with the thin strips of deep fried taro chips on the side, it's one of the heartier fish options around. Sweet and fragrant, the velouté was flavoured with lemongrass, kaffir lime, and thai basil picked straight from Nosh's charming herb garden.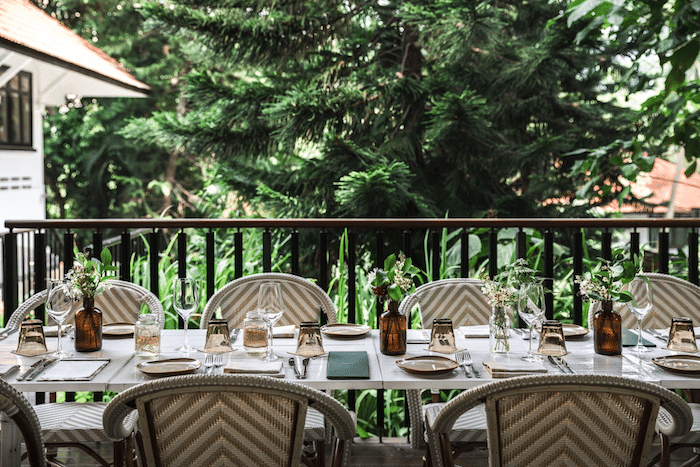 For dessert, the Chocolate Coconut Beignet ($14) is a must-order. Deep fried and contrasted with cold vanilla ice cream, the warm beignet hides a molten chocolate core that is cut through with chempedak. A unique addition that replaces the traditional banana-and-chocolate combination, the robust chempedak prevents the desert from becoming too sugary despite its gula melaka glaze and coconut milk ganache.
With its globally influenced dishes and nature-centric ingredients, the food at the Greenhouse at Nosh proves to be an interesting culinary adventure. That, paired with the beautiful surroundings and relaxing atmosphere, make the outlet an excellent spot to spend breezy afternoons, languid evenings, and candlelit nights, no sunscreen necessary.
The Greenhouse at Nosh is located at 9 Rochester Park, Singapore 139220, p +65 9755 5015. Open Wed – Sun 6pm – 10.30pm (dinner) and Sat – Sun 10.30am – 3pm (weekend brunch). 
Update: Nosh is slated to move out from One Rochester at the end of 2017