Review: District6 Co-Working Space in Bras Basah, Singapore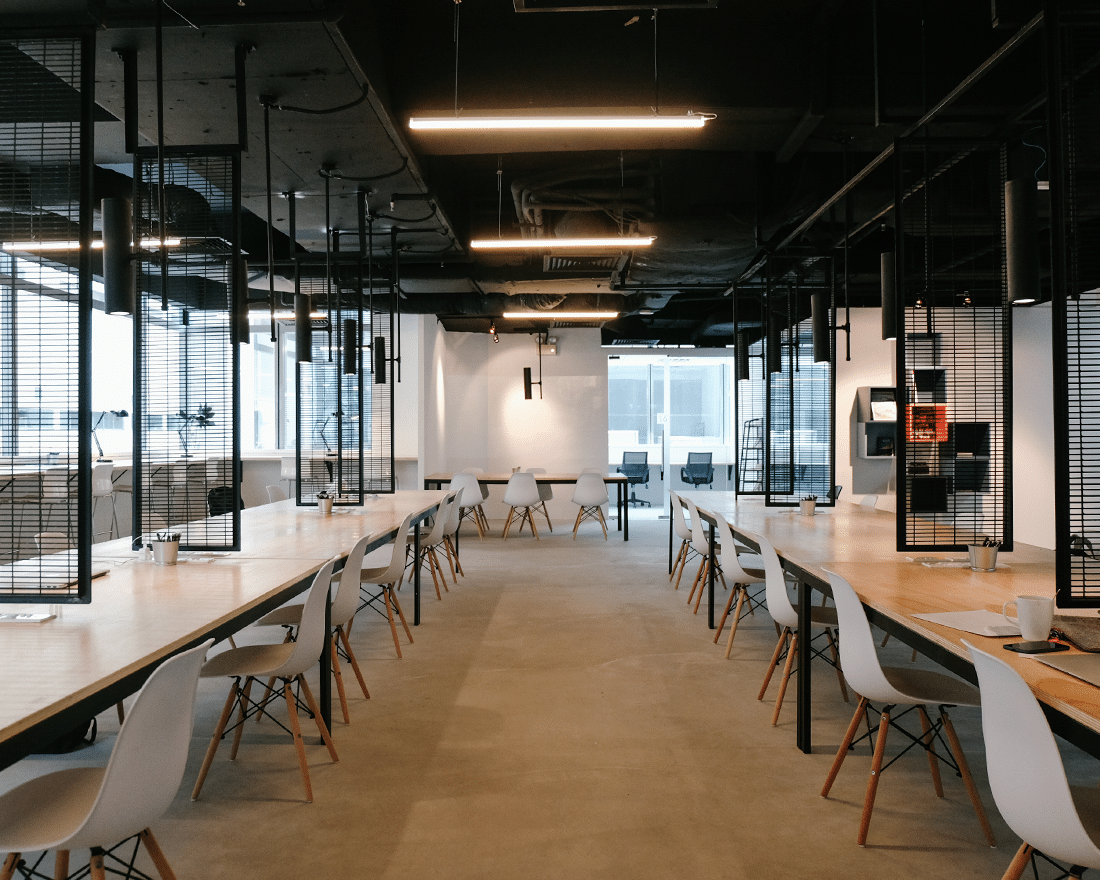 PUBLISHED August 14th, 2017 01:00 pm | UPDATED May 18th, 2020 04:57 pm
Remember the old Supperclub at Odeon Towers in Singapore, where many a rambunctious party used to be held? Years after its closure, there's a new cool spot in its place, only it's not a nightlife destination – unless you consider late working hours to be your idea of fun. District6, named for the district around City Hall, is the island's latest co-working space, and one of many that have sprouted out in the neighbourhood.
As Singapore becomes smarter and more integrated with tech, the traditional idea of office life is rapidly evolving, and District6 is all set to cater for that. Launched by InSitu Asia (the folks behind Aria Villas Ubud and Origin Ubud) at the end of June, this exciting space is striking in plenty of ways.
---
Read our interview with District6's co-founder Yuta Oka here.
---

District6 is catered towards those in the fields of urban planning, real estate, creators, artisans, designers, and lifestyle industry, and has already established a sizeable community from a great number of backgrounds. The point, after all, is to meet like-minded people and form partnerships and relationships with people who share similar ambitions and interests.
Design
First, a moment of silence to appreciate the astounding design of the place, courtesy of Singapore-based architectural firm studiogoto. Located on the second floor, step in and you'll be greeted with an expansive Modern European space that's plenty sleek. Think concrete floors, grey toned walls, royal blue arm chairs, and everything that would excite even the most critical aesthete.
A key feature in the Living Room is the Message Pillar interactive digital installation, developed by Japanese company teamLab. Glass walls, doors, and floor-to-ceiling windows across the entire floor allow for plenty of natural light to come through. It's a very minimalist, clean, and airy space, relying not on too many details but rather the lack thereof.
Facilities
Small meeting rooms for full privacy, dedicated phone booths for Skype calls or otherwise, and a large boardroom for big meetings – they have it all. There's a cosy pantry room for your meals or tea breaks, and an in-house speciality cafe operated by Kurasu from Kyoto with excellent coffee, sourced from premium roasters around Japan to keep you going throughout the day.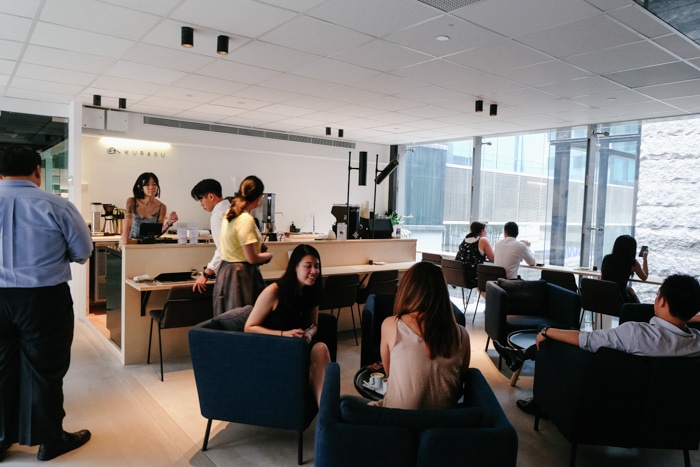 And that's not the only perk: District6 is located directly below Loof rooftop bar, which is unimaginably convenient for an after-work drink or two. And of course, members get a discounted price.
Need to organise an event of some sort? The event space, which holds up to 100 people, is highly flexible, equipped with a bar, and complete with an eight-metre high ceiling with projectable walls. Plus, expect amazing business support from the District6 team (or space guardians, as we like to call them).
Office Offerings
The office sections are all properly secured with biometric fingerprint scanners, so that's really cool. Memberships at District6 range from day-passes to private offices. A limited hot-desking package, for 10 weekdays of access a month, starts from $250, while an unlimited hot-desking plan (which is to say, 24-hour access and complimentary storage) goes from $450.

Fixed desks ($650) are best if you prefer to have your own space, which is located in a separate, less crowded area with lockable drawers. As a boon, each room also has a shared whiteboard for those creative brainstorming sessions.
Want a private office? The good folks here will be able to handle that for you as well. Studios can fit two to six people teams, while those with up to 12 can look at a larger office suite. Some even have high-resolution MIMIO projectors installed!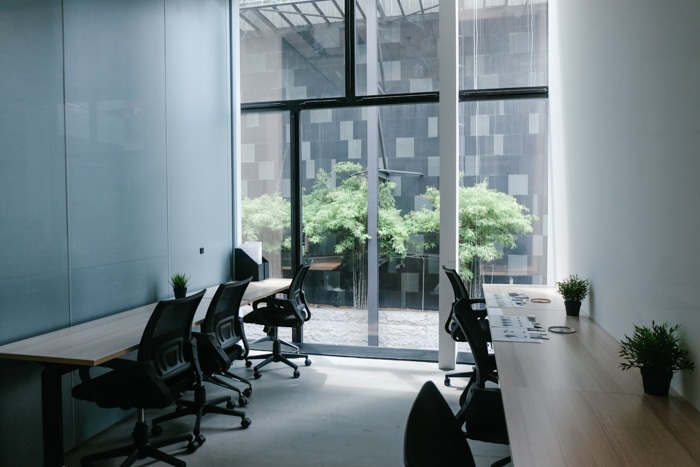 Our verdict? District6 is a gorgeous, well-designed co-working space with all the facilities and offerings that individuals, start-ups, and smaller companies will need to operate effectively and grow. The location is a huge plus, being located with walking distance of three MRT stations (City Hall, Bugis, and Bras Basah) across four train lines. The prices are also attractive, with great perks at both Kurasu and Loof. If you're looking for an inspiring workspace that gathers people from a range of backgrounds and industries, this is one of your best best at the moment.
District6 is located at #02-01 Odeon Towers, 331 North Bridge Rd, Singapore 188720. For enquiries about the space, please call +65 6914 2677 or email to [email protected].