Hotel Review: Moxy Is The Hippest Milliennial-Friendly Hotel in Bandung, Indonesia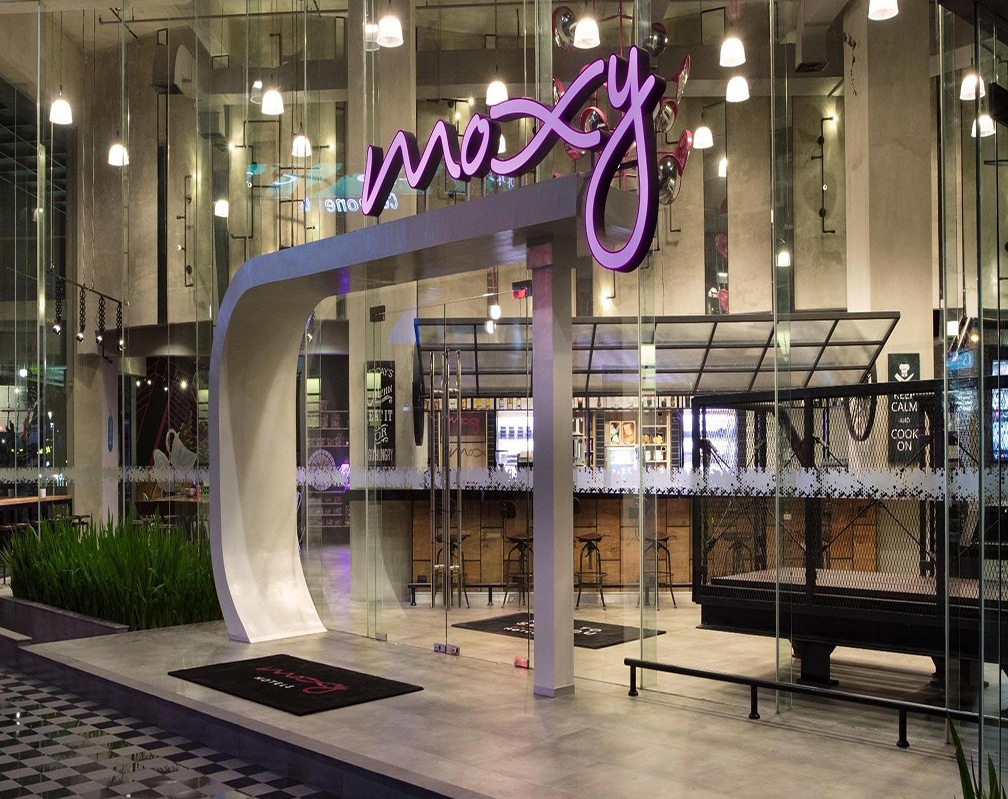 PUBLISHED April 13th, 2018 07:00 am | UPDATED March 26th, 2019 05:39 pm
Surrounded by volcanic mountains, Bandung in Indonesia makes for beautiful outdoor trekking trips out of the city. Inside though, the place that's catching eyes and getting all the attention is the year-old Moxy Bandung.
In a city with a noticeably young population (a lot of Indonesian universities are situated there), the hotel has the advantage of being situated in the Wetan neighbourhood, where many of Bandung's subculture stores, bars, clubs, and cafes are located. And for a millennial-focused brand like Moxy, there is hardly a place more ideal.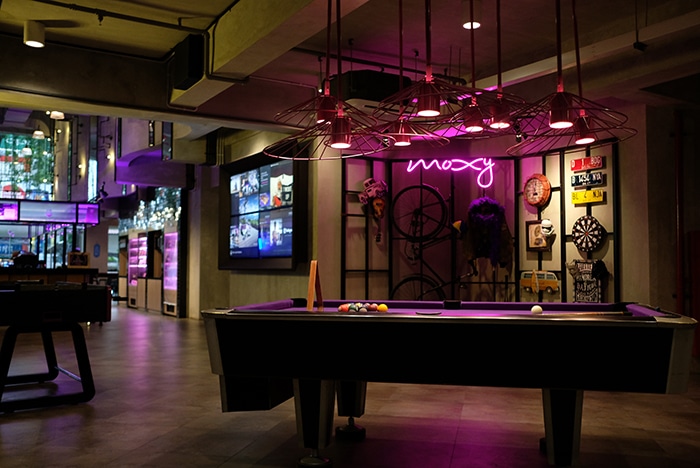 The Moxy concept is developed by hospitality giant Marriott, and purposely focuses on attracting millennials and fun-hunting people. Its first property launched at Milan's Malpensa Airport in 2014, and since then, 13 others have opened around the world, including London and Tokyo. As for Moxy Bandung, it's the first in Southeast Asia.
When it comes to design, the property is all about varying shades of magenta and pink, from its neon lip stick signs to the ubiquitous ambient lights, furnitures, and accessories. Even the pool table top in the lobby, as well as the custom-build vinyl player that plays your favourite music upon entering the room, is magenta.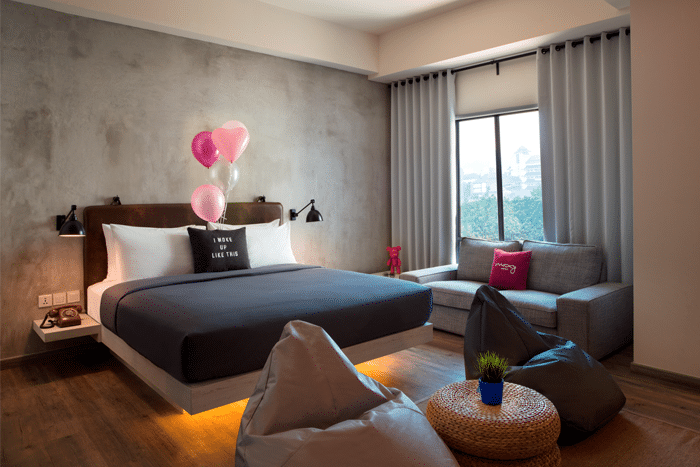 From the get-go, the Moxy makes sure to welcome you in style. There's no boring check-in process at a front desk. Instead, you do it at the bar, while enjoying one of Moxy's signature mocktails (the hotel expects to receive its alcohol license by May this year). Once your stuff is dropped to your room, it's time to play – quite literally.
Speaking of which, there are three categories of accommodation at Moxy Bandung: the Moxie (20sqm), the Dago Deluxe (24sqm), and the larger Braga suite (28sqm). You'll find a selection of trendy music on vinyl, from Bruno Mars' XXIVK Magic to Anderson .Paak's Malibu, that you can play on the aforementioned vinyl player. Also in the room? Bean bags, a 43-inch LED TV, candies as welcome gifts, and an open concept peg wall for hanging your things.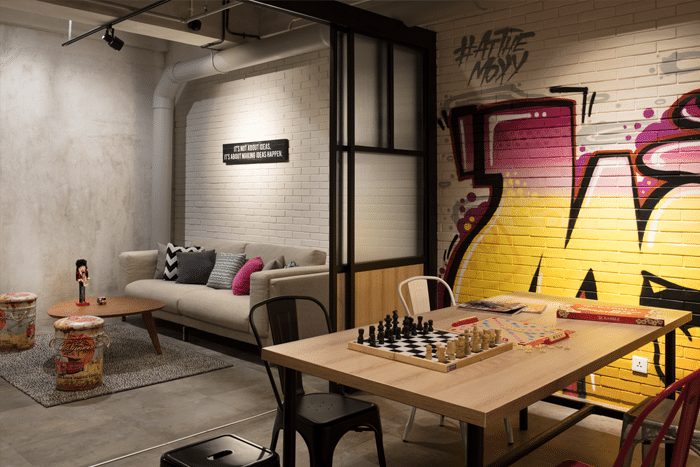 There are several public spaces (which is open even to non-guests) down at the first floor which are great for socialising, complete with a pool table, and foosball table, and even a mega-sized Jenga game. Stairs from the lobby lead to a where digital nomads can get some work done or where do that last bit of trip planning before heading out for the day.
And don't forget to check out the rooftop bar – it's especially impressive at night with its atmospheric lighting, cosy hang outs, and of course, more drinks! If you are daring enough, try the Moxy catwalk with a glass floor that's 12 stories above the streets. Who knows – it might just be your next Instagram photo. Other hotel offerings include a healthy continental breakfast down at the bar area, replete with Indonesian breakfast staples and for those looking to indulge, a gourmet instant noodle corner featuring the famous Indomie brand. Yes, it's sinful, and no, we don't really mind.
The best part is, Moxy Bandung is well catered to the budget-conscious, with rooms starting from US$32 a night – priced like a hostel but without the noisy dorm rooms, and all of the fun. As expected as one of the Marriott Group's most fashionable and hip brands to date.
Moxy Bandung is located at 69 Jalan Ir. H.Djuanda, Tamansari, Bandung Wetan, Bandung, Indonesia. For reservations, please call +62 22 2052 7188 or email to [email protected].