Restaurant Review: Singapore Fine Dining Institution Iggy's Reopens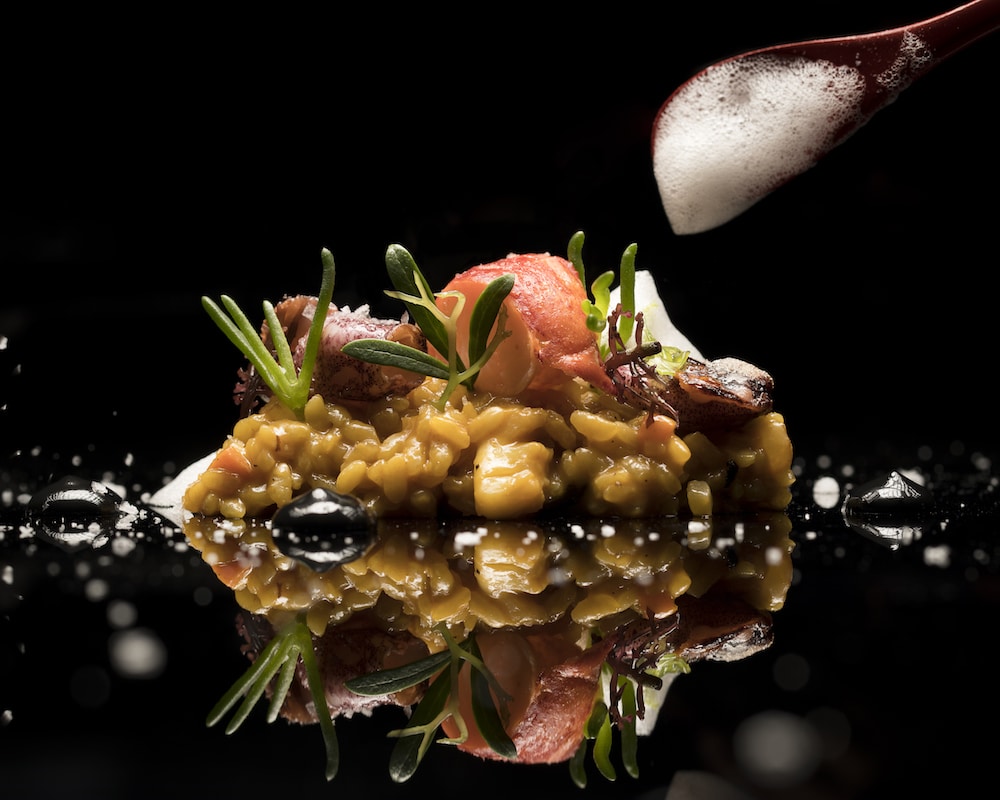 PUBLISHED January 31st, 2017 12:22 pm | UPDATED March 14th, 2018 01:55 pm
One of the first fine dining restaurants to put Singapore on the gastronomy map of the region and the world, 12-year old Iggy's in the Orchard Road district might have missed out on the inaugural Michelin stars last year, but they might have a better chance in 2017 with a new look and new dishes from a head chef barely six months on the job.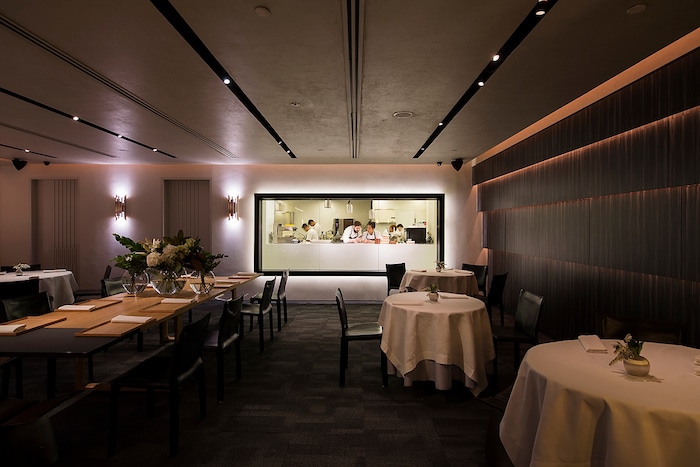 The standout feature in the dining room is the black-framed glass panel, through which diners catch glimpses of Chef Aitor Jeronimo Orive and his team at work in a brightly lit kitchen. Hailing from Australia, cut his teeth in restaurants like The Fat Duck (UK), Mugaritz and Nerua Guggenheim in Spain, with his most recent stint at Barbarossa Paco Roncero, Shanghai's leading Spanish restaurant. His time in Basque Country seems to mesh well with the Iggy's culinary principles – modern European techniques with fresh Japanese produce – and is most evident with the Bomba Mellow Rice.
This bowl of goodness puts fresh Maine lobster, crunchy sakura ebi, and baby squid on a bed of bomba rice cooked perfectly in seafood stock. Finishing touches of dashi foam and squid ink emulsion makes this one umami-laden dish. It's my favourite of the six-course menu ($175, seven courses $195, eight courses $235), though some might think it too salty (the only way the Spanish do, really).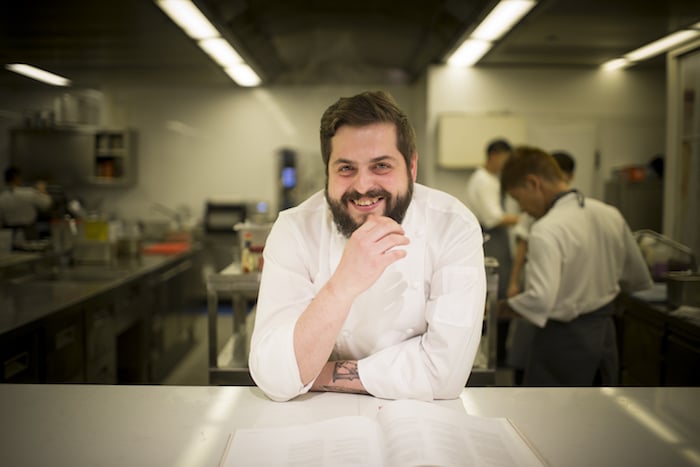 While rice is undoubtedly Chef Aitor's specialty, the seasonal snacks also highlighted his team's creativity by playing around with a focus ingredient. Tomato Two Ways sees the classic pairing of tomato meringue with burrata, basil leaves, and sardines, before surprising you with smoked tomato jelly paired with velvety monkfish terrine. The playful, whimsical side of Iggy's appear with the Ebi Two Ways, where crispy sakura ebi arrives dotted on a disc of trehalose sugar and potato starch cracker (a simple yet effective demonstration of the sweet-savoury) and a pisto cornet of fresh shiro ebi topped with caviar.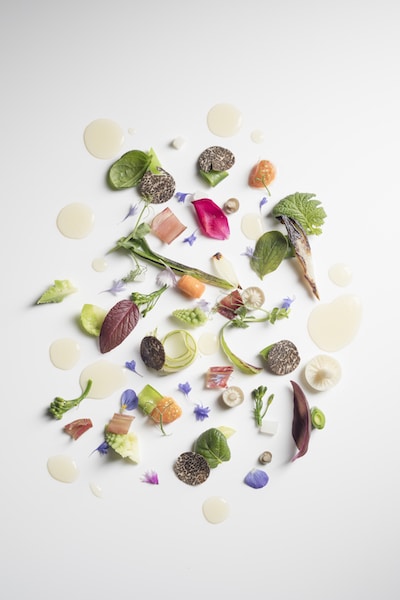 Sitting on a base of luscious avocado mousse, the first entrée of Bonito Tartare refreshes the palate for the rest of the meal. A thin, translucent layer of jamon jelly adds a hint of umami to the dish. It might be at this point in time that your server reminds you of the relationship that Iggy's has nurtured with a Tokyo-based food runner with access to the daily bidding at Tsukiji Fish Market and Kyoto Vegetable Market.
The latter comes in when you have the Vegetable Garden. Consisting of 15 types of seasonal veggies – I remember the likes of snow peas, Romanesco, winter truffles, Nameko mushrooms, and more sitting prettily in a glass bowl –, a heart-warming jamon broth is added to the mix tableside. The vegetables are prepared differently (raw, cooked, pickled etc.) for a multi-dimensional experience.
Protein arrives after the rice; if you go for six courses expect another fish dish, seven courses see an additional fowl, and eight courses score you red meat. The Spanish Mackerel was done perfectly, and the firmness of the fish flesh contrasted well with tapioca pearls (sago) in demi glacé. That said, the combination got a little too rich for me towards the end. Perhaps another carbohydrate with more texture or muted veggies might work better than tapioca pearls?
For dessert, Iggy's Chocolate doesn't wow with a plate of chocolate ice cream, chocolate sponge, passion fruit gel, popping candy, sesame, and almond – but it definitely satisfies. As with all fine dining restaurants, petit fours follow so you can look forward to an array of pralines, macarons, jellies, and more.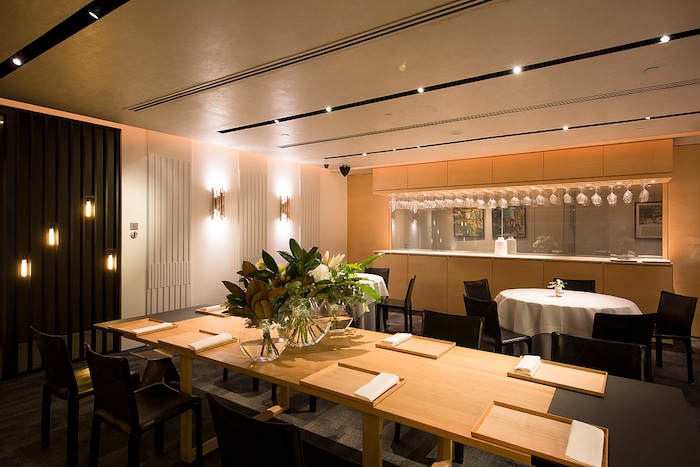 Food aside, the 25,000-strong bottle list is curated by the eponymous Iggy (restaurant founder and sommelier Ignatius Chan) over thirty years in the industry. Oenophiles would be glad to know that the wine programme focuses on Burgundy bottlings, with various vintages dating back to the 1990s.
More hits than misses, dining at Iggy's was a pleasurable, if expensive affair since there's a plethora of places that have gone down the affordable fine-dining route. However, if you're not ready to splash a minimum of $200 for dinner, give their lunch sets a go at $85 for prix fixe three-course lunch or $105 for four courses with three choices per course. Alternatively, check out their gastro-bar concept for more rustic – but no less flavourful – plates and burgundy wine flights.
Iggy's is located at Level 3, Hilton Singapore, 581 Orchard Road, Singapore 238883, p. +65 6732 2234. Open Mon-Wed 7pm-9.30pm (last seating), Thu-Sat 12pm-1.30pm (last seating), 7pm-9.30pm (last seating). Closed Sun.
Top Image: Bomba Mellow Rice