Lifestyle Boutiques in Singapore For Curated Clothing, Accessories, and Jewellery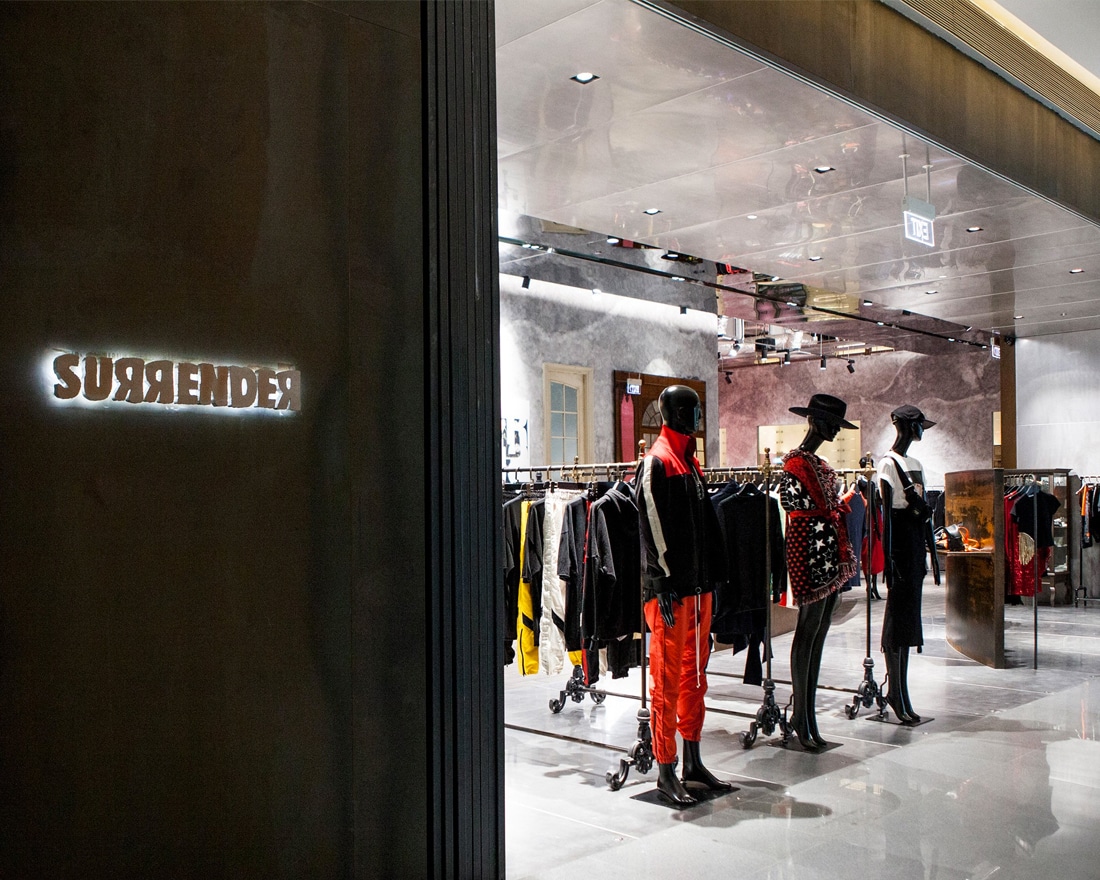 PUBLISHED July 11th, 2019 06:45 am | UPDATED May 18th, 2020 04:57 pm
Big international brands have got nothing on these lifestyle boutiques in Singapore that stock the unique and the quirky. As department stores become outdated and online shopping gets too confusing (because overpriced shipping and bad sizes), these 1o shops are offering carefully-curated products for discerning customers. Whether it's clothing, accessories, jewellery, or even furniture, chances are you'll find what you're searching for here.
Surrender

Are you a self-proclaimed hypebeast, edgelord, or cool kid with a trust fund? If so, you'll fit right in at Surrender. While the shop has been around since before 2010, it only recently moved to its Orchard location last year, bringing with it some of the sleekest merchandise you've seen, like neon orange jumpers and shoes that might as well be glowing in the dark.
Brands to look out for: Thom Browne, Maison Martin Margiela, Neighborhood, Reframe
Surrender is located at 268 Orchard Road #01-03, Singapore 238856, p. +65 6733 2130. Open daily 11am – 9pm.
Monument Lifestyle

Love the laid back vibes of Southern California? You'll find the same good feeling at Monument Lifestyle, the Duxton Hill boutique stocked with a collection of high-quality men's fashion and lifestyle items from the States. Admire the custom Deus Ex Machine surfboards, Hari Mari flip flops, and portable barbecues from Gentlemen's Hardware. Then, try the Four Barrel coffee from their cafe along with tasty artisanal toast.
Brands to look out for: Ridley's, Faherty, Hari Mari, Hanz de Fuko, P.F. Candle
Monument Lifestyle is located at 75 Duxton Rd, Singapore 089534, p. +65 6304 8077. Open Mon-Fri 8am – 7pm, Sat 10am – 6pm.
Supplies & Co.
Taking great pride in its attention to detail, Supplies & Co. doesn't just focus on the aesthetics of a product – durability and practicality are also taken into account. Their Orchard location boasts a modern and sophisticated interior decor, and is truly impressive when coupled with its range of international menswear and lifestyle goods. Think minimalist and streamlined designs for well-heeled men that wouldn't look out of place in a Kinfolk magazine.
Brands to look out for: Engineered Garments, Tolix, John Elliot, White Mountaineering, Boris Bidjan Saberi, Public School New York
Supplies & Co. is located at Park House, 21 Orchard Blvd #01-23, Singapore 248645, p. +65 6694 3009. Open Tue-Sat 12pm – 8pm, Sun 12pm – 5pm.
Nana & Bird
Initially conceived as a pop-up concept curated by co-founders Georgina Koh and Tan Chiew Ling, Nana & Bird now has a permanent boutique in Tiong Bahru stocking lifestyle and fashion products. Bringing in independent designers and emerging labels (think silk earrings, one shoulder jumpsuits, and bloomers for the ladies) from all around the world, their philosophy is to only sell what they love.
Brands to look out for: Cassey Gan, RYE, Aijek, Maslo Jewelry, Building Block, Tiny Cottons
Nana & Bird is located at 1M Yong Siak St, Singapore 168641. Open Mon-Fri 12pm – 7pm, Sat-Sun 10am – 6pm.
Gallery & Co.

Housed within the iconic National Gallery Singapore, Gallery & Co. serves as a progressive retail and F&B destination comprising a bookstore, cafe, bar, and even a hip party venue on occasion. You'll find wares and merchandise such as umbrellas and soaps inspired and designed by local, Southeast Asian, as well as international artists and creatives. Oh, and things like catalogues and postcards from the museum's ongoing exhibitions too.
Brands to look out for: Jujumade, Rock and Pebble, Willmann Vase, La De Dah Kids, Oooze, NAÏF
Gallery & Co. is located at National Gallery Singapore, 1 St. Andrew's Rd #01–05, Singapore 178957. Open Sun-Wed 11am – 7pm, Thu-Sat 11am – 12am.
NomadX
NomadX is the least independent store on this list, seeing as it is run by CapitaLand, but that doesn't mean their products are run of the mill. As Singapore's first 'phygital' store, the lines are blurred between e-commerce and physical shopping: online stores like Taobao, Style Theory, and Digital Fashion Week will take up space here, along with homegrown brands such as Oo La Lab, Modparade, and Roses & Rhinos.
Brands to look out for: evenodd, DistriSneaks, JOWAÉ, The Lucky Shop
NomadX is located at 68 Orchard Rd, Plaza Singapura, #01-67 & #03-65 to 69, Singapore 238839. Open daily 10am – 10pm.
kapok

A hot favourite among Hong Kong hipsters, our own fashionistas now have access to kapok's great number of street cult brands. Hong Kong designers and those from the region are heavily featured, but you'll also find Singapore-designed fashion, jewellery, and lifestyle products at the National Design Centre location. There's also an in-store cafe run by Tanuki Raw, where people can meet and be inspired over budget oysters and craft beer.
Brands to look out for: Sandqvist, Nudie Jeans, Sundays, Olivia Burton Watches, Common Projects
kapok is located at National Design Centre, 111 Middle Rd #01-05, Singapore 188969, p. +65 6333 3737.
Megaxstore
Bringing you over 100 independent makers from Singapore and the region is the newly-rebranded Megaxstore (formerly Megafash) and its passion for locally-made craft. With seven stores islandwide, you'll find a super rad range of lifestyle products and even work supplies, including curry puff cushions, hipster-esque notebooks, and reindeer iPhone casings. They've also recently launched their own cryptocurrency, which you can use to pay for their goods.
Brands to look out for: Freshly Pressed Socks, Nom Nom Plush, Shelby, Bobino, Eyedeer, Heart & Home
Megaxstore is located at Suntec City, Tanglin Mall, Marina Square, Great World City, Tanjong Pagar Centre, VivoCity, and ARC. See here for individual outlet information.
Cat Socrates

This charming indie boutique is where you'll find the quirkiest accessories, from homewares and pots to plants and stationery. While they're mostly sourced from the region, you'll also find a good number of Singapore creations – making great souvenirs and an opportunity to show the world your eccentric side. Head to the Joo Chiat outlet for larger scale items like gardening tools, furniture, and kitchenware, and to the Bras Basah unit for postcards, books, and clothing.
Brands to look out for: KOMESHOP, Kusuguru, YIZI, Now&Then, Wheniwasfour, Rifle Paper
Cat Socrates is located at 448 Joo Chiat Rd, Singapore 427661, p. +65 6348 0863 & 231 Bain St, #02-25 Bras Basah Complex, Singapore 180231, p. +65 6333 0870. Open Tue-Sun 12.30pm – 9.30pm and Mon-Sat 12pm – 8pm, Sun 1pm – 7pm respectively.
Keepers

Now in its seventh year, Keepers is the brainchild of Carolyn Kan, who's also the founder of well-known homegrown brand Carrie K. Its concept store at National Design Centre sees over 40 handpicked Singapore brands, designers, artists, and craftsmen across fashion, design, and even food. This is a great place for discovering new talent, as the products on offers are refreshed every two months. Want to pick up a new skill? Try your hand at a variety of regular crafts workshops facilitated by designers and artists in the store.
Brands to look out for: The Form, Fossa Chocolate, My Rabbit Hole Mimosa, Kultskins, GRAYE
Keepers is located at #01-01, National Design Centre, Singapore 188969, p. +65 8749 6454. Open daily 12pm – 8pm.