Meat Smith @ Cocotte: Southern American BBQ with an Indian Flair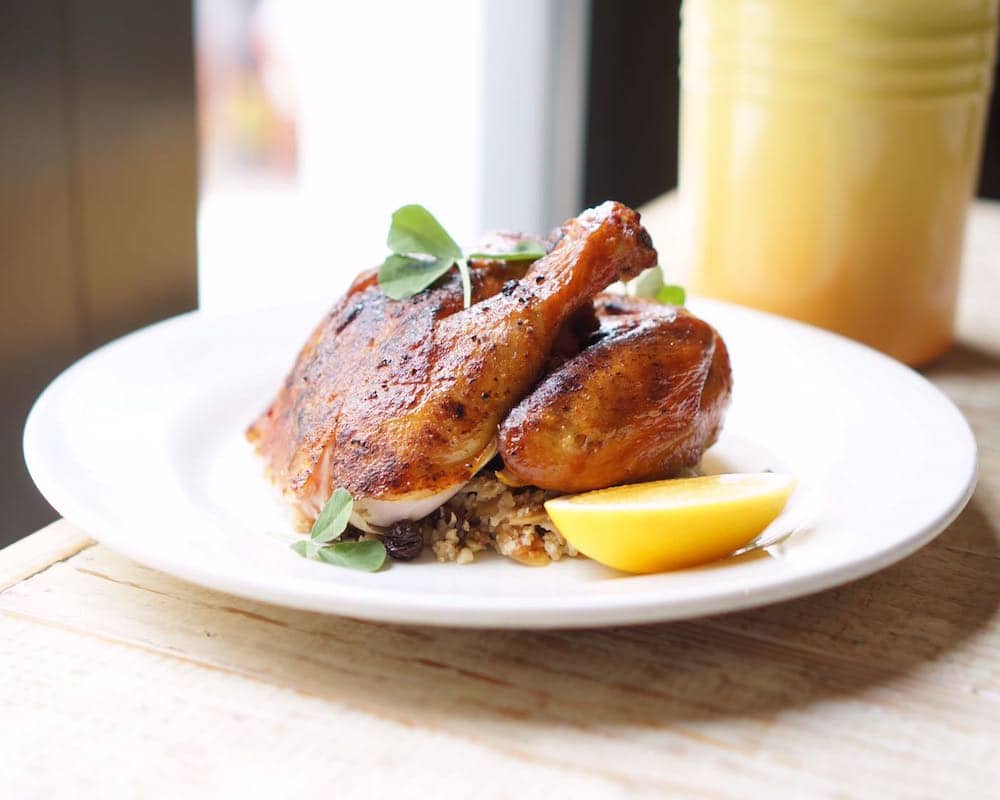 PUBLISHED March 10th, 2017 06:00 am | UPDATED March 22nd, 2017 03:04 pm

We won't say that we weren't upset by Chef Anthony Yeoh departing Unlisted Collection's rustic French bistro, but there's definitely a silver lining this time. Our favourite barbecue joint on Telok Ayer Meat Smith saw Cocotte's need of a new chef as an opportunity to experiment concepts in the Little India part of town.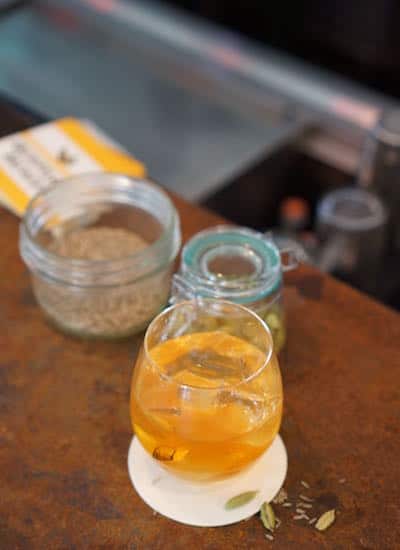 In less than two weeks, Meat Smith's Chef Andrew Baldus and his team looked like they already made themselves at home in Cocotte's kitchen. And trust us, this menu is – for a lack of a less cheesy phrase – lip smacking good.
As with Meat Smith on Telok Ayer taking inspirations from the neighbourhood (think brisket spring rolls), they drew upon Little India for the menu of their three-month pop-up (till 30 April 2017). We were warned that the food was not meant to be traditional or authentic – fair enough – and they're sticking to the smokehouse theme. A perusal of the drinks menu shows chai tea, Indian-inspired cocktails, Kingfisher Lager, and wines from the Vijay Amritraj Reserve Collection. We ended up ordering a Biryani Old Fashioned ($18); made with Amrut single malt, a biryani spiced syrup, and cardamom bitters, the flavours were well-paired with the whisky and were rather subtle.
Meat Smith @ Cocotte's food menu is split between small plates, large plates, and desserts. We started with a serving of the Na'an & Bombay Butter ($4). Cooked in the pan rather than the tandoor, the flatbread is paired with herb spiced butter that they also use on the meat so it's quite a savoury starter alongside the Butter Chicken Wings ($10). These tasty morsels carry an excellent char that complements the sauce, which was more spiced and less creamy than that of the usual butter chicken.
Another delicious sauce can be found in the Onion Bajji & Smoked Yogurt ($6). Smoked with sustainably grown hardwood from Australia, this certainly takes the humble onion fritter to another level. Because we basic, we also had the Homemade Curry Sausage ($8), served with housemade pickles and chutney. The 30% pork fat-70% pork shoulder sausage gets its flavours from the masala spice and milk powder used in the binding. After drying in the cooler for a night, it goes through cold smoking and hot smoking before end up on your plate.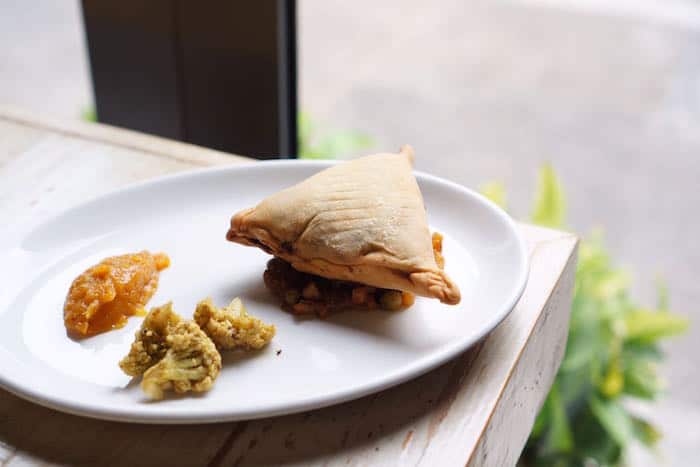 When we order the Masala Beef Samosa ($14), we certainly didn't expect one huge samosa stuffed with spiced beef brisket. The pastry is crusty and holds the meat well, with accompanying cauliflower and chutney breaking up the spice. And just when you think the food is definitely not delicate, the Crab and Uni Biryani ($25) turned up. Though the kitchen ran out of sea urchin the day we visited, it's still easily the most elegant dish on the menu. Think biryani spiced crab topped with saffron aioli, rice puffs, soft-boiled quail eggs, and uni (it's usually available).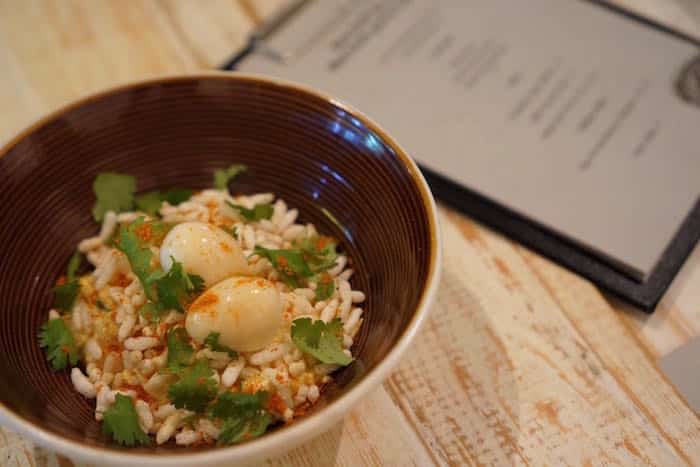 From the large plates section, we tried the Tandoori Chicken & Cauliflower Pilaf ($24) and Kingfish Collar, Coconut Sambal & Eggplant ($18). From the large plates section, we tried the Tandoori Chicken & Cauliflower Pilaf ($24) and Kingfish Collar, Coconut Sambal & Eggplant ($18). While the half chicken is succulent enough, the well-spiced mix of tiny cauliflower florets, basmati rice, and raisins were the real star of the dish for me. And why did no one else dream up of the kingfish, coconut sambal, and eggplant before? The creamy charcoal roasted eggplant was the perfect vessel for that brightly coloured coconut sambal and firm, well-grilled kingfish.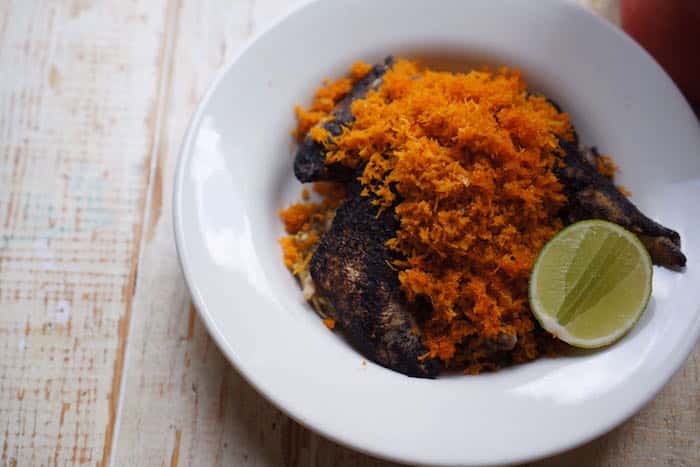 Chef Andrew also recommended the Madras Pork Ribs ($26) and we're glad we got it too, despite our protesting stomachs. Cooked with a wet spice rub, the meat on the ribs were in between the spectrum of "fall of the bone without touching" and "rip off the bone with teeth". The scattering of fried curry leaves on top imparts an even more enticing aroma.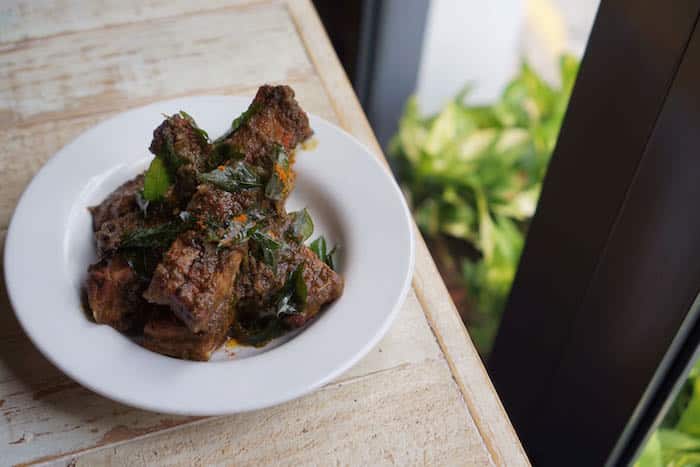 The dessert pickings at Meat Smith @ Cocotte are rather slim, but we figured that not many people want desserts after a heavy meal like ours. That said, we had still had the Mango Sorbet Tikha Gathiya ($7). Usually refreshing and palate-cleansing, but the addition of tikha gathiya, a crunchy, spiced, deep fried flour-based snack, transforms it into an even bigger indulgence.
If you love Meat Smith on Telok Ayer, there's no reason not to give Meat Smith @ Cocotte a chance. Who knows, if enough people love it, they might just find a permanent location in the neighbourhood.

Meat Smith @ Cocotte is located at Wanderlust Hotel, 2 Dickson Road, Singapore 209494, p. +65 6298 1188. Open 7am-10.30am, 11.30am-2pm, 5.45pm-11pm.
Top Image: Tandoori Chicken & Cauliflower Pilaf. Images courtesy of Sylvester Fedor.