Moonstone: Where yakitori and hilltop views unite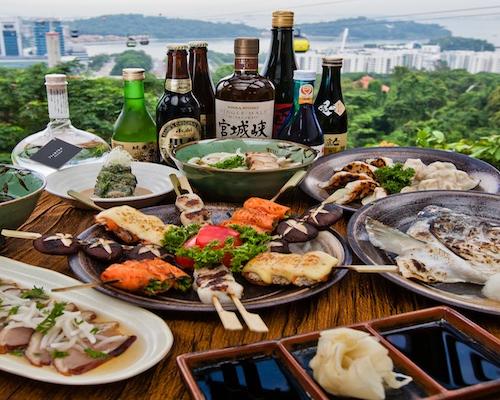 PUBLISHED October 10th, 2013 01:44 am | UPDATED May 9th, 2018 03:13 am
With remodelled cable car exhibits, rows of information brochure racks, a middling souvenir shop and a mid-air carriage away from Sentosa Island, the Jewel Box reeks touristy. Gourmands hardly call this hilltop destination home, but things could very well change as two of its three dining establishments – Sapphire and Black Opal – currently undergo a facelift. Meanwhile, a quick supper at its third remaining outlet, Moonstone, proved to be a robust, positive pre-cursor of the great promise we can expect from the two makeover-in-progress outlets.
For one, the view at open-concept Moonstone was absolutely brilliant. Gliding cruise ships, a towering Merlion, shiny industrial cranes and containers, the magnificent The Sail @ Marina Bay and bobbing, sparkly cable cars formed a stunning moving tableau in front of your very eyes. After witnessing customers squinting at the menu using table-top candles under the stuffy, starry night, we opted for the sheltered portion of Moonstone, where industrial fans and luminous lights provided a cool respite and a clear scan of the one-sheet, two-page menu (the former would be greatly appreciated, if you, like us, took the better of 20 minutes to hike from the bottom of the hill).
A strong focus on sake and grilled yakitori is a confounding choice, given their 'heaty' nature against the stifling outdoor weather of Singapore. But working up a sweat can be quite worth the while. Grilled scallops ($8), for one, were instant favourites, glistening under the light with titillating grill marks – they also proved succulent and ambrosial with a brush of sweet soy sauce.
Homemade meatballs ($4) were easy crowd-pleasers, with umami minced chicken perked up with a blend of fine spices and condiments, while chewy topshell ($4) preserved the salinity of the sea, yet lovingly smoky with a rolling char.
The rich, gaminess of ox tongue ($5) on sticks only made us wish that satay and peanut sauce were dethroned as national dish in favour of the orbs of delish.
The unfussy selection of beers is undoubtedly the place to pick your beverage of choice – the cool, light Ginga Kogen Beer ($13) sliding down the throat was almost as satisfying as a 100 Plus post-marathon. Go for the obscenely extensive sake list only if you must.
Vegetables hold their own on the kushiyaki (charcoal grilled) menu too. A dry-looking cross-section of an onion ($3) was deceptively laden with heaps of sweet juice, making every bite worth the bad breath after. The asparagus wrapped in a rasher of bacon ($4) was crisp and green, spiked with an oily unctuousness from good ol' pork fat. A revelation came in plain-looking Gingko nuts ($3) that were nutty, toasty on the outside and just melting soft inside.
Another section of the menu, Yakimono, allows you to choose more substantial seafood portions large enough to order an udon or bowl of rice to go with. We were quite floored by the salmon teriyaki ($12)– not cloyingly sweet from the sauce, came with a paper-crisp skin and was well-balanced in fat content. Squid shio ($12) was disappointingly bland, but one would suspect seafood purists giving it a nod of approval.
At Moonstone, do eat quickly – the large surface area of food on sticks, especially with a large fan running, can leave your food cold in no time. But the bill adds up quickly, considering how even a small stomach might only fill up with upwards of 8-10 sticks for dinner.
Still, with mindless R&B/pop tunes blasting from the speakers and service that is thoughtful and friendly, Moonstone is still a winning proposition. It's not that polished for a 'Will you marry me?' moment, but neither is it too shabby for a decent get-together with your loved one(s) atop a scenic locale. The Jewel Box is a gem hideout, and no pun intended.
---
Written by Mr Nom Nom.
On this occasion meal and photographs compliments of Moonstone.