Noku Kyoto: Modern Comforts near the Imperial Palace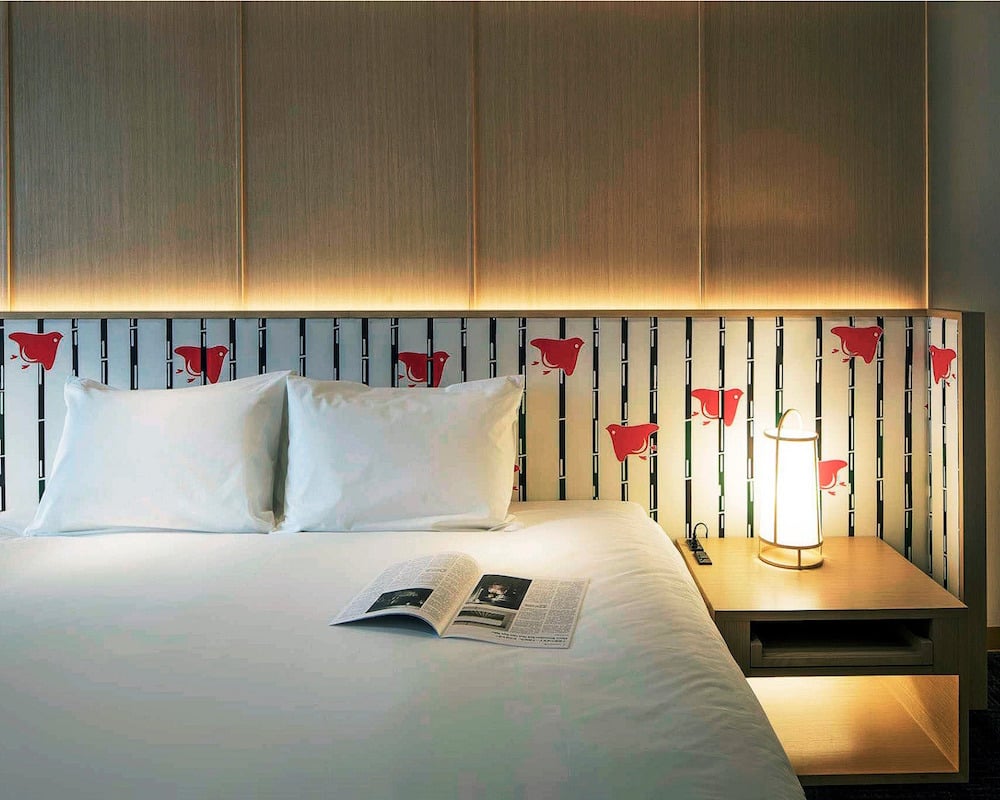 PUBLISHED April 12th, 2017 07:00 am | UPDATED March 26th, 2019 12:23 pm
We love hotels with heritage. While Noku Kyoto itself is not that old – in fact, it only just opened last year – it's situated in the middle of a neighbourhood steeped in a millennium of Japanese history. Located right next to exit four of Marutamachi subway station on the Karasuma subway Line (four stops from Kyoto Station) and diagonally opposite the Kyoto Imperial Palace, Noku Kyoto is quite passionate preserving the area's traditional craft galleries and confectionaries, as well as the machiya houses and indie restaurants.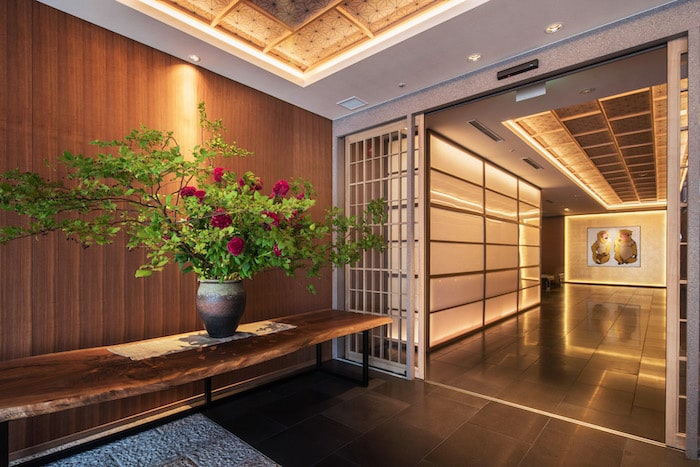 This is obvious from the little touches in accommodation. There are just 81 rooms spread out over five categories, and every one of them come with locally curated art displays as well as locally sourced coffee, tea, and snacks to emphasize the connection Noku Kyoto has with the neighbourhood. You'll also find a map in the room detailing all the specialty artisan shops around the hotel for a truly local experience.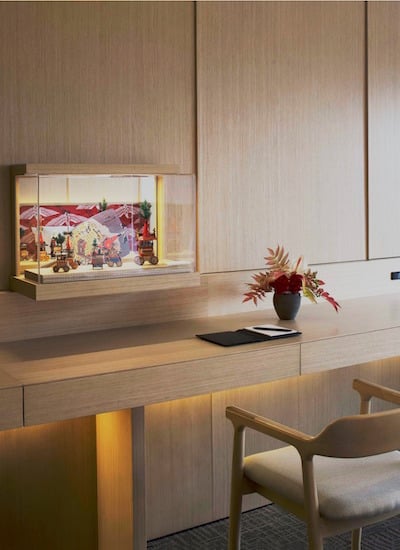 The entry category in the hotel is 215 square feet (20 square metres) so travellers are at least guaranteed a relatively large nest in Kyoto with the House Room. With a minimum floor space of 280 square feet (26 square feet), the Premium Luxury Room sits on the upper floors of the hotel, affording views of the palace. All the amenities you'd expect of a four-star property are present: an Airweave mattress for restful nights, complimentary wifi, a work desk, a day bed for lounging, and a 40-inch television. The bathroom might be a tad small compared to the room, but it's also one of the few boutique hotels we checked out in Kyoto with a bathtub (complete with citrus bath salts for a good soak).
The only thing that keeps Noku from being your home away from home is the lack of air conditioning due to their central heating system. However, they've provided an air purifier and humidifier in the room, so we didn't really have a problem with being too hot or overheating. Tip: if you're liking the sound of this room, room 609 overlooks their neighbour's (a publishing company) lovely Japanese garden, which we reckon is something extra nice to wake up to.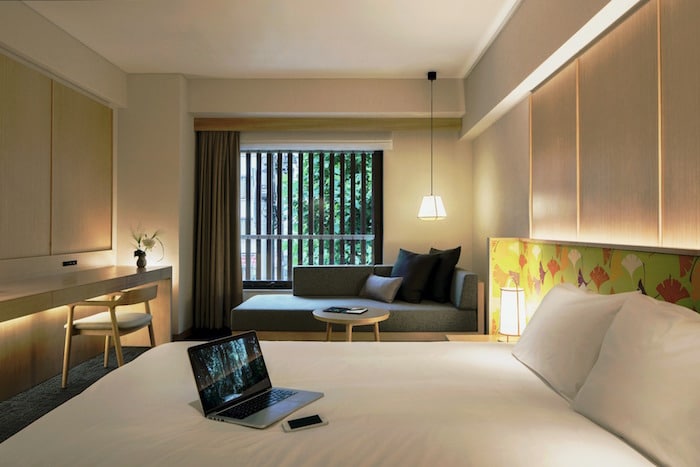 As with most Western-style hotels in Japan, we had the option of a Western breakfast at the Noku Café by Maeda Coffee or specialty beef restaurant KYOU-Karasuma. And as good information providers, we tried both. Although the Kyoto prefecture is popular for producing high quality matcha (especially the city of Uji), coffee consumption is pretty high, from all the coffee shops we've seen scattered around the city.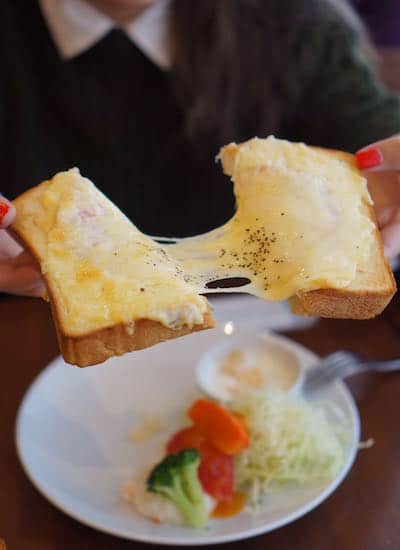 Founded in 1971, Maeda Coffee roasts their Brazilian, Columbian, and Guatemalan beans in-store, so you're bound to get a good cuppa in the morning. The café has three options for breakfast, unimaginatively named A, B, and C. All the plates come with potato salad, veggies, fruit in yogurt, and orange juice. We went with A – toast and croissant with scrambled eggs – and C, ham and cheese toast. Small eaters will be fine, but those who are used to American buffet breakfasts might be slightly disgruntled by not being able to fuel up completely. If you're really hungry, you might want to head to the other restaurant in the basement.
Even though it's hidden downstairs, the open stairwells and glass floor-to-ceiling windows let natural light into Kyou-Karasuma. The standard breakfast here is rice accompanied by slices of beautiful and beautifully roasted Kyoto beef, mixed green salad, pickles, and miso soup. It's not too fatty or beefy, perfect for a hearty breakfast you can count on.
There's no reason to not stay at Noku. The staff are friendly and their English proficiency is one of the highest I've seen at hotels in Japan and the location is incredibly desirable if you're seeking a vacation off the beaten track in Kyoto.
Noku Kyoto is located at 205-1 Okuracho, Nakagyo-ku, Kyoto 604-0861.
Top Image: Premium Luxury Room