Restaurant Review: BBR by Alain Ducasse Brings Mediterranean Chic To Raffles Hotel Singapore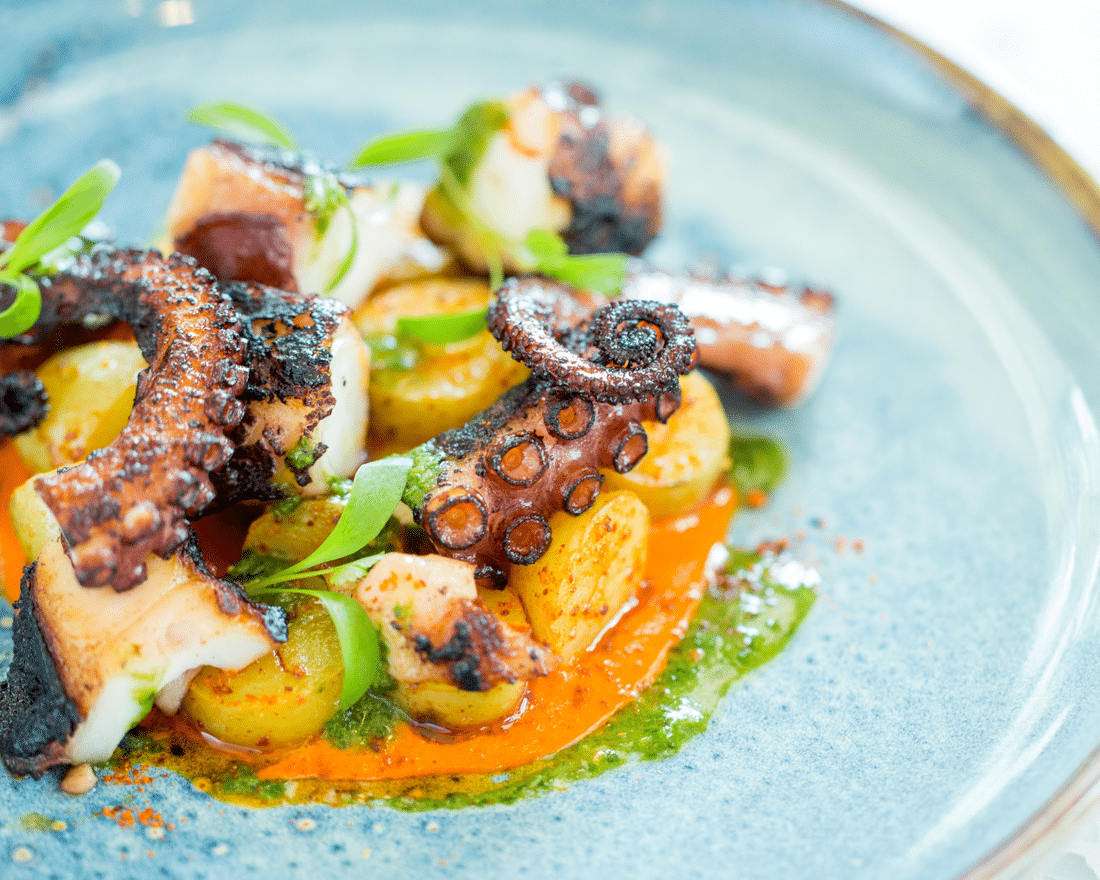 PUBLISHED December 3rd, 2019 06:00 am | UPDATED February 6th, 2020 04:44 pm
Many a marvellous tale has been told about Raffles Hotel's iconic Bar & Billiard Room. Who hasn't heard of how Singapore's last tiger was shot right under this 122-year-old building? With Raffles Hotel fresh from its two-year revamp, it seems fitting that this fabled bar is now home to another legendary beast – the grand doyen of French cuisine, 21-Michelin-starred chef Alain Ducasse.
The snappy acronym clues us in that BBR by Alain Ducasse was created to be a different animal. The dark timbers and colonial elegance of yore have transformed into a modern Mediterranean concept, awash with bright colours and casual charm. A vast open kitchen sprawls where once the bar stood, oversailed by a shimmering blue centerpiece – reminiscent of some futuristic deep-sea fish. Step closer to peer into this behemoth's underbelly, and you'll spot a map of the region etched in gleaming bronze.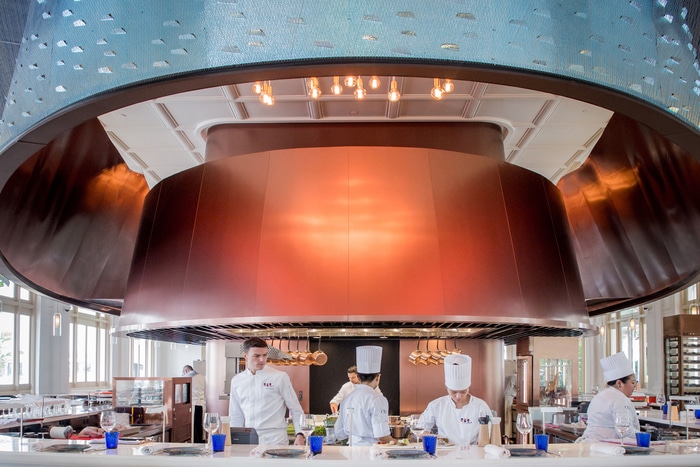 The map is an apt metaphor for Monsieur D's sharing and grill menu, which takes us on a culinary jaunt through Portugal, Spain, Italy, and France – the vibrant flavours of the southwestern coast. Cooling off at the lounge, we enjoy a first taste of this with the Riviera Chic, a summer-kissed cocktail of white wine, elderflower liqueur, and champagne.
Hopping over to the dining area – all terrazzo tables and tomato red couches – we dive into a seafood-rich slew of small dishes. A favourite of chef Ducasse, the Pissaladière (S$24) is a savory medley of briny anchovy and olives balanced by caramelized onions, all atop a delightfully crisp crust. The Buñuelos de bacalao (S$15) make for another snack with serious crunch and surprising lightness – think fried dough balls encasing a creamy mash of salted cod, cheese, and parsley.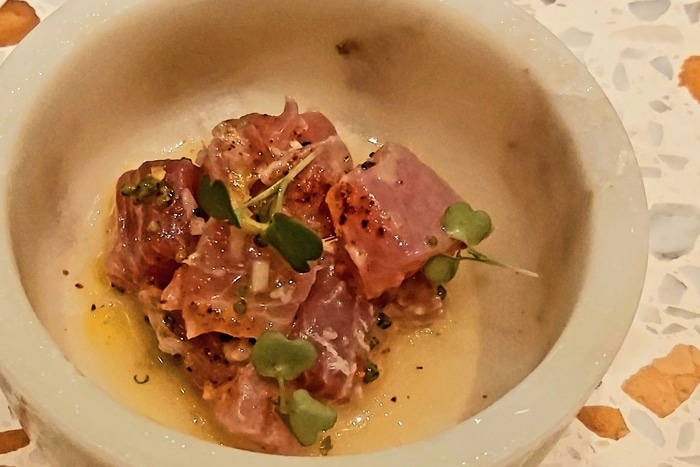 Understated yet masterful, the Tartare di tonno al limone (S$28) quietly dazzles. The cubes of tuna tartare are smooth and firm, bathed in lemon drizzle and just a ghost of spice – we polish off the bowl before we know it. After this palate-cleanser, the signature Pulpo a la gallega (S$28) hits us with a satisfying paprika-laced punch. Unlike the usual chewy renditions, this Galician-style grilled octopus melts in the mouth, with a sweetness beautifully accented by piquillo pepper sauce.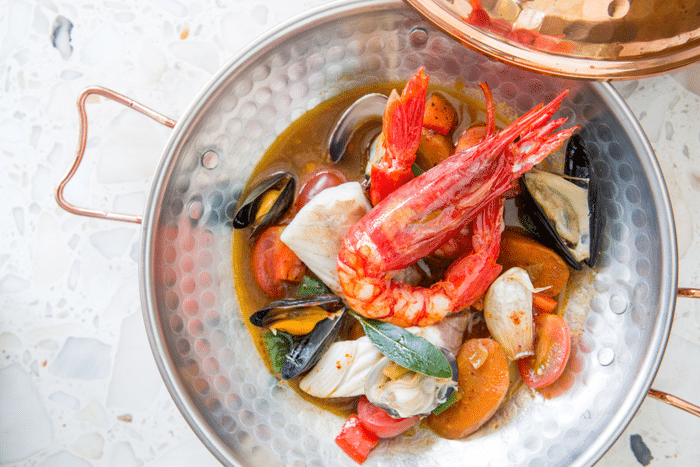 We move on to the heartier mains, and the Cataplana de marisco (S$60) instantly steals the show. Cooked and served in a traditional copper cataplana, this Portuguese fisherman's stew features plump mussels, clams, and fish, crowned with juicy, jumbo Carabineros shrimps. We'll leave you to imagine how the broth tastes, steeped in this sea of crustacean sweetness – let's just say it's unspeakably luscious. For the steak lovers, there's Lomo a la brasa, mojo verde (S$78), a fairly tender and well-marbled striploin. It's best enjoyed with generous slathers of mojo verde – an addictive green bell pepper sauce with earthy notes of cumin and parsley.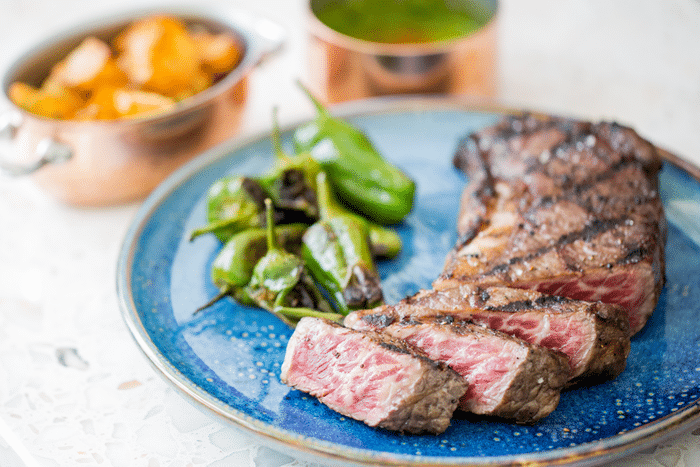 Since there's no such thing as being too full for dessert, you're sure to slurp up the Agrumes, granité au vin d'orange (S$12) quite easily. This icy concoction of citrus fruits in orange wine delivers a tart jolt to the tastebuds, and the classic Tiramisu (S$20) of espresso-dipped ladyfingers follows up with a delectably bitter hit.
Now refreshed, we take a moment to appreciate the Tiger Story (S$14) – a creamy vanilla entremet, emblazoned with a passionfruit-sauce likeness of the iconic beast. Light and whimsical, this nod to BBR's august history aptly rings in its transition to a more laidback chic. It's a fresh chapter for this grande dame – and if our meal was anything to go by, it'll be just as ode-worthy.
BBR by Alain Ducasse is located at Raffles Hotel Singapore, 1 Beach Rd, Singapore 189673, p. +65 6337 1886. Open daily 12pm–2.30pm for lunch and Mon-Thurs 6pm–10pm, Fri-Sat 6pm–10.30pm, Sun 6pm–9pm for dinner (last order).