New Year's Eve 2019 in Singapore: Where To Go For Dinners, Drinks, and Parties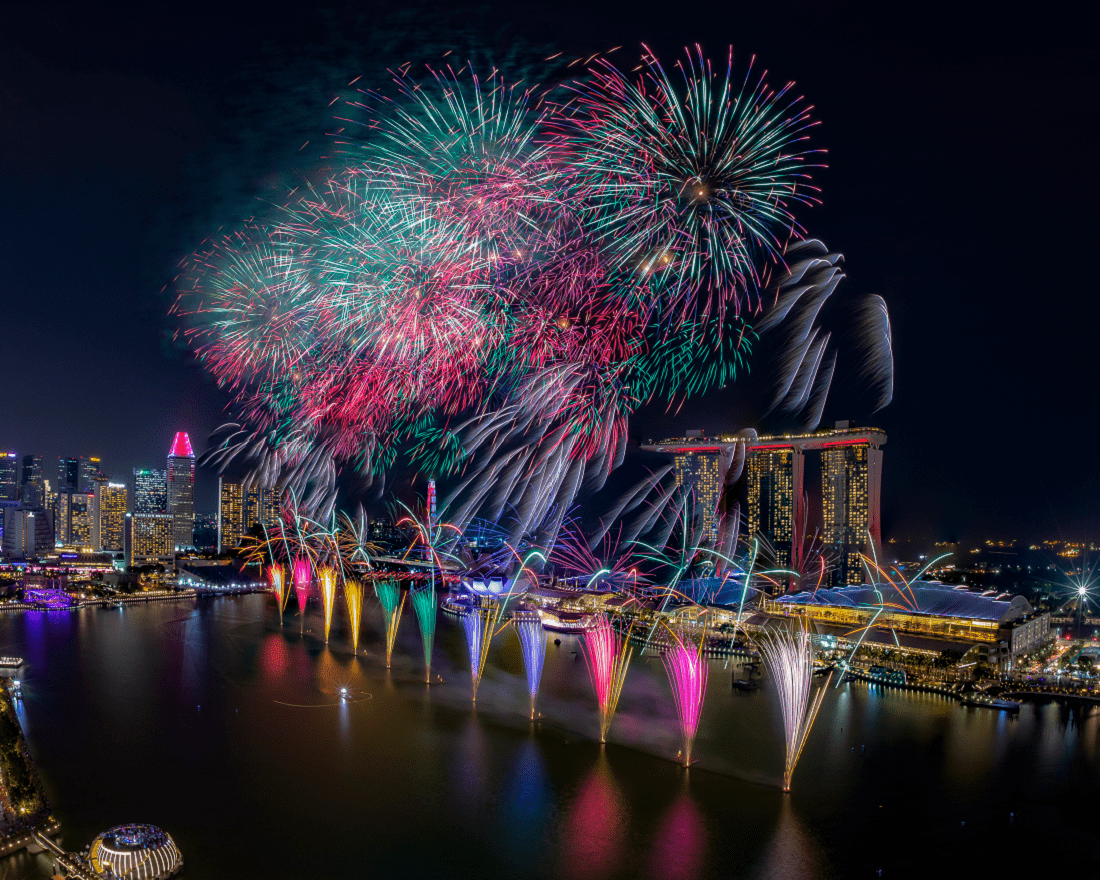 PUBLISHED December 2nd, 2019 12:30 pm | UPDATED December 18th, 2019 03:47 pm
Leave your resolutions at the door: the last hours of a decade is best spent in jubilation. With Christmas fast approaching, New Year's Eve isn't far behind, and we're dead set on starting 2020 right. No more auld lang syne clichés and flat bubbles at midnight, take the night by its reigns and send the year off with this year's curation of thrilling dinners and parties in Singapore.
A New Year's Fiesta with VUE at OUE Bayfront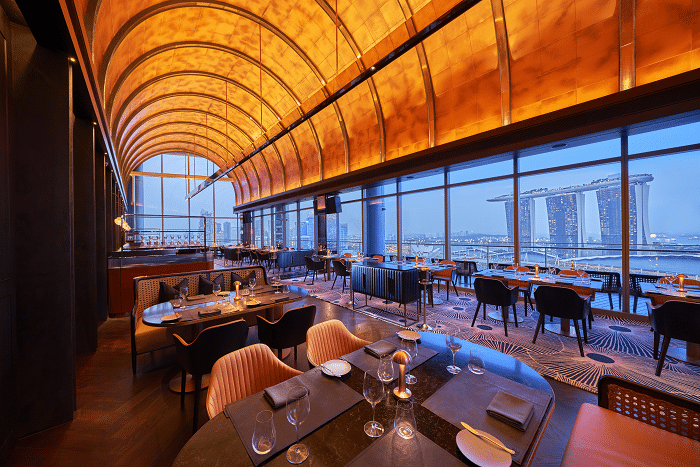 VUE Bar and Grill heralds the new year with a showstopping New Year's party unlike any other. Look forward to a front row view of the fireworks over the Marina Bay skyline accompanied by an all-you-can-eat menu with live stations dishing out canapés, charcuterie, caviar, ceviche, as well as the restaurant's signature Dry Rub and Whisky-aged USDA Prime Black Angus. Also, on the menu are a selection of oysters – Pink Tarbouriech, Muirgen and Spéciales Geay – with a perfect complement of free-flow prosecco, wines and draught beers.
The deets: The New Year's Eve Fiesta will be happening from 10pm-1am. Early-bird tickets are available for S$288++, limited to the first 100 guests, and regular tickets at S$388++. All tickets are inclusive of free-flow prosecco, wines, draught beer, soft drinks, and juices.
VUE is located at OUE Bayfront, 50 Collyer Quay, Level 19, Singapore 049321, p. +65 8879 0923. Opens for dinner Mon-Fri 6pm-10.45pm. Lunch service commences January 2020. 
Catch the Fireworks at Kinki Restaurant and Bar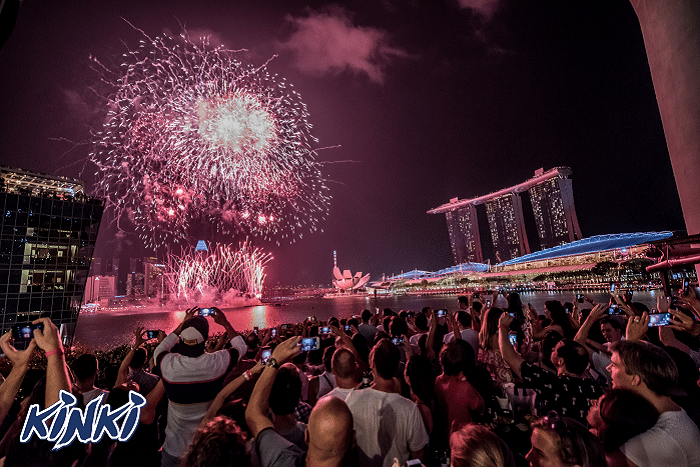 Before your New Year resolve kicks in, let go with a glorious feast at Kinki at the Customs House. Start celebrations early with a Japanese Bottomless Brunch with a twist, or spend the New Year's Eve (NYE) out and about with their NYE Set Dinner including the exclusive Wagyu Katsu. If you're sparing no expense, the Rooftop Package with stunning Firework Views is the way to go. It comes pre-loaded with a bottle of Moët & Chandon Brut, Belvedere, and your choice of either Monkey Shoulder blended whisky or Hendrick's gin with Red Bull mixers to keep the good times flowing.
The deets: The Bottomless Brunch (from 12pm till 3pm) is at S$58++ per person with an option to top up a free-flow alcohol at $35++. The NYE Set Dinner is priced at S$128++ per person for 5-course menu at 6pm seating and S$188++ per person for 6-course menu at 9pm seating. The Rooftop Package is priced at S$688++ per table for a maximum of six persons, from 6pm till late.
Kinki Restaurant + Bar is located at 70, #02-02 Collyer Quay, Customs House, 049323, p. +65 6533 3471. Opens Mon-Sat 12pm-3pm, 6pm-11pm.
Go Big at the Grand Hyatt Singapore's Shades Of Red Party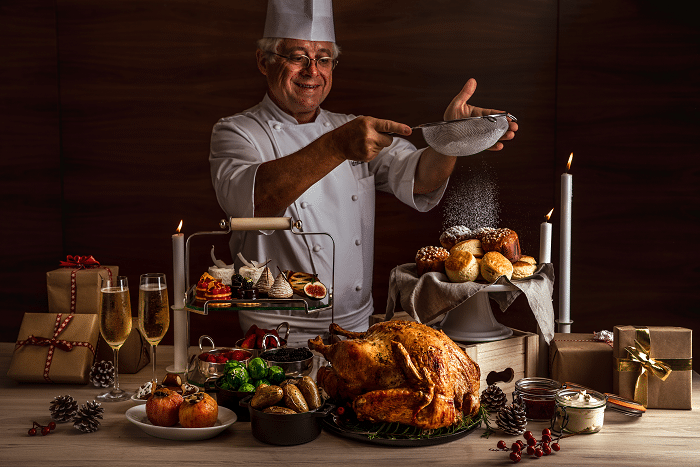 Paint the town red and ring in the new year at the Grand Hyatt Singapore's aptly themed Shades of Red countdown party. Lounge in a hotel lobby-turned-dancefloor decked out in crimson while you indulge in free-flowing champagne with a bold selection of desserts presented by Executive Pastry Chef Gottfried Schuetzenberger from 9.30pm to late. Looking to start your evening with a delicious dinner? Grand Hyatt is hosting not one, but five festive buffet spreads. Looking forward to air-flown oysters and more sustainable seafood at mezza9's while StraitsKitchen whips up over 100 authentic local Chinese, Malay and Indian delicacies. Pete's Place, Oasis Restaurant and 10 Scotts also join the party with specialty dishes, wood fired pizzas, and slow roasted meats.
The deets: Buffet dinners at Grand Hyatt Singapore start from S$148++ per person. Tickets to the countdown party are included in all New Year's Eve dinners except Oasis, and additional tickets can be purchased at $90++. Enjoy 20% on all confirmed adult bookings for any New Year's Eve buffet dinners till 30 November 2019.
The Grand Hyatt Singapore is located at 10 Scotts Road, Singapore 228211, p. +65 6732 1234.
Light Up The Party W Singapore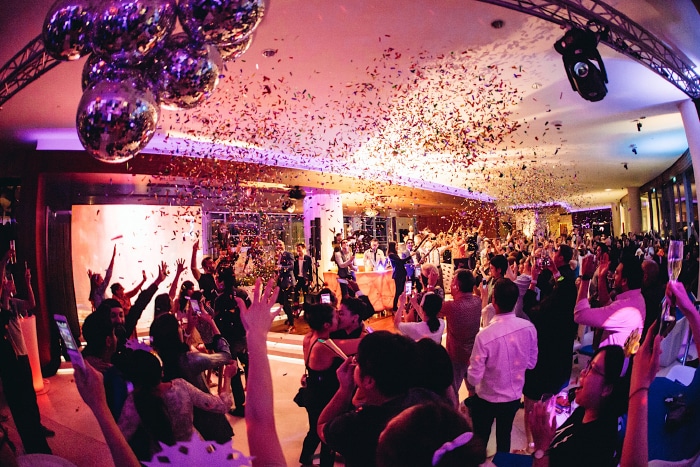 Put on your dancing shoes, and sashay your way to W Singapore – Sentosa Cove, where Berlin based House DJ and Producer ​Martin Roth​ will be manning the turntables with his own touch of deep house decadence, leading the march of partygoers into a night of champagne-fueled revelry that would make Gatsby himself blush. With a live telecast of the New Year's Countdown, you won't be missing out on other activities. Don't forget to show up in style – best-dressed guest walks away with a complimentary one-night stay in W's Marvelous Suite with an expansive balcony view of the marina.
The deets​: The Light It Up party will be happening from 10pm-1am. Tickets go at S$140++ with bottomless bubbly, premium pours, and canapés.
W Singapore – Sentosa Cove​ is located at 21 Ocean Way, Singapore 098374, p. +65 6808 7288.
Chill Out with a Beach Barbecue at Coastes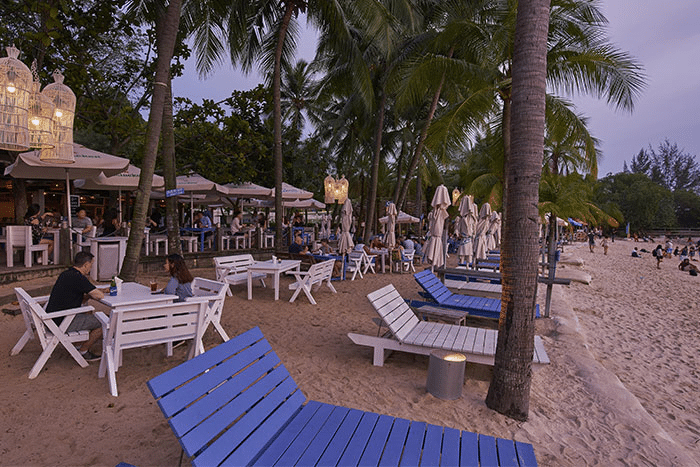 If you're all about ushering in the new year with a bang outside of the city centre – then Coastes party with live music and beach barbecue buffet at Siloso Beach Sentosa is the place for you. Indulge yourself in a picturesque beachfront setting while you feast on a sumptuous buffet spread of freshly-grilled seafood, succulent meats, hearty mains and sweet treats at Coastes Beach BBQ Countdown Party. Let local talent Kitsch Yogi Bandits entertain you on Siloso's sandy shores while you toast to a New Year with exclusive drink deals on Kronenbourg 1664 beers and Laurent-Perrier Champagnes. What's more, at an additional $55++, wine lovers enjoy free-flow Freixenet Cordon Negro Brut Sparkling Wine, Red & White Wines from 6PM – 11PM.
The deets: The Coastes Annual Beach BBQ Buffet is priced at S$80++ per adult and S$35++ per child aged 12 and below from 6pm till late, and includes a choice of soft drink, juice, or iced tea. Top up $55++ for free-flow Freixenet Cordon Negro Brut Sparkling Wine, Red & White Wines from 6PM – 11PM. Drink promotions include S$210++ for two bottles of Laurent-Perrier Brut and S$240++ for two bottles of Laurent-Perrier Cuvée Rosé. Pre-order champagnes & liquor bottles online and get 10% off promo price. Tickets and drinks pre-order are now available at https://coastes.myshopify.com
Coastes is located at 50 Siloso Beach Walk, Singapore 099000, p. +65 6631 8938. Open Sun-Thu 9am-10pm, Fri-Sat 9am-11pm.
Indulge in a Seafood Feast at The Pelican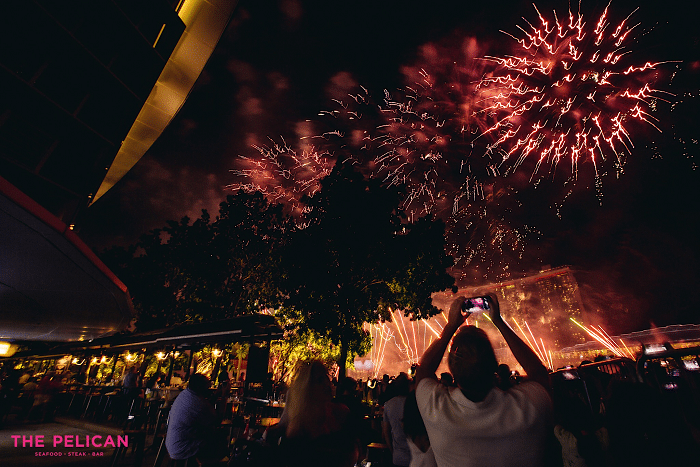 For yet another panoramic view of the fireworks, look forward to The Pelican's Celebratory Package this year – it comes with two bottles of Joseph Perrier Brut, your choice of Roku gin or Johnnie Walker Black Label, and a Fried Seafood Platter loaded with beer battered snapper, fried oysters, fried prawns, and truffle fries. Need more? Fuel up on 4-course and 5-course Set Dinner specially curated for the evening. They feature succulent Woodfire Grilled Tenderloin and fresh oceanic delights like Bay Scallops in truffled cauliflower and brown butter bacon, and Oven-Baked Barramundi. Finish off your feast with a glass of champagne and rich Chocolate Fudge Cake.
The deets: The Celebratory Package (from 5pm till late) is priced at S$500++ per table for up to six persons. The NYE Set Dinner is priced at S$128++ per person for 4-course menu at 6pm seating and S$168++ per person for 5-course menu at 9pm seating.
The Pelican is located at 1 Fullerton Road, #01-01, One Fullerton, Singapore 049213, p. +65 6438 0400. Opens Mon-Fri 12pm-3pm, 6pm-11pm; Sat-Sun 12pm-4pm, 6pm-11pm.
Have a Blast With Singapore Marriott Tang Plaza Hotel's 80's & 90's Throwback Countdown Party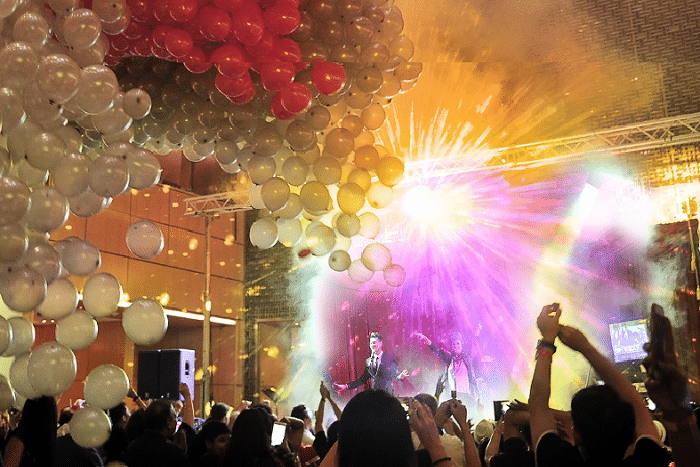 Pop the champagne at the Singapore Marriott Tang Plaza Hotel, with a glorious 2020 countdown party boasting an extensive New Year's Eve Buffet Dinner, top 80's and 90's hits by rock band Raw Energy and the highly-anticipated balloon drop as the clock strikes 12. Journey through the decade's top hits with a delectable buffet spread that includes platters of Lobster Thermidor, Slow-Roasted Australian Beef Prime Ribs, Andalusian-Style Seafood Paella, and much, much more. Got a sweet tooth? Unbuckle your belts for more desserts than you can fathom: from Amarena Cherry & Italian Nougat Mousse and Lemon Cream Puffs to Orange Champagne Jelly and Vanilla Blueberry Ivory Cupcakes.
The deets: The New Year's Eve Dinner Buffet & Countdown is priced at S$188++ for adults and S$88++ for children at Gold tier (held in the Marriott Cafe); S$208++ for adults and S$88++ for children at Platinum tier (held in the hotel lobby).
The Singapore Marriott Tang Plaza Hotel is located at 320 Orchard Rd, Singapore 238865, p. +65 6831 4605. 
Feast Under The Stars at Sand Bar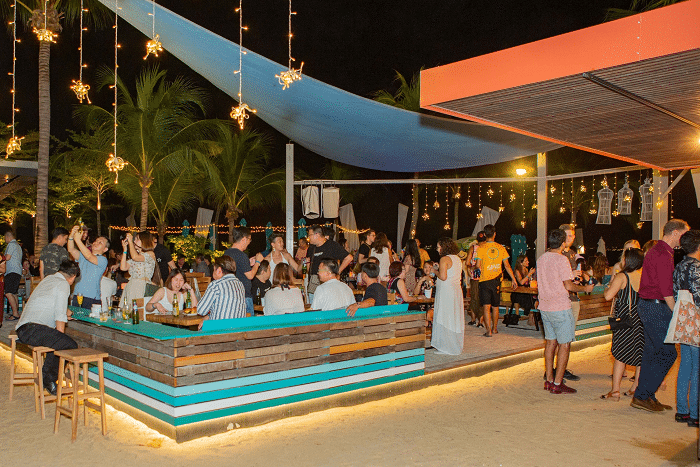 Usher in the New Year with an instagram-worthy beach backdrop at the newly-revamped Sand Bar. Indulge on a wide selection of Sand Bar's signature grilled meats, juicy sliders, fresh pizzas and tasty desserts. Their spacious dining deck & sandy oasis of swaying palm trees overlooking Siloso Beach Sentosa is a great place to catch the last sunset of the decade, so kick back with an ice-cold beer in hand and bid 2019 goodbye.
The deets: The Buffet is priced at S$60++ and beers, wines, cider and house pour spirits at S$7++, commencing from 6.30pm-10.30pm, and includes a welcome drink for each person. Tickets and more details are now available here.
 Sand Bar is located at 52-54 Siloso Beach Walk, Singapore 099012, p. +65 6631 8938. Opens Mon-Thu 12pm-9pm; Fri 12pm-10pm; Sat 12pm-10pm; Sun 12pm-9pm.
Delight in a Royal New Years Eve at The Monarchy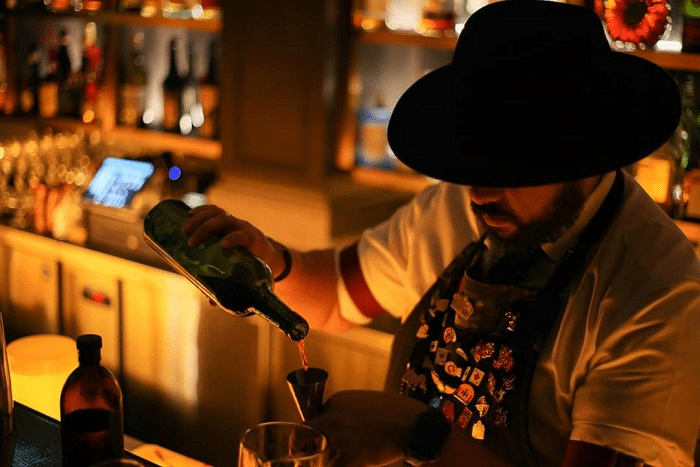 Tras Street's Royal Jesters are here to entertain at The Monarchy Cocktail Bar & Ultra Lounge (our review here). The night begins with free flow cocktails in a celebration of the greatest hits of decades past, with 70's and STUDIO 54 disco. As the revelry wanes on, tune in to their hugely popular UNDERGROUND series, with A.H.D. closing the year off with a trailblazing set of deep house set inspired by the depth of many of London's tube stations, with off the beaten track and deep into the bass line rhythms of music. For food, trust the fellows at Fung Kee Hotdogs to keep your belly happy.
The deets: Doors open at 9pm-4am. Tickets start at S$128++ and are available here.
The Monarchy Cocktail Bar & Ultra Lounge is located at 56/58 Tras St, Singapore 078995, p. +65 8268 5001. Open Tue-Fri 6pm-3am, Mon and Sat 6pm-4am.
Send Tanjong Pagar's Kilo Lounge Off With The Decade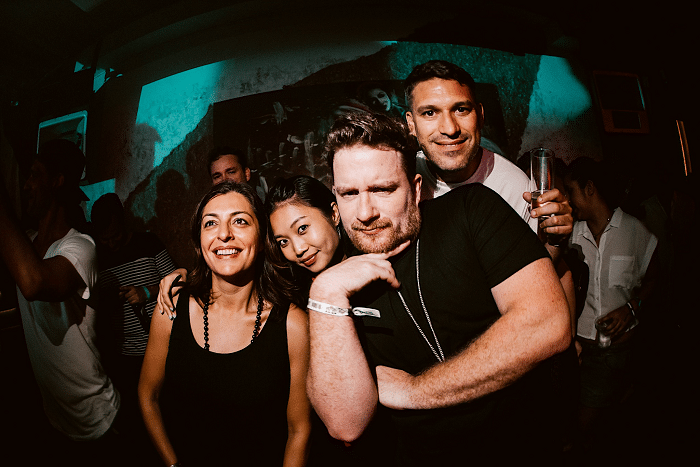 The 31st doesn't just mark the end of a year, it also signfifies the last day the Kilo Lounge opens its space at Tanjong Pagar, with another soon to open mid-2020. We'll fondly remember the great parties and even better people they've hosted, like Mitski, Lucy Rose, Phum Viphurit, and the monthly EMONIGHTSG. Get in on the three-day celebration and send the Lounge off with a bang – hosting some of their most treasured selectors and DJs on the 31st, including Orio, Joshua P, Brendon P, JustMack, and Jeck Hyde.
The deets
: The three-day party will be happening on 27, 28 and 31 December. More details available
here
.
Kilo Lounge is located at 21 Tanjong Pagar Road #01-02/04 Singapore 088444, p. +65 9824 9747. Opens Wed 5.30pm-12am, Thu-Fri 5.30pm-3am, and Sat 9pm-4am.
Party The Night Away at TUFF CLUB & Headquarters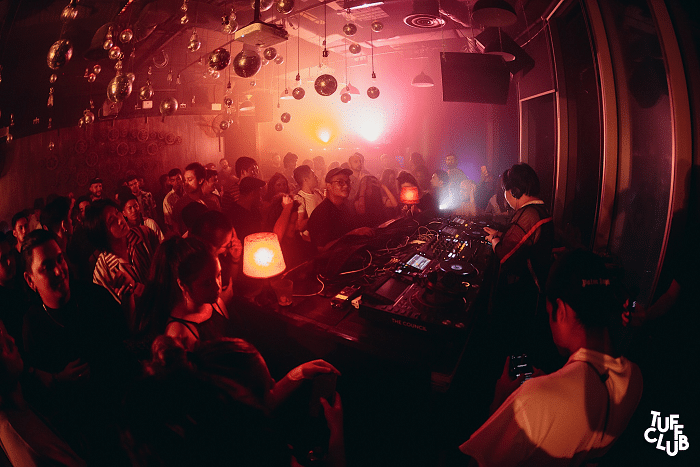 Don't wait for 2020 to add some spring in your step – start your resolutions off with a leg day to remember – New Year's at Boat Quay's Headquarters brings a star-studded list of mixmasters: Deen, Bongomann, Daryl Knows and Muto Masashi. Over at TUFF CLUB on Robinson Road, the Breakfast Club returns with David Carollo and Cats On Crack, and breakfast included.
The deets: More details here.
Headquarters is located at 66 Boat Quay, Singapore 049854, p. +65 8751 7430. Opens Wed-Fri 10pm-3am, Sat 10pm-4am. TUFF CLUB is located at 138 Robinson Road #19-01 Singapore 068906, p. +65 8751 7430. Opens Fri 11pm-3am, Sat 11pm-4am.
Top Image Courtesy of VUE.