Restaurant Review: Going Loco Over Duxton Hill's Mexican Taqueria Lucha Loco, Singapore
PUBLISHED December 25th, 2017 06:00 am | UPDATED May 18th, 2020 04:24 pm
Mention Mexican food in Singapore and more often than not, the name Lucha Loco pops up somewhere in the conversation. And yes, it's usually a positive sentiment. The Duxton Hill restaurant was set up in 2012 by siblings Julian and Christian Tan after a holiday to Tulum in Mexico, where the duo revelled in the rich local culture and bustling food scene.
The inspiration is evident, from the restaurant name (after the colourful Mexican wrestling sport lucha libre) to the design: distressed concrete walls that mimic the gritty streets of Mexican back alleys, and a spacious tropical beer garden with long wooden tables, exposed bulbs hanging from a string, vintage wrestling posters, and bright colours all around. Nothing too fancy – which is just the way it's intended, cheap sombreros and all.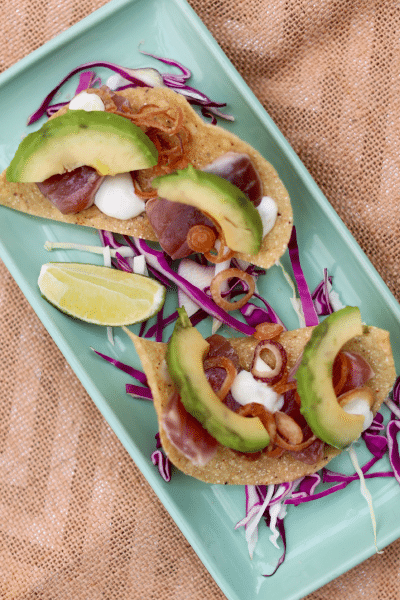 For what it's worth, neither of the core kitchen staff – The Loco Group's Culinary Director Jason Jones and Head Chef Tony Tan – are of Mexican descent. Does it mean their creations are any less traditional? Possibly, but they are delicious and a lot of fun. At its core, Mexican fare is epitomised in vibrant, spicy, and exciting flavours. The culture is not so much about formal dining than it is little snacks that workers can pick up and eat any time of the day. And when it comes to tacos, quesadillas, and the like, it's safe to say that Lucha Loco hits the mark.
When you're there, grab a cocktail made with something from the restaurant's fine mezcal selection – they serve mezcal flights too. For me, it's the Mayan Mule ($18), a springy rendition of the classic that they do with fresh cilantro, lime juice, toasted ancho chillies, and sweet Alipus San Luis Blanco topped off with ginger beer. Then, dig into some entradas like the Tostaditas de Cangrejo ($16), a light starter that puts the focus on some extraordinary blue swimmer crab meat with avocado and habanero mayo. Can you imagine a Mexican meal without corn? If not, order the Elotes ($8), or street-style grilled corn with chipotle mayo and rich Cotija cheese.
You might make a mess with the tacos – that's how good they are. The Baja Fish ($11/pair) is a classic with spiced up crispy fried fish, a bizarrely aromatic chilli mango salsa, some mint, and cabbage. You can also get the hefty Carnitas ($9/pair) – tender pulled pork belly with black pepper, cilantro mayo, and a special ingredient: jicama, a crunchy native turnip of sorts.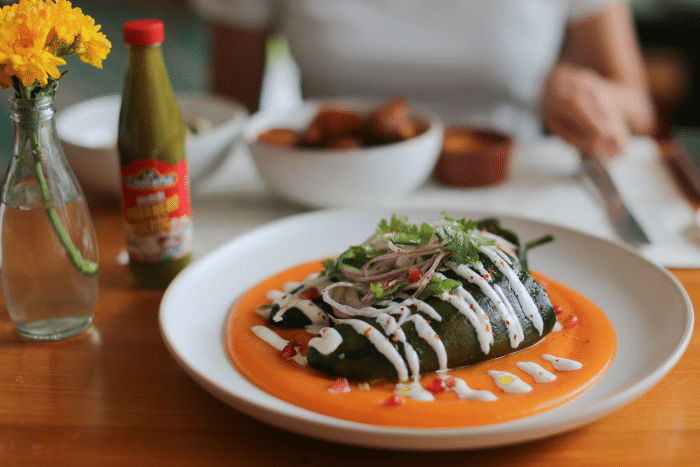 For sharing, we get the Pollo a la Barbacoa ($22), a lip-smacking Asado barbecued chicken spiced with chilli, lemon, and a hit of fresh coriander. It's a fiery assault of fantastically marinated meat, and one of the more compelling dishes of the night. Then, the Chile Rellenos ($28) surprises with its large poblano pepper, roasted and stuffed with mixed grains, and swimming in a pool of sweet potato purée, lime crème, and pomegranate. Thankfully, the chilli isn't drowned out by all that tasty mishmash, and promptly proceeds to get wiped out by the table.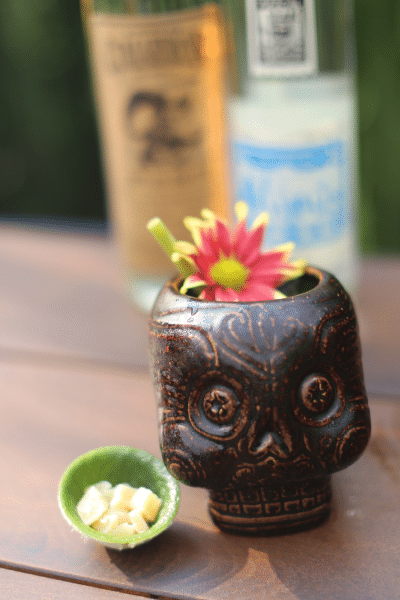 There are two desserts you should try, the first being Pastel del Maíz ($14), a warm baked sweet corn cake in a plate of dulce de leche and almond flakes. On the side: sweet corn ice cream that easily beats those peddled on the streets. The one here is rich and creamy, a sensuous complement to the various ingredients. Then, get the Enchilada de Manzana ($14), sweet tortillas filled with green apples and unique agave cream cheese. This comes with chocolate sauce, pine nuts, and a scoop of vanilla ice cream – an unusual combination that actually works – unlike, you know, ice cream prata.
Lucha Loco is located at 15 Duxton Hill, Singapore 089598, p. +65 6226 3938. Open Tue-Fri 12pm – 4pm, 5pm – 11.45pm, Sat 6pm – 1am.