Restaurant Review: Le Du's Chef Ton Opens Mayrai Pad Thai Wine Bar In Bangkok's Old Town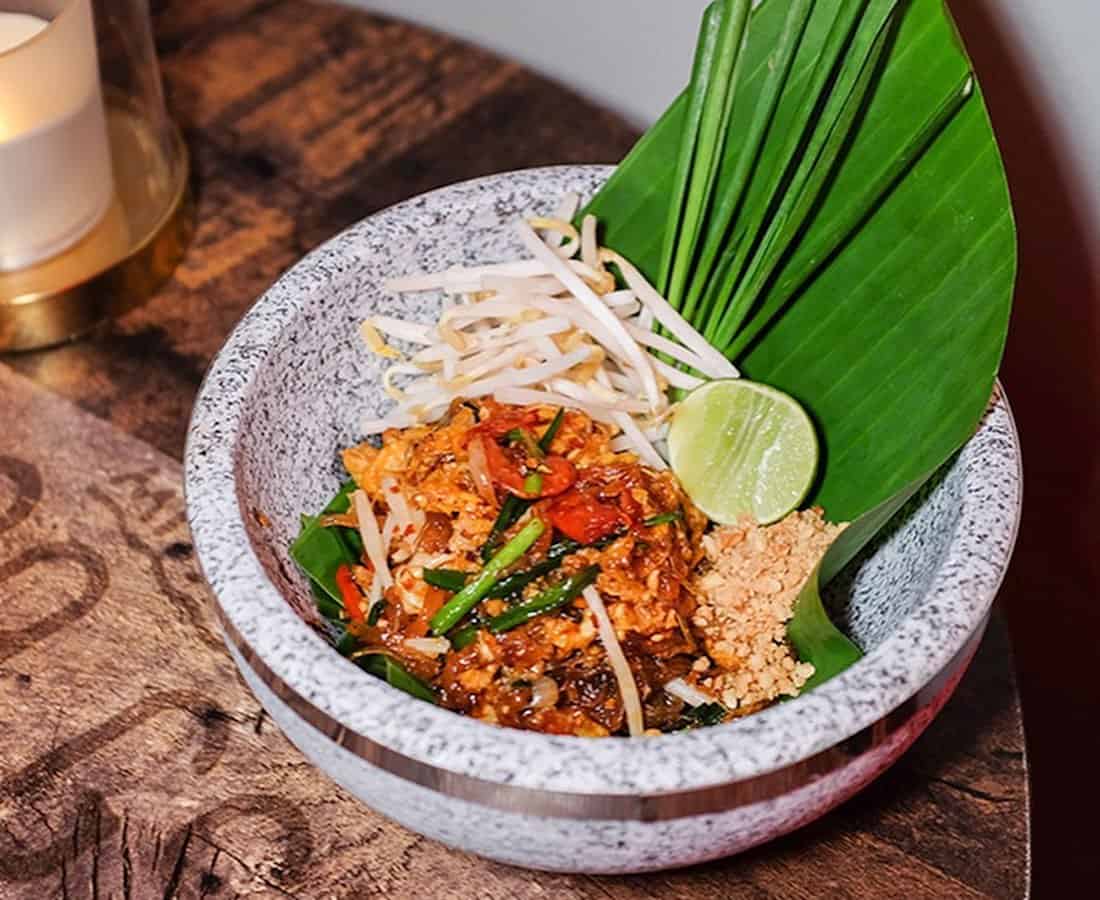 PUBLISHED April 16th, 2020 06:00 am | UPDATED May 19th, 2020 10:46 am
**Throughout the duration of Bangkok's curfew as a result of the Covid-19 outbreak, Mayrai Pad Thai is offering Bangkok-wide delivery by phoning + 66 81 432 4050 or Facebook message.
---
Forget about cheeses, because this new bar in Bangkok's old town wants to pair wine with what is arguably Thailand's most famous dish: pad thai. Led by acclaimed chef Thitid "Ton" Tassanakajohn of the Michelin-starred Le Du, Mayrai Pad Thai Wine Bar is a far cry from fine dining. There are plans to turn the second floor into a chef's table later in the year, but for now, he just wants to bring more culinary diversity to Tha Thin, a historical area known for plenty of street food but not much else in the way of food.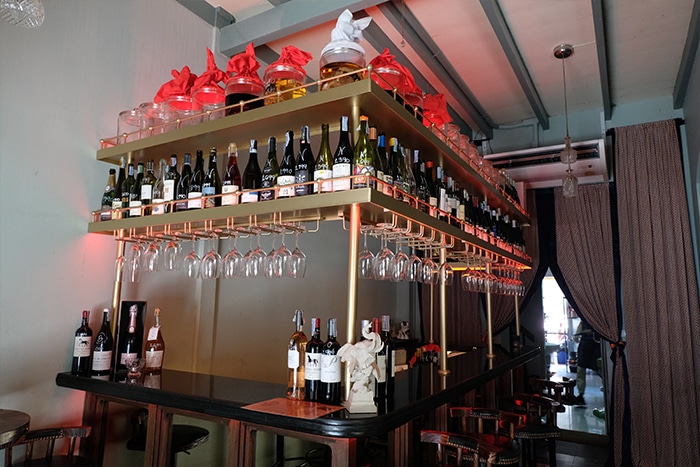 Mayrai takes its name from the poetic Thai word for "liquor", occupying a small shophouse right in front of the very old Sala Rattanakosin Hotel. In the day, the street outside is teeming with workers lugging crates of who-knows-what, so it can get a bit rowdy during lunchtime. By 5pm, it is a lot quieter and the vibes become different — which is what the chef is banking on. Walking in, we're greeted by swathes of red neon and chill music that makes you think you're in one of the hip bars in Silom.
Ton's sommelier brother, Chaisiri "Tam" Tassanakajohn, tells us that they decided to open the place when they observed more Thai people drinking wine instead of cocktails in recent years. The focus here is on biodynamic, organic, and natural wines, which make up a majority of the 100 bottles sitting on top. A single glass of wine, like the house Maison de G. Chenin Blanc and Grand Itata Blanco, starts from a pocket-friendly THB200. Even the better bottles — Tam recommends the full-bodied 2016 Cheval Noir St. Émilion (THB1,899) or the woody Balaton HT NR3 Riesling Furmint 2017 (THB2,099) — are far from intimidating. There are also some Thai wines, like the Sparkling Rose (THB1,699) from GranMonte in Khao Yai.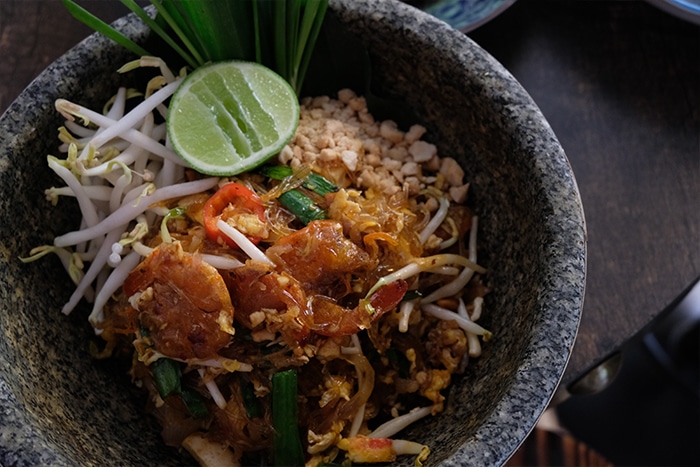 When you look to the top shelf, you'll see huge jars like those you'd find in traditional medicinal shops. This is housemade ya dong, an aromatic moonshine made from more than 10 types of medicinal herbs and roots. We get a cup to try, and it tastes like a spicy-bitter rice whisky.
Pad Thai is in the establishment's name, so the one here has to be good right? Inspired by his grandmother's recipe, Ton's Pad Thai May Rai (THB79) uses bright orange glass noodles instead of rice noodles for a chewier bite, with large slices of dried shrimp that add a lot of umami. It is spicy, sweet, sour, and even a bit funky. Those who like seafood can splash out on the Pad Thai Goong Mae Nam (THB690) that comes topped with giant river prawns. There are also slow-cooked wagyu and pork neck versions.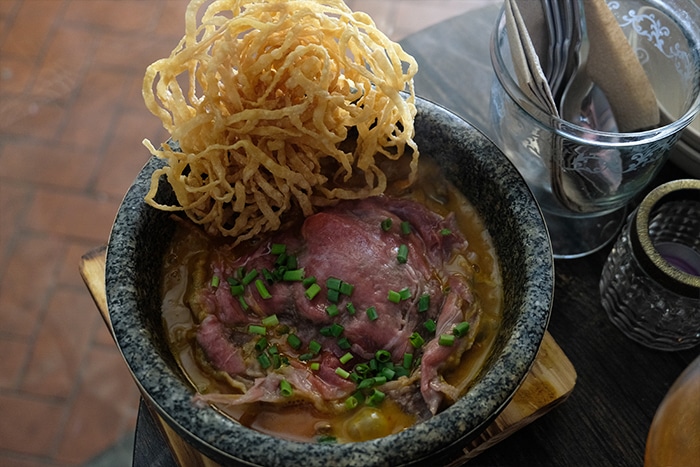 We wouldn't expect a great Khao Soi (THB390) in a place like this, but here it is, served in a bubbling stone bowl, no less. Ton's take on the classic Thai curry noodle soup sees thin wavy egg noodles in a slightly sweet, slightly spicy curry with the aroma of coconut, turmeric, and galangal, accentuated by a bit of lime you squeeze yourself. We later learn that he throws in bone marrow to improve the richness — as if a thick slice of wagyu beef isn't already enough. It sounds over the top, but we can see ourselves itching for this again in a few weeks, along with a solid glass of wine.
Mayrai Pad Thai Wine Bar is located at 22 Maha Rat Rd, Phra Borom Maha Ratchawang, Khet Phra Nakhon, Bangkok 10200, Thailand, p. +66 81 432 4050. Open Wed-Mon 12pm – 12am. Closed Tue.