Restaurant Review: Masaaki Delivers a Stunning Sushi Omakase Experience at South Beach, Singapore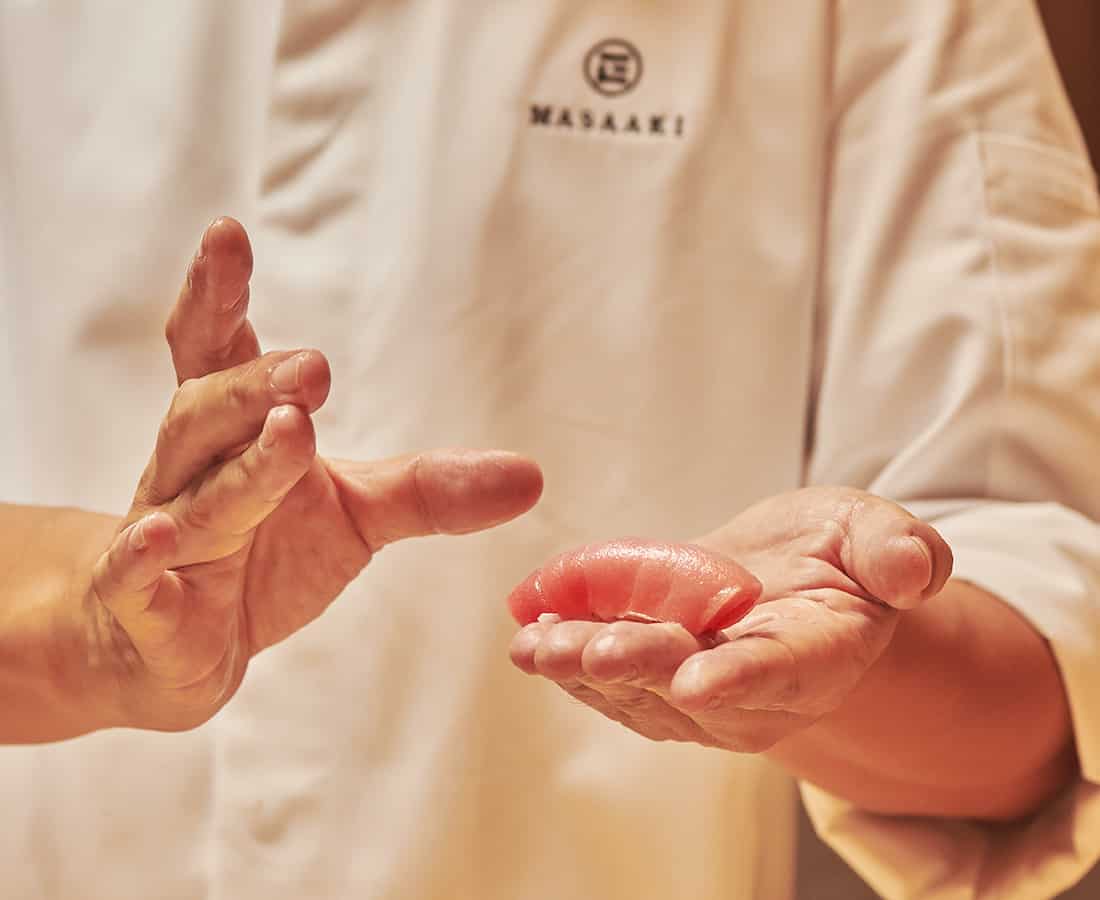 PUBLISHED January 16th, 2021 05:00 am | UPDATED January 22nd, 2021 02:49 pm
Soft pink Gucci wallpaper, dancing cranes, and washi sheets suspended from the high ceiling, emulating clouds – from its facade in the basement of South Beach Avenue, one wouldn't have guessed that Masaaki to be a sushi omakase restaurant on the first try. Despite the departure from classical design of traditional Japanese fine dining, the month-old establishment remains distinctively Nippon in DNA, mirroring the food that chef-owner Masaaki Sakashita serves up.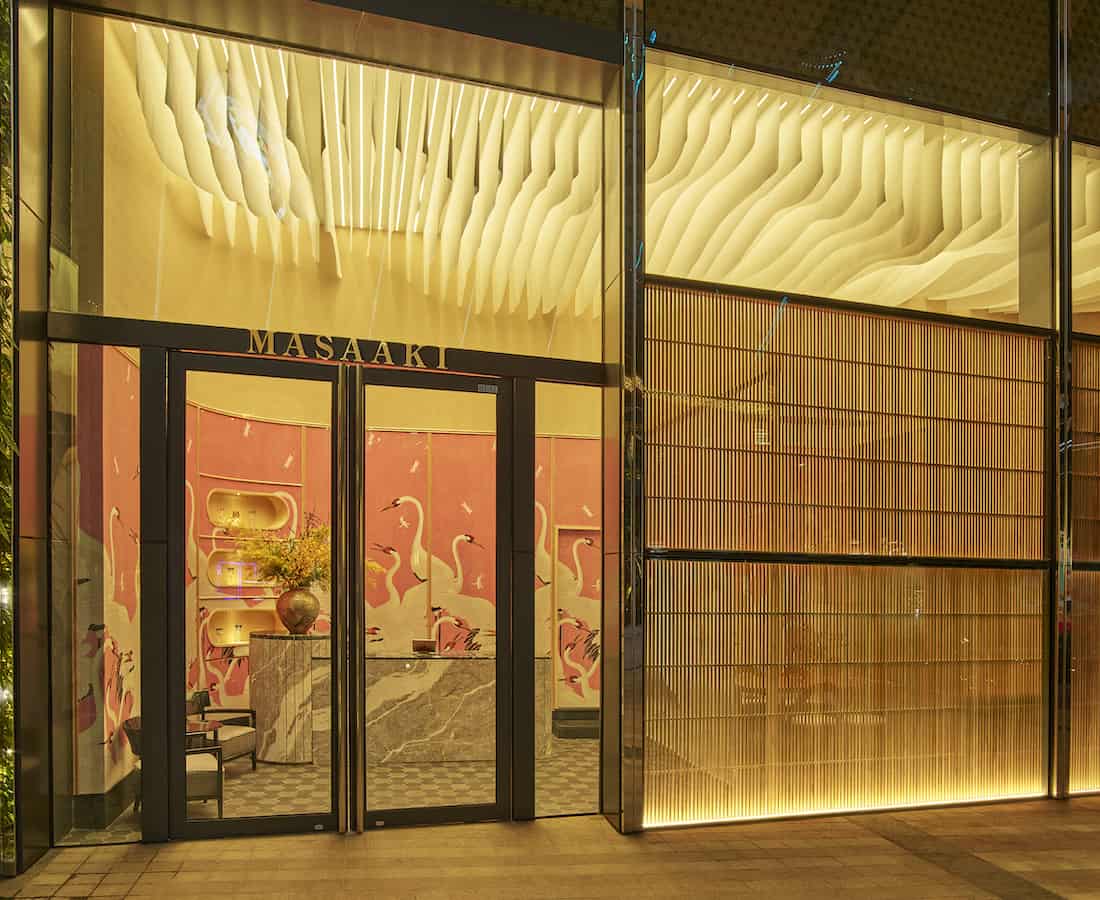 Behind the dancing cranes, diners will find a dining room that'll fit 20 people, with 12 around the gorgeous sushi counter crafted from 250-year old hinoki wood. Anchoring the space is an okudo, a stone charcoal hearth used in traditional Japanese cooking that's not commonly seen in sushi restaurants, and just one of the many ways that Chef Masaaki infuses traditional cooking techniques with his personal ingenuity. Omakase menus start from S$120++ for a seven-course lunch and S$280++ for dinner.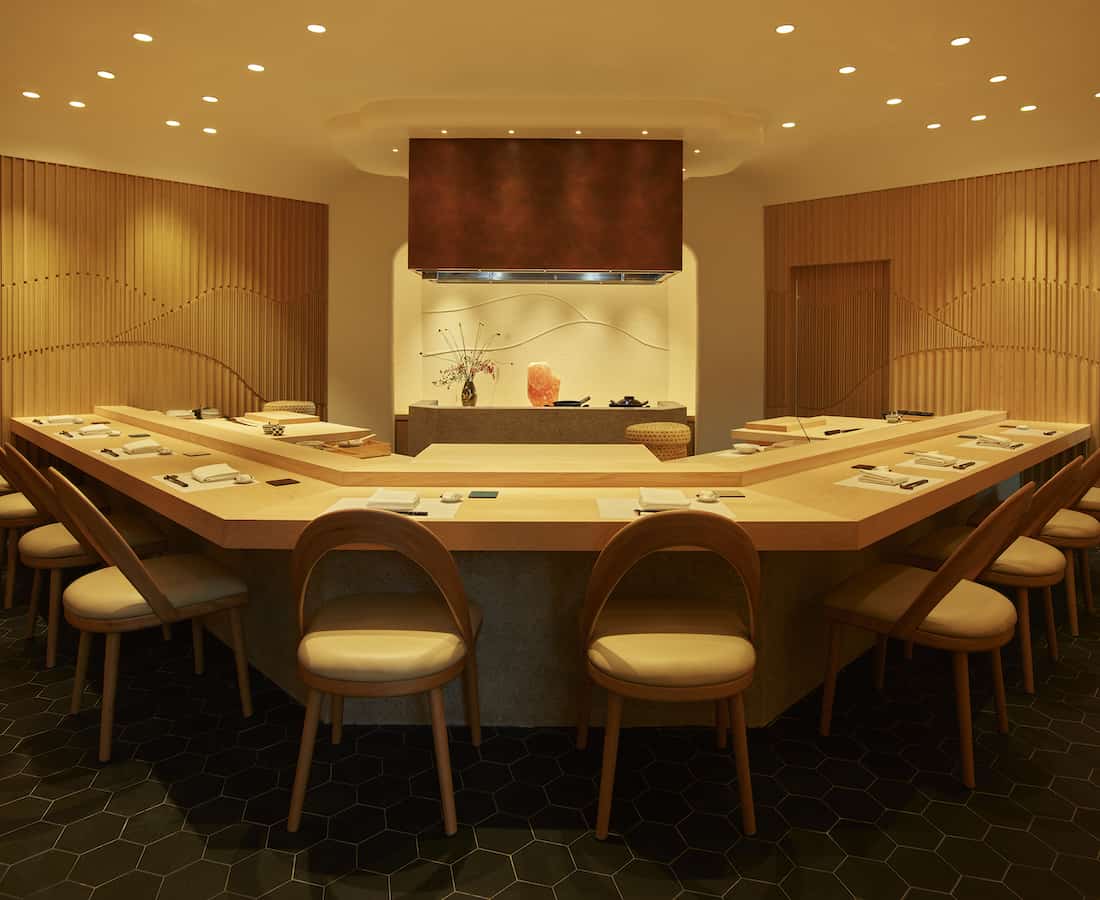 We begin our evening with Seasonal Starter of chunky snow crab topped with ikura and dashi vinegar jelly. The latter balanced out the creamy sweetness of the flesh, and together with the herbaceous shiso flowers for garnishing, make for an appetite-whetting dish.
Between the eating and drinking – there's a curated list of sake and wines – and Chef Masaaki's show and tell (like the cut bluefin tuna we were going to enjoy later), we got caught off guard when he handed us our Appetizer without much pomp. Grilled eel and plenty of freshly grated wasabi sandwiched in a sheet of unsalted seaweed – delicious.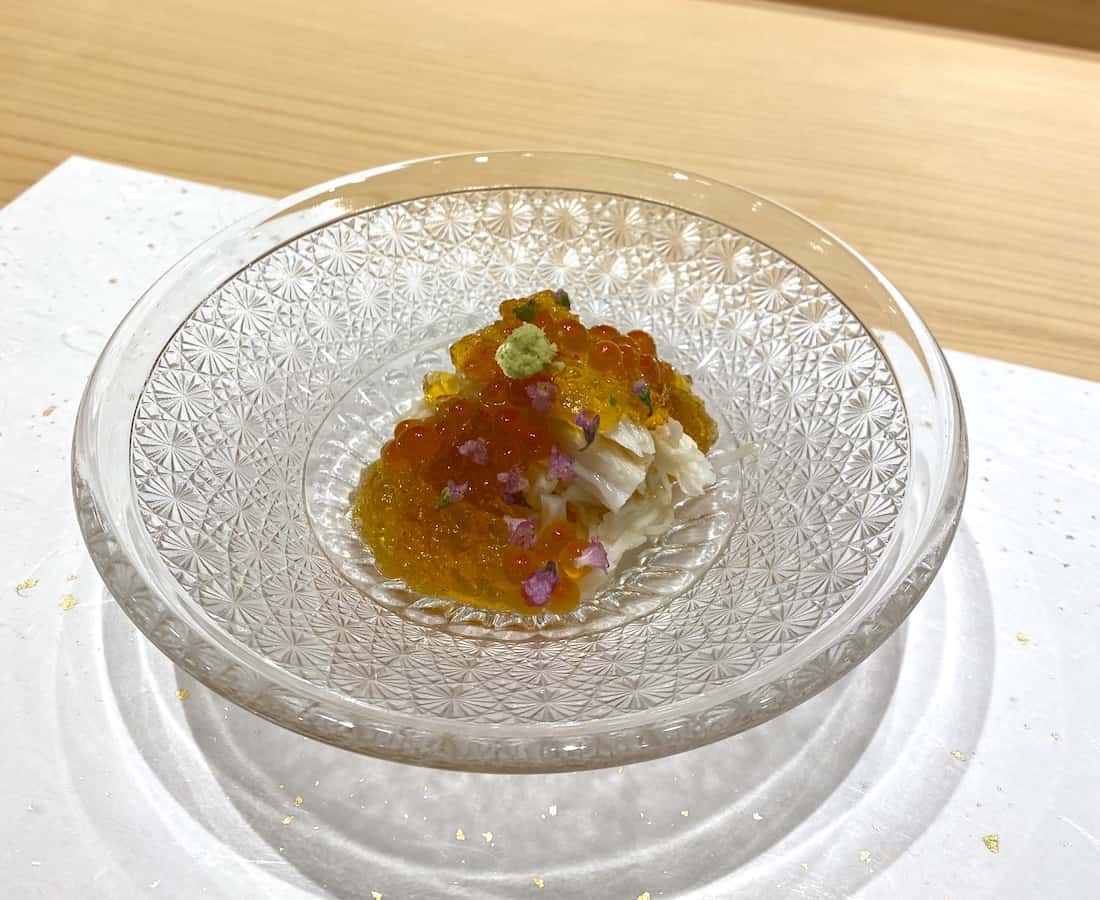 There were four components to the Seasonal Sashimi, and only the chutoro was left ungarnished to let the natural flavour and texture shine. Botan ebi, for example, was dressed with sudachi (a type of Japanese citrus) to balance out its creaminess while giant grouper – a firm white fish with plenty of bite – was served with plum sauce. Kinki, also known as channel rockfish, was cooked in kombu dashi for three seconds, resulting in a firmer texture, then served with ginger and ponzu.
Next up, two hot dishes. The first felt like a lesson plan in creamy textures; the Chawanmushi topped with sea urchin hid shirako (sperm sacs of cod) in its depths. What binds them together is a mild yet tasty seaweed sauce. Then there's two slices of fresh abalone cooked lightly in sake and kombu dashi, served with a moreish abalone liver sauce.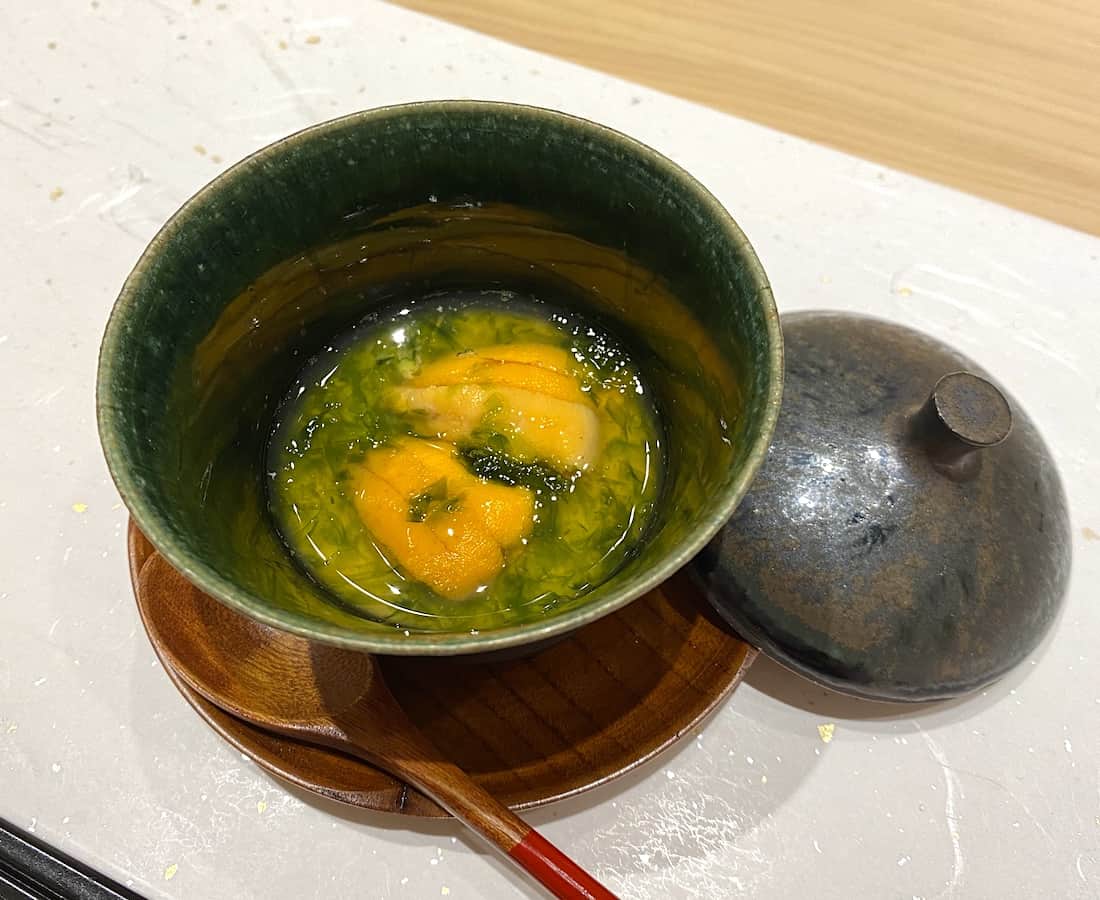 Considering there are 10 pieces of Sushi, folks with a smaller appetite can feel free to ask for less rice, much as we thoroughly enjoyed Chef Masaaki's Hokkaido rice. With an al dente outer grain and soft at the core, it's marinated with three-year aged red vinegar, resulting in darker hued grains. A trio of homemade pickles is also served at this time – the wasabi marinated mountain yam was particularly good and made for a great palate cleanser between the sushi.
Highlights of this course include the very first – thinly sliced raw squid on sushi rice. The liver sauce from before, which we retained on advise from the chef, added texture and savoury flavours. For the first time, we also get different parts of the same fish in one piece of sushi, and not just once. flounder was layered with its differently texture fin while the liver of the leatherjacket fish is sandwiched between the flesh and rice. Melting from the residual heat of the rice, the latter is one creamy and flavourful morsel. Lastly, instead of using wasabi, straw-smoked Spanish mackerel is paired with mustard seed for a lovely tanginess.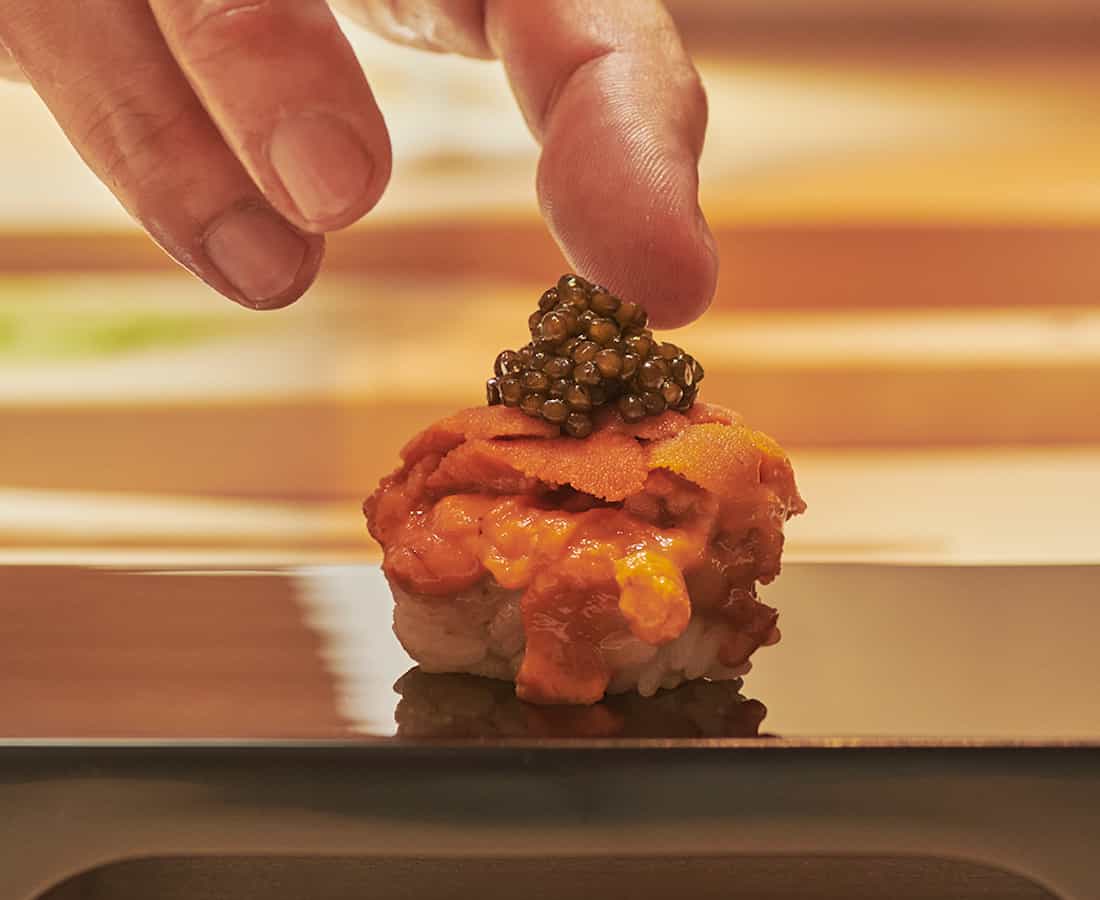 The last three savoury courses arrive in quick succession, a Handroll of ankimo (monkfish liver) with watermelon pickles, a Seasonal Rice Bowl topped with uni and caviar, and a heartwarming bowl of umami in the miso soup with prawn head stock.
Dessert at Masaaki is no afterthought, though you do get the seemingly requisite musk melon alongside a green muscat grape. A pair of melt-in-your-mouth warabi mochi with soybean powder and black sugar follows, and the meal caps off with a bowl of Hokkaido milk ice cream paired with walnut and caramel.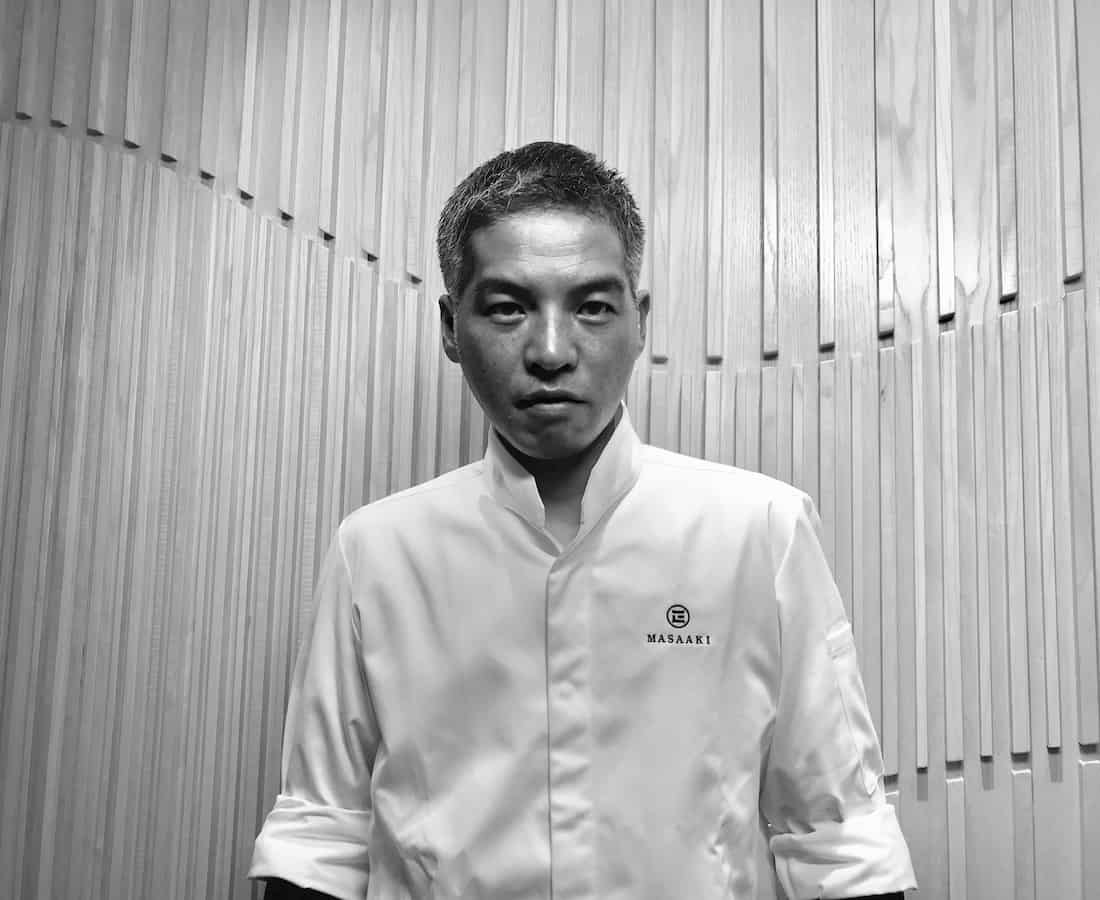 Dining at Masaaki was surprisingly fun. Although Chef Masaaki looks stern and too-cool in his PR images, there were quite a few jokes and plenty of laughter in our interactions over the three-hour dinner. Prices might be on the high side for a restaurant without awards, but consider the quality of even the minute touchpoints – like a placemat of two pieces of gorgeous washi paper and chopsticks made of precious ebony – and you'll probably get over it.
Sushi Masaaki is located at #B1-17 South Beach Avenue, 26 Beach Road, Singapore 189768, +65 6388 1555. Open Tue-Sun 12pm-2.30pm, 6pm-10.30pm. Closed Mon.