Restaurant Review: Namsaah Bottling Trust Serves Asian Comfort Food in a Bright Pink Colonial House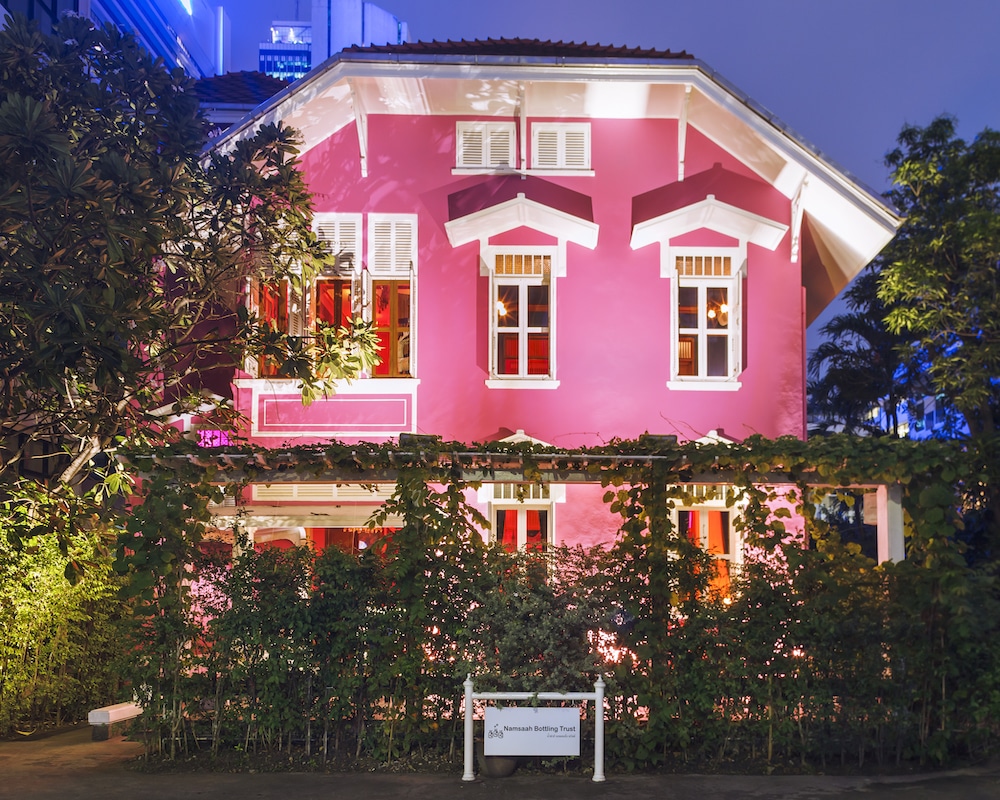 PUBLISHED June 13th, 2019 04:55 pm | UPDATED May 18th, 2020 07:10 pm

Bangkok's countless sois and yaeks are home to a plethora of dining gems, and one of them is Namsaah Bottling Trust. The quiet street of Silom Soi 7 is a great contrast to the vibrant hue of the restaurant façade, though that matches the building's colourful history. Since the 1910s, it has been a military man's residence, a soda company's bottling office – Namsaah is an old Thai word for sparkling water or soda – and the headquarters of defunct bank. Today, the villa hosts the brain child of celebrity Chef Ian Kittichai, music impresario Frederic Meyer, creative arts expert Jeremy Opritesco, and nightlife guru Justine Dunne.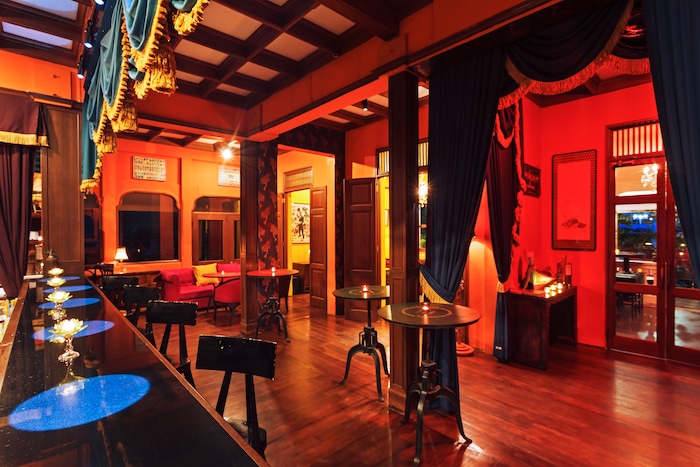 Our experience started with aRoasted Tangerine Negroni (THB290) and a Thai Rose Apple Martini (THB340) at the bar and lounge on the ground floor. We like how the fresh tangerine juice in the former softens the punch of the alcohol even if it could do with a bit more roasting, while the vodka-based latter is fragrant and fruity. For snacking, they offer complimentary chili cashew nuts to keep you on your toes, but those beyond peckish can look to the restaurant menu's selection of bar-style starters, such as the Pandan Chicken (THB290).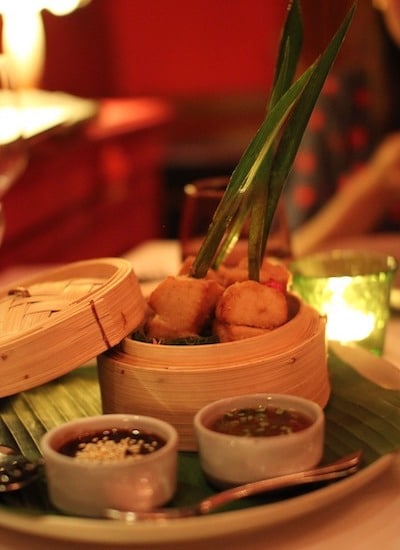 Their version of the often bastardised Thai dish features soy, pandan, and ginger marinated chicken breast. Though we had hoped for a stronger pandan flavour, there's no question of the chicken's tenderness, with use of sous vide before a quick fry.
The highlight in this dish is the pair of sauces for dipping the chicken – dark soya ginger sauce that gets its edge from toasted sesame and the tanginess of the sweet chili dip made with fish sauce and palm sugar.
Upon heading upstairs, we were pleasantly surprised that guests are largely encouraged to sit wherever they like (unless someone else has requested for your preferred table in their reservation).
Each dining room is also designed and decorated differently, so guests get to pick the aesthetic backdrop they dine to, be it vermillion walls and dark wood, or cobalt blue with Chinese-style paintings on the wall.
Served in a claypot, the Seafood Nasi Goreng(THB590) was excellent. The addition of squid ink is an umami lift for the classic Indonesian fried rice. Packed to the brim with fresh shrimp and squid, as well as salmon roe for good measure, this tasted great even after being reheated the day after (we took a doggy bag home 'cause it was too good to waste).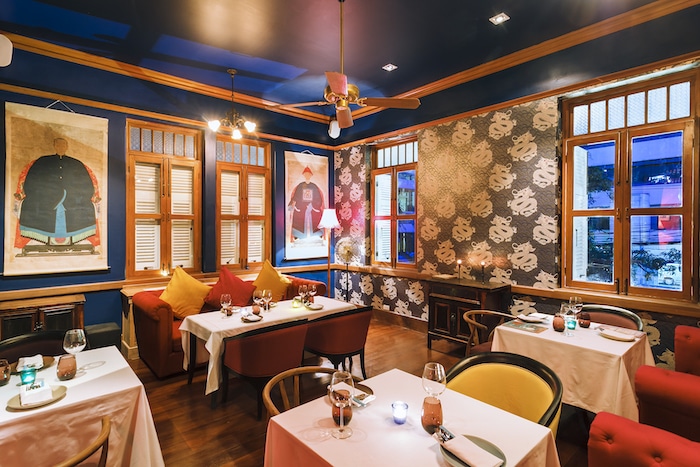 The Larb Soft Shell Crab (THB390) was the only disappointment of the night. Individually, the crispy fried Surat Thani soft shell crab and roasted rice dressing met expectations, but put together, they don't feel like a dish. Perhaps it was our assumption that anything termed "larb" would be spicy, but this wasn't.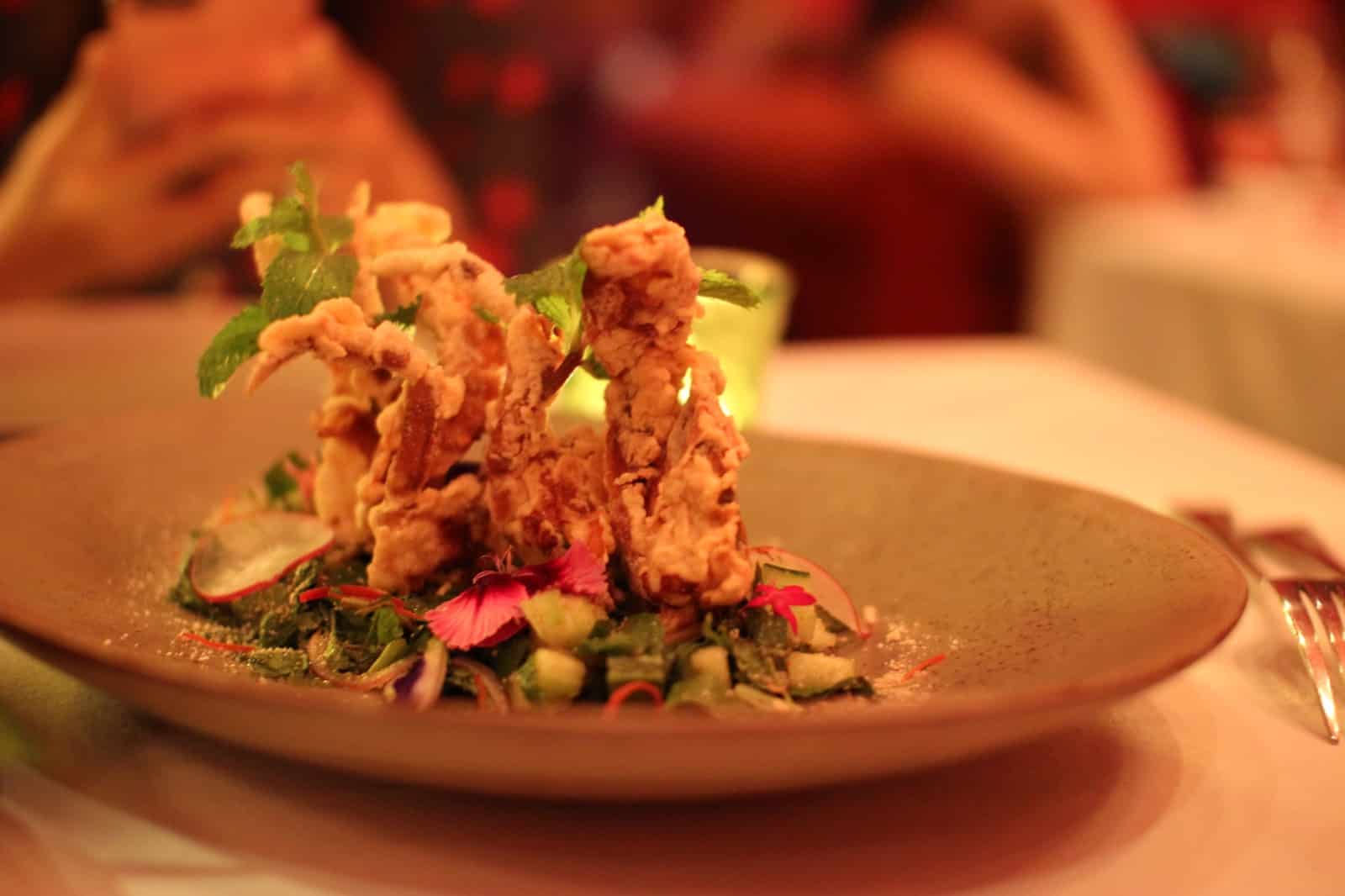 The Green Curry Short Rib (THB1,250) might be the most expensive dish of the night but we reckon in the most value for money. Think juicy, well-roasted Rangers Valley Australia Black Angus Beef – with a marbling score of 3+ – simmered in green curry with eggplant and Thai basil. And there's a lovely nutty flavour in the curry that we haven't gotten anywhere else.
For dessert, neither that we tried were stellar though they satisfied the sweet tooth. The overly fine crumble in the Pineapple Coconut Parfait (THB280) didn't provide nearly enough textural contrast, though the caramelised pineapple and coconut ice cream were very tasty. While it wasn't too sweet, the Tropical Pavlova (THB290) could use some vanilla bean in the Chantilly cream for more flavour; what tasted like purely cream didn't generate too many sparks with the tropical fruits and compote.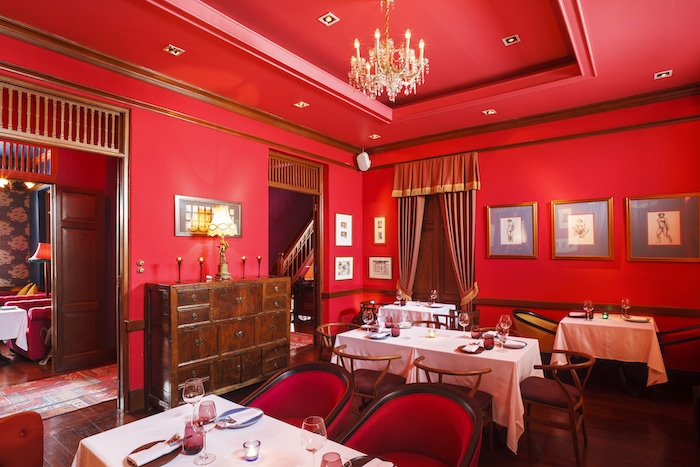 Despite some misses, us heading back to Namsaah is for certain. We've tasted enough to want to try more of Chef Ian Kittichai's take on the comfort Thai dishes – and they've got a decent alcohol menu that takes our mind off the dessert offerings.
Namsaah Bottling Trust is located at 401 Silom Soi 7, Silom Road, Bangrak Bangkok 10500, p. +66 2636 6622. Open 5pm-1am daily, full menu served till 12am.
All exterior and interior images courtesy of Namsaah Bottling Trust, all food images courtesy of Sylvester Fedor.