Restaurant Review: Omakase Concept FUKUI Brings Coastal Japan to Mohamed Sultan Road, Singapore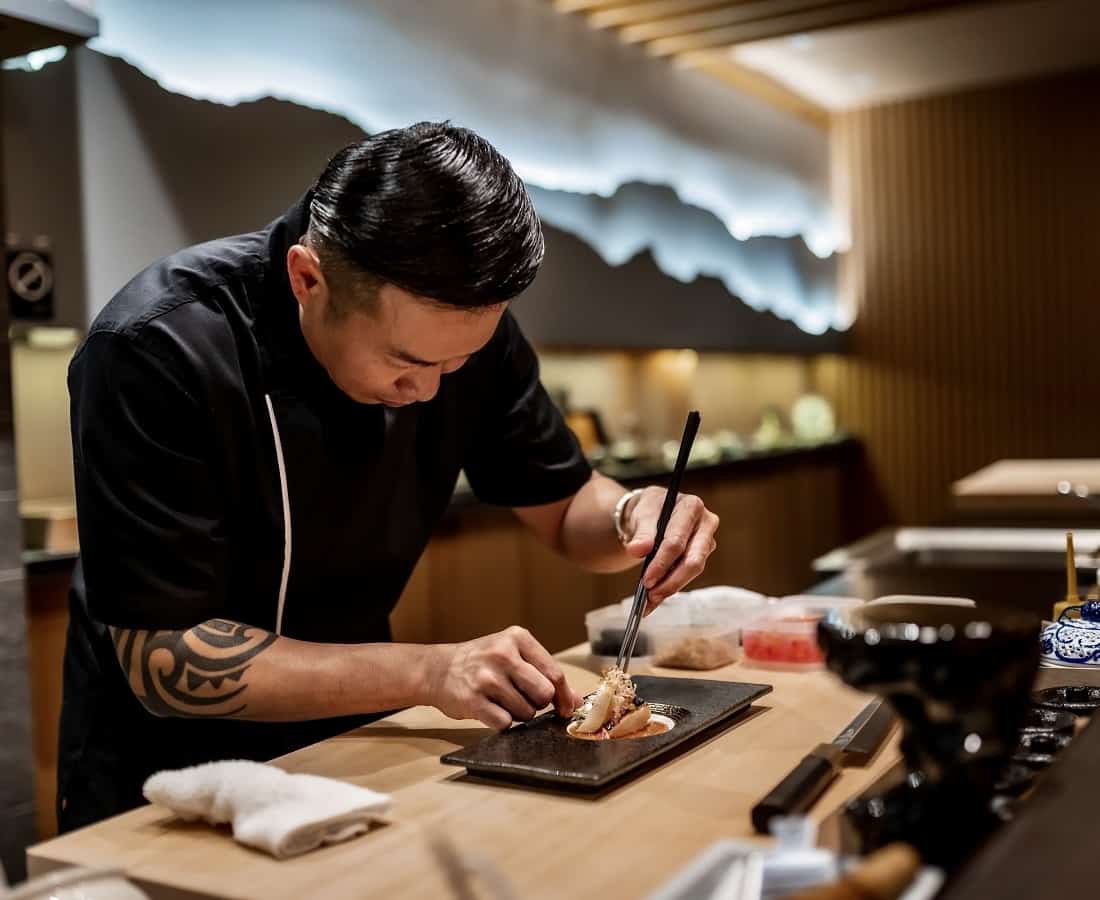 PUBLISHED March 25th, 2021 06:30 am | UPDATED March 29th, 2021 02:32 pm
Unlike spotlight-stealing neighbors like Kyoto and Gifu, Fukui Prefecture isn't a name familiar to most wanderlust lists. Which is a pity, because this coastal retreat holds plenty of untasted joys – seafood fresh from the Sea of Japan, soaring mountain ranges, and pure spring water that translates into extraordinary sake. Now that travel is off the menu, the next best place we'd go for a slice of Fukui is a little shophouse tucked on Mohamed Sultan Road.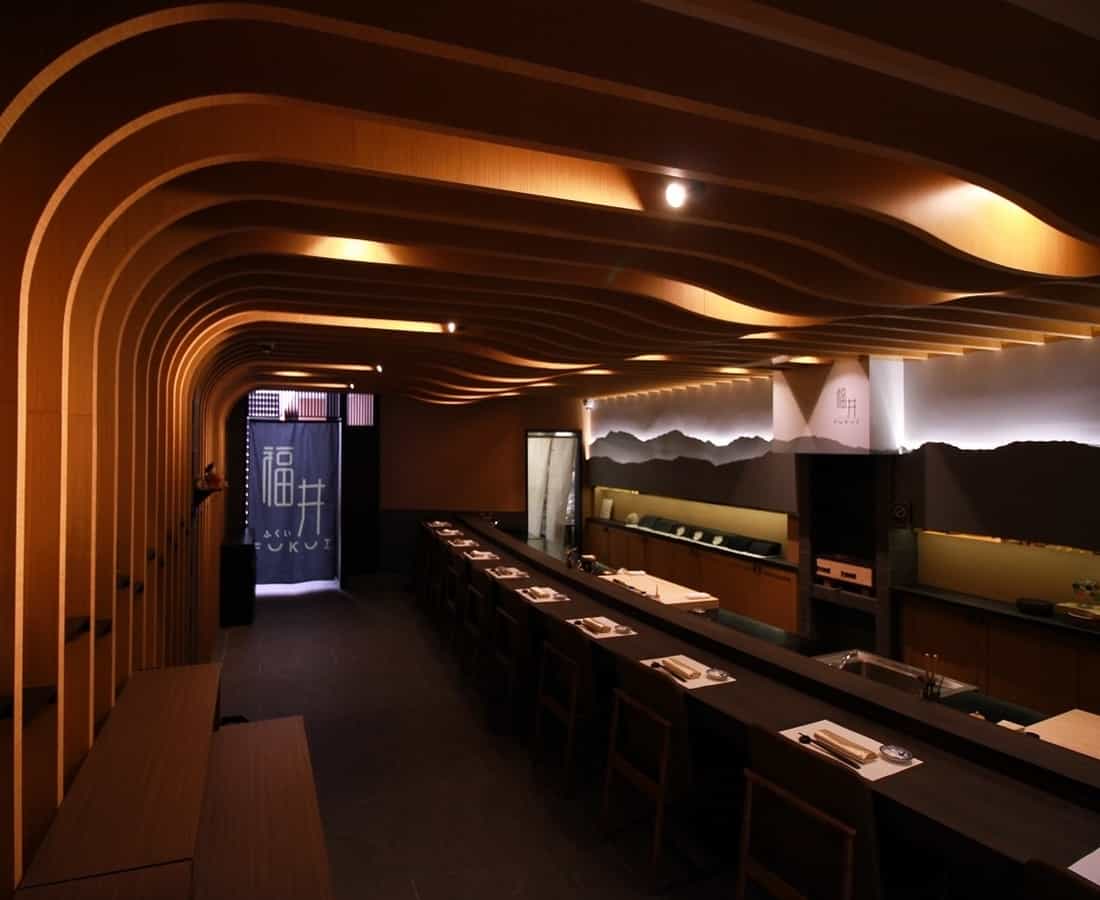 Stepping into omakase restaurant Fukui (福井) feels like a portal into Japan, with its low, woven-look ceilings and its tranquil palette of light and dark wood. Freshly launched this March, it's the fledgling venture of sisters Eugenia and Emilia Tan, who cut their teeth in F&B with their family-owned Kyuubei Izakaya. Behind a 12-seater counter presides affable head chef Nick Pa'an, formerly of now-defunct Santoro Japanese Restaurant. He orchestrates a deft show of searing, slicing, and straw fire cooking, backdropped by a serene installation of Fukui's mountain ranges in silhouette.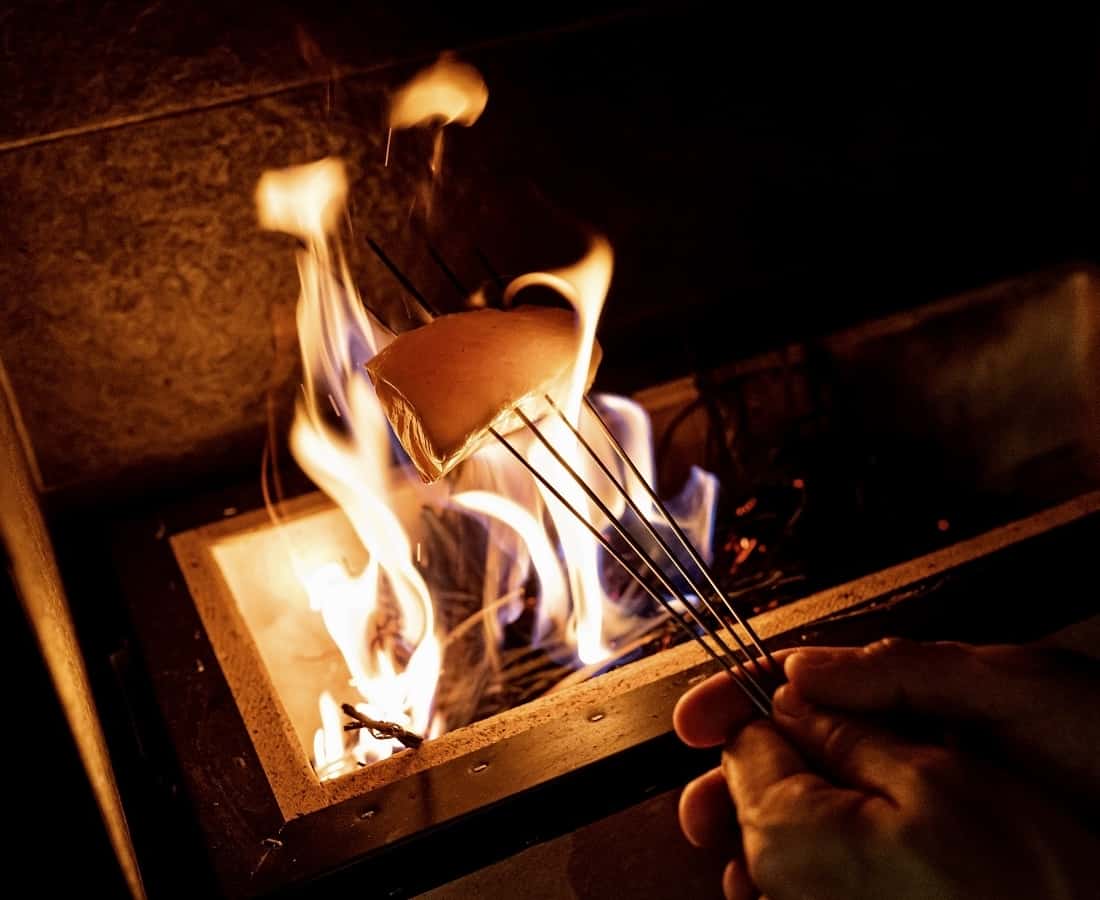 The omakase menus are a seasonal, ever-changing affair, starring produce from Tokyo's famed Toyosu Market as well as Saga Prefecture and Hokkaido. Options range from S$88 for a six-course lunch to S$338 for thirteen courses of pure indulgence, alongside a selection of Japanese whiskies and sakes from breweries like Fukui-based Kokuryu.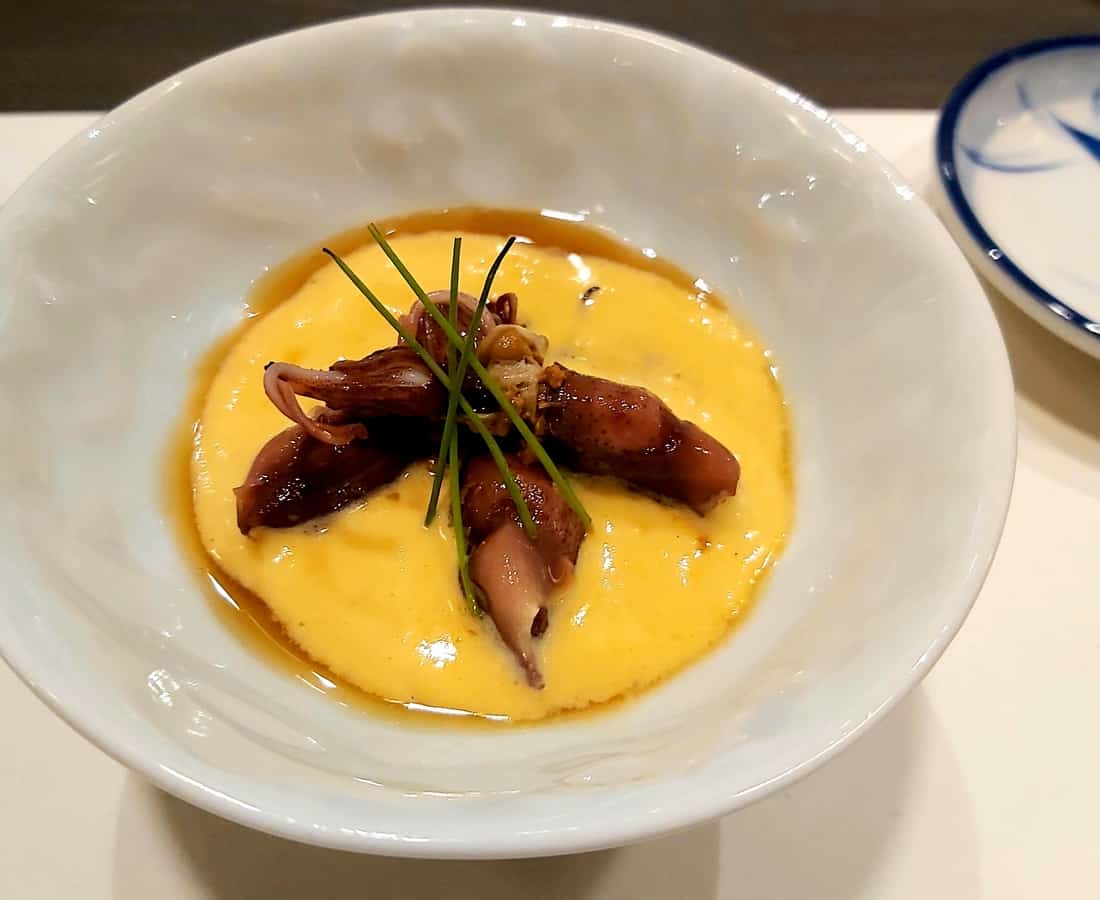 Our 11-course Zen menu (S$238) is an ode to spring, beginning with a delicacy that's just come into season – hotaru ika or firefly squid. Bursting rich and creamy in the mouth, they're served in egg yolk mousse brightened with tart homemade ponzu. We get to watch chef Pa'an searing meaty cuts of katsuo, or skipjack tuna, over a straw fire, which swiftly end up on our table. Topped with marinated garlic and shiso beads, the tuna wafts delicate smoky notes while remaining as tender as you could wish.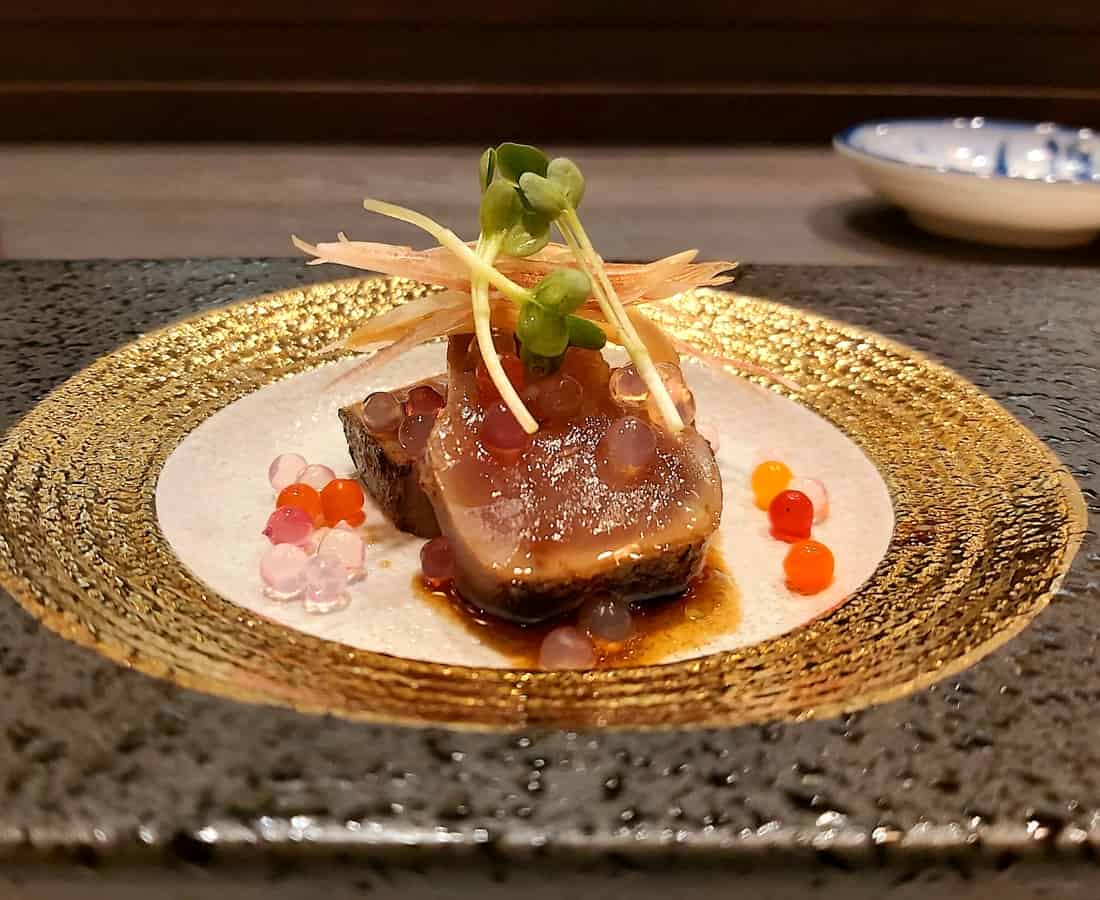 The sashimi comes arranged like an artful garden, each meticulously sliced and seasoned before our eyes. There's uni laced with truffle oil and sheathed in a smooth slice of olive flounder; an exceptionally plump, sweet botan ebi; a scallop freshened with sudachi; and a fatty, tender slice of kinmedai. We're advised to leave the best for last, and our patience is rewarded when we finally polish off the otoro – juicy as a mango and melting over the tongue.
While his sashimi might satisfy any purist, it's in the hot dishes that reveal Chef Pa'an's inventive side – particularly in the garnishes. His grilled unagi is served with barely a hint of sauce, allowing the sweet, delicately charred flavours to shine through. Setting it off is a ear of popped, salted rice, reminiscent of popcorn and equally fun to eat. The next course hot off the grill, fresh bamboo shoots, is velvety on the outside, and packs unexpectedly zingy and savoury notes thanks to kinome miso.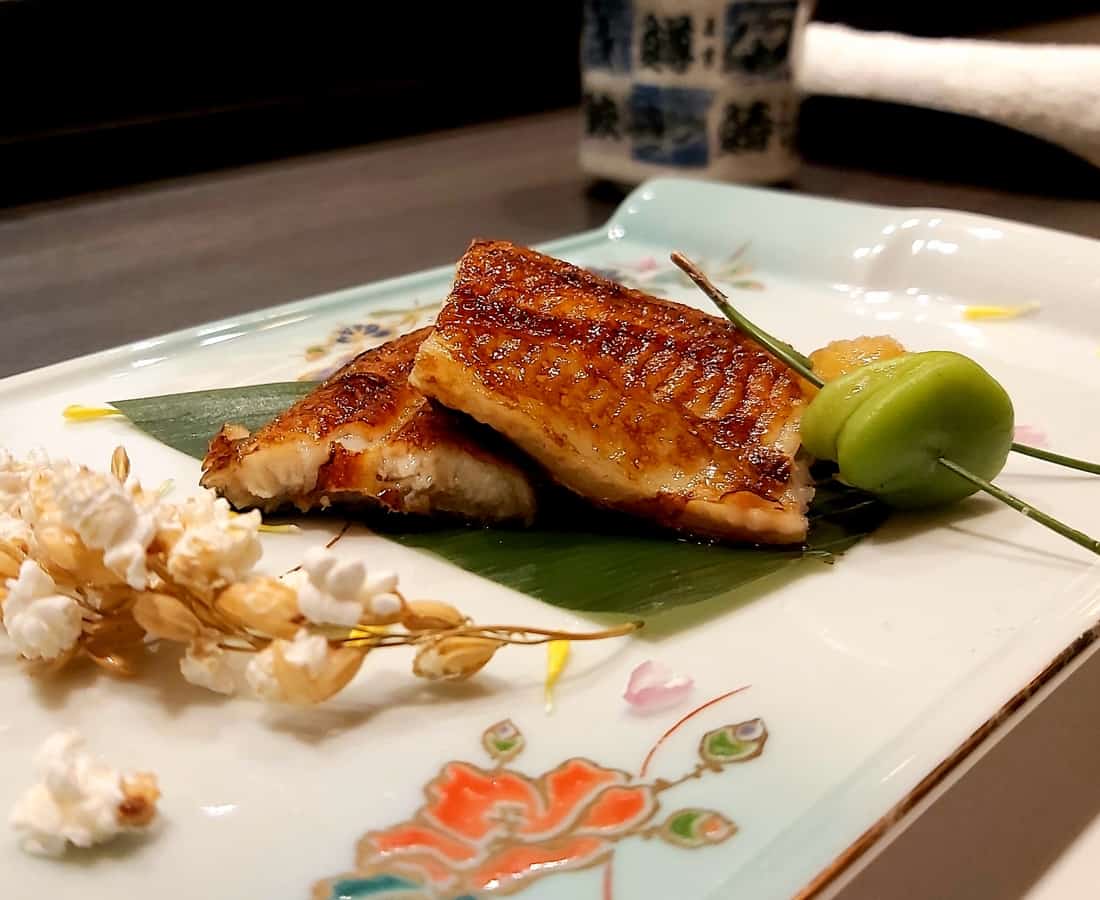 Rolled in seaweed and battered, the uni tempura is a piece of sheer decadence – crisp on the outside and sinfully creamy within. Jazz it up with a dab of truffle salt, then crunch on the battered shiso leaf alongside for a minty palate-cleanser. Just as rich is the steamed abalone bathed in a silky abalone liver broth and topped with caviar for good measure – though the superbly melt-in-the-mouth slice of white radish won our hearts too.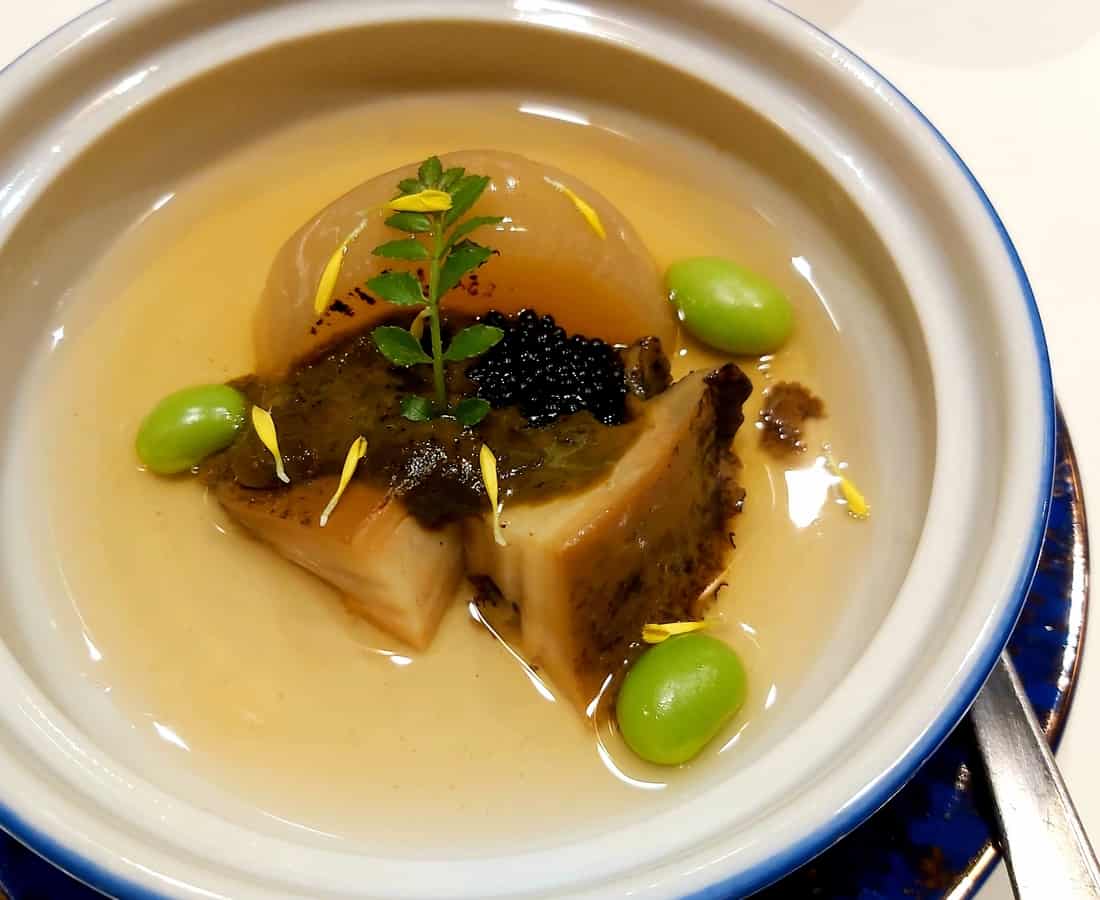 Chef Pa'an's showmanship peaks with the sushi course. Expect plenty of fiery action – we have, among others, torched sarawa (Spanish mackerel from Japan) dolloped with caviar; firm, clean mekajiki (swordfish) torched and amped up with marinated garlic; and aka ebi (Argentinian red prawn) anointed with togarashi and foie gras sauce, then garnished colourfully with rice balls. The standout, though, is the negitoro – think minced tuna, uni, and rice hand-shaped into a ball, so delicate that you must take it from the chef's hand directly.
To wind down, there's a double-boiled broth that the Chinese in us appreciated, swimming with tender chunks of bluefin tuna belly, tofu, and mushrooms. After that luxurious meal, dessert is the simple affair we need – a sweet, fragrant slice of muskmelon and half a white strawberry.
Fukui is located at 25 Mohamed Sultan Road, Singapore 238969, p. +65 6509 0909. Open Mon-Sat 12pm–3pm and 6pm–10.30pm. Closed Sun.