Restaurant Review: Violet Oon Singapore's Jewel Changi Airport Outlet Is The Biggest Yet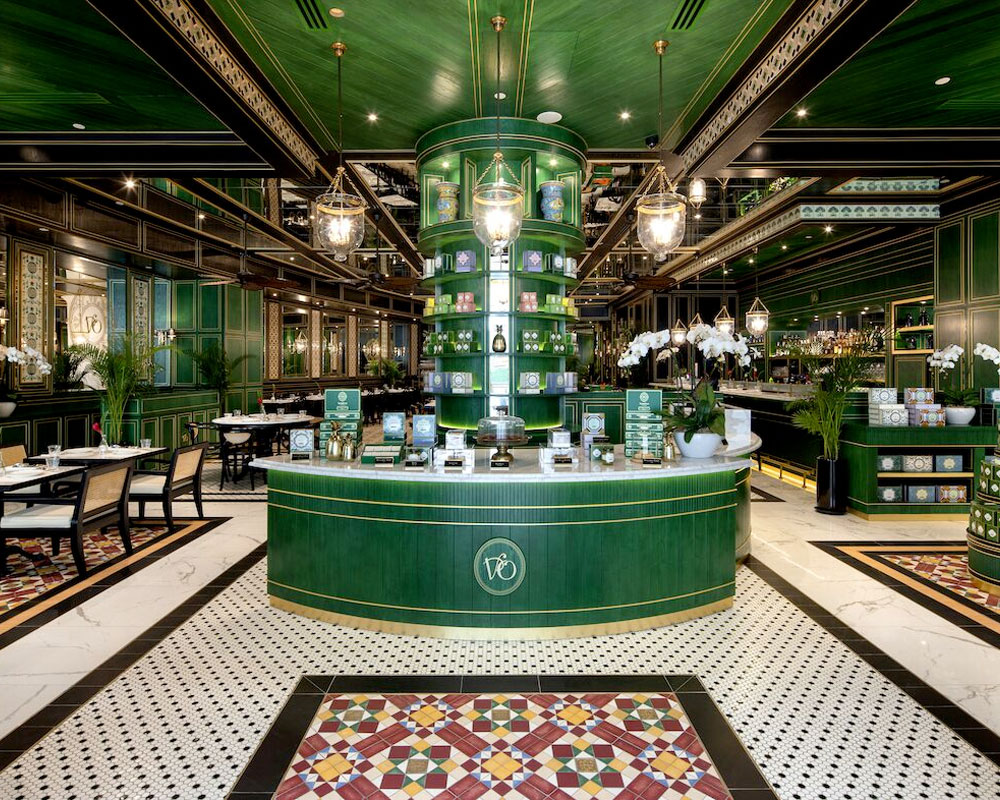 PUBLISHED August 3rd, 2019 06:00 am | UPDATED February 6th, 2020 04:46 pm
Unless you come from a particularly traditional Chinese family, chances are the only experience you have with popiah are the stall-bought ones that go for anywhere between $1.20 to $2.50 per roll. The ones by the famed Peranakan chef Violet Oon at her new Jewel branch are several times more pricey, but I think it's a fair amount to pay for something so labour-intensive.
But we get ahead of ourselves.
The spacious restaurant interior complements the lush tropicality of the world-class Jewel Changi Airport, and if you head all the way in you can see a bit of the Rain Vortex that's all up over social media. It's the kind of place you visit when you want to discover Singapore's diverse culinary heritage, as conceptualised by one of the city's biggest names in food. There are local favourites and one-dish delights — many of them fired up in the glassed-in grill room by the side.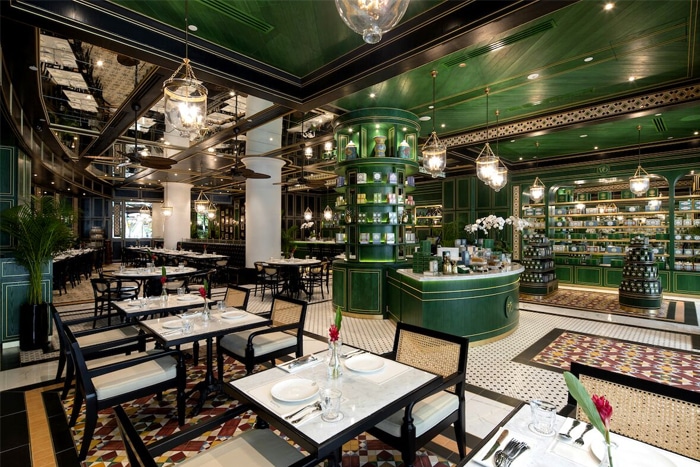 Violet's Nyonya Poh Piah Party ($58) is a roll-it-yourself kind of scenario. You get six freshly made skins and a feast of ingredients: Chinese sausage, steamed prawns, egg, ground raw garlic, fresh chilli sauce, deep fried garlic, dried sole fish, vegetables, and the quintessential bamboo shoot and jicama stew braised in prawn bisque and Fujian bean paste. If you manage to pack everything in properly, it's easy to get it to twice the typical size — almost like a burrito. The trick, she shows me, is to make tight tucks with your fingers so nothing falls out. We bite in, and there's a burst of intense flavour in one mouthful. There's a vegetarian version as well, though it's not as rich due to the absence of prawn stock.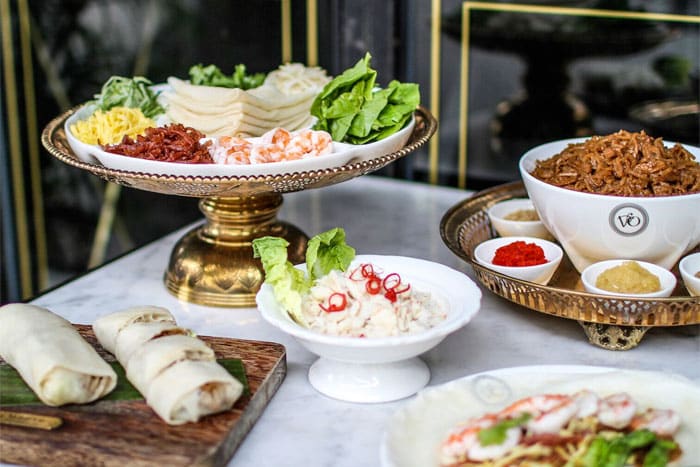 Ever eaten one of those sambal ikan bilis buns from Gardenia in your childhood? The Roti Violet Tuna Wala-Wala ($15) reminds us of that, only this is a lot more refined. Crispy tuna flakes are seasoned with spices, mustard seeds, and crispy curry leaf, then served on a fluffy roti prata. You get the same prata when you order the Little India Vegetable Curry ($17), a robust stew full with eggplant, okra, tomatoes, and cabbage accented with tamarind juice and creamy coconut milk. If they served this at the local mamak, I'd gladly pay for it.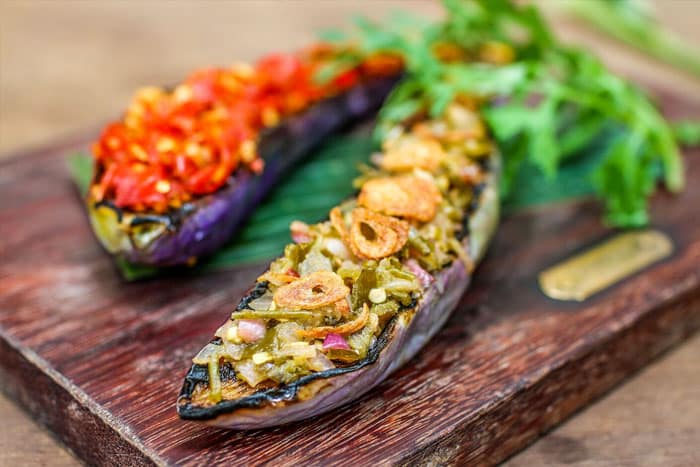 The dishes keep coming. Violet does a glorious Otak Toast ($16) with mackerel that's transformed into a creamy and chunky slab of spicy goodness, and I've never had one with this much whole fish. Juicy Kurobuta Pork ($18) is marinated in a delicate spiced batter and deep fried to a crisp – it's better with Violet's special sweet chilli sauce.
A Mango Kerabu salad ($10) of green mangoes, tomatoes, and pink ginger flower is tossed in a sour plum and chilli-infused sauce. It pairs beautifully with the gula melaka-glazed Ayam Panggang Katong ($16) from the charcoal grill. Then, the BBQ Eggplant with Sambal ($13) — halved eggplants grilled and topped with green sambal hijau, a sweeter chilli that holds its own against its fiery red cousins.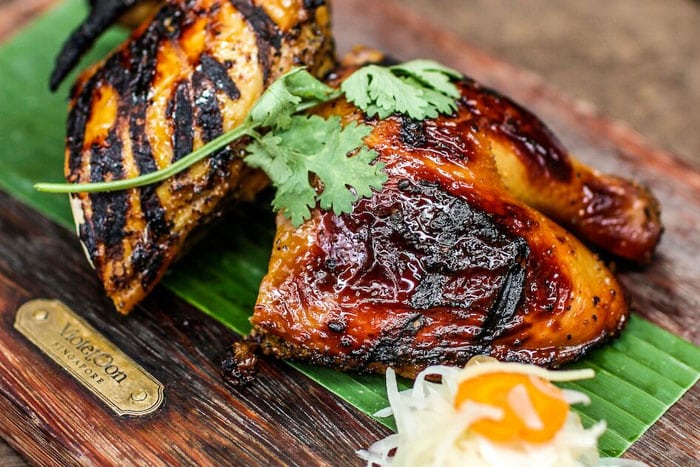 When it's time for dessert, you'll realise how good Nyonya cakes are. Sugee Cake ($15), a traditional Eurasian cake made with semolina and ground almonds, comes soft and rich with lime drizzle and vanilla ice cream on the side. We'd normally go without the ice cream, but they go so well together we're hardly bothered about having to jog an extra round.
Violet Oon Singapore at Jewel is located at 78 Airport Blvd, #01-205/206 Singapore 819666, p. +65 9834 9935. Open daily 9am – 11pm.