Restaurant Review: Native Kitchen Is All About Tropical-Inspired Communal Dining In Sentosa, Singapore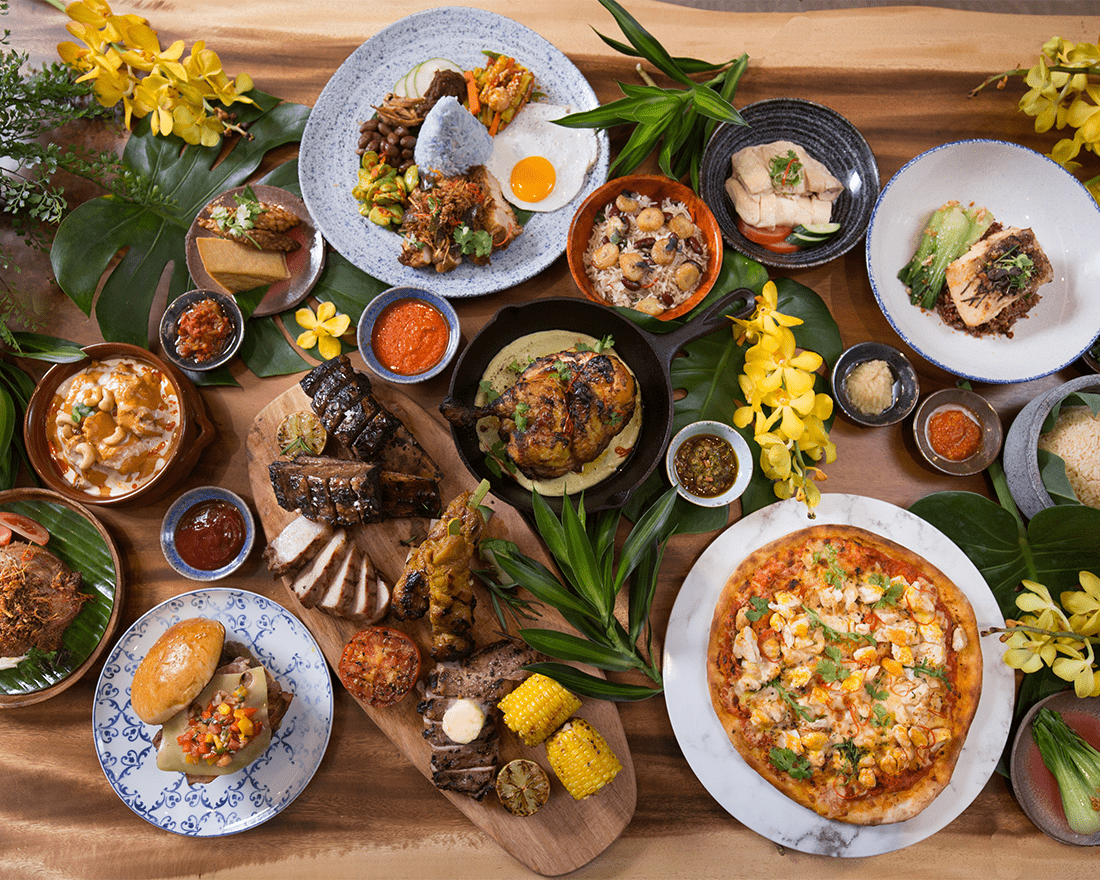 PUBLISHED May 23rd, 2019 08:00 am | UPDATED January 21st, 2020 06:20 pm
If you're planning to spend the upcoming summer holidays frolicking around Singapore's tropical playground of Sentosa, don't settle for those run-of-the-mill park fare to satisfy your appetite. Instead, embark upon an 'island-hopping' food tour at Native Kitchen, which sees French Executive Chef Patrice Godino whipping up both local and international delights. Don't worry, the food is nothing short of authentic.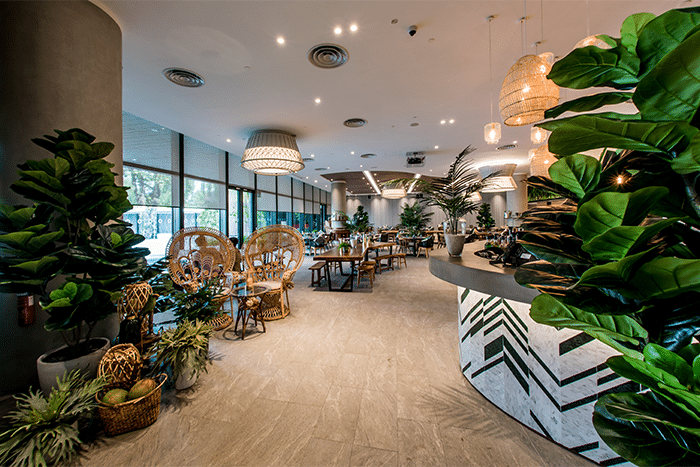 Aptly themed to its green surroundings, the restaurant delivers the impression that you're on an island paradise – think monstera leaf pillows, rattan furnitures and an array of lush flora and fauna. Floor-to-ceiling windows let in lots of natural light, and the interior is open and airy, not to mention very spacious. Native Kitchen aims to gather large bunches of friends and family together, and it's clear that they're heading the right direction. Incorporating both large and small tables, we see parties and functions being held here.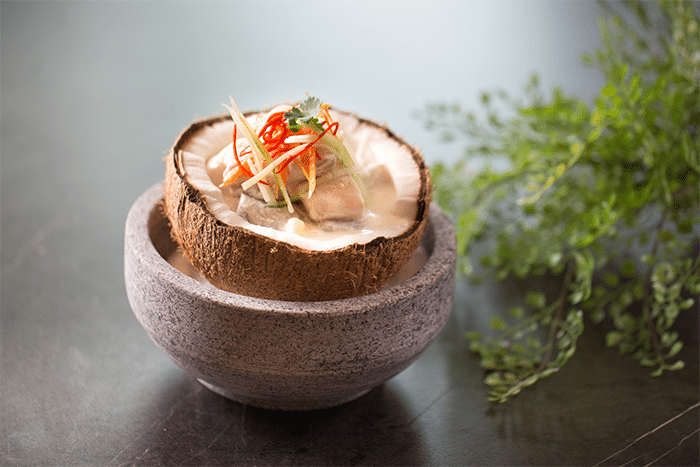 Of course, the dishes have been designed with socialising in mind. Start conversations with the Appetizer Platter ($28), which allows diners to sample most of their light bites. While their Sticky Island Wings and Coconut Shrimps are highly palatable, what we're blown away by is the Fried Calamari and Island Ceviche. Ceviche is a common presence in menus, but theirs stand out by using coconut milk as a marinade – just imagine that light, creamy scent. The dish also sits on top of a bowl of ice, thus is kept fresh and cool throughout. It's perfect for the sultry summer.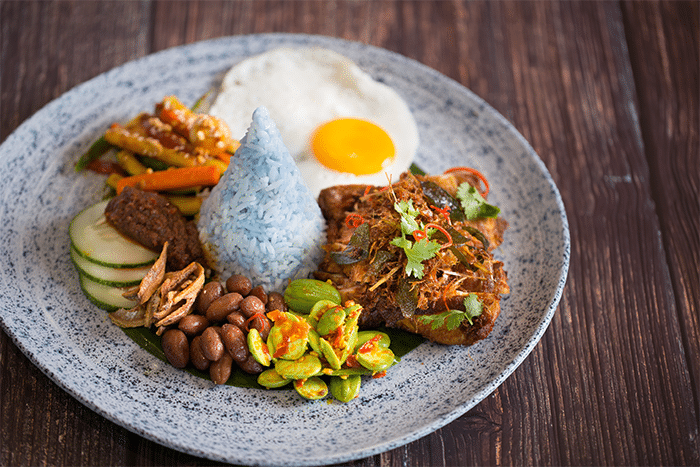 Continue with your harmonious dining experience by digging into the meaty heaven that's the Meat Platter ($118), comprising classic Striploin and Pork Shoulder in addition to succulent Short Ribs and Jumbo Satay Skewers. Those who are selfish when it comes to food (who isn't?) can opt for the signature Native Kitchen's Nasi Lemak ($20), plated alongside anchovies, petai, archer and savoury butterfly pea-coloured coconut rice. Though food shouldn't be all about aesthetics, we can't help but be enraptured by its appearance.
A fan of spicy meals? Then the Bebek Goreng ($25) will be right up your alley. Featuring Balinese-styled deep-fried duck leg that's doused in kicap manis for a touch of sweetness, make sure to dip the tender meat into their homemade sambal before accompanying by fragrant jasmine rice. The condiment, while not overwhelming, packs a fiery punch and might cause a shock after taking the first bite.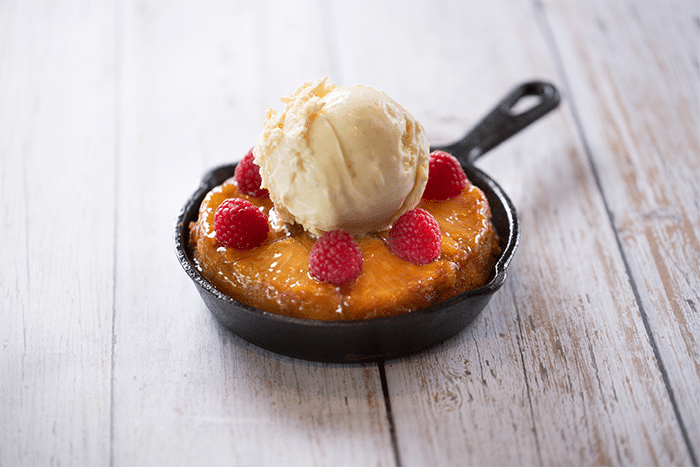 Now, I don't consider myself a desserts person but this treat might just be the one to win me over, so that's saying something. Don't leave without indulging in the Pineapple Upside Down Cake ($22), which makes me remember why desserts hold a special place in everyone's heart. The butter cake is glazed with a layer of delightfully rich caramelised pineapple, topped with fresh raspberries, and a heaving scoop of vanilla ice-cream. It's sweet, but not too sweet that you'll be plunge into a sugar stupor.
Even though the restaurant is situated within spitting distance from wholesome attractions such as KidZania Singapore and Palawan Beach, it nevertheless makes for a perfect dwelling spot for exhausted park-goers and tourists retreating from the urban jungle. You can probably come in your bathing suit, but maybe, save that for the beach.
Native Kitchen is located at Village Hotel at Sentosa, Lobby Level, Singapore 099951, p. +65 6722  0818. Open daily 6.30am – 10pm.