Restaurant Review: Yarana Serves Up Innovative Yet Comforting Indian Food and Cocktails in Singapore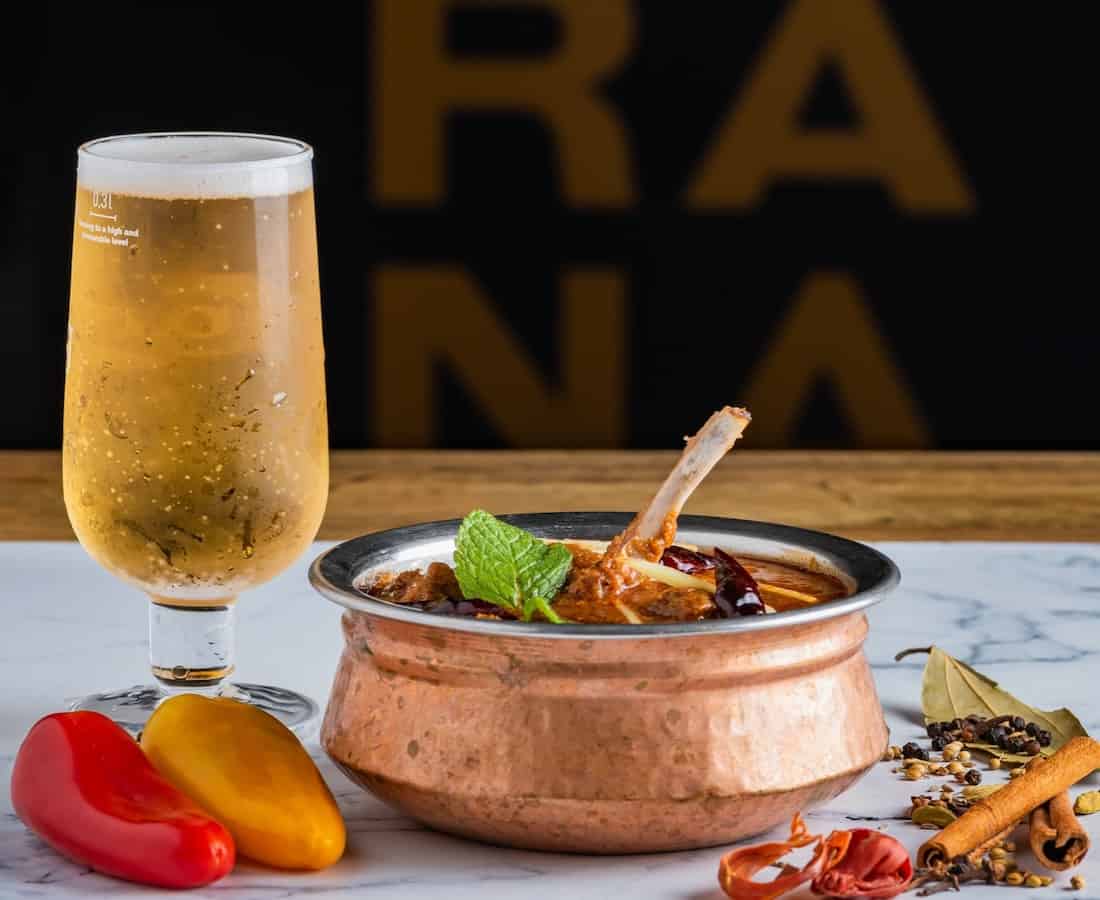 PUBLISHED December 17th, 2020 05:00 am | UPDATED December 23rd, 2020 10:52 am
'Yarana' means friendship in Hindi, and it's certainly an apt name for an eatery started by two longtime friends. Newly opened at the Singapore Indoor Stadium, Yarana prides itself on being a home away from home – a place which evokes nostalgic memories and creates delicious new ones for friends and family.
Decked out in pine wood panelling and mellow lighting, the interior of this laidback restaurant is homey and warm. Vinyl records and wooden carvings give the walls an eclectic charm, enhanced by an impressive collection of bottles of wine and whisky bottles. Outdoors, there're cosy, covered cabanas perched by the river, perfect for tippling up with friends even in rain.
The vegetarian-friendly menu is a mishmash of classic and contemporary, drawing equally from the cuisines of various major cities in India, and from Western cuisines like Tex-Mex. Creatures of habit can find refuge in the 'Forever Young' section, which offers common Indian dishes like Mutton Roganjosh (S$21) and Butter Chicken (S$21), but where else would you find Masala Egg and Cheese (S$15) toasties and Cauliflower Rice Burrito Bowls (S$19) on the same menu?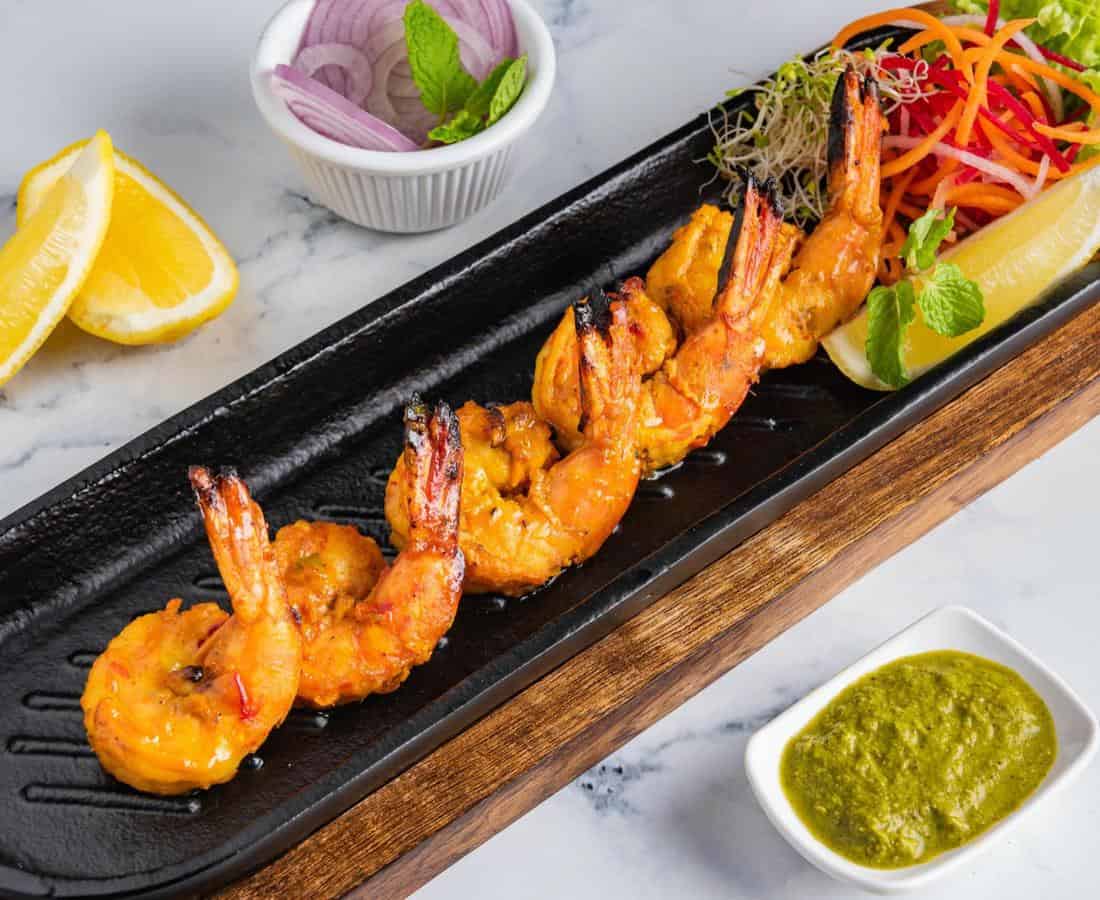 Yarana's ambience might be homely, but its flavours and food absolutely pack a punch. We start off spicy with some Saffron Tandoori Prawns (S$23), served with spiced Indian slaw and a side of delectable mint sauce. The prawns have a wonderful chew to them; dipped in the sauce, each bite serves a slight kick of spice right to the back of the throat.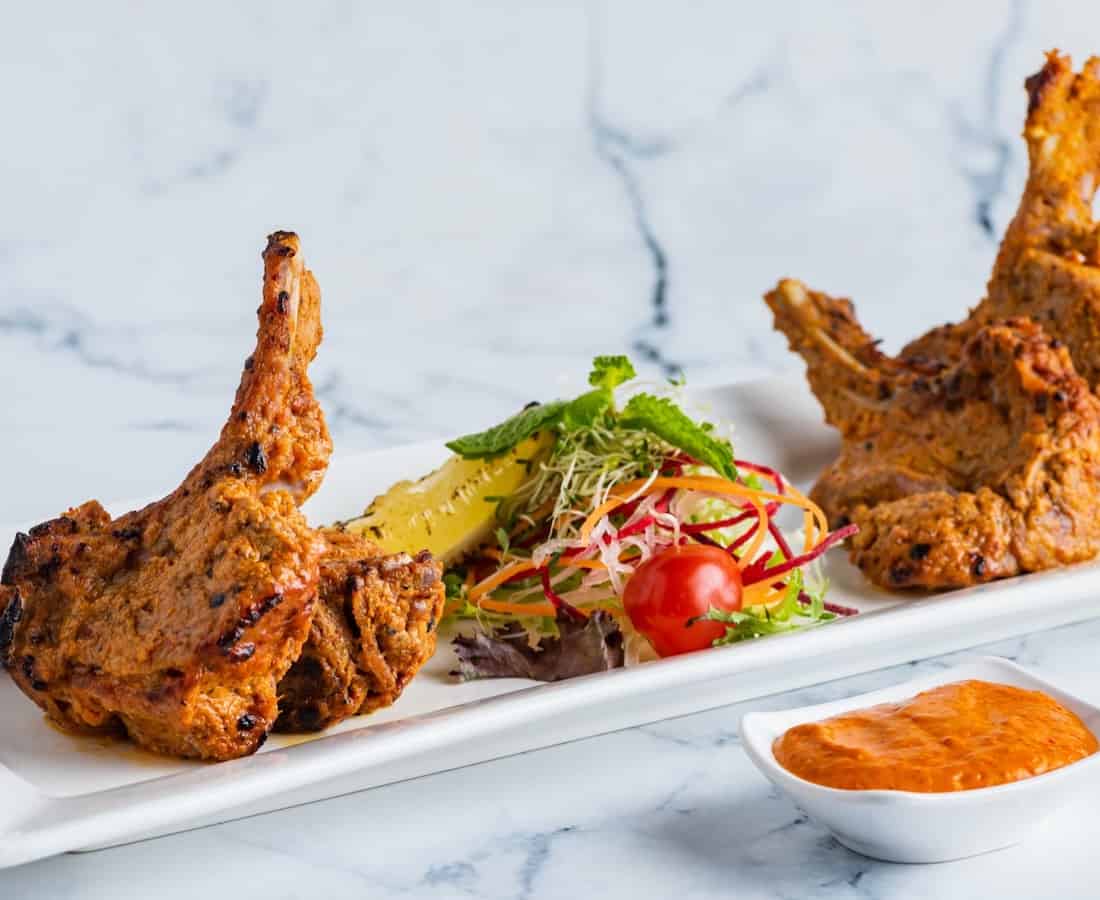 As the cheeky name suggests, the 'Kanpur' To Singapore Tandoori Lamb Chops (S$21) is a fusion of Kanpur (a city in Uttar Pradesh) and local flavours, cooked in a 'kanpuri' marinade and served with a Singaporean chilli crab-style sauce. The meat is tender, juicy, and flavourful, but the slightly charred bits of fat on the bone are the real treat of this meal. Paired with the sweet and spicy sauce, this dish knocked it out of the park.
Another fusional dish, the 'Kottayam' Fish Curry and Brown Rice Burrito Bowl (S$23) is worth the stomach space. Don't expect a typical burrito bowl – Yarana's rendition resembles more an adaptation of how India eats in its homes, offices, and on the move. Flavoured with Malabar Tamarine 'Kudampulli', shallots, and curry leaves, this Kerala-style curry isn't too spicy and comes swimming with fresh, sweet fish. Served with soft, almost mushy brown rice and undercut with the slight flavour of coconut, it's a surprisingly light dish despite its size.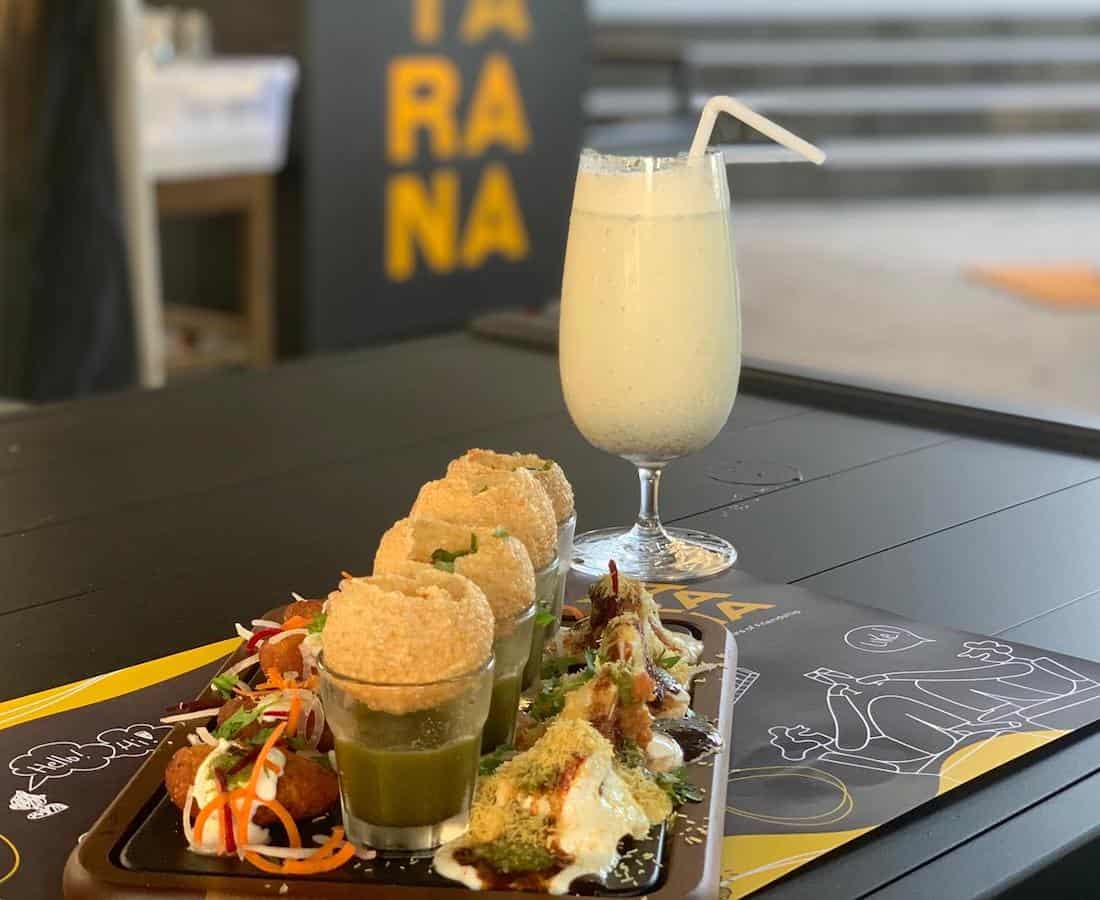 Chaat are savoury street snacks we rarely see in Indian restaurants in Singapore, and not often served like this. This trio of North Indian Chaats is served up on a beautiful platter, piled high with sauce. We start with the Golguppa Shots, pouring the intensely tangy green liquid into the cracker and eating it whole for a sweet and sour burst in the mouth. Next, we pop the Paapdi Chaat in whole as well – thick, creamy, and topped with pomegranate seeds, this chaat explodes with sweet flavour as you chew. Last of all comes the Aloo Tikki – a potato chaat with tangy cream sauce.
This assortment is paired with a kettle of Chai, made and served the same way it's typically done at railway stations in India. Unlike many other restaurants in Singapore, the Chai isn't too sweet or strong, making for an easy drink to get down. For only S$16, this pairing is certainly worth the money.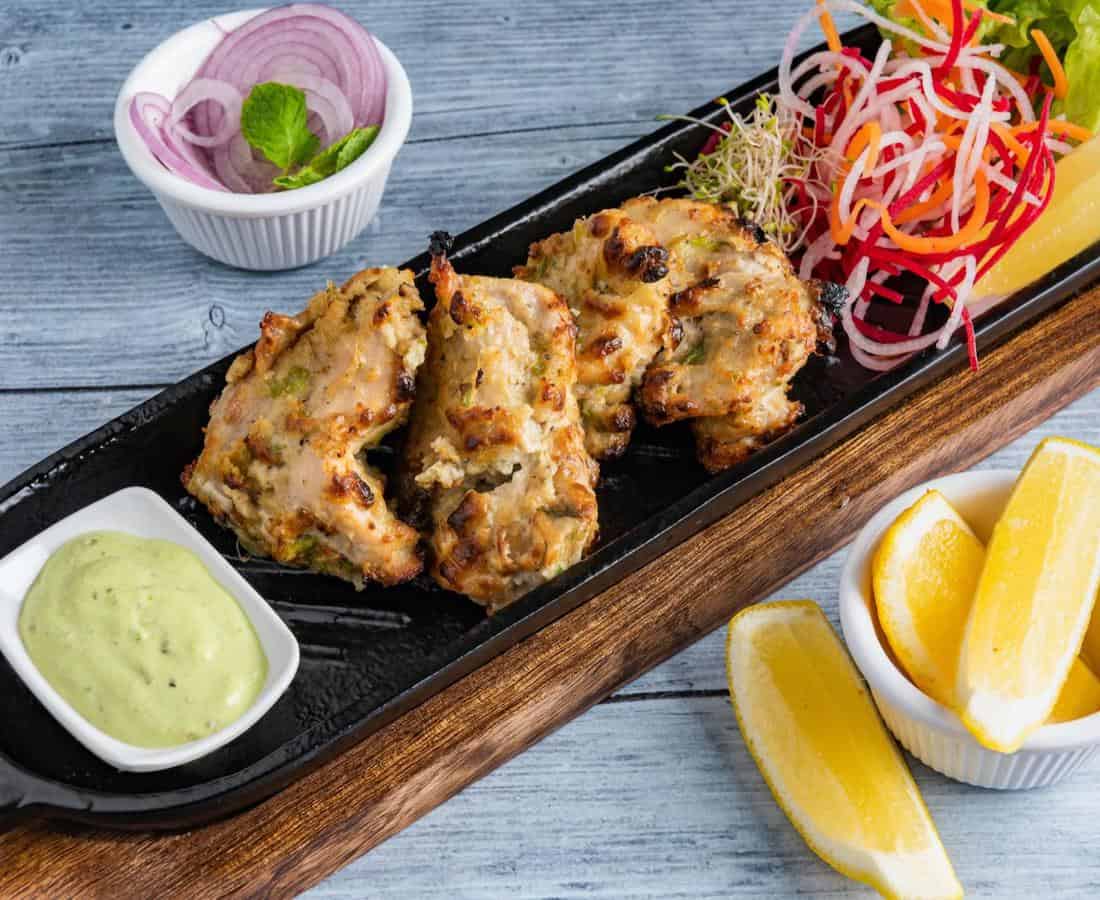 We also tried their Habanero and Jack Chicken Tikka (S$18) served with burnt tomato chutney. Lighter in colour than a typical chicken tikka, the meat is incredibly tender if not particularly spicy. The Tex-Mex influence of this dish certainly comes out strong with the sauce, which resembles peri-peri sauce – citrusy, hot, and addictive.
Besides the stellar bites, Yarana also boasts some fabulous booze from Indian-inspired cocktails to liquor infused popsicles. The Chai Martini (S$15) is a surprisingly refreshing mixture of vodka, triple sec and Indian Masala Chai, while the light, tropical Nicobar Island Iced Tea (S$15) is an easy-drinking tipple laced with Khus syrup. We'll be back to try their iced lolly cocktails – the Jamun (S$14) looks drool-worthy.
Yarana is located at 2 Stadium Walk, #01-04, Singapore 397691, p. +65 6977 6519. Open daily 11.30 am – 2.30 pm and 5.30pm – 10.30pm.