Best Whisky Bars in Singapore to Get Your Dram On: Where to Drink Single Malts, Bourbon, Japanese, and Blended Whisky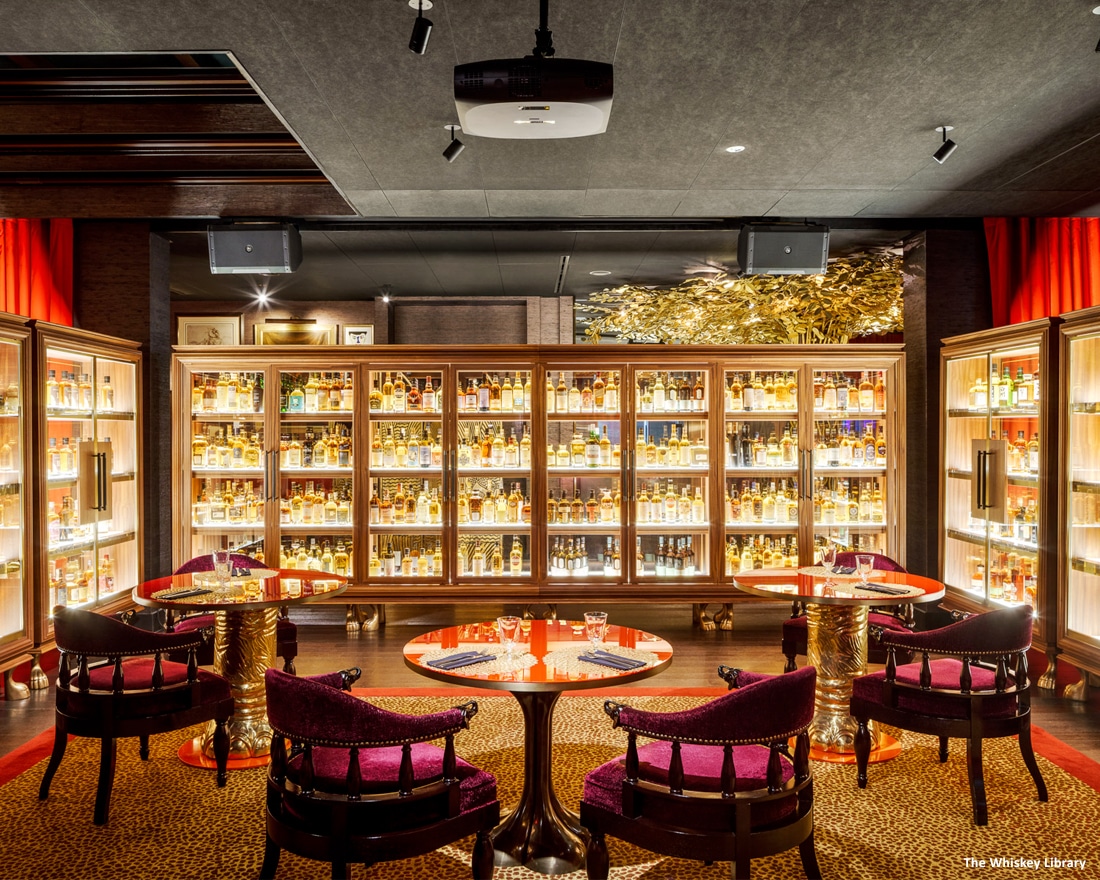 PUBLISHED May 3rd, 2019 06:00 am | UPDATED May 18th, 2020 03:14 pm
If you consider yourself a whisky lover and haven't been to any the bars below, it's about time. With the rise of rum and gin, whisky seemed to have taken a backseat in the last couple of year. 2018, however, saw a mushrooming of whisky bars and new brands popping up in Singapore. So, we weeded out the best from the rest; these bars are equipped with the knowledge, service standards, and ambience to back up every sip of liquid gold.
The Whiskey Library

Tucked within The Vagabond Club, The Whiskey Library is every bit as ornate and luxurious as its surroundings. While the 'library' is open to public, it's the members (from $250 a month) who get to enjoy the full range of perks: from a personal locker that stores up to 15 whisky bottles to complimentary hotel room nights and seats at exclusive jazz nights and artist evenings. Of course, you'll have the opportunity to try over 1000 bottles of rare whiskey, including single malt bottlings like the Bruichladdich 32 Bourbon Cask and Talisker 30 Year Old. Together with a selection of premium cigars, this is one of the best places in Singapore to sip and savour a dram.
The Whiskey Library is located at 39 Syed Alwi Rd, Singapore 207630, p. +65 6291 6677. Open daily till 2am. Email  [email protected] for more details.
The ExciseMan

The ExciseMan is an intimate whisky bar hidden away on the second floor of The Esplanade. Designed for drinks lovers who care more about the quality of spirits rather than brands and age statements, in-house whisky guy Lewis Mitchell has curated a large collection matured liquids from independent bottlers, including Douglas Laing's award-winning Remarkable Regional Malts range. Tasters here come at a standard 30ml pour (order a double at just 50% more!) and are priced between $12 and $488 – for the legendary Lagavulin 37 Years. Read our review here.
The ExciseMan is located at #02-27 Esplanade Mall, 8 Raffles Ave, Singapore 39802, p. +65 6963 1192. Open Mon-Sat 3.30pm – 11.30pm. Closed Sun.
La Maison du Whisky

The selection of whiskies at La Maison du Whisky is superb, with several hundred available by the dram at any given time. It's to be expected, of course, given the brand's legacy as one of the largest French specialists in rare whiskies since 1965. It's not just a bottle shop though — this is where connoisseurs go to chat with other whisky lovers over wicked whisky cocktails: Sazeracs and Manhattans made to your taste with your spirit of choice. It's a slick and intimate space with only 11 seats inside — all part of the charm.

La Maison du Whisky is located at 80 Mohamed Sultan Rd, Robertson Walk, Singapore 239013, p. +65 6733 0059. Open Mon-Thu 6pm – 1am, Fri-Sat 6pm – 2am, Sun 6pm – 12am.
The Swan Song

Fair and reasonable: such are the prices at The Swan Song, another new whisky joint dedicated to vintage and rare whiskies. If a 1970 Glenury Royal OB, 1978 Macduff Big Market private bottling, or 1982 Single Cask Old Pulteney OB sounds too daunting, there are whiskies of all levels too, in particular an impressive lineup of Dramfool bottlings from Islay. Keep a look out for the bar's regular "Sessions", a get-together for whisky lovers in Singapore to bond over some liquid gold.
The Swan Song is located at 50A Prinsep St #02-01, Singapore 188680. Open Thu-Sun 7pm – 12am. Closed Mon-Wed.
Quaich Bar


Quaich is an old boy whisky bar that first started out in River Valley, and they now have a second outlet at the thriving South Beach Avenue enclave. Featuring a selection of more than 300 options at each venue, this is an impeccable and solid destination for all your whisky needs. Quaich was also once lauded by Whisky Magazine as one of the 'Great Whiskey Bars of the World' — no easy feat. If you're the type to puff, the Waterfront branch also boasts a cosy cigar room with more than thirty cigar labels and an array of cutters to suit your fancy.
Quaich Bar is located at South Beach Avenue, 30 Beach Road #01-16, Singapore 189763, and Waterfront Plaza, 390A Havelock Rd, Singapore 169664. Open Mon-Sat 5pm – 1am and Mon-Thu 5pm – 1am, Fri-Sat 5pm – 2am, Sun 5pm – 1am respectively.
The Single Cask

It's no surprise that The Single Cask offers only single malt and single cask whiskies. With over 400 bottles of the stuff in its collection, each expression comes from one individual cask and offers a unique whisky experience each time. While the average dram starts from around $25, you're also paying for a special story each time, and it's one the friendly staff will be happy to share. Want a cocktail? Their Old Fashioned is something not to be missed.
The Single Cask is located at 30 Victoria St, Caldwell House, CHIJMES, #01-25 Singapore 187996, p. +65 6837 0953. Open Mon-Sat 5pm to 12am. Closed Sun.
The WoW, World Of Whiskey

Yea, wow. That's probably what you'll say when you come here. Although a tad hard to get to (as is anywhere in Sentosa), the World of Whisky is the kind of inviting place where you can find your own plush sofa, enjoy a good dram on Indonesian teak tables, and not be bothered for as long as you like. For the ultimate whisky experience, you may also enjoy exclusive dinners in The Malt, a classy private dining room unlike anything else. WoW specialises in rare Scotch labels like the Jura Boutique Barrel and Mortlach Cask Strength Collection.
The WoW, World Of Whiskey is located at Le Méridien Singapore, Sentosa, 23 Beach View, Singapore 098679, p. +65 6818 3305. Open daily 5pm – 10pm
Room For More

This new venture by the ilLido group is all about Scotland's finest spirits through a contemporary lens, with bottles like the Glenlivet 1968 and Glenfarclas 40 Years up for grabs. Gone are the dim lights and vintage leather sofas, now replaced by plush colourful seats and contemporary furnishings – so you younger ones have nothing to worry about. In addition to Scotch, Room For More also carries expressions from Japan, India, France, Switzerland, as well as the Czech Republic. Read our review here.
Room For More is located at 40C Harding Rd, Singapore 249548, p. +65 6877 6977. Open daily 3pm – 1am.
The Writing Club

A whisky library in the heart of Orchard Road, The Writing Club is home to over 700 handpicked labels of rare and collectible whiskies from all over. This elegant bar is posh as they come – just the way we like it. There are bottles from lesser-known distilleries like Littlemill and Scottish Caperdonich, and acclaimed ones like the 1982 Port Ellen and Banff 1975, the latter matured for 37 years in a bourbon barrel.
The Writing Club is located at 390 Orchard Rd #02-10, Singapore. Open Tue-Sat 1pm – 12am, Sun-Mon 1pm – 10pm.
Flagship

Flagship isn't just popular for having super addictive Pok Pok wings (you know, the ones with Vietnamese fish sauce). It also has a pretty impressive whisky list, touting itself as Singapore's home for the Old Fashioned. There are four on the menu, like the Cuban Smoke (Havana Club 7 Years) and Cowboy Blues (Michter's Small Batch Bourbon). Best of all, the place feels more like a dive bar than a whisky one: good ol' rock music, sexy grunge vibes, and excellent happy hour prices from $14 for selected drinks.
Flagship is located at 20 Bukit Pasoh Rd, Singapore 089834, p. +65 9011 8304. Open Mon-Thu 6pm – 1am, Fri-Sat 6pm – 2am. Closed Sun.
The Wall

Whisky and sumiyaki; who would have thought? Housed within a conservation shophouse in Tanjong Pagar, The Wall's owners have a penchant for Japanese whiskies like Yamazaki and Nikka — but be prepared to pay a premium. As for Scotch, they're regularly bringing in rare and curated bottles such as the Glenfiddich IPA Cask and Glenfiddich Project XX, as well as a first edition Black Bowmore. As for food, freshly-grilled sumiyaki will make an excellent complement to your whiskies. Set menus are priced from an affordable $49. Read our review here.

The Wall is located at 76 Tanjong Pagar Road, p. +65 6225 7988. Open Mon-Sat 6pm – 1am. Closed Sun.
The Cooperage

The Cooperage is the latest whisky bar to hit the city — on vibrant HongKong Street, no less. Barely five months old, it's an accessible place for newbies and seasoned drinkers alike to experience whisky at affordable price. The system is simple: each 30ml glass is priced the same as its age statement. $12 for 12 Years, $15 for 15 Years, and $18 for 18 Years, but there are exceptions of course. The Cooperage is also the first whisky bar in Asia to serve the 100 Years of Dalmore Flight, which comprises the 25-, 35-, and 40-year-old.
The Cooperage is located at 42 HongKong St, p. +65 8699 9366, Singapore 059681. Open Mon-Sat 3pm – 12.30am. Closed Sun.
Tipple and Dram

At the two-storey Tipple and Dram, look forward to a handpicked collection of over 200 unique bottlings of single malt whiskies, whether it's distillery exclusive, hand-fills, or warehouse specials that are typically available for tastings at distilleries only. Which means: these are the very best of the whisky world right in Singapore. The list keeps growing every month, so you'll want to keep on heading back!

Tipple and Dram is located at 24 Ann Siang Rd, Singapore 069704, p. +65 6423 0353. Open Mon-Fri 12am – 12pm and Sat 6pm – 1am.
The Auld Alliance

If you've ever been here, you'll understand why it easily makes the cut onto our list. Besides housing one of the most comprehensive and impressive selection of whiskies in Singapore, the team at The Auld Alliance really know their stuff, and you can get a quality dram (or bottle) at whatever price point you're after — be it $11 a dram or $150. If you like Japanese whiskies, they also have an extensive selection of them, including a Karuizawa 1981 32 Years Old. Purportedly one of the world's largest, in fact.
The Auld Alliance is located at L2, Rendezvous Hotel Singapore, 9 Bras Basah Rd, Singapore 189559, p. +65 6337 2201. Open Mon-Thu 5pm – 1am, Fri-Sat 5pm – 2am, Sun 5pm – 12am.