Freshly Shucked: The Best Restaurants and Bars to Eat Oysters in Singapore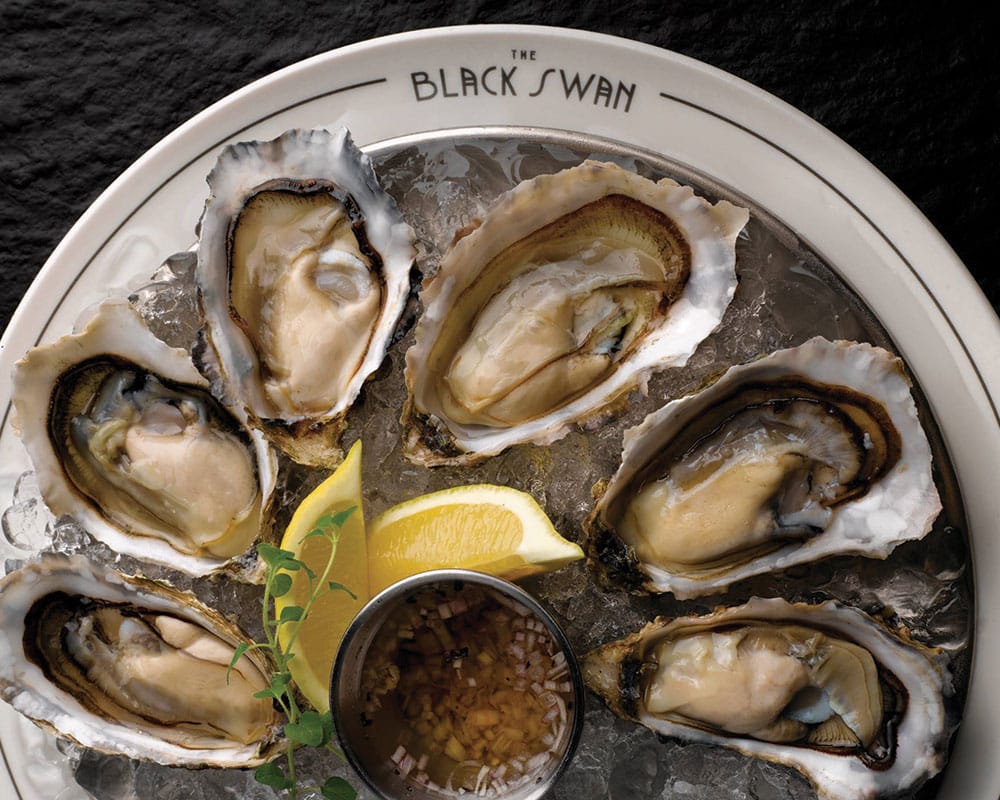 PUBLISHED May 25th, 2018 07:00 am | UPDATED May 18th, 2020 04:23 pm
Looking for oysters around Singapore? We visit bars and restaurants around the island that list some of the best freshly shucked offerings to settle your cravings. Priced from as low as $1 per piece to premium platters at $96, pick your favourite spot and feast – in this case, the city is truly your oyster.
Tanuki Raw
Oysters are best paired with a tipple or two, and Tanuki Raw has got you covered. Head down to either outlet from 5pm to 8pm for their daily Happy Hour promotion, where oysters start at $2 (with a limit of six per drink), martinis and cocktails at $10, and beer pints at $12 – an affordable price for a night out that won't burn a hole in your wallet.
Tanuki Raw is located at 181 Orchard Rd, #04-01 Orchard Central, Singapore 238896 and 111 Middle Rd, #01-05 Kapok, National Design Centre, Singapore 188969. Open 11.30am – 9.30pm daily and 11.30am – 9.30pm respectively.
Wharf Oyster Bar & Seafood and Wharf Bar & Grill
Oyster specialists right from the get-go, Wharf Oyster Bar and its sister restaurant Wharf Grill and Bar is best known for sourcing the best molluscs during prime season and bringing them in fresh to your plate using nano-bubble technology. Creamy and crunchy right in their shells, enjoy them some freshly shucked from $6 a piece at their oyster bar in Chijmes, or starting from $18 for three at the Robertson Quay grill.
Wharf Oyster Bar & Seafood is located at 30 Victoria St, #01-19 CHIJMES, Singapore 187996, p. +65 6332 6789. Open Mon-Thu 5pm – 11pm, Fri 5pm – 1am, Sat 12pm – 1am, Sun 12pm – 11pm.
Wharf Grill & Bar is located at 60 Robertson Quay 01-01, ​The Quayside, Singapore 238252, p. +65 6235 2466. Open Mon-Fri 5pm – 11pm, Sat-Sun 12pm – 11pm. 
Emporium Shokuhin
Emporium Shokuhin is Singapore's first integrated Japanese Emporium with its own beef dry-aging facility and live seafood market to boot, so it's almost a given to say Emporium Shokuhin would have an oyster bar for all your fresh oyster needs. A dozen of them, from a wide selection including Aigue Marine Little Special, Huitress Charente Maritime, and Foylemore come in at $29.90 – with shucking services and condiments thrown in.
Emporium Shokuhin is located at 6 Raffles Blvd, #01-18 Marina Square, Singapore 039594, p. +65 6224 3433. Open daily 10am – 10pm.
DB Bistro & Oyster Bar
As its name suggests, celebrity chef Daniel Boulud's Singapore restaurant has a penchant for the freshly shucked, with a special oyster hour that offers 1-for-1 Menabrea draft beer. From 3pm to 6pm on weekdays, oysters are at half-price (starting from $4 a shell), selected by the chef and served with cocktail sauce and mignonette. Other bar bites are available at the time as well if you're looking to indulge.

DB Bistro & Oyster Bar is located at 2 Bayfront Ave, #B1-48 The Shoppes at Marina Bay Sands, Singapore 018956, p. +65 6688 8525. Open Mon 12pm – 10pm, Tue-Fri 12pm – 11pm, Sat 11am – 11pm, Sun 11am – 10pm.
Lobby Lounge at Pan Pacific Orchard
If you're down at Pan Pacific Orchard but not feeling up to gorging yourself, make your way to the Lobby Lounge for their daily Happy Hour promotion. For $35, relish in two glasses of selected draft beers, house spirits or wines, and six freshly shucked oysters from 5pm to 9pm.
Lobby Lounge is located at 10 Claymore Rd, Lobby Level Pan Pacific Orchard, Singapore 229540. Open Mon-Sat 8am – 1am, Sun 9am – 11pm. 
10 at Claymore
Alternatively, a buffet is the way to go if you're feeling utterly famished. 10 at Claymore has a rotation of premium oysters from three countries each time for the picking. The price tag of $68 may be a tad expensive for a casual meal, so be sure to eat your fill for a satisfying dinner – and that means unlimited servings of oysters up for grabs.

10 at Claymore is located at 10 Claymore Rd, Lobby Level Pan Pacific Orchard, Singapore 229540. Oysters are available for dinner 6pm – 10.30pm daily. 
The Pelican Seafood Bar & Grill
Overlooking the Marina Bayfront at One Fullerton, The Pelican Seafood Bar & Grill is yet another spot for having oysters by the sea. Offering three freshly shucked pieces at market price, match your bites with their signature cocktails and watch the bartenders in action at the seven-metre-long marble bar counter.

The Pelican Seafood Bar & Grill is located at 1 Fullerton Rd, #01-01, One Fullerton, Singapore 049213, p. +65 6438 0400. Open Mon-Sat 12pm – 3pm, 6pm – 11pm, Sun 12pm – 3pm, 6pm – 10pm. 
Teru Sushi
Sashimi and oysters come hand in hand at Teru Sushi, where Hiroshima oysters are an absolute steal at just $1++ a piece. Get your stomachs ready for a raw seafood night as you start on sashimi pieces before moving to the oysters, washing them all down with some extraordinary Japanese beers.
Teru Sushi is located at 50 Tiong Bahru Rd, #01-01, Singapore 168733, p. +65 6842 8484. Open daily 12pm – 2.30pm, 6pm – 12am. 
Greenwood Fish Market & Bistro
Purveyors of oysters with their very own World Oyster Festival, over 13 years of operations have made Greenwood Fish Market & Bistro the go-to spot for your oyster fix. With a wide array of oysters available such as Golden Mantle, Mary Point, and Kumamoto in a number of sizes, ask for the chef's recommendation of what's in season to get the best mix.
(Bukit Timah)
(Sentosa Cove)
Greenwood Fish Market & Bistro is located at No. 34/38 Greenwood Avenue, Singapore 289236, p. +65 6467 4950 and 31 Ocean Way #01-04/05 Singapore 098375, p. +65 6262 0450. Open daily 11am – 10.30pm, Tue-Sun 11am – 10.30pm respectively.
The Black Swan
Spend an evening in the CBD at classy restaurant-bar The Black Swan for their Happy Hour promotion. On weekdays from 5pm to 8pm, get house pour wines and spirits for $9, and chow down on $2 oysters with your drinks. The Black Swan has them freshly shucked, of course.
The Black Swan is located at 19 Cecil St, Singapore 049704, p. +65 6438 3757. Open Mon 11.30am – 11pm, Tue-Thu 11.30am – 12am, Fri 11.30am – 1am and Sat 5pm – 12am. Closed Sun.
Luke's Oyster Bar & Chophouse
A contemporary diner with sleek vibes, Luke's Oyster Bar & Chophouse serves up fresh oysters from the eastern seaboard of America. Priced at $48 for half a dozen and $96 for a full, check out their Oyster Board for what's in stock daily. There's a twist too: Luke's offers a Mobile Oyster Bar – where you can book and savour fresh crustaceans and molluscs right at your event, or even at home.
Luke's Oyster Bar & Chophouse is located at 22 Gemmill Ln, Singapore 069257, p. +65 6221 4468 and 260 Orchard Rd #03-02, The Heeren, Singapore 238855, p. +65 6733 4813. Open Mon-Sat 12pm – 12am and Mon-Sun 12pm – 10.30pm daily respectively.
Southbridge
Feast on oysters as you settle in with friends at rooftop bar Southbridge, which boasts a grand bird's eye view of Singapore along Boat Quay. Pair your oysters with cocktails, champagnes, and wine – full bottles available for large groups – for a truly gratifying session.
Southbridge is located at 80 Boat Qy, L5, Singapore 049868, p. +65 6877 6965. Open 5pm – 12am daily.
Culina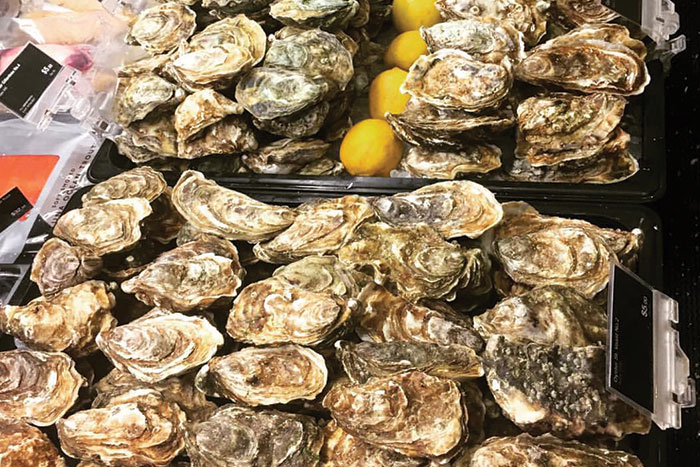 It's French oysters galore at Culina, where the creamy shellfish is flown in twice each week. If you're up for a delicate bite with nutty flavour, feast on some Fines de Clair ($4), while a preference for a more voluptous texture will point you to Gillardeau ($5.50), branded with the signature 'G' for easy recognition. Served with with lemon, Tabasco, and Tetsuya's oyster vinaigrette.
Culina is located 8 Dempsey Rd, #01- 13, Singapore 247696, p. +65 6474 7338. Open daily 11am – 11pm. 
The Beacon
Celebrate the end of the week over at The Beacon, where their Friday Happy Hour promotion means it's five oysters for $5++ alongside 1-for-1 draft beer and house pours from 5pm to 9pm. The variety of oyster changes every week, so check back to The Beacon's socials for what's on each week.
The Beacon is located at 6 Raffles Blvd, #01-01/02/03 Marina Square, Singapore 039594, p. +65 6883 1155. Open Mon-Tue, Thu, Sun 5pm – 1am, Wed, Fri-Sat 5pm – 4.30am. 
Humpback
Nestled near foodie enclave Keong Saik Road, get your fresh oyster fix from Humpback, where US oysters are brought in during their best seasons for you to indulge. Think Blue Pool from Washington, Fat Bastard from Samish Bay, and Hama Hama from Hood Canal, each at $7. A curated beverage menu focusing on white spirit-based cocktails complements these absolutely fresh molluscs.

Humpback is located at 20 Bukit Pasoh Rd, Singapore 089834, p. +65 9772 9896. Open Mon-Sat 5pm – 12am, Sun 11am – 3pm. 
Angie's Oyster Bar
Yet another spot for $1 oysters is Angie's Oyster Bar at Raffles Place. From Monday to Saturday between 6pm to 8pm, take advantage of the promotion with a drink in hand as you wind down from a long day. Don't take too long to head down though – it's only until stocks run out.
Angie's Oyster Bar is located at 50 Raffles Place, Level 45 Singapore Land Tower, Singapore 048623. Open Mon-Fri 12pm – 3pm, 6pm – 11pm, Sat 6pm – 11pm. Closed Sun. 
Sea Farmers @ Ubin
Sea Farmers @ Ubin isn't an actual spot to grab oysters, but instead, Singapore's very own oyster farm does send them right to your doorstep. Situated in Pulau Ubin, the farm has the shellfish kept in suspended baskets, which are tumbled around with each wave to keep the shells tightly closed. This gives the oysters a crunchy texture with its nutty flavour. Sea Farmers @ Ubin provides shucking services for a price as well, or the necessary equipment can be purchased with your order.
Order from Sea Farmers @ Ubin from their website here, or call them at +65 9820 0906. Delivery charge is $10 for a minimum order of $50, or free delivery for orders above $100.
Special Mention: The Other Room
A special promotion just for the ladies, get oysters on the house at The Other Room – every purchase of champagne by the glass or bubbly cocktail comes with a complimentary oyster everyday from 6pm to 9pm, except on Thursdays where hours are extended to 3am. Knock back a few as more drinks get you more oysters, or order a bottle of champagne for a platter of six.

The Other Room is located at 320 Orchard Rd, Singapore Marriott Hotel, Tang Plaza, Singapore 238865, p. +65 6100 7778. Open Mon-Thu 6pm – 3am and Fri-Sun 6pm – 4am.
Top Image: The Black Swan