Rokeby – Aussie comfort food to the max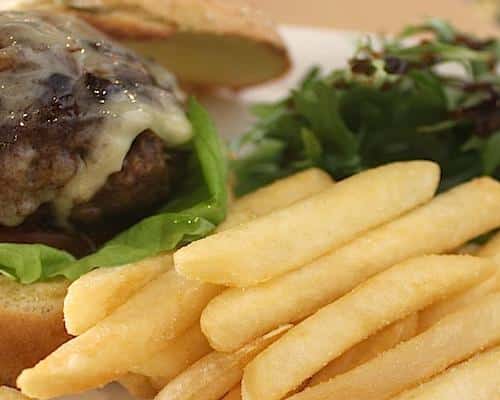 PUBLISHED September 6th, 2013 01:49 am | UPDATED April 14th, 2016 05:31 pm
Sometimes you just need the home comforts…
Located in the sleepy Serangoon Gardens nook that is Jalan Riang, lies a surprising strip of rather attractive looking dining establishments. One of these is Rokeby. Rokeby's concept is simple. Aussie comfort food, hearty portions, friendly service and a casual atmosphere that would be great either for a weekend brunch or a quick after-work din-dins.
On my visit there, I tried some of the staple basics and was generally impressed.
When I say staples, I'm talking burgers and fish and chips. Something that is frankly quite easy to cook, yet seems to go wrong in so many kitchens. This, thankfully is not the case at Rokeby.
The Moo's Burger ($17.90) was a fabulous handmade patty covered in melted cheese with a few slices of onion and lettuce, resting on a perfectly sized bun. I always love eating a burger that you feel you can comfortably pick up in your hands without it splattering in all directions.
Likewise, the Freo's Fish 'n' Chips ($16.90) was perfect. Light, crispy batter on the exterior and generous fillet of fish inside, steaming hot and tender.
To my great and wonderful surprise, the chips/fries with both dishes were exceptionally more-ish and I had to stop myself from polishing off both plates worth!
Being an Aussie-style place, they even have 'Vegemite' Fried Chicken ($11.90). I'm not such a Vegemite fan anyway so perhaps I'm a bit biased, but this was defintely not my favourite dish. The chicken was fine, just sadly overwhelmed by the thick, sticky coating.
Otherwise, there's plenty of simple pasta dishes on the menu such as the Linguine Vongole ($16.50) which simple, yes…but effective.
To me Rokeby is the kind of place you'd go to if you were in the area and had a difficult group of eaters… There'll be something for everyone here and you won't be disappointed. Price-wise, it's also very fair with most of the main dishes costing between $10-25.
Final mention about the coffee. Very, very good! If you live in the area, make a stop over here next time and pick up your morning brew. Good stuff.
---
Written by The City Nomad
On this occasion the meal was compliments of Rokeby.