Breakfast in the City at Sarnies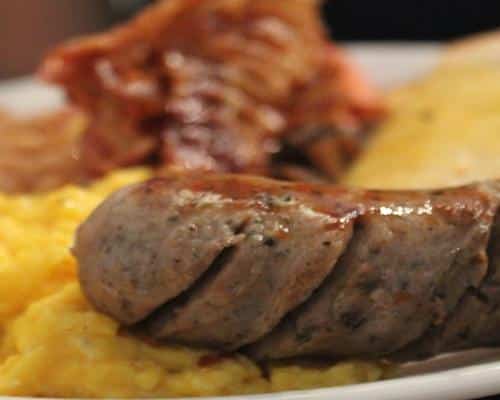 PUBLISHED February 26th, 2012 03:54 pm | UPDATED March 27th, 2016 10:42 pm
It's always struck me as something of an oddity that no-one ever seems to have breakfast in Singapore. Don't get me wrong, come the weekend and everyone is flocking to their favourite eatery for brunch…it's so popular you could almost call it a national pass-time. The same, however, cannot be said during the week. All that has since changed, and one great cafe that is leading this is Sarnies, on Telok Ayer Street.
Apart from their delicious sandwiches and salads, Sarnies also offer a solid breakfast menu Monday-Friday (not weekends) between 7-11am….I couldn't resist checking it out….
Now it has to be said, the breakfast menu is by no means extravagant. Don't come expecting a full brunch menu with eggs cooked in 5 different ways etc etc…this is a simple menu, and it's how it should be! There's granola, smoked salmon, eggs, bacon and sausages in various combos. You can also see in the image below the lunch menu as well which is rather extensive and goes from 11am-3pm.
For me, I decided to go with a smoked salmon and cream cheese bagel ($8.50), with a generous side of scrambled eggs (extra),… Damn, just looking at this picture makes me hungry again! Good bagels, generous filling of salmon with some red onions and capers…. and the eggs were perfectly cooked.
After hearing so much about the in-house cured bacon and sausages, I was delighted that my friend Theo ordered the Sarnies Fry-up ($14.90). Just look at it! It's massive…a proper breakfast. I would like to quote Theo at the point, 'this bacon is better than any I've had in the UK and probably America as well….it's crispy, flavourful, not too greasy or sweet..just great!'
The sausage was also scrummy, but outshone by the bacon. And the eggs, baked beans and toast made it a great combo. Simple but everything a good fry-up should be.
Of course I should also mention that barrista Pav is one of the best in Singapore (and a super friendly chap as well – you'll see what I mean when you go) and makes such good coffee that the last time I was there I ended up drinking 3 different cuppas, all great…a well roasted blend with good strength and taste.
Oh, and they also do some very groovy teas…feel free to ask for recommendations. I ended up with an iced lemon ginger tea and it was most refreshing.
The moral of this story: go there! In the past month i've already been 3 times! Coffee is great, food is great, people are great. I'm convinced they know every single patron by first name. Lunch is good there but often gets very crowded…For me, it's all about the breakfast at Sarnies or an afternoon coffee :-).