Tuscan perfection at Bistecca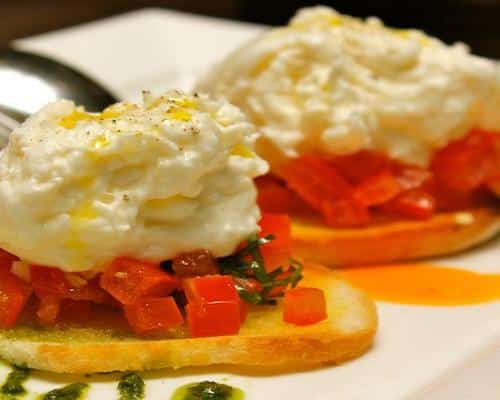 PUBLISHED February 29th, 2012 10:59 am | UPDATED June 6th, 2016 12:47 pm

If like me you are a steak-addict, Bistecca Tuscan Steakhouse promises steak perfection, served up the Tuscan way. That's certainly a tough promise to keep and so when I was recently invited to a tasting by the folks there, what better opportunity to see if that promise could indeed be fulfilled.
What sets this rustic-chic restaurant with it's relaxed surroundings, open kitchen and meat fridge on display apart is the fact that they are the only restaurant in Singapore to specialise in Bistecca Fiorentina, the famed regional dish of Tuscany which calls for top-notch cuts of steak cooked on an authentic charcoal-grill.
Authentic is the buzz word here because it's obvious Bistecca has gone to painstaking efforts to fulfill the characteristics of Tuscan cuisine and culinary tradition at the core of their concept. And this starts of course with the chef. Chef Francesco Mansani has been plucked from his very own restaurant in native Tuscany, and having been trained under some of Tuscany's best chefs he brings over a decade of experience in creating Tuscan cuisine across the globe here to Singapore.  That's pretty hard to beat in terms of authenticity.
OK so a great start there, but how about the meat? The people behind Bistecca spent a WHOLE YEAR researching the meat. The result? They use highly marbled, dry-aged Wagyu-Holstein beef (marble score 6) imported exclusively for the restaurant from Australia.
Before we get onto the food, a word about the wine. Bistecca boasts a wine cellar that includes both famous producers as well as more affordable, but high quality wines specially sourced from Tuscany and the surrounding regions. Aside from that they offer a personal wine locker service where you can hide away 6, 12, or 24 bottles at a time for regular wine aficionados. Otherwise, if BYO is your thing, you're welcome to bring your own pick for a corkage fee of $35.
And now finally, the food. Be sure to try the Bruschetta al pomodoro con burrata e olio al basilico ($18). You may have had bruschetta a million times over but this is no ordinary bruschetta. This is perfectly-toasted-til-golden Tuscan country bread, crushed ripe and flavoursome tomatoes, and fresh basil leaves. The piece de resistance is the seriously luscious Burrata cheese topping. Naughty and indulgent which is what makes this particular bruschetta so damn good.
It's been a long time since I've had a chowder, and I thoroughly enjoyed Bistecca's Impepata di cozze ($28), a beautifully light yet creamy rendition of clam chowder balancing the flavour from the mussels, the infusion of citron and the subtlety of the saffron just perfectly.
Now time for the main event….steak-time. Sometimes pictures speak a thousand words so although I usually feature pictures after my thoughts, this time I'm going to flip it round. Just looks at this….
Wow! Is what I thought as this supreme T-bone cut landed it front of me all over 1 kg and 2 inches thick of it. The Tuscan cooking style is one that is very simple. And it's very clear that the steak is doing the talking here. No fussy marinades or preparation. Just a brush of olive oil, a rub of aromatic salt (think rosemary, thyme, marjoram and oregano) and on to the char-grill is goes.
And before you think to yourself…hmm looks a bit fatty…Remember, this is marble score 6 Wagyu…this fat is almost buttery it's so soft and just adds heaps to the flavour of the steak.
Bistecca's signature Fiorentina ($178) is made for sharing and depending on appetite and what else you have devoured can accommodate from 2-4 people but if you are a steak fiend I would say it's closer to 2 than 4 so be prepared to fork out. In return you will be rewarded with a delicious cut full of flavour and of irresistible texture that left me literally scraping morsels of meat off the bone it was that good (by the way I highly recommend doing this as this is where the flavour it as it's most intense).  For those prefer their own you can opt for individual cuts of Fillet ($58) and Rump ($48).
All steaks come with two sauces – and because we sampled them all I would recommend the lovely comforting Porcini Mushroom and deliciously fragrant Salsa Verde.
The sides are kept simple, because really it's all about the steak. We completed our meal with Patate novelle fritte in grasso di anatra e erbe ($10), hand-cut spring potatoes double fried in duck fat with herbs. If you like your potatoes super crunchy then these will be right up your street. The Crema di spinaci ($14), otherwise known as creamed spinach is a lovely accompaniment to add to the mix.
If you manage to keep a corner of your stomach for dessert, you will be kindly rewarded with amongst other things, a stellar Tiramisu ($12). Now I'm not a natural tiramisu fan, and so am always impressed if a tiramisu can win me over. This was a truly indulgent yet all the while light salute to Italy's most popular dessert. Despite being full to the brim with meat this tiramisu wooed me with its rich flavours of cocoa and espresso, combined with it's velvety texture.
True blue steak lovers will surely find a new home at Bistecca. But aside from that,  don't worry because if steak's not your thing there's plenty of other Tuscan fare on offer to tempt your palate. Although at a higher price point, you are certainly paying for quality, and refreshingly good service here.
For more Italian restaurants, check out our list of the best Italian restaurants in Singapore.