Singapore Night Festival: Art and culture hits the streets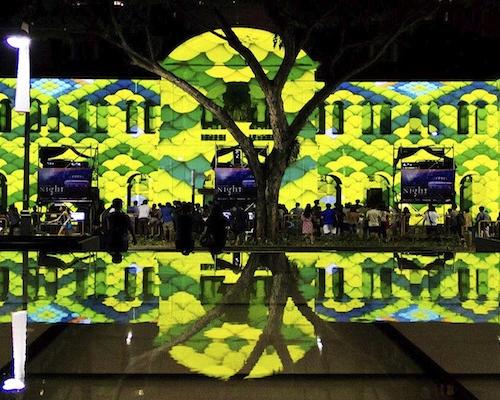 PUBLISHED August 29th, 2013 03:49 am | UPDATED January 20th, 2016 04:10 pm
Now in its sixth and largest run yet, the Singapore Night Festival offers an eclectic myriad of activities around the Bras Basah, Bugis precinct, including multiple live music performances, art and light installations; dance and fire acrobatics. The precinct stretches from Raffles City and Armenian Street to Waterloo Street and Plaza Singapura, turning the district into a nocturnal wonderland that is definitely worth wandering around for a few hours.
This year sees almost 100 local artists, filmmakers and musicians in about 80 free events in addition to nine international artists. Despite its growth since its first venture in 2008, the festival remains engaging and accessible to all ages. We especially love the creative tie-ups with local talents, such as the music and video projection on National Museum's façade, which showcases the work from Organisation of Illustrators Council (OIC) – you may have heard of their portrait drawing sessions at MAAD Pyjamas.
If you're feeling overwhelmed with the number of activities going on at the same time, we suggest following a vague route to wander around the district. Here's a few highlights which you may want to plan your wander around:
Night Lights 2013
Singapore Art Museum, Banyan Tree at National Museum of Singapore, The Cathay, School of the Arts and Raffles City. 7pm – 11pm
Various light installations and projections line the precinct, with interactive displays and whimsical sculptures lighting up the festival through the night.
Queen/Waterloo Street:
POP UP Cinema
Singapore Art Museum, Glass Hall
6pm – 1am
Catch short films from local directors including Royston Tan, Anthony Chen and Boo Junfeng at the POP-UP Cinema. There will also be a brand new series of recorded interviews with the award-winning directors with questions there solicited from the general public through tweets and emails.
Exercise your story-telling muscles by contributing to the script of the Great Singapore Story, which will be made into a real film – simply write parts of the script on the interactive script board or tweet your contributions to @objectifscentre with the hastag #greatsgstory.
For more information and the screening schedule, click here:
Migrant Workers
51 Waterloo St, #03-06
6.30pm – 11pm
A resident from The Public Domain stumbled upon a migrant worker who had committed suicide one day. This shocked and sobered the team, who realised that they had never stopped to think about the many workers in the various construction sites around their own precinct. Together with fast Food for Thought, they threw a simple thank-you party for the migrant workers with wholesome food and a portrait booth. This is the result of the initiative to recognise and document their stories.
For more information see here.
National Museum of Singapore:
Pyramid of Void
NMS façade
8.30pm, 9.56pm, 11pm
Aerial dancers move along a pyramid structure made of ropes that is suspended in mid-air, negotiating the minimalist set with deft acrobatic agility and skills. Their movements form a dialogue with the pyramid, breathing life into the structure and giving shape to the spaces in-between
Everlast by Sookoon Ang
NMS Rotunda
7pm – 2am
A poem written in foil balloon alphabets hangs above the round entrance space in the museum, and speaks about the energy and dynamics between two people. The physical installation brings these intangible feelings beyond the safe space of thought, and for a moment we feel the same exhilaration and after, the void left behind – just as balloons deflate, feelings fade.
Kerbside Gourmet x Lolla
NMS Level 2, Bus Bay
7pm – 11pm
The two fantastic gourmet food innovators have partnered together for a tight menu offering the best of both, including Sea Urchin Pudding (we hear it was the favourite last weekend), Cold Mentaiko Pasta with Crabmeat and Chocolate with Bacon Sticks. At $25 for 3 dishes, you get to try all your favorites while saving cash and space for more treats at the Food Street.
Palomas
Banyan Tree at NMS
Part of Night Lights 2013, these sculptures light up the iconic huge banyan tree in front of the museum. From afar, these sculptures are reminiscent of nesting mystical creatures, but on closer look acquire a colder quality in their origami structures clustered around its branches.
Armenian Street
MUSIC: Tribal Gathering of Jaw Benders
The Substation
7pm – 1am
The Tribal Gathering of Jaw Benders brings together the best of live indie music, with an exciting mix of emerging and established indie, alternative and hard-core bands and musicians such as Typewriter, Instigator Afro Beat Orchestra, Sub:Shaman and many more. When we visited late Friday Night, the street was full of people dancing to the performance – a pretty amazing experience.
Don't forget to check Select Books just beside, which is offering book discounts in conjuction with the Night Festival!
Hawker Food Alley
7pm – 1am
If you're feeling hungry after exploring, the road just between City Hall MRT station and Armenian Street offers various stalls selling a variety of local hawker food and snacks. We spotted The Muffinry, bread yard and Churrosity – perfect bites to accompany the horror films being screened beside!
For more information see here.
CHIJMES Hall
Bras Basah.Bugis Arts Flea Market
6pm – 12am
Curated to present Singapore's independent businesses and creative individuals, Bras Basah.Bugis Arts Flea Market brings you the best in artisanal crafts, indie labels and vintage fashion. Scrumptious gourmet selections including home-baked cakes and pastries will also be available to satisfy nibbles and cravings as you shop.
Other tips:
It'll be advisable to park somewhere further away if you insist on driving and take public transport as Armenian Street will be closed from 8pm till 2am. Museums are also open with late night free admission, so do pop in to NMS, SAM, Peranakan Museum and The Substation Gallery along the way.
Also, please respect the artists by leaving their artworks as they were. 114 pieces of 'EVERYDAY ASPIRATIONS' by artist Karen Mitchell has been missing since its installation along the alley between The Substation and The Peranaken Museum…and that's just not cool. Keep the experience fresh for those after you!
For more information on the Singapore Night Festival, head to:
Website: http://www.brasbasahbugis.sg/SNFPortal
Facebook: https://www.facebook.com/brasbasahbugis