Singapore Staycation Spotlight: Andaz Singapore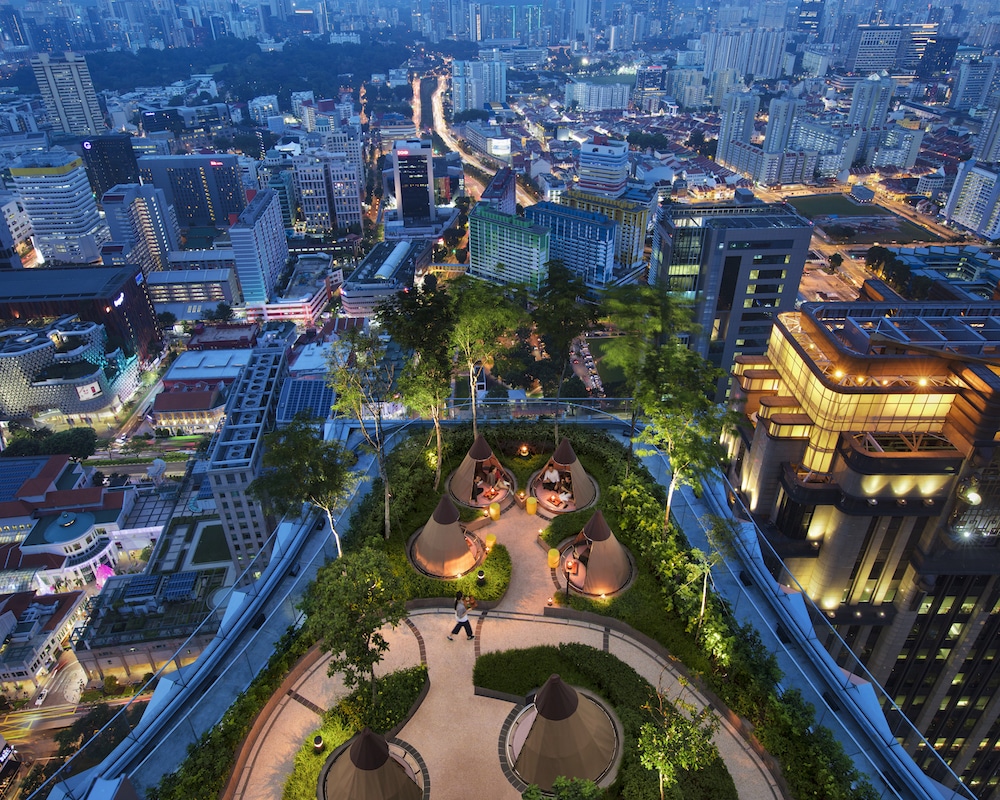 PUBLISHED January 11th, 2018 06:00 am | UPDATED March 28th, 2019 11:18 am
Though small, Singapore has plenty of bragging rights when it comes to lifestyle – like having the best food and drink scene in the region – and one more we can add on now, is Andaz Singapore being the first of its kind in Southeast Asia.
Probably the most anticipated hotel opening of 2017, Andaz is a five-star lifestyle brand under the Hyatt Hotels umbrella, which places emphasis on and showcases the eclectic local culture where the hotel is based. This deviates hugely from the somewhat cookie cutter way of expansion that's commonplace with international hotel chains; thus it comes as no surprise that it takes longer to build an Andaz hotel and there are only 17 of them worldwide.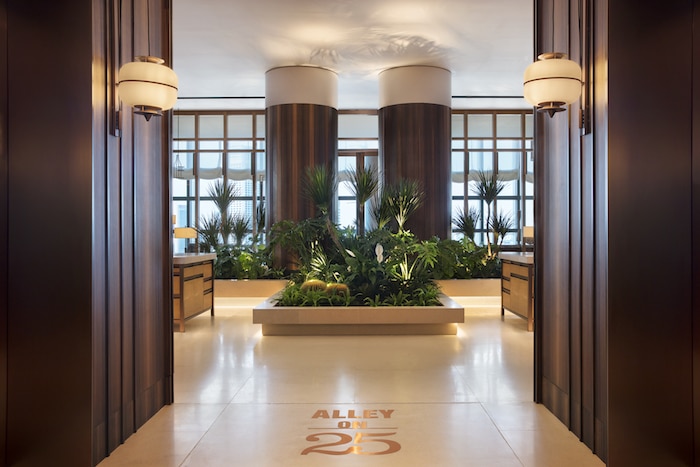 Andaz Singapore is housed between levels 25 to 39 of a concave skyscraper in the DUO intergrated development complex (designed by German architect Ole Sheeren who also conceived Beijing's CCTV Headquarters), making its location squarely at the crossroads of local cultures, with Kampong Glam, Little India, and the artsy district of Bras Basah-Bugis within easy reach. The lobby is on level 25 of course, where front counter staff clad in pieces designed by local fashion label In Good Company (in place of regular uniforms) help assist with the check-in ritual of identification and security deposits.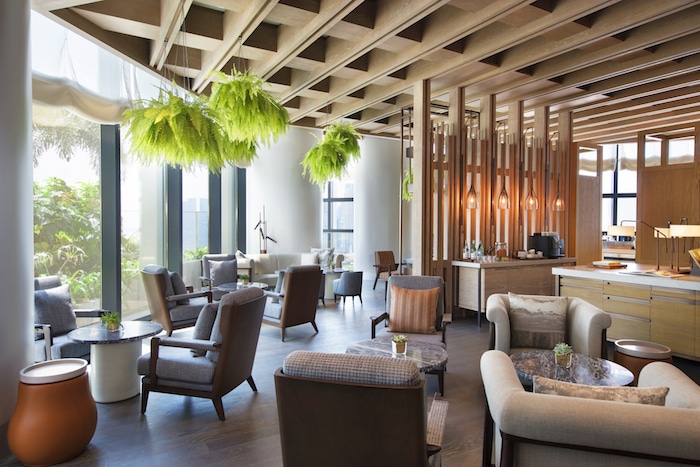 The rest of the sun-drenched 25th floor is home to Alley on 25, an ambitious attempt to recreate the look and feel of Kampong Glam's alleyways and shophouses. Six of the seven "shophouses" are culinary concepts focusing on different cooking methods – think Smoke & Pepper, Plancha'Lah!, and Auntie's Wok & Steam – and have their own drinks list and specialised tableware. The last of them is the Sunroom, which hosts the daily Andaz Lounge Hour, where all hotel guests can enjoy two hours of complimentary wines and the signature Andaz Pale Ale. It also offers all-day refreshments, making it a great spot to sit and read in the day for some me time.
Alternatively, if you prefer to be outside, the infinity pool is located on the other side of the 25th floor. The facilities might not be fanciful – comfortable and easily adjustable wooden loungers, big brollies, small colourful flotation devices – but the open to elements poolside is great for those working on their tan. Getting hungry or thirsty by the pool is also not an issue; the menu is easily accessible via a link on your electronic device (wifi is complimentary, naturally). Folks who can't do without their daily workout will find the fitness centre with a bird's eye view of Marina Bay on level 38 or the hotel can provide maps and details of tried-and-tested walking and jogging routes to soak up Singapore's sights and sounds at the same time.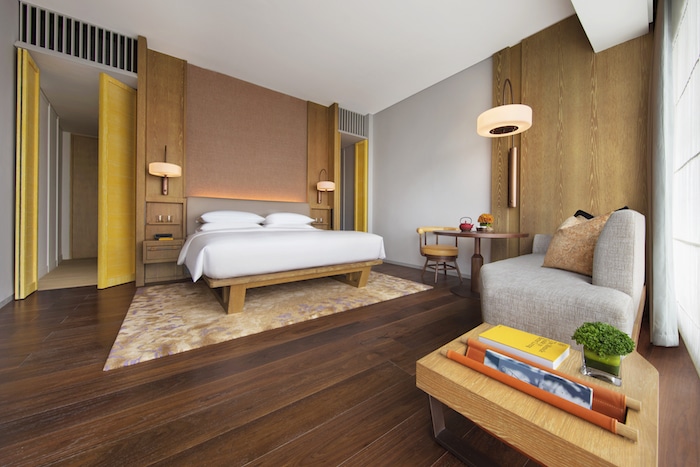 Like the majority of newly built hotels in Singapore, rooms are not huge but the clever use of space by interior designer Andre Fu of AFSO (of The Upper House fame) makes accommodation that one can enjoy. Our King View had 38 square metres (409 square feet) of space and sported floor-to-ceiling windows framing views of the harbour. There might be a fellow skyscraper or two in-frame but that doesn't necessarily spoil the effect and experience. The natural and neutral palette of white, beige, brown, and various shades of wood is brightened by the canary yellow doors and modern-industrial light fixtures. There's no bathtub but it's more than made up for by a robust rainfall shower system and the not overly cloying scent of the bath amenities inspired by the locale. All the rooms also feature a complimentary non-alcoholic minibar stocked with local snacks, sparkling water, and more.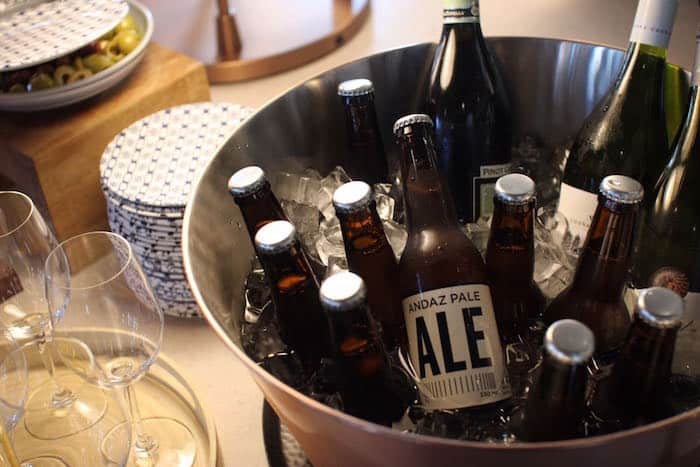 After a couple of drinks at the Sunroom during the Andaz Lounge Hour with a range of local snacks, it's easy to pop over next door to Bar Square for more cocktails. One thing we need to point out is the lack of a "view tax" at Andaz Singapore's. A bottle of Delamotte Brut N.V champagne here or at rooftop bar Mr. Stork is $88 while cocktails go for a flat rate at $16. At Bar Square though, the happy hours of 5pm to 8pm see decently crafted cocktails priced at $12 instead.
Honestly, if that's not a good deal, we don't know what is. The drinks list here comprises of specialty cocktails from the different concepts at Alley on 25. We know for a fact that the trusty La Maison du Whisky supplies their alcohol so you're not going to get club-level spirits in the cocktails.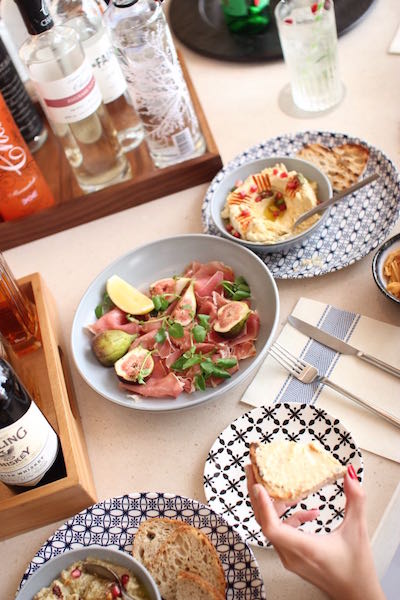 To start, we had the Best G&T in the World – awarded by the San Franciso Worlds Spirits Competition for a recipe that calls for Kyrö napue rye gin, cranberry, rosemary, and Erasmus Bond tonic water. Light and refreshing, the combination enhances the flavours of the robust rye gin. The Single Estate Margarita, on the other hand, is a punchy one built with 70ml of Ocho blanco tequila, lime, and Merlet trois citrus (triple sec). The food options at Bar Square are, again, offered by the other culinary concepts at Alley on 25, such as Icehaus, which champions cold dishes like cold cuts, salads, and desserts. The vegetarian-friendly Baba Ganoush ($16) comes with toasted sourdough bread from Tiong Bahru Bakery; the homegrown brand supplies Andaz Singapore with all types of bake goods and is yet another way travellers can get a taste of Singapore. Those looking for something more savoury can opt for the failsafe Prosciutto di Carpegna DOP ($25) with fresh black figs.
For our last stop, we headed up to Mr. Stork to check out the cute teepees that have been making rounds on the 'gram. The signature cocktails at the rooftop bar blessed with a 360-degree view are also $16, but focusing on fruits, Asian herbs and spices, the flavour profiles are rather different from that of Bar Square. The Ginseng (ginseng aperitif, elderflower, grapefruit, and tonic) was surprisingly well-balanced and pleasant while those with a penchant for bubbly cocktails can try the Rhubarb with vodka, strawberry, lemon, and sparkling wine.
Andaz Singapore has lots to offer in terms of location, food & drink, and little corners around the hotel for guests to discover (for instance, the garden around the back of Mr. Stork). It's checked most of our boxes for a staycation in Singapore and is likely to leave you happy too.
Andaz Singapore is located at 5 Fraser Street, Singapore 189354, p. +65 6408 1234.