Food Guide: How To Eat Like A Local in Vientiane, Laos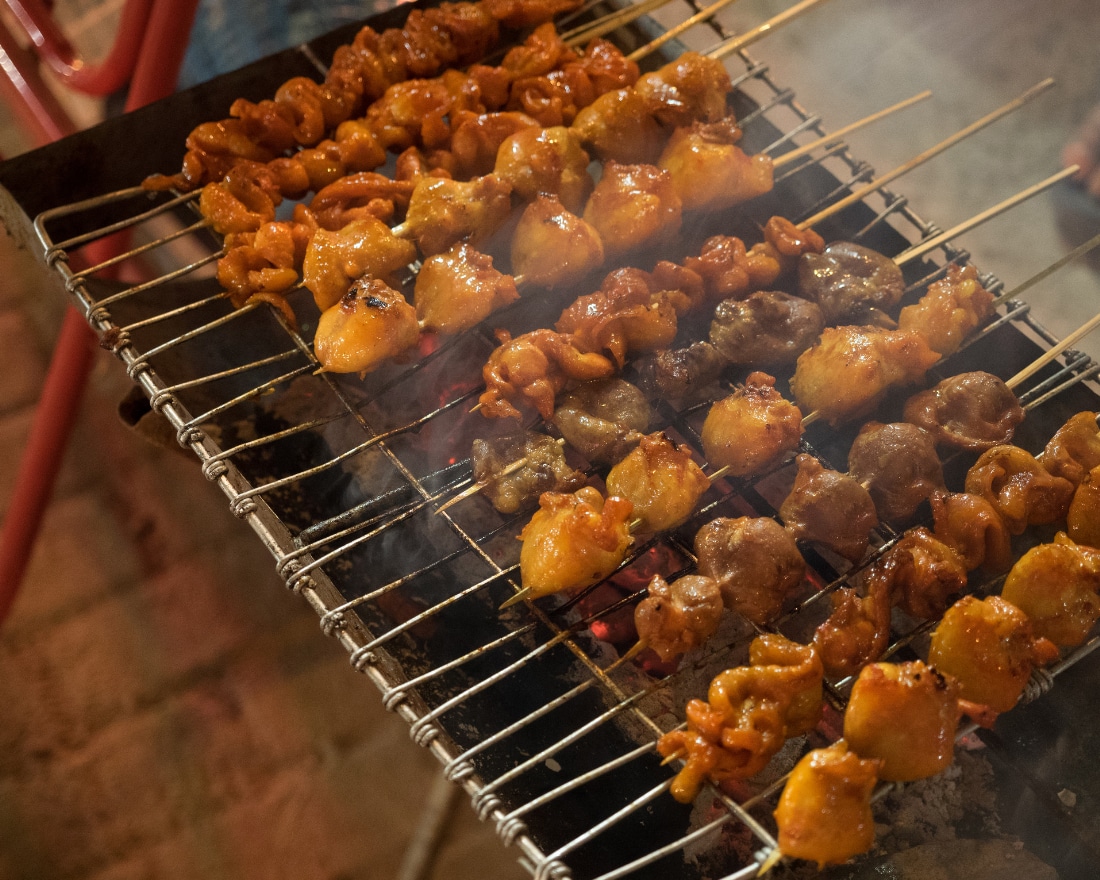 PUBLISHED September 5th, 2018 06:00 am | UPDATED April 13th, 2019 04:31 pm
You're in Vientiane, and what better way to experience the culture than to eat? The quaint Laotian capital offers the best of the country, as well as inspired culinary offerings from its Thai and Vietnamese neighbours. Go full on local by finding the best noodle soups in town, sop up their spicy curries, and sharing traditional dishes over sticky rice. Oh, and try their gorgeous croissants and coffee too – remnants of the country's colonial era!
---
Dropping by Luang Prabang as well? Here's our guide to spending four days in the UNESCO-certified city.
---
Kung's Cafe

Kung's Cafe is hidden at the end of a deadend laneway, but once you manage to locate it, you're in for a treat. The small eatery specialises in homely Lao soups, stir-fries, and curries from only 15,000 to 20,000 kip a dish, including yellow, red, and green curries that are fabulous with steamed rice. Try one of their freshly blended fruit-yoghurt juices to beat the heat!
Kung's Cafe is located off the small alley of Rue Simeuang, Vientiane, Laos, p. +856 21 219 101. Open daily 6am – 3pm.
Miengchaokao Restaurant

A favourite hangout spot for birthday parties and celebrations, Miengchaokao Restaurant is a tad more polished than many local restaurants you'd find in the city. If you're unfazed by loud music and big crowds, you'll enjoy the range of yummy traditional Lao food on offer here, like fried pork, beef laab, and ice cold Beer Laos.
Miengchaokao Restaurant is located at Ban Nongbone, Vientiane, Laos, +856 30 99 99 330. Open daily 9.30am – 12am.
Tamnak Lao

Sister outlet of the popular restaurant in Luang Prabang, Tamnak Lao has been in operation since 1993, dishing out superb Lao cuisine to locals and tourists alike. From sun-dried beef and Mekong fish cooked in coconut milk to crispy bamboo shoots filled with vegetables and sweet sauce, you can even request for milder version if you can't take the heat. If you're lucky, you might even catch some charming Lao dancing and music in action.
Tamnak Lao is located at 23 Singha Rd, Vientiane, Laos, +856 21 413 562. Open Mon-Sat 11am – 2pm, 6pm – 9pm.
PVO

It's common to find Vietnamese fare in Vientiane, but few are as popular as PVO for banh mi – sandwiches made with crunchy baguettes and a variety of meats, veg, pickles, and quintessential chilli sauce. This is also where you can tuck into piping hot bowls of herby pho (only 20,000 kip) and plates of fried spring rolls.
PVO is located at the side road parallel to Khou Vieng, Vientiane, Laos, p. +856 21 214 444. Open Mon-Sat 6.30am – 4.30pm, Sun 6.30am – 1.30pm. Closed last Sun of each month.
Phakhao Lao

Phakhao Lao is home to possibly the best duck laap (meat salad) in town, as well as a large array of Lao and Thai dishes (from 40,000 kip for sharing). Hidden away in an alley near Wat Ong Teu and the river, take a seat under the lanterns at their back garden terrace and enjoy authentic local fare: soups, curries, and a particularly delicious fried fish in tamarind sauce.
Phakhao Lao is located at Wat Chan Ln, p. +856 20 7751 7272. Open daily 11.30am – 10pm.
Nazim

Indian food in a place like Vientiane? You'd be surprise how popular Nazim gets during the weekends – making for a welcome change from rice noodles. The menu is extensive with staples like briyani rice, naan, tandoori chickens, and chicken tikka masala leading the fore. It's not quite what you'd find in India, but at prices starting from 15,000 kip, the locals aren't complaining.
Nazim is located at Fa Ngum Rd, Vientiane, Laos, p. +856 21 223 480. Open daily 9.30am – 10.30pm.
Han Sam Euay Nong

Also called the 'Three Sisters Restaurant', the family-run Han Sam Euay Nong is close to the riverside and a great place to fuel up before navigating the crowded night market. The menu is relatively limited, focusing on really good rice noodle soups and pho (from 20,000 kip) at great value. Make an order for their nǎem khào, crispy deep-fried balls of vinegar rice and pork sausage.
Han Sam Euay Nong is located at Chao Anou Road, Vientiane, Laos. Open daily 8am – 7pm.
Khouvieng Fried Chicken

Yes, it's KFC! This is Vientiane's own version of the famous colonel's chicken, only these are cooked in a shack beside the street. Look out for a long line of people jumping off their scooters and picking up a bag of cheap and delicious chicken and fries. Great when you want a quick supper on the way back, but we say take your time and sit next to locals over this universal dish.
Khouvieng Fried Chicken is located at Boulevard Khouvieng, Vientiane, Laos, +856 21 314 514. Open daily 9am – 5am.
House of Fruit Shakes

Wait, fruit shakes? That's right – you don't want to get heatstroke before seeing the rest of Vientiane. Not too watery or pulpy, the drinks at House of Fruit Shakes are arguably the best in town. Flavours range from the revitalising lemon mint to the sour starfruit, and you can even add in some yoghurt for just 4,000 kip. If you prefer, you can also enjoy your fruits whole or cut and served with yoghurt.
House of Fruit Shakes is located at Samsenthai Rd, Vientiane, Laos, p. +856 21 212 200. Open Mon-Fri 7.30am – 8pm, Sat 7.30am – 6pm, Sun 7.30am – 5pm.
Bakery by Boris

When it's hot out, Bakery by Boris is a cosy haven in the middle of downtown Vientiane. The air-con is strong, the seats comfortable, and the modern interior sets it apart from its competitors. Best of all, their French-style pastries are excellent, whether it's croissants, hazelnut danishes, or custard cakes you want. Nothing like a good cup of latte to get you settled in, either.
Bakery by Boris is located at Ban Kao Yord, Vientiane, Laos. Open daily 7am – 7pm.
Ban Anou Night Market

There are two night markets in Vientiane, and this is the one to go to when you're hungry. The open-air Ban Anou Night Market takes place each night along a side street just off Rue Phai Nam, featuring a row of makeshift stalls that dish up a plethora of grilled meats that you eat with chilli dips and sticky rice, fried spring rolls, and even sushi – maybe avoid this if your stomach isn't the strongest.
Ban Anou Night Market is located at Rue Phai Nam, Vientiane, Laos. Open daily 5pm – 10pm (some stalls may open or close at a later time).
Top Image: Courtesy of Tatsuya Fukata
---
This post is written in collaboration with SilkAir.
SilkAir, the regional wing of Singapore Airlines, currently operates about 400 flights a week to 53 destinations in 16 countries. The destinations SilkAir operates to are within a six-and-a-half-hours flying duration from Singapore, with the furthest destination being Cairns in Australia. Come October 31st, SilkAir will be operating to its newest destination, Hiroshima, Japan. At the moment, the combined Singapore Airlines and SilkAir network covers over 100 destinations in 36 countries.
SilkAir's positioning as a premium, short-to-medium haul regional carrier gives it a unique appeal amongst leisure and business travellers in Asia. Whilst offering carefully selected meals, a full bar service and complimentary in-flight entertainment, SilkAir places great emphasis on providing attentive, friendly and relaxing service. The carrier's regional flair is expressed through both its cabin crew and its cuisine – ensuring that your experience of the destination you're heading to begins when you step onto our plane.
For more information on flights to Vientiane, see here.