Surf's Up: The Best Surfing Spots in Bali to Ride Waves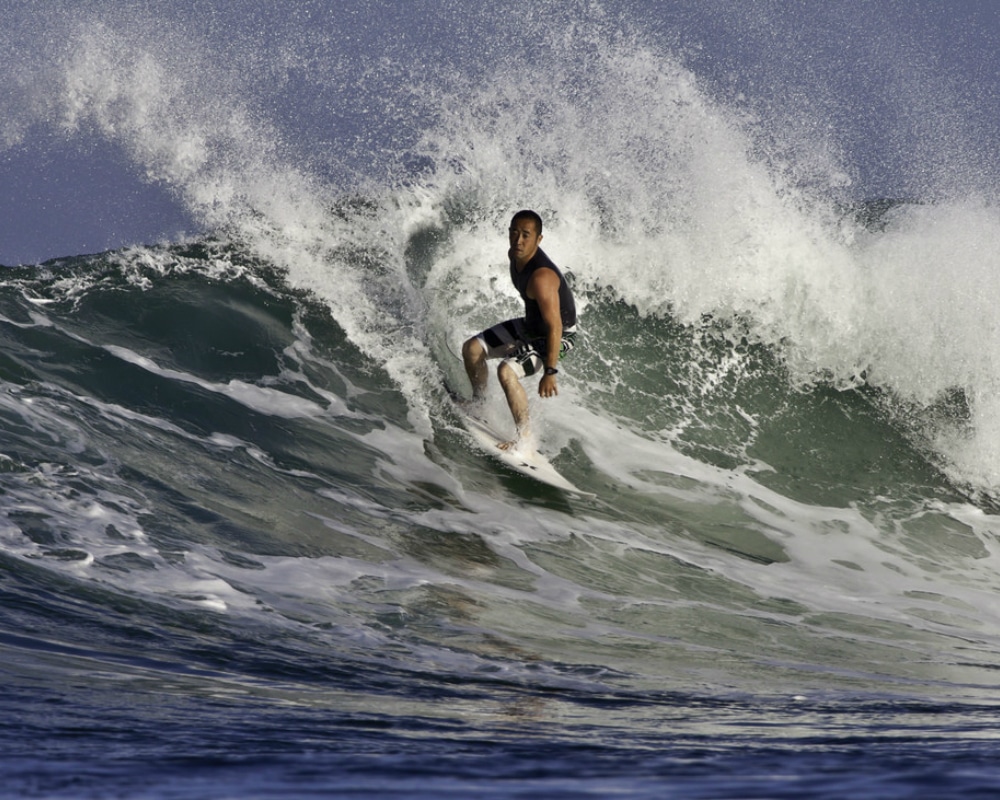 PUBLISHED September 6th, 2017 07:00 am | UPDATED May 18th, 2020 05:35 pm
Bali's coasts have long garnered a reputation for being a surfer's paradise, and continue to draw in a diverse crowd of surfers year after year. There's something for everyone, whether you're a beginner completely new to the sport, or are an advanced surfer constantly on the lookout for a challenging surf. Here are the best beaches on the island for catching a wave:
Beginners: Small swells and sandy breaks
Kuta Beach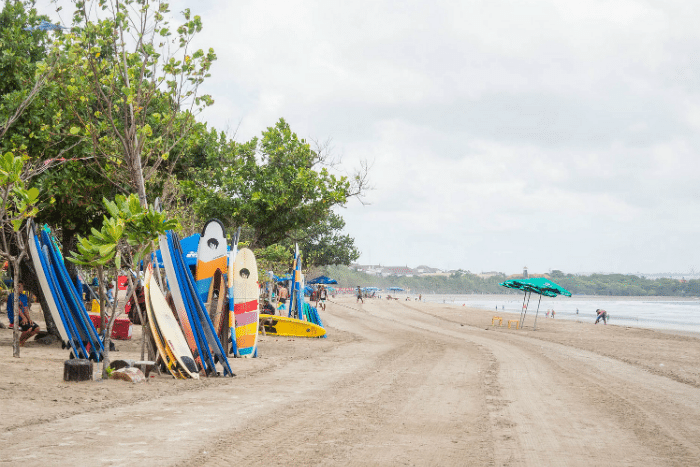 If you're new to surfing, Kuta is a good place to start. The waves come in small swells, the beach breaks on a sand bottom, and it's fairly easy to rent surfboards or find a surfing instructor right along the coast. It's a tourist hotspot, so come prepared to brave the crowds – from surfers of all levels to beach-goers in the mood for a swim – and keep a look out for surfboards flying about in the waters.
Pro-tip: Kuta is also known for its vibrant nightlife, with parties that go on late into the night – so you might be able to skip the crowds by rising up for an early morning surf.
Legian Beach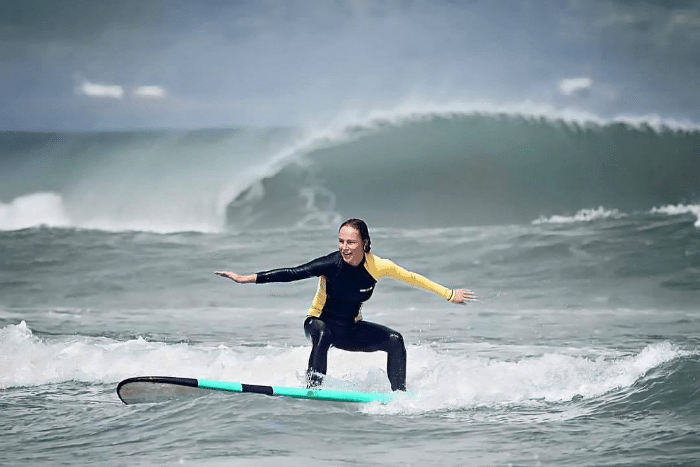 When it comes to surfing, Legian shares many similarities with Kuta – the waves come with a sandy break (so you won't be injured by rocks or reefs should you hit the bottom), the average wave size is between 0.5 metres and 2 metres and the swells grow bigger in the later part of the afternoon. It's a plus that the beach is considerably less crowded, and Legian is also home to reputable a few reputable surfing institutions like the Rip Curl School of Surf and Windy Sun Surf School.
Seminyak Beach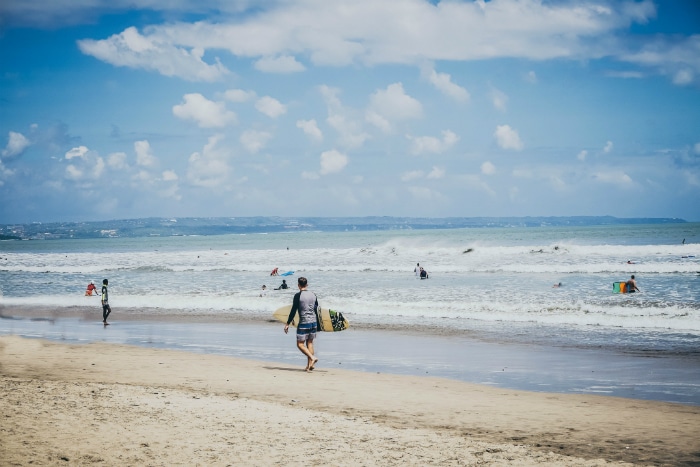 In addition to its reputation for being a hipster hangout, Seminyak Beach has also garnered a reputation for being a beginner-friendly surf spot due to its small waves and sandy breaks. And with trendy hangouts like KU DE TA and Potato Beach Club dotted along the coast, you'll be within easy reach of ice-cold beers and seaside dining after sweating it out at sea.  
Intermediate surfers: Powerful shore breaks
Serangan Beach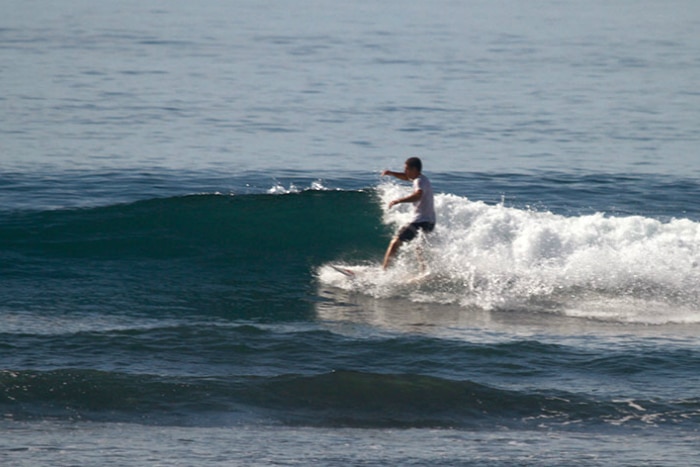 Serangan Beach might be known for its gorgeous landscape, but what keeps the surfing crowd coming back is its excellent surf conditions. While the waters by the beach stay calm, the shore breaks are large and powerful. The main peak, located right in front of a cluster of eateries is where advanced surfers venture to catch the waves, while towards the right are softer wave breaks suitable for beginner to intermediate surfers.
Due to its location, Serangan Beach offers prime surf conditions during the raining season, which falls between the months of November to February.
Bingin Beach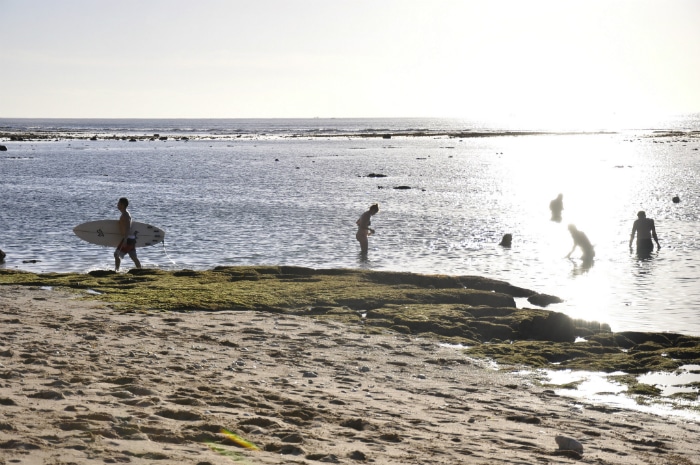 Bingin Beach draws a diverse crowd of surfers due to the sensitivity of its tides. At low tide, the waves are best attempted by advanced surfers. When the tide is high, the wave breaks gently, providing a more inviting surf condition for beginner and intermediate surfers. Always check on the surf conditions before paddling out, and if you're fairly new to surfing, it's well recommended to try out the sport only with the guidance of an instructor.
Pro-tip: Bingin Beach is a widely popular surfer's paradise, so come prepared to brave the crowds. Sharp reef breaks are present here, so don your surf booties before heading out.
Advanced surfers: Ride out big swells and challenging reef breaks
Impossibles Beach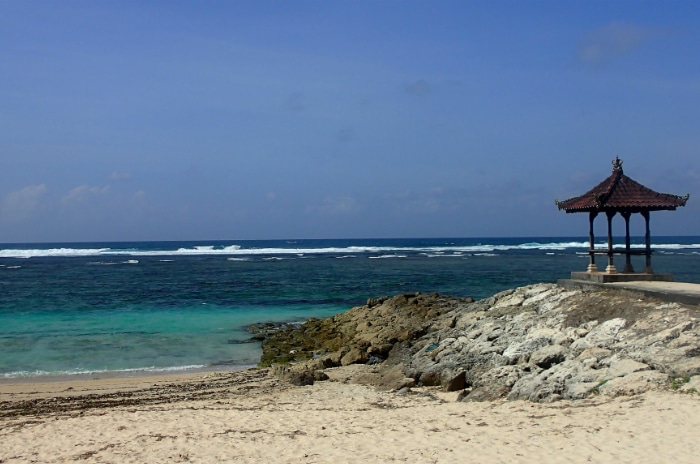 Nestled in between the beaches of Padang Padang and Bingin – both of which are renowned surf spots – Impossibles earned its name for being a hard-to-reach venue. However, access has since been improved so beach-goers can now make a smooth descent down to the coast.
Boasting irregular formations and a beautiful landscape, Impossibles is known for its long, powerful waves and challenging surf conditions. And thankfully, unlike its neighbouring coasts, the beach manages to avoid becoming too crowded with a lengthy reef that offers several take-off spots.  
Echo Beach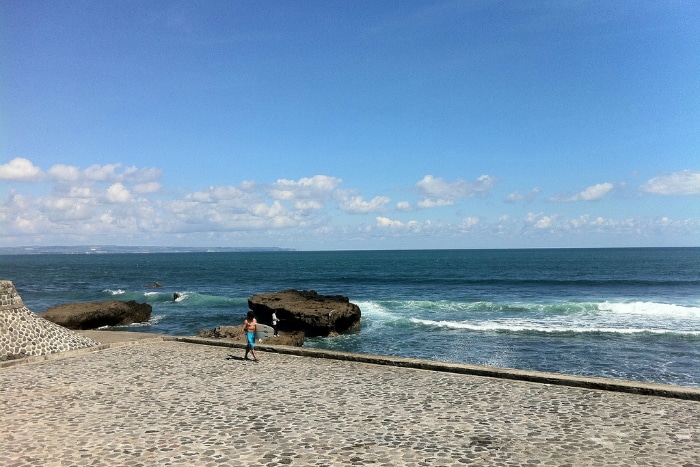 With its powerful left-hand reef breaks, Echo Beach is a venue made for advanced and pro surfers. The popularity of the beach, along with its small take-off area means that a good crowd is pretty much guaranteed. But you'll have the option of surfing the beach breaks, which are less popular compared to the reef spots. A good variety of eateries and bars are peppered along the glittering black sand coast, so you'll have plentiful choices for refuelling after a good surf.
Pro-tip: You'd be hard-pressed to find rental shops in the area, so it's best to come with with your own surfing equipment. Not a surfer? It's still worthwhile coming by to Echo Beach to catch pro surfers in action as they coast across the magnificent waves.
This article was contributed by our friends at Villa-Bali.com.
---
Top photo courtesy of Michael Dawes.