Swirls Cupcakes: seeking perfection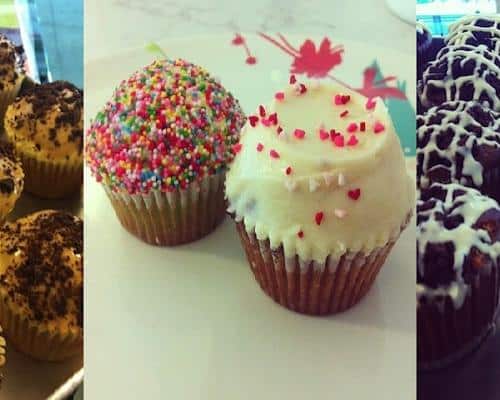 PUBLISHED March 1st, 2012 09:41 am | UPDATED March 28th, 2016 12:16 am
There is nothing more inspiring than talking to someone who really loves what they do. Except perhaps when the thing that they love, is to bake cupcakes which it just so happens, I also love. Well…….. that's a bit of a lie, not to bake, more to eat! So, let's just say that when I met Alia, founder of the new Gourmet Cupcake Bakery 'Swirls' in Robertson Quay, I was happier than a fat kid given a huge cupcake…..oh, hang on……
Swirls has only been open a month but it seems I am not the only one drawn to the little parcels of buttercream and spongey goodness. Whilst I am hovering over the counter trying to decide which delicious flavour to go for, there is a continuous stream of contented-looking customers. So far, so promising.
I sit down at one of the tables outside with my Iced Lemon Tea and an assortment of cupcakes. Oh So Coco- a chocolate sponge with chocolate sprinkles, Banana Cinnamon- banana sponge with cream cheese and cinnamon dust and Very Vanilla- vanilla sponge with vanilla sprinkles. Heh! don't judge me, it's all in the name of research. Pretty soon I fear I may be causing a 'When Harry met Sally' sort of scene as my appreciative oooh's and ahhh's garner a few odd stares, but they clearly haven't tasted Alia's handiwork before. Put simply, they are delicious. Moist and flavourful sponge with not too much, not too little creamy buttercream, thoughtfully decorated and beautifully presented.
Hoping to absorb some of Alia's baking skills, I ask her how she came to be such a baking whizz. Turns out that she used to work in fashion (a girl after my own heart) and came upon this passion project after an American road-trip with her husband. It was just the two of them, the road and a rental car (ah the romance!) and… she soon began to realise, a cupcake store in every town that they drove through. It seemed that the appetite for cupcakes was voracious and pretty soon Alia and her husband, Danish, were stopping at each cupcake store in each town, marvelling at how people really did seem to want a cupcake every day (mmhmm, you don't say!). The seed had been planted.
Coming from a family of great cooks, Alia only recently got into baking since coming to Singapore two years ago. She started mainly because she couldn't find a decent cupcake in town but it was just a hobby, or so she thought! However after the road-trip things started to fall in to place, pretty soon there were spreadsheets, business plans, a location, a lot of cupcake baking and Swirls was born!
Now she spends her days in a baking flurry! Perfecting existing recipes and coming up with new, even tastier ones. I was intrigued to hear about her Manuka honey cupcake, which was inspired by the anti-carcinogenic properties in Manuka honey. See, now who said cupcakes weren't healthy?! In the pipeline are cupcakes to be linked with Charity Awareness days, as Alia is keen to give back to the community. I have to say, after chatting with her, I find myself really rooting for Swirls. Alia and Danish are lovely folks, never too busy to chat with each and every customer who walks through their door and spread a little sunshine.
Swirls have daily specials alongside the classic favourites but with 101 favours in total, you could easily try a different cupcake every day. They have a small selection of cold drinks and coffee, so if you're not in too much of a hurry, its a nice little spot to people watch and cupcake appreciate too. But if you would rather have your cupcakes to go, they offer takeaway and delivery island-wide, you can just call or email and have them delivered straight to your door.
They say their mission is simple: to make the best cupcakes that you have ever tasted. I would say, mission accomplished!