10 Most Scenic Train Rides Around The World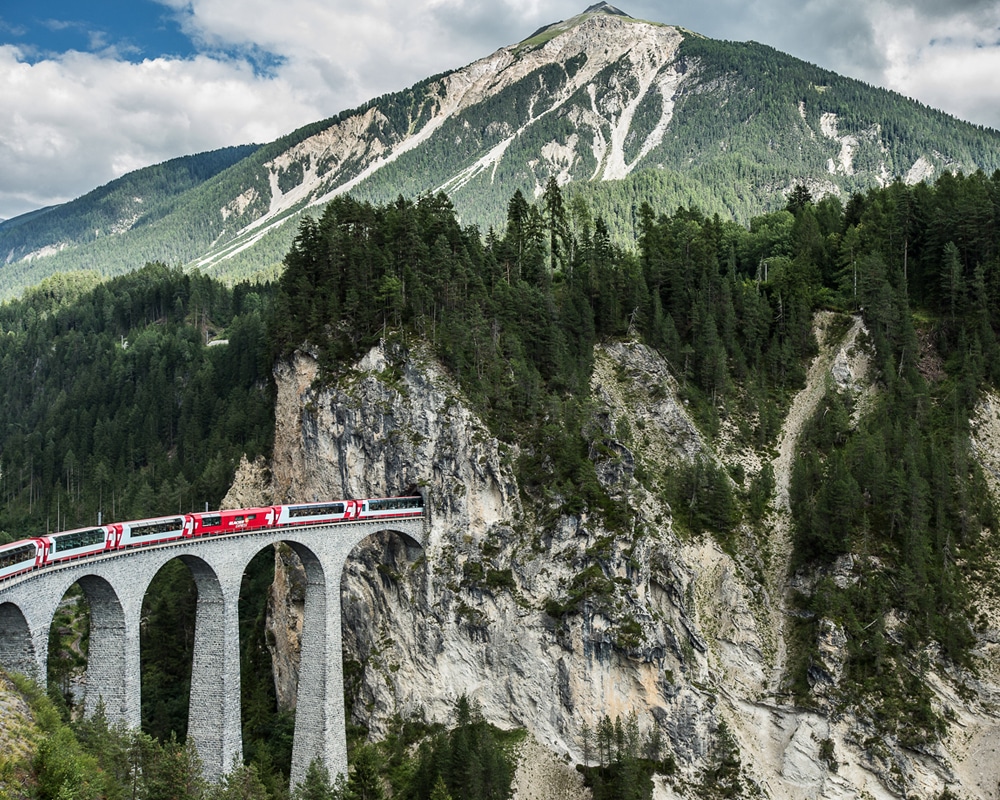 PUBLISHED March 26th, 2016 10:00 am | UPDATED March 26th, 2019 06:09 pm
The speed and commercialisation of airplanes in the last few decades have seen other modes of transportation that people used to rely on slowly faded into the background. After all, why go on a 2-day journey when it can be easily covered in a zippy 2-hour plane ride?
However, as majestic as the view from thousands of feet up in the sky can be, it's not quite the same as looking out from a train window as you traverse pass picturesque terrain with frozen waterfalls or orange-hued sand dunes.
Ranging from a few hours to as long as a few weeks and costing a little as a restaurant meal or as much as a transatlantic luxury cruise, here's a look at 10 of the world's most scenic train rides:
Maharajas' Express, India

There are be five luxury trains operators in India, but the exquisite Maharajas' Express clearly takes the number one spot. Debuting in 2010 with just 19 cars and 88 passengers, the train attempts to recreate the carriages used to transport the ruling maharajas of the past. Ranging from three to seven nights, the five itineraries depart from Delhi or Mumbai, taking you through olourful Rajasthan to some of India's most beautiful destinations such as Udaipur (City of Lakes), Agra (home of the Taj Mahal), Varanasi, and Ranthambore (wild Bengal tigers!).
Prices start from US$3850 per person through Maharajas' Express.
Grand Canyon Railway, Arizona

A different way to visit the iconic Grand Canyon is via the Grand Canyon Railway, a wild west-style train that offer great insight into the different eras of US train travel. For instance, coach class cars are vintage 1923 Pullmans while the cafe car dates back to the 1952; first class cars and observation dome cars are mostly from the 1950s. From a straightforward  130-mile day trip through the Arizona desert from Williams and the Grand Canyon's South Rim, to a longer three-night tour of the Grand Canyon National Park and Ponderosa Pine forest, the staggering views offered by the extraordinary Grand Canyon is one you'll find hard to forget.
Prices start from US$65 per person through Grand Canyon Railway & Hotel.
Napa Valley Wine Train, California

How many varieties of wine can you sip in three hours? If the answer is "a lot", the Napa Valley Wine Train is the thing for you. Take a 36-mile roundtrip lunch or dinner in a retro 1915 Pullman dining car as it slowly winds its way from downtown Napa to St Helena, passing by acre after acre of surreal Northern California landscape, as well as many famous and historic wineries – Oak Knoll, Yountville, Oakville, and Rutherford, just to name a few. The famed 'wine country' Napa Valley is, after all, one of the top wine-growing regions in the world.
Prices start from US$189 per person through Napa Valley Wine Train.
Danube Express, Central Europe & Transylvania

This is one for the ballers, since the exclusive Danube Express is the only international private train in Europe with ensuite compartments and air conditioning. With many wide-ranging itineraries to choose from, you could start your four-day journey in either Budapest or Istanbul and traverse the legendary Transylvania countryside with stops in Sighisoara (the birthplace of Dracula, if you believe it), Bratislava, and Krakow before winding up in Prague. Think magnificent cities, classical culture, and architecture masterpieces of historic medieval settlements in Central Europe.
Prices start from US$11, 595 through Golden Eagle Danube Express.
TranzAlpine, Christchurch 
Climb aboard TranzAlpine and see the mighty Southern Alps of New Zealand. Trains run daily from the garden-loving city of Christchurch and ends up in the rugged wildlands of Greymouth (where you can go climb the famous Franz Josef Glacier) through Arthur's Pass. Unmoved by the sweeping vistas of the ice-fed Waimakiriri River, Canterbury Plains farmland, and deep gorges? Wait till you take in the incredible chiselled alpines landscape that New Zealand is so famed for (cue: Lord of the Rings). Day journeys last half a day, but you can also sign up for overnight packages with accommodation and activities.
Starts from 243USD through KiwiRail.
Glacier Express, Switzerland
Switzerland may be well-known for the quality and punctuality of its trains (and watches), but it is the towering alps that make the country such a visual attraction. The Glacier Express takes you through it all from St Mortiz to Zermatt: across lush green valleys dotted with cows, snow-capped gorges, icy peaks, 91 tunnels, 291 bridges, and generally awe-inspiring scenery. With new panorama coaches added to all second-class cars, you don't need to break the wallet just to enjoy the best eye-opening views. This could very well be most gorgeous seven hours spent in your life.
Starts from US$320 per person through Glacier Express.
The Ghan, Australia
The two-day Ghan transcontinental journey takes you from the Adelaide bushlands through the desert groves of the Clare Valley via Alice Spring, past the rust-coloured Red Centre (home of the Ayers Rock) and on to the lush tropic Top End before ending in Darwin, the most laid-back region in Australian's Northern Territory. Run by the Great Southern Rail, the train leaves from Adelaide every Sunday for 1851 miles of breathtaking colours and desert. Platinum and Gold Service guests can enjoy complimentary off-train excursions like camel rides, and a leisurely Nitmiluk Gorge boat cruise.
Starts from 760USD through Great Southern Rail.
Tsar's Gold Train Trans-Siberian Railway
The name Tsar's Gold Train is hardly an exaggeration. After all, it has hosted HRH Prince Michael of Kent, first cousin twice removed of the last Tsar Nicholas II. Sightsee some of Asia's most glorious destinations on the train's classic Trans-Mongolian route from Moscow to Beijing's Forbidden City, the Great Wall, the Gobi Desert, Siberia's Lake Baikal, and into Mongolian nomadic settlements. You'll even pay a visit to two kremlims: the one in Moscow and another you've probably never heard about.
Starts from 5430USD through Trans-Siberian. 
The Blue Train, South Africa

This is a 27-hour one-way journey covering 1600 miles across the stunning African sub-continent, complete with a dedicated butler, luxurious accommodation, sumptuous dining, and an extensive list of the best South African wines. The real star of this journey however, is the African landscape (the reason why there's only one stop on the entire trip).
Upon departure from Pretoria, you'll arrive at Kimberley Station after brunch and high tea, where you can visit the railway museum and the Open Mine Museum. Head back to the train for dinner, a comfortable night's stay and enjoy the scenic views before reaching Cape Town (see our article on 5 wineries to visit in South Africa).
Starts from 680USD per person through The Blue Train.
The Rocky Mountaineer, Canada

As you can probably guess, The Rocky Mountaineer takes you through Canada's grand Rocky Mountains – carving paths along the powerful Kicking Horse River, legendary Spiral Tunnels, spectacular stone cliffs, dramatic canyons, and monumental landmarks from the early days of the National Railway. The route itself is historic, having united Canada from east to west for the last 125 years. Ranging from a two-day rail journey from Banff to Vancouver to a seven-day package that includes alpine exploration, this is Canada at it most majestic.
Starts from 1470USD per person through The Rocky Mountaineer.
You may also be interested in our article on 5 photography tours to take in Southeast Asia.