Raving Over The Rabbit Stash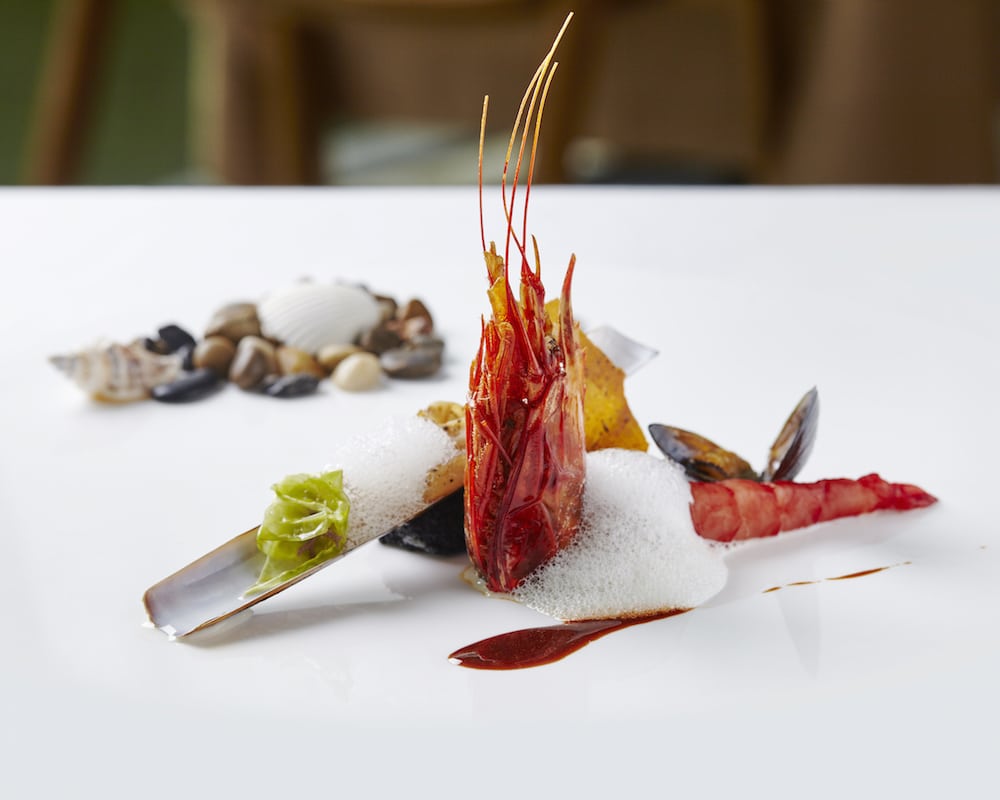 PUBLISHED April 11th, 2016 07:00 am | UPDATED May 23rd, 2017 06:31 pm
Chef Matthew Mok of The Rabbit Stash fame slipped onto our epicurean radar when the World Gourmet Summit named him Most Outstanding Culinary Apprentice in 2010. Six years later, after a couple of restaurant location changes and more awards, Chef Mok has navigated his mid-career switch from building manager to head chef with much aplomb.
Even if the combination of Exotic, Nostalgia, Soil, Ocean, Piquancy, Heritage and Impression that makes up his signature ENSOPHITM menu concept is unintentionally cheesy packaging, Chef Mok manages to execute with relative finesse. The seasonal spring menu we tried recently offered hints of his meticulous yet experimental culinary style, long on creativity, if only slightly short on restraint.
Two courses within the seven-course degustation experience deserve repeated praise. They are balanced, composed and offer something different in every bite. In Ocean, sweet, raw carabineros prawn and smoky bamboo clams are so flavourful they just go on and on, on the palate. They're brushed with strokes of savoury genius coming from a prawn gel (any prawn-ier you have to peel it yourself), from a salt foam that conjures a whiff of littoral freshness, and from a lobster cracker that's like paper manufactured from crushed lobster. Everything is presented on a beautiful plastic box containing sand, shells and stones – it's almost the Mediterranean on a plate, made less idyllic only by the uncomfortable outdoor space, what with incongruous astro-turf, the killer haze and a giant fan programmed to cool our dishes in under 30 seconds.
The other dish that lingers in our heads even weeks after is Heritage, a reincarnation of Nasi Lemak that's a better version of its old self. A sambal ice cream is pure hae bee hiam (dried shrimp) gold, oddly delicious when spooned with a warm pilaf of coconut-accented couscous. Pineapple caviar, peanut soil and even the main protein of quail are just sideshows, adding dimension, curiosity and whimsy to the stylish makeover of one of Singaporeans' favourite dish.
Some dishes have the potential to catapult to superstardom – if only Chef Mok went down the "less is more" path. Soil starts the meal with a duo of delicious fried and pickled San Marzano tomatoes, balanced finely with the intense edge of iberico ham and smoked anchovy. But the whole conception loses the plot with a spattering of pistachios, cucumber pearls and egg yolk gel that make little sense to the delicate tomato produce. In Piquancy, a lone watermelon cube is a dubious, mushy clump of fibre robbed of juice, flavour and texture – it's the sole reject in an otherwise marvellous pairing of wasabi-tinged mussels tartare and a sous-vide trout.
At times, flavours are harmoniously presented, others, more precariously balanced. Exotic is a fine showcase of Chef Mok's mastery of game, with a kangaroo loin that's the luscious pink of a taffeta ballgown and a milk-fed veal with just enough ribbons of juicy fat to flavour its tender meat fibres. But a mound of stewed trumpet mushrooms appears out of nowhere with its artery-clogging sodium levels. The purple crab and cuttlefish risotto in Impression are perfectly fine on their own until they are bullied by a chilli crab sauce, whose sweetness reigns like a tyrannical typhoon sweeping across the plate.
To Chef Mok's credit, Rabbit Stash serves up food with brimming ambition. There is nothing quite like it – classical French at its core, modernist in approach, eccentric in style and more than adept at infusing local flavours. With more cooking training in culinary school than in Michelin-starred restaurants, Chef Mok definitely impresses with the sophistication of his dishes. With a few more years to perfect his craft, there's no doubt a fine local chef of international standing is in the making.
The Rabbit Stash's Spring menu is priced at S$168++ per person and is available from March to June 2016.

The Rabbit Stash is located at 231 Outram Road, Level R, Wangz Hotel, Singapore 169040. Open Mon 6.30-10.30pm, Tue-Fri 12-2pm and 6.30-10.30pm, Sat 6.30-10.30pm.
Top Image: Ocean
Read more at Cure Singapore: A Remedy for Unsatisfied Palates and Review: UsQuBa – A Bit of Scotland in Singapore