6 Things Not To Miss At Yayoi Kusama's 'Life is the Heart of a Rainbow' Exhibition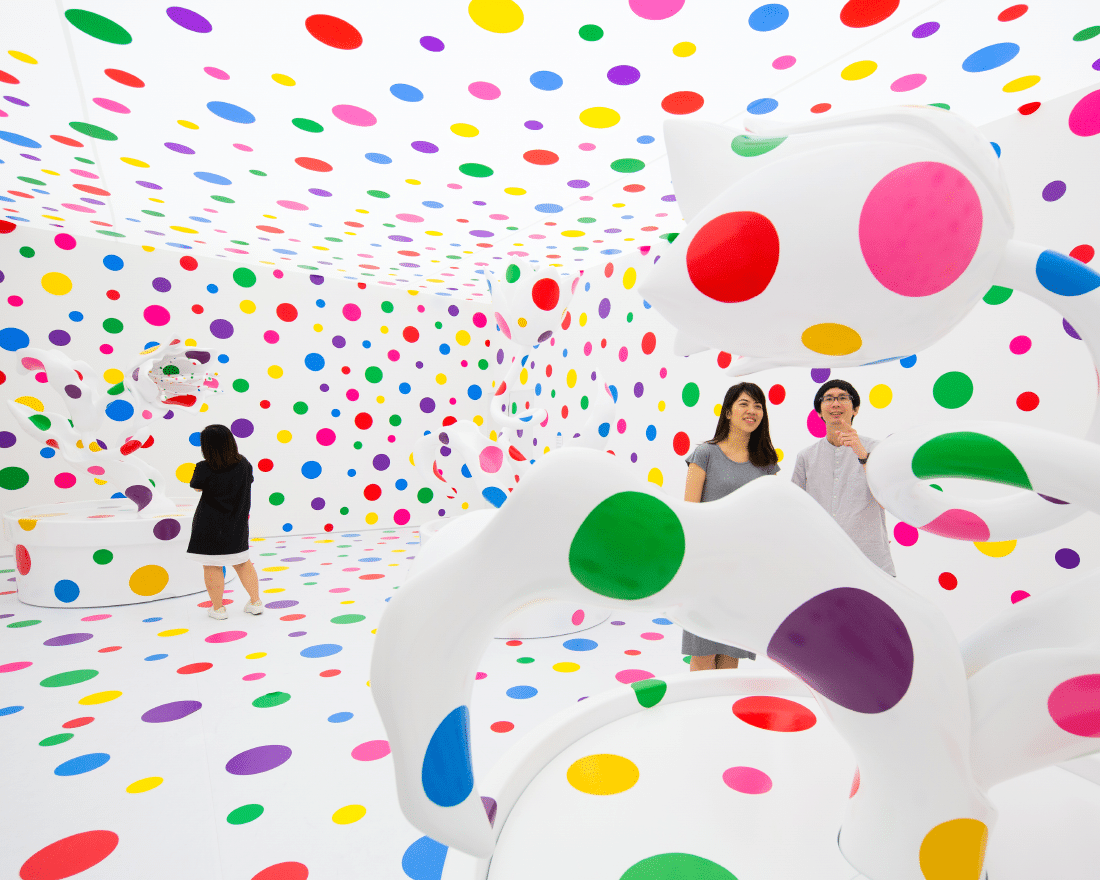 PUBLISHED June 13th, 2017 06:00 am
From a young age, Yayoi Kusama started seeing the world through a screen of tiny dots, covering everything she saw from the walls and ceilings to even her own body. In her own words, "dots are a way to infinity". This, along with other visual and aural hallucinations led her to make paintings, sculptures, and photographs as a sort of coping mechanism, spiralling the artist into international acclaim through seven decades of work.
Singapore is the first Southeast Asian country to host a major survey of Kusama's pieces, including several new, never-seen-before collections from her ongoing series My Eternal Soul. See for yourself over 120 works that span across important modern art movements and methods such as Surrealism, Pop, Minimalism, Performance, and Conceptual Art, making Kusama a widely iconic figure in popular culture.
Taking place at National Gallery Singapore from 9 June to 3 September 2017, here are 6 things you definitely mustn't miss at YAYOI KUSAMA: Life is the Heart of a Rainbow!
My Eternal Soul Series

Yayoi Kusama began her epic large canvas series My Eternal Soul in 2009, and while the initial idea was for 100 square canvases, the series now comprises over 500 paintings (at almost 2 meters on each side) and counting, of which 24 select pieces – favourites as proclaimed by Kusama herself – are featured in Singapore. Against the works from the earlier decades of her career, you'll find new forms and more vibrant colours as the artist continues to extend her rich visual language, as well as familiar motifs such as eyes, profiles, dots, and nets.
Narcissus Garden

Nothing like 1500 stainless steel balls strewn around to reflect the general narcissism of the art world, don't you think? Initially created in 1966, Kusama installed the reflective spheres in the grounds of the 33rd Venice Biennale even though she had not be invited to exhibit, in order to connect art with everyday life and freeing it from the confines of the wealthy elite. She later sold the balls to visitors for $2 each, allowing them to take home a piece of art at a steal. Since then, the Narcissus Garden has been 'rebooted' and displayed around many locations around the world, both indoors and outdoors.
The Obliteration Room

The Obliteration Room is arguably one of Kusama's most famous installations to date (mainly due to its immersive and interactive nature) and has been a mainstay in nearly every exhibition. Displayed as part of Gallery Children's Biennale: Dreams & Stories (20 May to 8 Oct), visitors can donate $2 for a sheet of bright colourful stickers to stick all over a white living room, fully equipped with ornamentation and furniture. Yayoi Kusama calls this process "obliteration", which means the complete destruction of every trace of something. Join in and have fun!
Infinity Mirrored Rooms

The mirror room might have been replicated countless times by artists throughout the decades, but you can consider Kusama's Infinity Mirrored Room – Gleaming Lights of the Souls the OG of them all. First created in 1965, her mirror rooms extend the repetitive approach of her net and dot paintings in a full blown immersive sensory experience, occasionally ranging from small peep boxes to room-scale installations. Whatever the size, these kaleidoscopic environments invite intense contemplation through an infinitely repeating and expanding space.
Exclusive Exhibition Merchandise & Wearables

When it comes to art as detailed and vibrant as Kusama's, you can expect the exhibition merch to be absolute stunners. Exclusive only to Gallery & Co., the extensive range includes Life is the Heart of a Rainbow sling bags and tote bags, Pumpkin (1981) foldable umbrellas, enamel mug and bowls, postcards, as well as a special socks collaboration with local designers Supermama, the brand known for fusing Japanese craft with Singapore colours. Expect plenty more as well, embellished with the artist's signature polka dots and whimsical forms.
Kusama-inspired food & beverage by Gallery & Co

Can you imagine what it would be like to have a whimsical brunch party with Yayoi Kusama? Lots of fun and colour, no doubt. With three specially-designed dishes and one drink up on offer at Gallery & Co., the Kusama-inspired creations include a surreal garden appetiser ($12) of pickled baby beetroot, feta cheese, and pistachio crumble, a meat main ($25) that sees pan-seared chicken with quinoa, shimeji mushrooms and pumpkin puree, and a coconut mousse and pumpkin sponge dessert ($12.50) modelled after Kusama's iconic sculptures. Thirsty? The drink goes all bubble tea-like ($7.50) with dragon fruit balls, chia seeds, and tadpole IQ balls.
Yayoi Kusama: Life is the Heart of a Rainbow is running from 9 June to 3 September 2017 at National Gallery Singapore, Sun-Thu & PHs 10am – 7pm, Fri-Sat 10am – 10pm. 
Priced at $15 (Singaporeans), $10 (concession), and $25 (non-Singaporeans). Free for children aged 6 and below, local and locally-based students and teachers, persons with disabilities, and one caregiver. A limited number of on-site tickets will be released every from 9.30am at the Level B1 Ticketing Counter.