What To Expect At Neon Lights 2019: Singapore's Premier Music and Arts Festival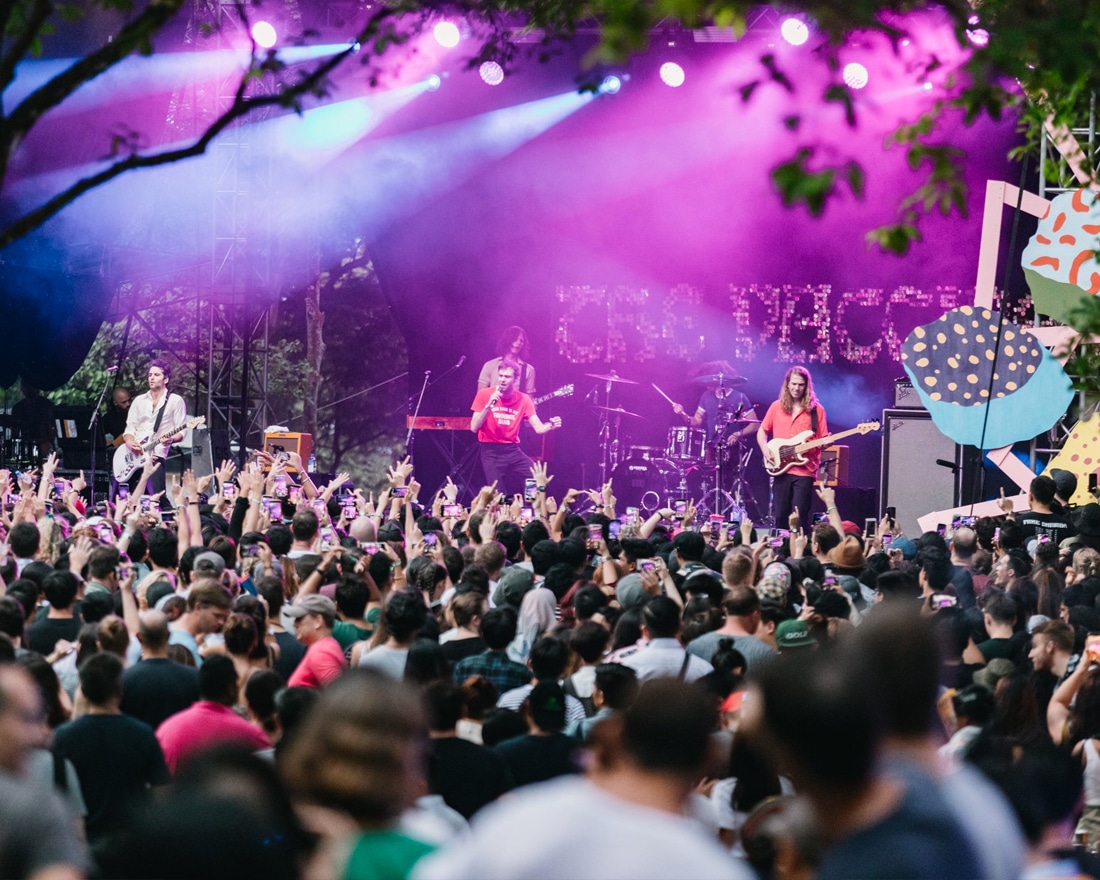 PUBLISHED November 11th, 2019 06:00 am | UPDATED May 18th, 2020 06:33 pm
You know the drill. Neon Lights Festival is back once again and the scene is set for a sensational musical line-up — think Mumford & Sons kind of sensational. The renowned folk quartet from London will be joined by an equally diverse crew, against the backdrop of live art, installations, and roving acts all weekend long. How diverse are we talking about? Read on to find out.
Over 15 electrifying music acts

The dates to remember are 23 and 24 November, which is when Singapore's premier music and arts festival takes over that same corner of Fort Canning Park that's hosted over 30,000 people and acts like Damien Rice, Sigur Ros, Foals, and Interpol. This time, the names to watch out for are the aforementioned indie folk boys from Mumford & Sons, American synth-pop artist HALSEY, Nick Murphy aka Chet Faker, electronic duo HONNE, and Clean Bandit, who's known for blending elements of both classical and dance music.
Representing the local and regional front on day one are names like Irish-Filipino singer-songwriter ANDREAH, who's opened for The Script and Sam Smith in 2018 alone, and Shak & The Baits, the Singapore band that's all about the soul, blues, Motown, and hip hop (go check out their five-track debut EP Sitting At Home. As for day two, get moving to the local funk band MMLD that sees everything from deep raspy vocals to sultry trumpet licks that might have come out of New Orleans.
Bust out a rave with Neon Nooks and Silent Disco
It's not quite the big stage, but the international and local programming heading up Neon Nooks are no less impressive. The always-fun arts segment will showcase the sights of South African artist Francois Knoetz, who reimagines trash objects like packaging and electronic devices to present his critically-acclaimed Cape Mongo series — mythical trash creatures that emerged from the growing dumps of consumer culture. Equally wild is Filipino artist Leeroy New's project Aliens of Manila x Singapore, a fantastical work in collaboration with dancers from dance company P7:1SMA and Dance Nucleus. And let's not forget the trademark aesthetics of Neon Lights' décor guru Soph O, who makes 80% of the festival decor with repurposed and upcycled materials since its inception.
Got happy feet? Swing to the throbbing samba and batucada beats of Bloco Singapura (founded by iconic multi-instrumentalist Syed Ahmed, no less), who will transport you to the streets of Mexico with their folkloric melodies of Mariachi Viva Mexico. Also set to return once again is the ever-popular Silent Disco, happening on both days from 2pm to 4pm for festival-goers to enjoy. And get this, kids can participate too!
Neon Lights 2019 is happening on 23 & 24 November 2019. Tickets start from S$30 for children and S$128 for adults, and are available here and on SISTIC.