5 Things To Do in Singapore This Week: 16th to 22nd April 2018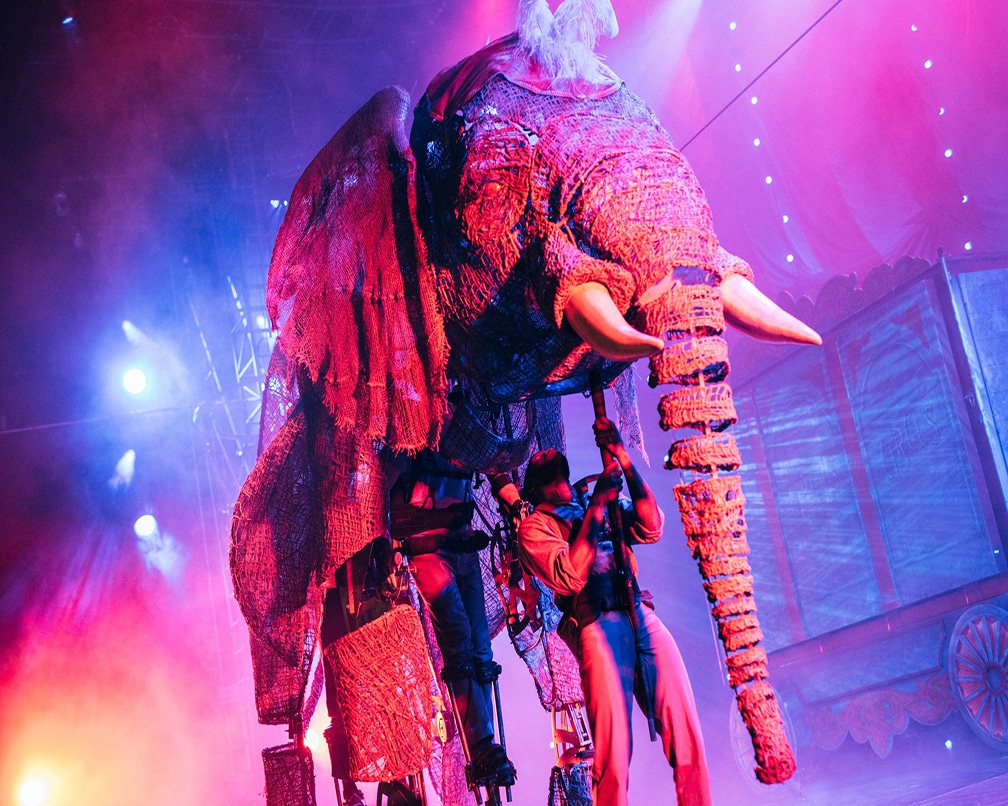 PUBLISHED April 15th, 2018 06:00 am | UPDATED May 18th, 2020 06:34 pm
This week, we've got another fantastic artsy line up that will knock your socks off. Join the Circus 1903 for their one of a kind puppetry elephant performance, dance the whole Sunday long at CÉ LA VI's Noon to Moon party, and more!
Circus 1903: The Golden Age of Circus
Gather 'round, gather 'round. The circus show you've been waiting for is here. A spectacularly modern interpretation of the historical elephant circus acts will have you right on the edge of your seat. Besides sensational puppetry that puts elephants back in the ring, there's also a wide variety of exhilarating stunts and acts by acrobats and other performers from all over the world – like never before.
Circus 1903 is happening from 18 to 29 April 2018 at the MasterCard Theatres – Marina Bay Sands. Ticket start from S$65, and are available here.
The Studios 2018: How Did The Cat Get So Fat?
Esplanade Studios's How Did The Cat Get So Fat? is about nine-year old Fatimah growing up in a single-parent family, and at its heart, a story about trust, solidarity and society. She explores Singapore in a lion toy ride (you know, those you see in shopping malls), whom she names Mr. Minismen, and meets people from all walks of life – from a domestic helper and prosperous wife to a taxi driver, scientist, social media influencer, and tireless yuppie. See how the words of the national pledge manifests itself in various strata of Singapore, through the eyes of a young girl. The play is performed in Malay with English captions.
How Did The Cat Get So Fat? runs from 19 to 22 April 2018 at the Esplanade. Tickets are priced at $35 and are available here.
Council Fridays: Julien Brochard, Funk Bast*rd, Kaye & Halal Sol
All ye techno enthusiasts, The Council has got another big electronic music night for you! Resident DJ Julien Brochard will be spinning the cage in an all-nighter in the room downstairs. Upstairs? It's a whole different ball game, with the infamous FUNK BSTRD, KAYE, and Halal Sol on the decks for a hip-swinging house showcase, laid back vibes, and refreshing grooves for the connoisseurs.
Take it away on Friday, 20 April 2018 at The Council at Headquarters from 10pm onwards. Entrance at the door is priced at $20. For more details, check out the event page here. 
Armenian Street Party: Balik Kampong 2.0

Did you know that the iconic stretch that is Armenian Street will soon be pedestrianised into a vibrant belt for arts and cultural events? Thankfully, it's not before the very last (legit) street party, happening this weekend. Come balik kampong in your most fabulous batik prints, saris, and slinky cheongsams as you relish in comedic performances, traditional games, and tasty bites of Nyonya cuisine, fusion hawker fare, and boozy old-school cocktails. And as any self-respecting extravaganza goes, there will be music from the likes of The Pinholes, .gif, Joie, and Deborah Emmanuel, as well as art installations by Substation and wheniwasfour.
Bid goodbye to Armenian Street on 20 and 21 April 2018, 7pm – 11pm daily. For more details, check out the event page here.
Noon to Moon – Electro Daytime Open-Air Feat. Finnebassen (NOR)
From noon until the evening this Saturday at CÉ LA VI, resident DJs will be setting the tone for French DJ duo TAFMAG (aka The Art Factory Magazine), who got their start by creating a weekly playlist in the magazine, and are now making their debut in Singapore. Norwegian star Finnebassen closes the day with his melancholic house music, originated through an extensive musical soul-searching in the past years. Altogether, the day will be brimming with groovy house tunes and we suggest you catch the sunset – it's unbelievable.
Noon to Moon is happening 21 April 2018, 12pm-10pm, at CÉ LA VI, Marina Bay Sands. Tickets are priced at $35 and are available here. For more details, check out the event page here.