Band Interview: MOTUS Singapore, The Vibrant Batucada Pop Band With Captivating Melodies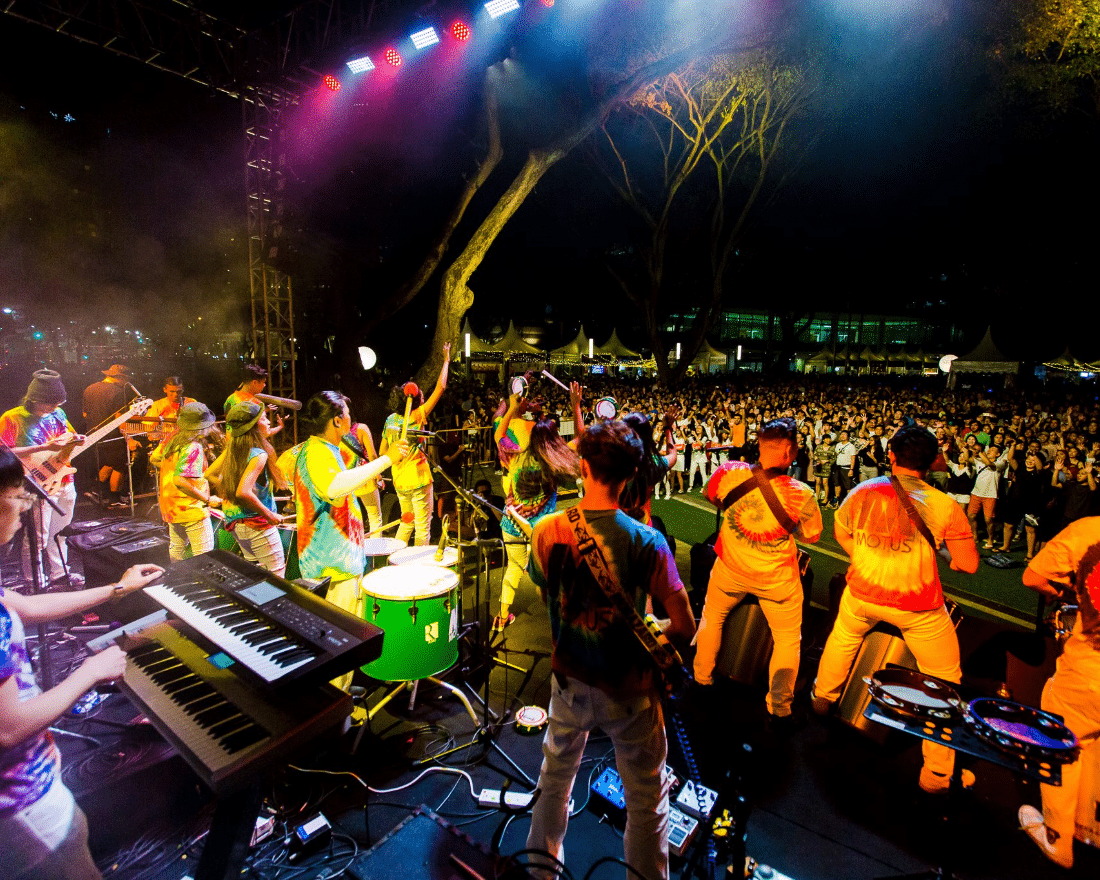 PUBLISHED June 15th, 2019 06:00 am | UPDATED May 18th, 2020 06:34 pm
You know the music is unforgettable when it resonates with the soul. MOTUS, our local Batucada Pop band, does that pretty well – whether you're listening to their soulful vocals on Youtube, or grooving to the Samba beats at their live performances. Before they perform at our local WHABBY! Music Carnival on Saturday, 22 June, we talk to the 15-member band about their inspirations, behind-the-scenes, and upcoming projects that we can look forward to.
Your name is really interesting, what's the story behind it?
MOTUS means movement in Latin. We chose Latin as Brazilian and Samba music has a connection with Latin music and we would like to portray the MOTUS collective/band as a movement to the audience.

It's a big team: how did you meet, and decide to form a band?
Majority of the MOTUS percussionists were from Ngee Ann Polytechnic's Baracuda Batucada (a student interest group). So they've been playing together for close to a decade now. Eventually, Vimal & Sanjay, two of our players had an idea to create a huge band that would play Batucada music, but made accessible for mainstream music listeners. So we called on friends, and friends of friends to form the instrumentalist and vocalist lineup, and then MOTUS was born.
Can you share with us your choice of instruments and music direction?
For our choice of instrument, it is the range of Batucada instrument as the genre Batucada promotes ensemble-ship and this makes the Bateristas realise that playing together is enjoyable and fun. This also helps bring Bateristas from all walks of life together. Batucada genre has been widely played in Singapore, and it's fairly easy to pick up and play together. For our music direction, we are going towards the pop genre and how we can infuse Batucada with Pop.

Any music genres that you want to try in the future?
We are hoping to venture into EDM (Electronic Dance Music) infused with Batucada.
What's your song-writing process like?
We will usually come up with an intention for a song, followed by the melody line and lyrics. From there, we would collectively brainstorm ideas to complete the song structure and add percussive elements to enhance its Batucada flavor.
What are rehearsals and recording sessions like with your big team?
Rehearsals and recording are definitely a challenge in a big team due to the clash in every individual's schedule. However, we made it a point to always be more responsible in updating those who are scheduling; that really helps the band to come together for rehearsals/recording.
Who do you want to collaborate with in the future?
Our local artistes, batucada bands, and of course, overseas batucada acts to further expand our community. In addition, getting in touch with the local Batucada community is something that we would love to do for the Singapore Batucada scene.
Anyone that you look up to in the music scene?
Locally, we look up to Wicked Aura, Bloco Singapura and Charlie Lim.

Being a homegrown band, what are your thoughts on the local music scene?
The music scene in Singapore has been growing more positively, in the sense that there are more who aren't afraid to pursue this as a career. Also, the local support through media channels to help these local artistes has been increasing. For example, 95 FM does play music by our own local artistes. There are also a lot more recurring festivals that create more platforms for these artistes to be exposed to, and it's also a stepping stone for them to be heard and create a name for themselves locally.
Any new projects that fans can look forward to?
We will be having a special showcase on the 9th August 2019 in the Esplanade Outdoor Theatre, whereby we will be inviting individuals to be included as part of this.
MOTUS will be performing at WHABBY! Music Carnival, Scape, on 22nd June alongside other local musicians. Check out their event page and Facebook page for more details
Keep up with MOTUS on Facebook and Instagram, and watch their live performances and recording studio sessions on Youtube here.