Bar Review: Native Gets Creative with Regional Ingredients and Spirits in Cocktails on Amoy Street, Singapore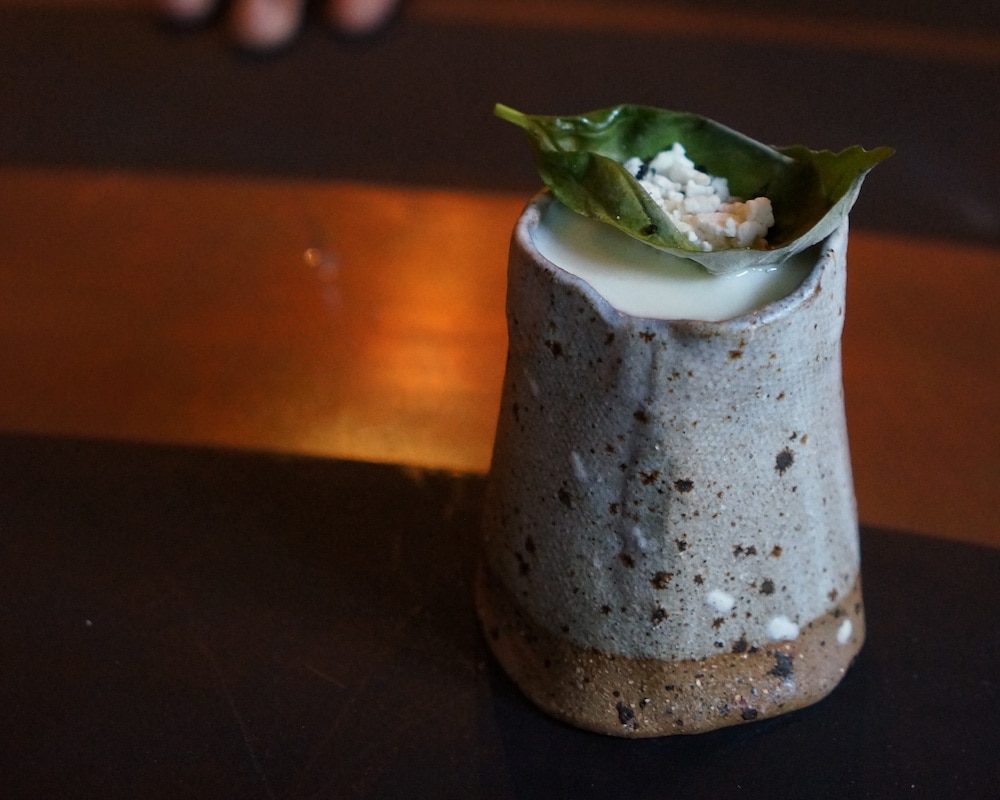 PUBLISHED January 9th, 2017 07:00 am | UPDATED May 18th, 2020 04:26 pm
There's nothing better than seeing a friend's dream come true after years of hard work, and for Owner-Head Bartender Vijay Mudaliar, Native is that dream. The 27-year-old gained international recognition when he won the 2015 Diplomatico World Tournament Singapore Final – his winning cocktail 'Jewel of The East' was inspired by the 1945 Japanese occupation of Singapore –, and after spending nearly two years honing his craft at Operation Dagger, he's finally opened his own cocktail bar on Amoy Street.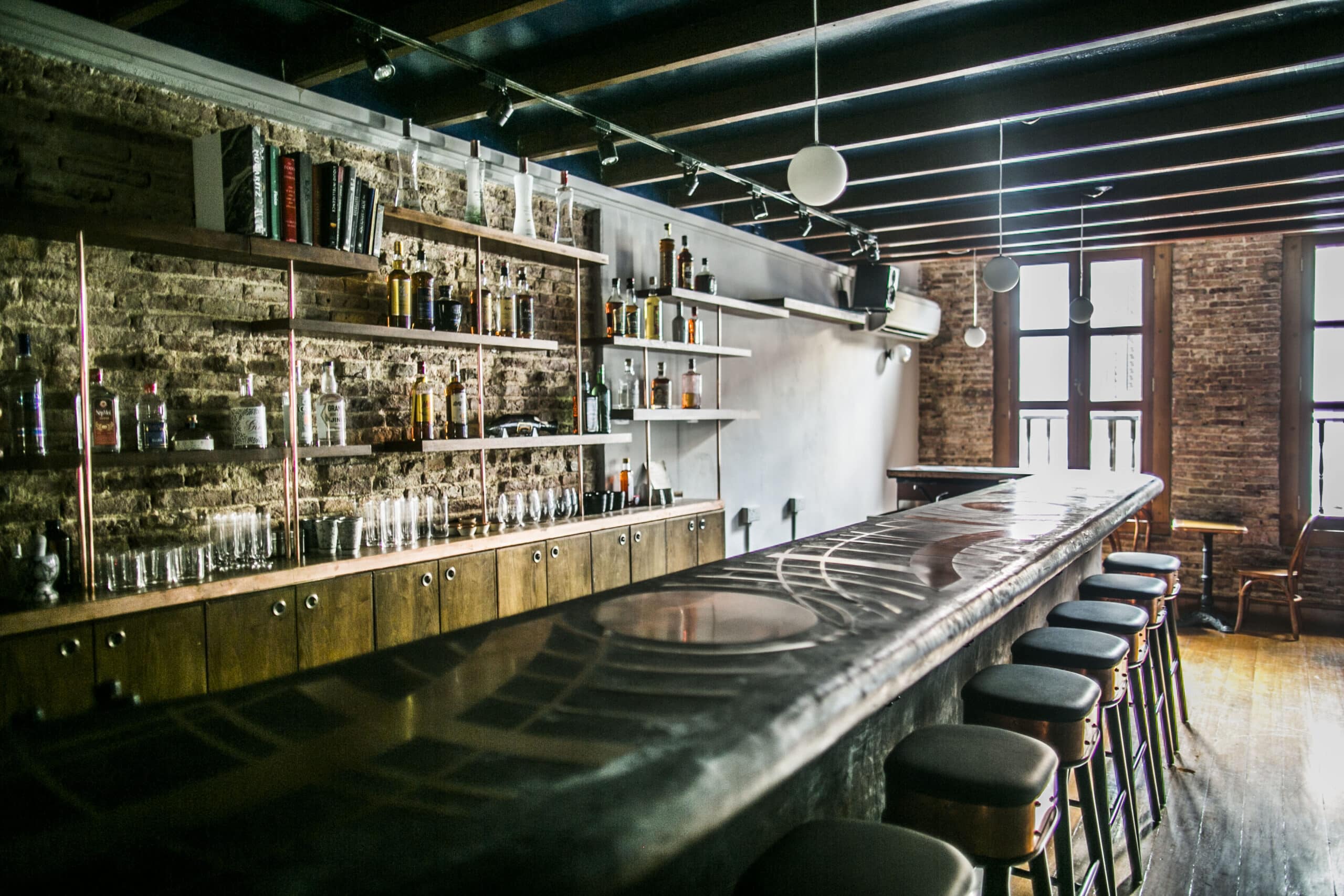 And although established cocktail bars and brands like Jigger & Pony and Employees Only count amongst Native's neighbours, we already feel that the new bar is bringing something different to the cocktail scene.
For one, Native prides itself on using only products sourced from the region. This is emphasized by drinking vessels (think ceramic and porcelain), the music (which is 80% local and 20% regional, according to Vijay), and of course, the cocktail list.
Featuring a basil leaf frozen with liquid nitrogen to hold basil meringue and crunchy ants as garnish, ANTZ ($23) is probably the most attention-grabbing drink on the menu. The ant hill-like ceramic vessel contains a shaken combination of salt-baked tapioca, homemade coconut yogurt, aged sugarcane juice, and agricole-style Chalong Bay rum.
If you don't think too much about it, you'll probably enjoy crunching on the ants as much as I did. Slightly gritty from the tapioca and on the refreshingly sour side of things, my companion remarked that the flavour was reminiscent of Mongolian airag (fermented mare's milk).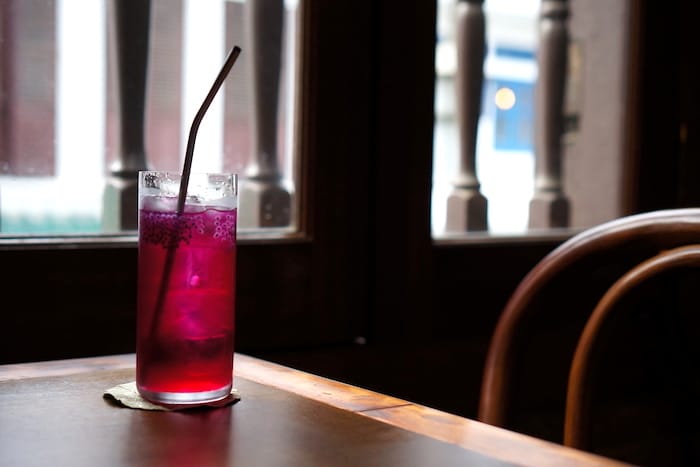 The next cocktail that'll probably have you raising your eyebrows is the Red Light District ($19), which pays tribute to the past of the neighbourhood. Putting together hooker perfume (rose-infused fortified wine), drugs (Tongkat Ali extract), dragon tattoos (dragonfruit water kefir), and sex (basil seeds – quite self-explanatory); it's quite an aromatic, well-balanced crowd pleaser.
Another tip of the hat to the neighbourhood is Sensei From the Block ($20), which takes inspiration from the historical medicinal value of spirits and alcohol.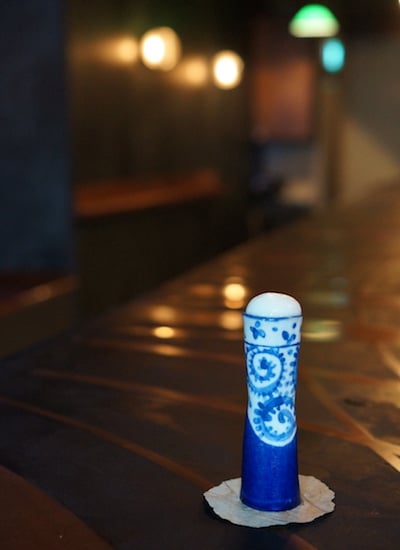 Paper Lantern's Sichuan Pepper Gin is paired with traditionally Chinese ingredients like ginseng reduction, black sesame paste, mandarin oranges, as well as gingko nut milk foam for body and black vinegar for acidity. Personally, it's a nostalgic drink (after years of being fed gingko nuts and ginseng drinks by my mother) with a medicinal sweetness that some of you might take to.
Fans of girly drinks will enjoy the Ikura ($21). The three-ingredient cocktail comprises of sparkling sake, yuzu acid – the taste of yuzu is recreated with acid, cutting out the citrus aroma that might have overpowered the sake -, and salmon fish eggs brined in sake, vinegar, and mirin. The bursts of savoury in your mouth after the bubbly sweetness will most likely make you order another!
Prefer shorter drinks? Go straight for the Pineapple Arrack ($22), which uses Ceylon Arrack as the base spirit. Distilled from the sap of coconut flowers and aged in Sri Lankan oak barrels, the traditional spirit is enhanced by the flavour of the entire coconut (even the husk), pineapple skins, Sri Lankan spices, and a garnish of pineapple grilled with Ceylon cinnamon. Tip: dunk your pinapple chunk into the cocktail for a touch of smokiness.
The dark horse at Native is definitely the Mango Lassi ($22), which has a beautiful complexity you can actually see. Topped with slightly sweet pistachio foam, the main body of the cocktail is a sweet, spiced mix of mango, turmeric, Indian rum, and pomegranate molasses balanced by the acidity of yogurt whey. At the bottom, you'll encounter the rich, earthiness of beetroot jelly. Not for everyone, but yum.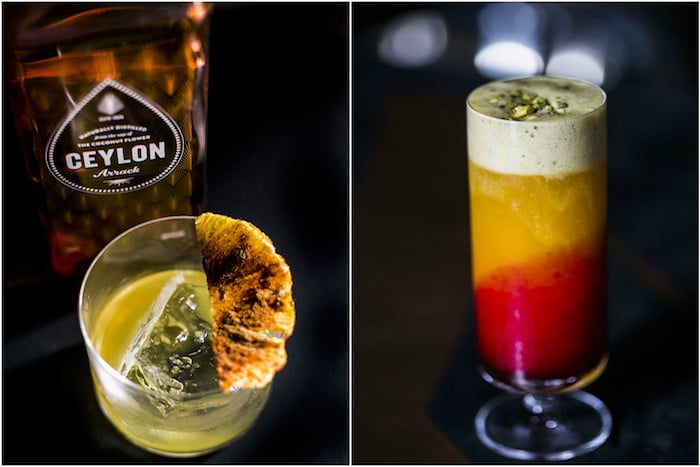 The last cocktail on Native's (still short) list of signatures is The Invisible Man ($21). Inspired by homeless people who can be seen rummaging through garbage bins, the ingredients are symbolic of, to put it bluntly, our daily garbage. Served warm, this Indian whisky-based tipple features mulled stout, vanilla tobacco, ginger, and banana peel. A tasty – and infinitely poignant – tribute.
Native delivers on its eastern promises with an exciting debut menu, and we love their approach to sustainability (see their hand-cut lotus leaf coasters as an example). We're looking forward to more space with the third level of the shophouse opening soon, and perhaps a small snack menu to satisfy the munchies. Till then, there's always Wanton Seng's Noodle Bar on the ground floor.
Native is located at 52A Amoy Street, Singapore 069878, p. +65 8139 6433. Open Mon-Sat 6pm-12am.
Top Image: ANTZ