Best Luxury Resorts in Phuket, Thailand: Where to Stay For Stunning Views, Beautiful Beachfront Villas, and Gorgeous Pools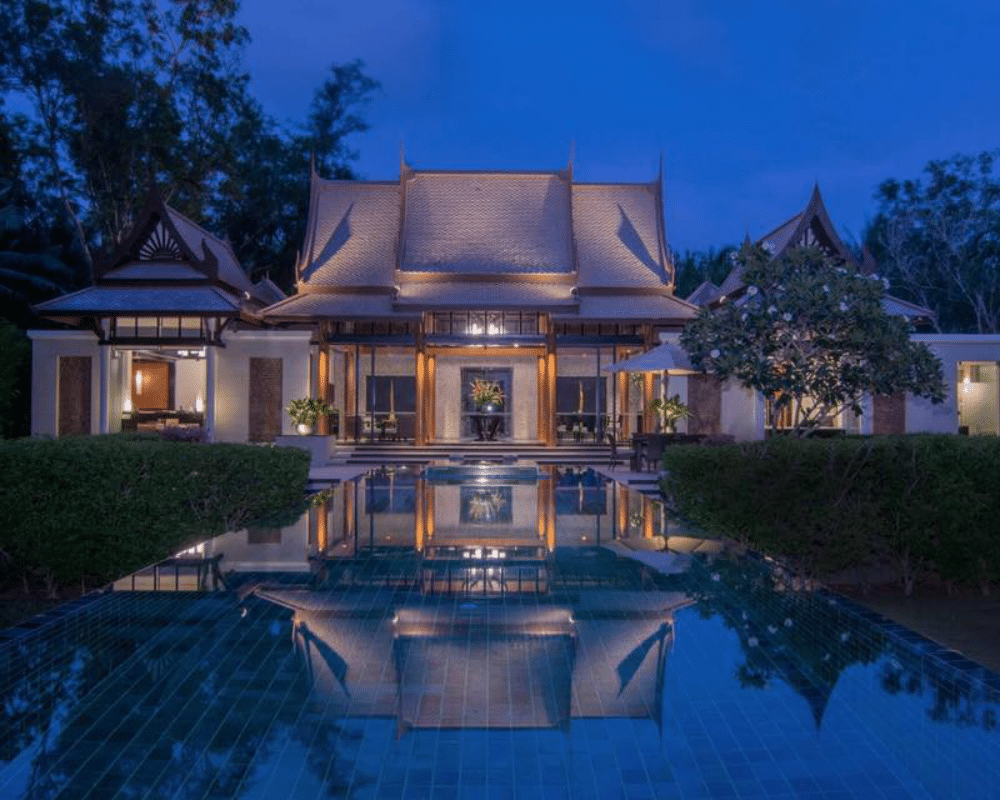 PUBLISHED November 9th, 2017 05:00 am | UPDATED January 13th, 2020 10:41 am
Home to some of Thailand's best beaches and lush natural landscapes, Phuket is an island paradise that attracts all sorts of travellers. If you're not a fan of the crowd (and slight sleaziness) in the notorious Patong Beach, the other side of Phuket offers chic beach clubs, romantic restaurants for wining and dining, and award winning luxury accommodation that makes living a dream. The only dilemma, when it comes to the latter, is the giddying array of options. Over the last year, we've stayed more than a few of them – yes, we're that dedicated – and rounded up the ones that are actually worth your money.
COMO Point Yamu
COMO Hotels and Resorts are known for their wellness-centric ways, and COMO Point Yamu is no exception with a COMO Shambhala Retreat on site to conducts scheduled yoga classes. Sitting on a promontory on Cape Yamu, the resort promises views of the Andaman Sea unlike any other. All 79 rooms and suites, as well as the 27 private pool villas at this resort are angled towards the sea, so no guest will be deprived of the opportunity to gaze enjoy the view in its glittering and turquoise glory. COMO Point Yamu might not have an easily accessible beach, but the private and exclusive COMO Beach Club on Naka Yai Island half an hour away more than makes up for it. See our full review here.
COMO Point Yamu is located at 225 Moo 7, Talang, Paklok, Phuket 83110, Thailand, p. +66 7636 0100, e. [email protected].
Angsana Villas Resort Phuket
A recognisable name, Angsana Hotels and Resorts has always been known in the region for its quality stays, and it is not difficult to see why at their mainstay in Phuket. Situated in the resort community of Laguna Phuket, Angsana Villas Resort Phuket is set around a splendid lagoon. Boasting 48 suites and villas, its residential-style accommodation features fully-equipped kitchenettes, integrated living and dining rooms, and large balconies. Feel perfectly at home amidst its contemporary-chic décor while its expansive pools, golf courses, the famed Angsana Spa, and two restaurants (Baan Aroi for traditional Thai cuisine and Panache for international dishes) means you'll hardly feel the need for much else. Understated and fuss-free, this place is ideal for a quiet family getaway. See our full review here.
Angsana Villas Resort Phuket is located at 142/3 Moo.6, Cherngtaly, Thalang, Phuket, 83110 Thailand, p. +66 76 336 900, e. [email protected]
[button color="green" size="normal" alignment="none" rel="follow" openin="samewindow" url="https://prf.hn/click/camref:1011l8zrz/destination:https://www.vrbo.com/search/keywords:phuket-mueang-phuket-district-phuket-thailand/filter:44/filter:83″]Find villa accommodations from US$200/night in Phuket[/button]
SALA Phuket Resort & Spa
For Thai-style hospitality, look no further than SALA Phuket. Situated in the middle of Mai Khao beach, the beachfront resort offers immediate access to the white sands that the island is known for, where you can also find cheap and cheerful massages by the sea. Their signature SALA Pool Villas are just the right size – intimate and comfortable – and we especially love the outdoor bathrooms. The swings scattered around the property were charming and this resort also has one of the best hotel restaurants on the island, though the Thai food is better than the Western. Honeymooners can also look forward to experiences catered to a ultra-romantic stay, such as in-villa seafood barbecues and in-villa breakfasts. See our full review here.
SALA Phuket is located 333 Moo 3 Mai Khao Beach, Mai Khao, Phuket, 83110, Thailand, p. +66 76 338 888.
Paresa Resort Phuket
Sandwiched between a beautiful ocean view at its front, lush green jungle at its back with a nice sandy beach below, Paresa Resort Phuket is a great place for some me time (or us time). Translated as "heaven of heavens", it stands on the cliff of Kamala in the middle of Phuket's "millionaire mile" with a view that feels like you're level with the clouds. Featuring Southern Thai architecture accentuated with designs associated with royalty, all 48 villas and suites in the lavish resort encourage a reconnection with nature through lush vegetation surrounding the outdoor terraces. If you're on a romantic getaway, don't miss their alfresco dining experience, which allows you to dine under the stars against a backdrop of their infinity pool lit up to mimic the Milky Way!
Paresa Resort Phuket is located at 49 Moo 6, Layi-Nakalay Road, Kamala, Kathu, Phuket 83150, Thailand, p. +66 76 302 000.  
The Pavilions
Perched above the soft, white sands of Layan Beach, the resort is cloistered amidst the verdant greenery, thus offering a more private space for intimacy and tranquility to each guest. Looking and feeling quintessentially Thai, the 93 spacious suites and luxury pool villas of The Pavilions Phuket are decked out in iconic murals and striking, warm tones. But warmer still is the hospitality with which you'll be received by the staff, for their personalised service will ensure that you're taken care of perfectly throughout your stay. Private dining is well though of here, where guests can enjoy breakfast in bed or have a customised dinner delivered to the doorstep. Like chasing sunsets for Instagram-worthy shots? Their 360° Bar is the perfect spot to take in the beautiful Phuket's golden hour.
The Pavilions Phuket is located 31/1 Cherngtalay, Thalang, Choeng Thale, Kathu, Phuket 83110, Thailand. p. +66 76 317 600, e. [email protected] 
[button color="blue" size="normal" alignment="none" rel="follow" openin="samewindow" url="http://www.kqzyfj.com/click-9211920-13787508″]A hand selection of luxury Phuket villas with customised personal service. Book now.[/button]
Aleenta Resort & Spa Phuket
Counting A-list celebrities such as The Beckhams and Ryan Gosling as guests, the deliberately secluded Aleenta Resort & Spa is, without a doubt, one of the best kept secrets of Phuket. Located on the pristine Natai Beach, it's the little things that matter here with its "0utside-living-in" concept. From the carefully-manicured designs of your private water garden, to the use of the freshest local ingredients in your breakfast buffet, no detail is too small. We also like that Aleenta offers a wider variety of rooms than other resorts on this list with nine room categories for different occasions. Dining-wise, The Edge serves modern Western cuisine with an Asian twist while The Natai dishes out contemporary Thai specialties such as the fresh Boston Lobster Curry.
Aleenta Resort & Spa is located at 33 Moo 5, Khok Kloi, Takua Thung, Phang Nga, 82140 Thailand, p. +66 2514 8112, e. [email protected].
The Slate
If the rustic appeal of traditional Thai architecture were ever to be combined with the gritty quirk of steampunk, the result might look like The Slate, with its classical, wooden furnishings blending – surprisingly seamlessly – in with industrial-inspired accents. In a resort with less than 200 rooms (and an award-winning Coqoon Spa), there are eight different restaurants and bars for different occasions. Fine dining Thai restaurant Black Ginger has an excellent Pla Gao Thod (steamed whole snapper with chilli, garlic and lime), and did we mention part of the dining experience is getting to the restaurant on a raft, lit by lanterns? For drinks, make a pit stop at Rebar or sports bar Tongkha Tin Syndicate for a more convivial atmosphere with board games and pool tables.
The Slate Phuket is located at Nai Yang Beach, 116 Moo 1, Sakhu Thalang, Phuket, Thailand 83110, p. +66 76 327 006, e. [email protected].