Restaurant Review: Sichuan Spices and European Classics Flock Together at Birds of a Feather on Amoy Street, Singapore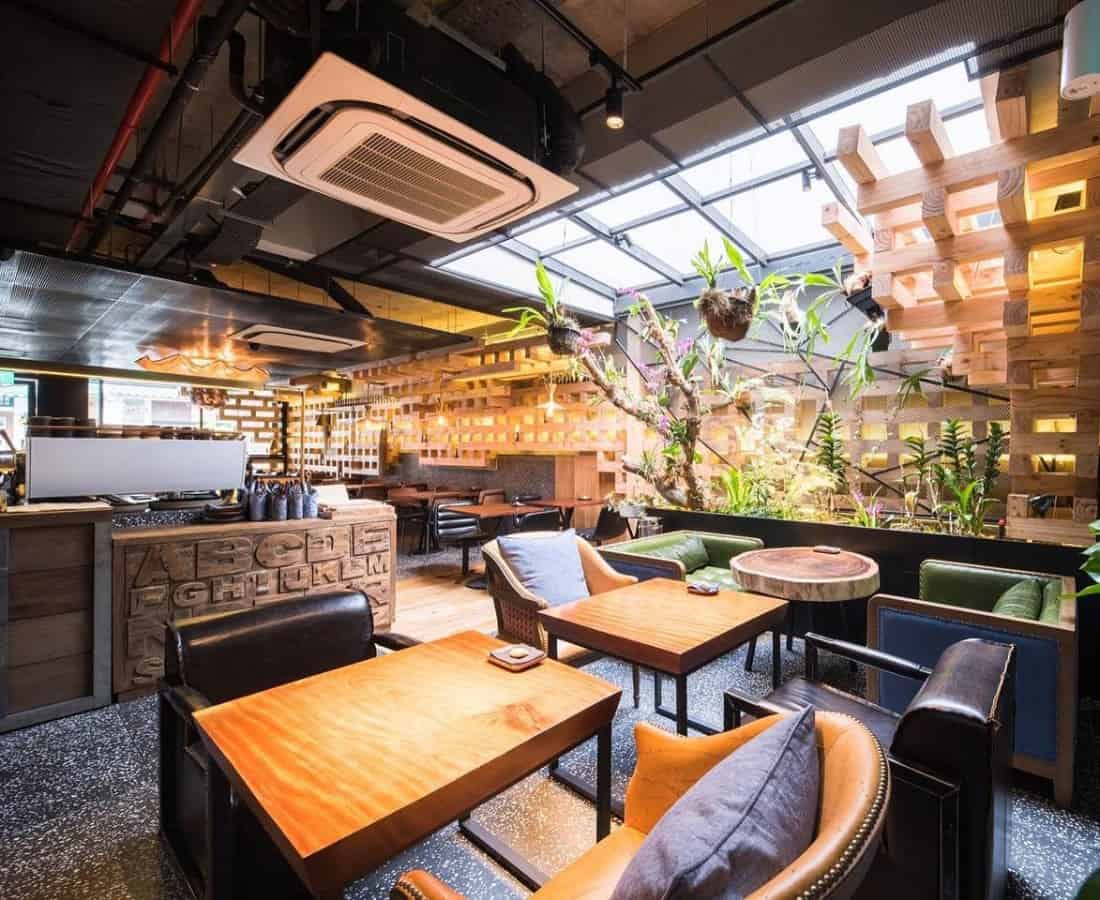 PUBLISHED December 24th, 2020 06:00 am | UPDATED December 31st, 2020 01:44 pm
Many of us know Birds of a Feather for its bold, tongue-numbing Sichuan twists on European classics, and their newest menu offerings take that philosophy to the next level. For the first time ever, Chef Eugene See and his team present a carefully curated tasting menu. Reimagine Sichuan (S$89++) is a sumptuous affair of seven stunning dishes that display the depths of Sichuan flavours.
A good bread is the warm, comforting start to any evening, and the Homemade Pickled Vegetable Focaccia here is just the ticket. Bite into a warm, herb-filled bread toasted to perfection. Their creamy whipped Sichuan compound butter made with dried ya cai (pickled mustard greens) is the perfect salty and umami-laden counterpart.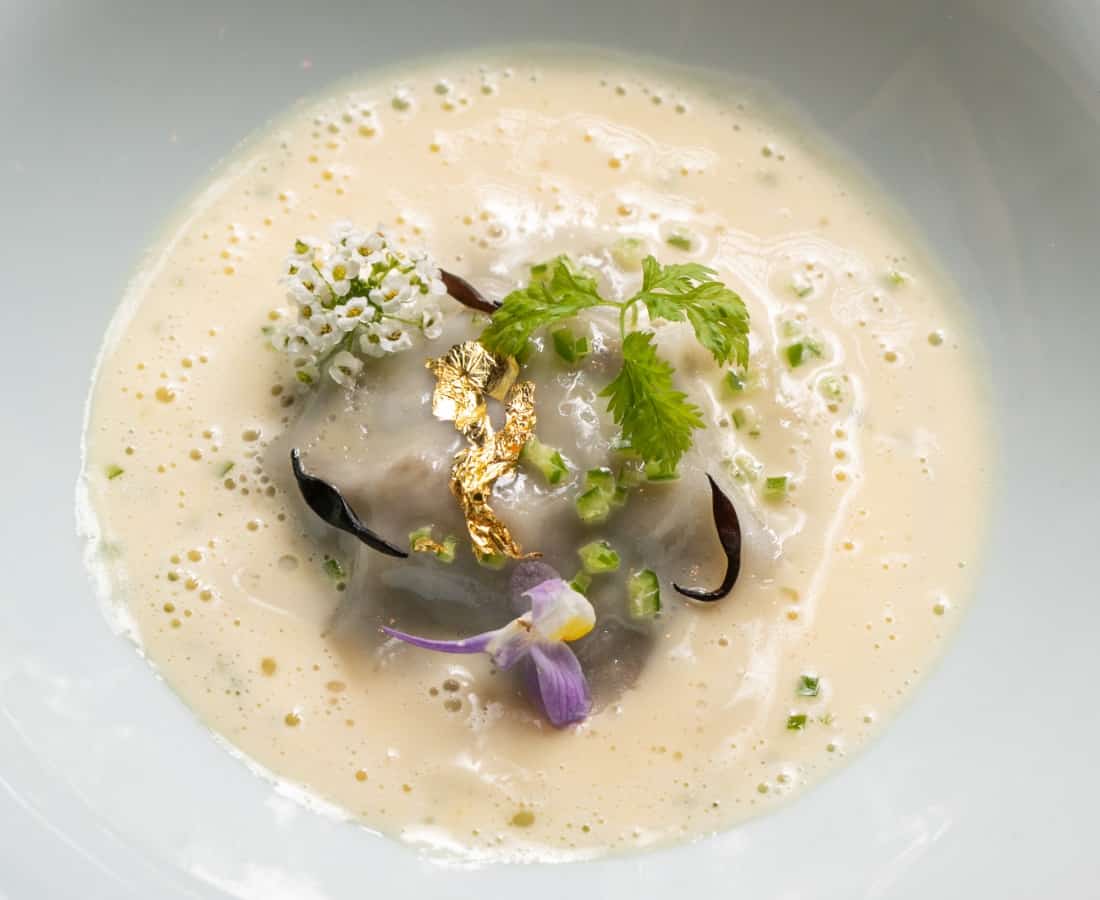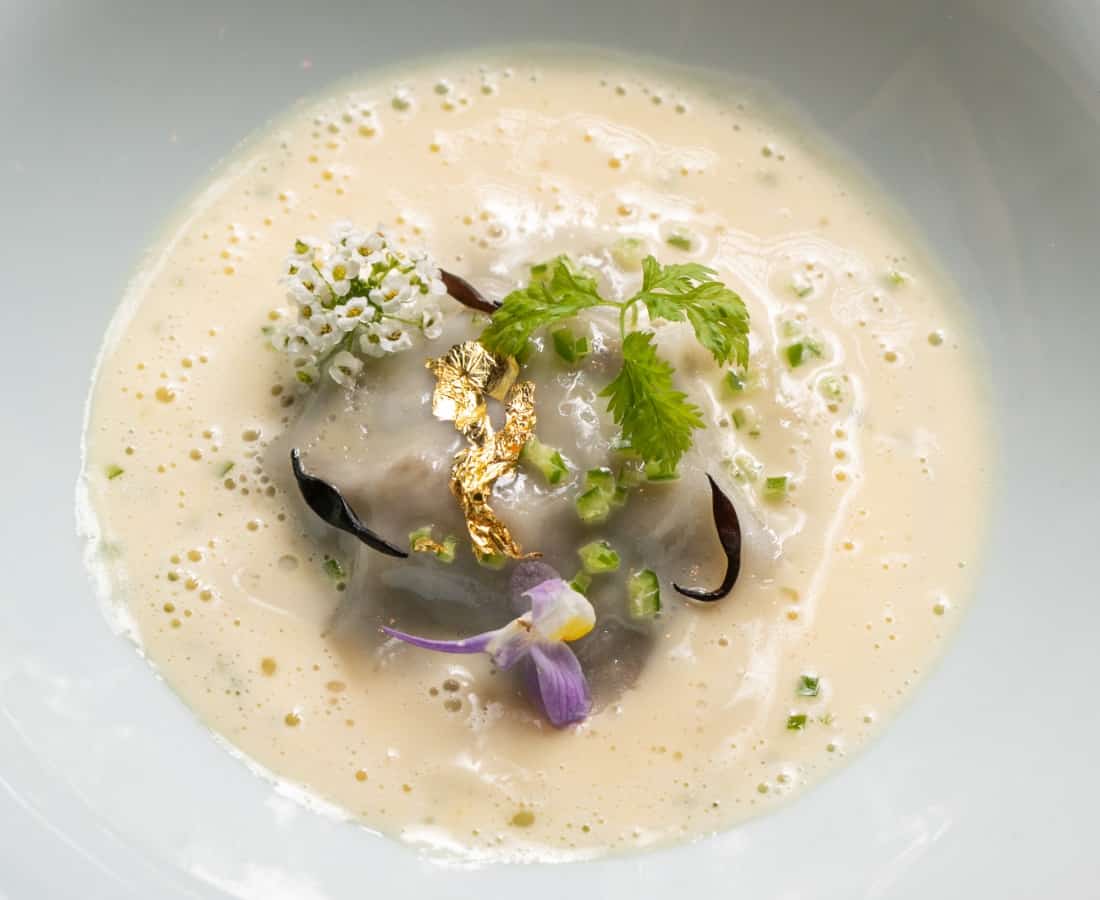 Building on the salty notes is the rotating Bird's Snack, this time a soft ravioli filled with burnt chilli eggplant. The much loved tongue-tingling sensation of Sichuan spice sneaks up on you, but is carefully moderated to not be overwhelming, and is in beautiful concert with the earthy, creamy celeriac purée. The figurative 'icing on the cake' is a garnish of chopped green chilli that adds a bright spiciness, giving the dish an unparalleled depth of flavour.
Vino lovers, the optional beverage pairing (S$60++) is a must. Featuring three carefully selected wines and one bespoke cocktail, we start with Telmont Grand Reserve Champagne, a fruity but dry wine of bubbly that balances out the savoury profile of the starters.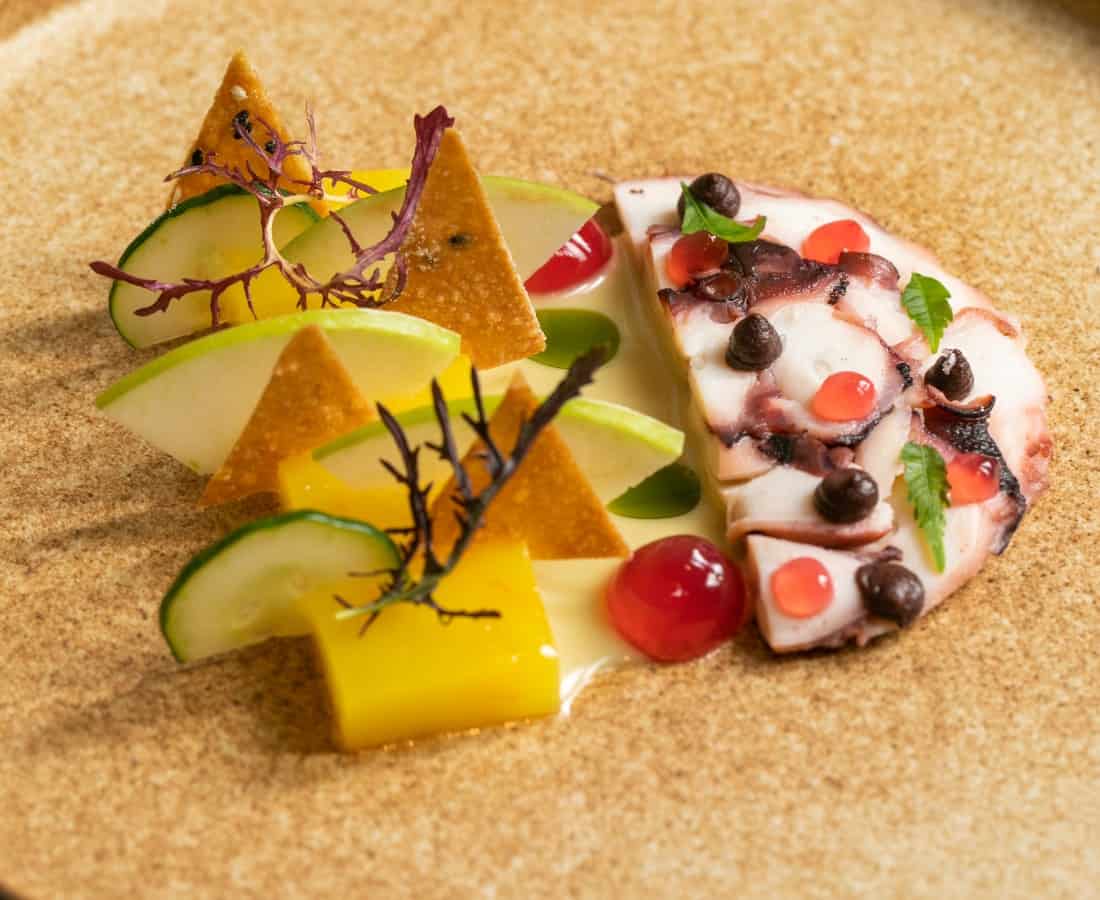 Next, an artfully constructed Octopus Carpaccio takes the stage with Sichuan mustard. Uncannily similar to wasabi in flavour — and just as dangerous, so beware the dots of purple mustard – the perfectly-cooked sous-vide octopus is also accompanied by an earthy, saffron-infused mung bean jelly and red wine vinegar gel that add a sweet acidity to balance the savouriness of the other elements.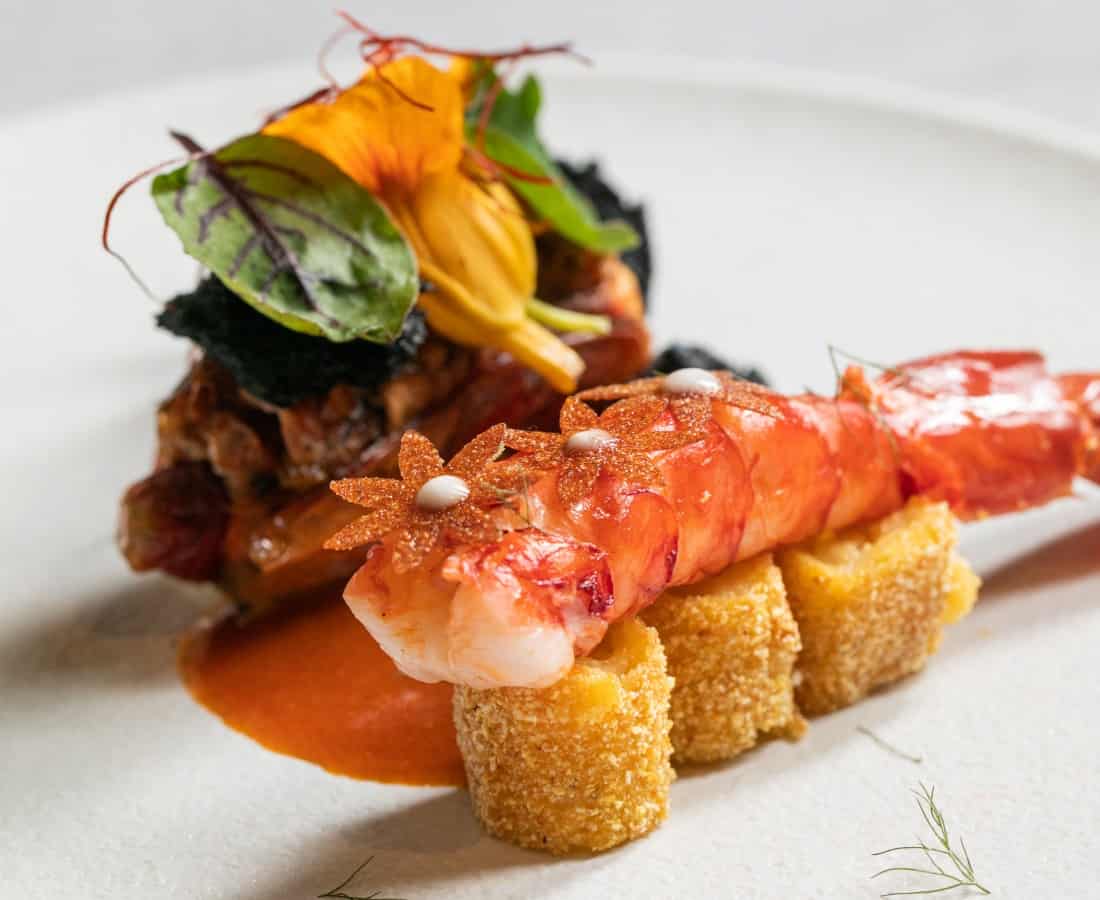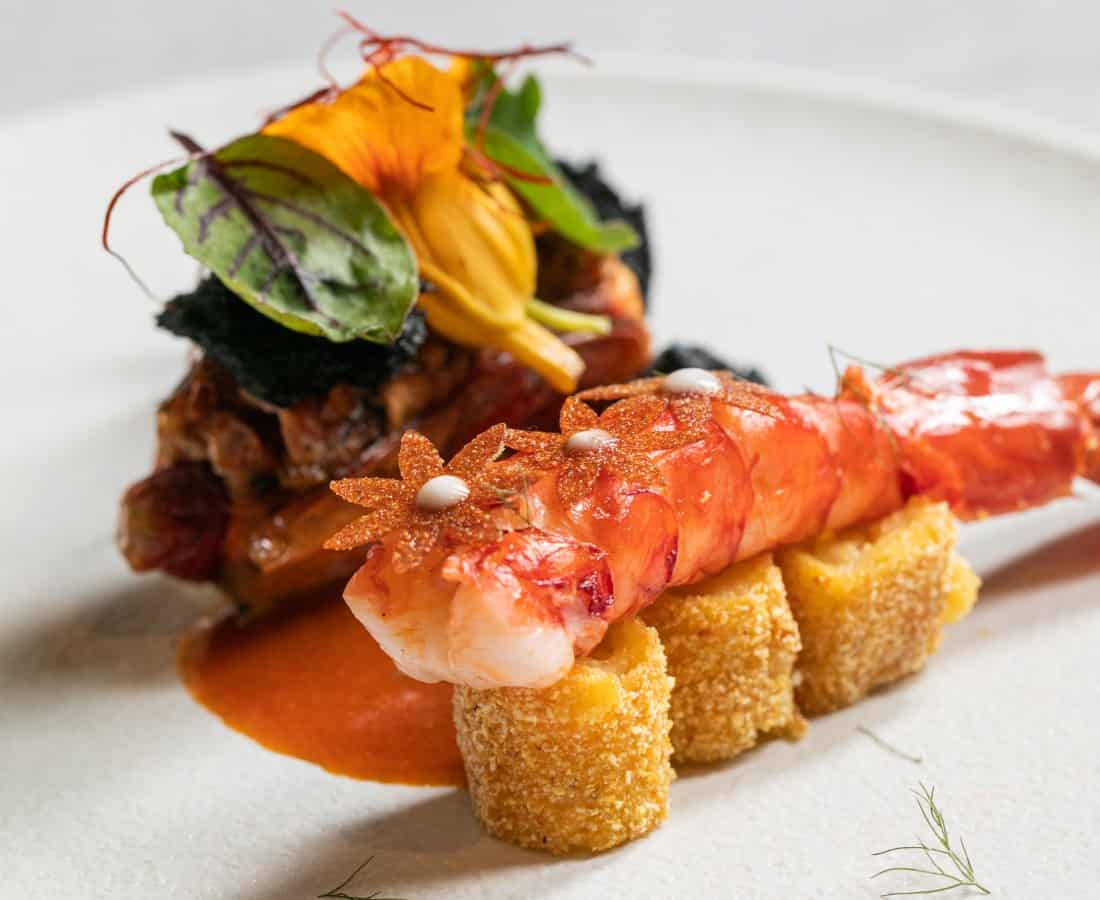 We move further into seafood territory with the 'Yu Xiang' Carabinero Prawn, which forefronts the classic fragrant Yu Xiang sauce that's sweet, spicy, and sour all at once. The prawn is done two ways — heads are deep fried then finished off in the charcoal oven for a smoky taste, and the tails are painstakingly cooked in a salamander on low heat to retain its tender, juicy texture. Grounding the flavours is a polenta-like cake native to the village of Qian Wei — Sous Chef Si Yang's hometown — and an ingeniously created dehydrated charcoal sponge (we hear a microwave was involved).
Paired with an oaky 2015 Regnard Bourgogne Hautes Côte de Beaune, the white wine from South Burgundy with mild apricot and almond notes works wonders with the range of flavours and textures in the prawn dish, from the smoky and crunchy head to the sweet and tender tail.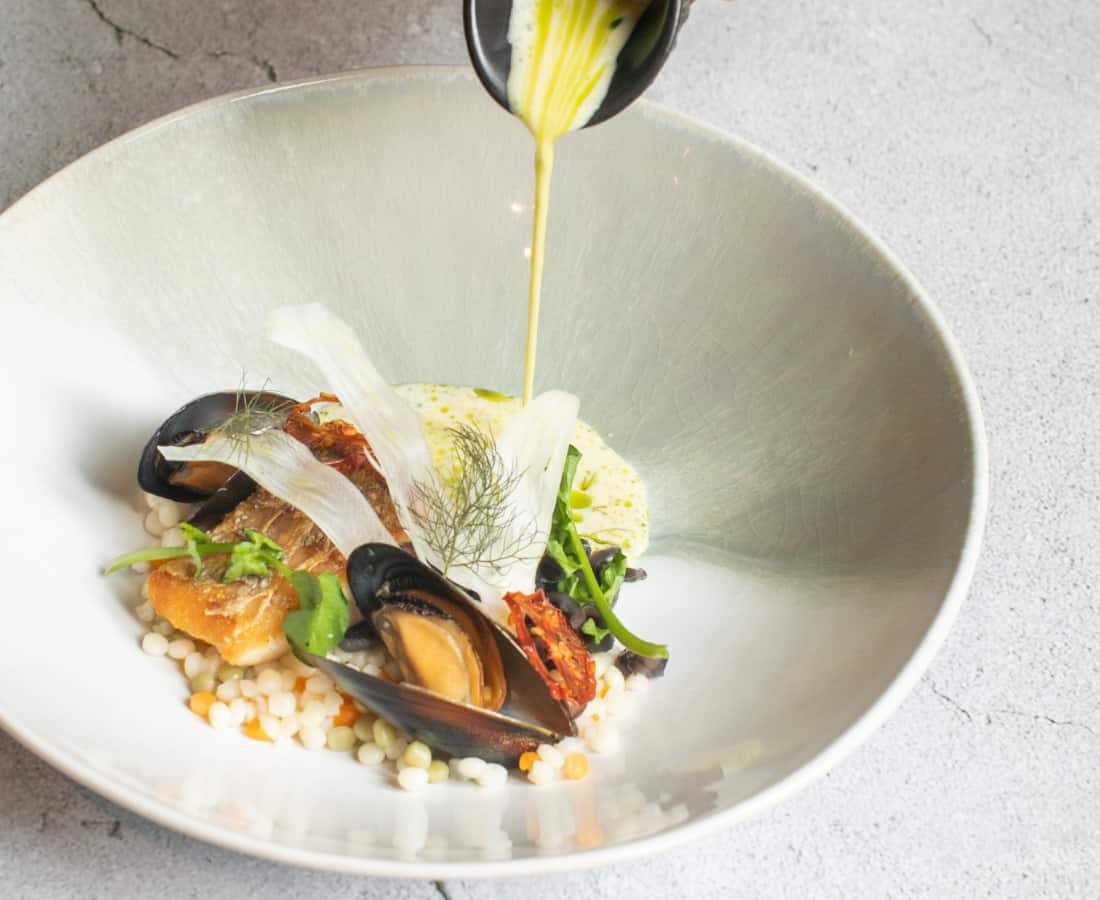 The next course is a Sichuan Fish Stew, a modern take on suan cai yu. The traditional pickled vegetable stock is paired with cream, chive oil, and butter for an indulgent touch, balancing the pungent and spicy elements of the broth. The headliner is a succulent locally-sourced barramundi with incredibly crispy skin, mussels, and sea cucumber, all on a bed of pearl couscous. Creamy yet spicy, this is a dish that we can't get enough of.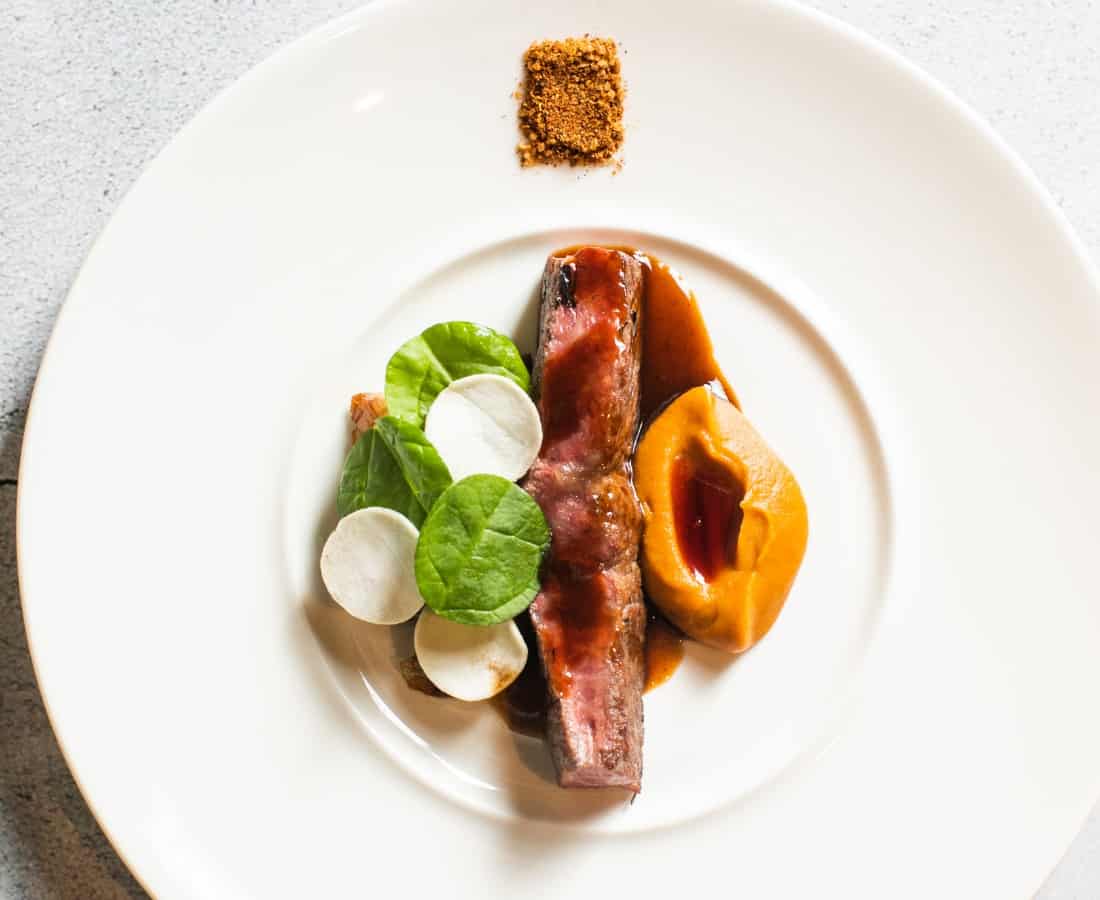 The gastronomic journey comes towards its end with a Wagyu Striploin MBS4. It seems almost blasphemous to say that this perfectly-grilled meat was overshadowed by its sides, it certainly was. The meat was a great canvas for the huge flavours in the tea tree mushroom jus and sweet butternut squash purée — which itself was full of an extra hit of umami from fermented bean paste. Perfectly charred brussels sprouts, as well as. raw and fried eryngii mushrooms add some beautiful textural contrasts. If that wasn't delicious enough, the Sichuan spiced salt on the side adds a whole new dimension to the dish.
The staff pours dry and spicy blend of Cabernet Sauvignon and Cabernet Franc hailing from Bordeaux 2016. The Domaine La Louvière Malepère La Séductrice proved bold enough to take on the immense flavours of the dish; its coffee notes added a beautifully complementary bitterness.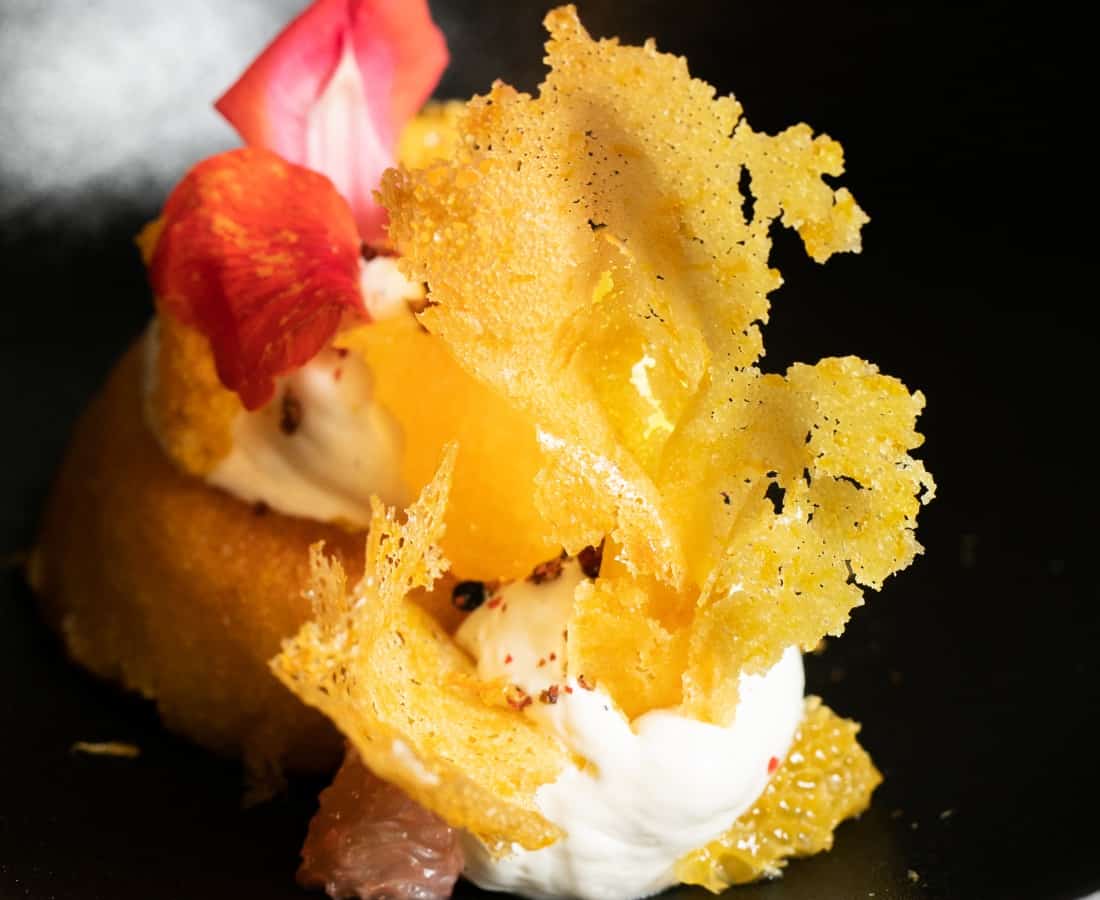 Would Sichuan spice would work in a dessert? At Birds of a Feather, it's a resounding yes. The Mandarin is a refreshing, almost a palate cleanser-like dessert with its aggressively citrus-forward flavours. Infused with Grand Marnier, the citrus baba cake sees mandarin ice, grapefruit and mandarin segments, as well as a sweet Chantilly cream and crunchy tuille made with sweet orange juice. Finishing this dish is a dash of pink peppercorn that balances out the acidity of the dish.
Our final drink of the night was a cocktail that, just like the dessert, was citrusy, tart, and refreshing. Larios gin meets fermented lime cordial and strawberry syrup in a sweet marriage, topped with a creamy coconut foam and lime zest. For a veritable party in your mouth all night, you know where to head.
Birds of a Feather is located at 115 Amoy St, #01-01, Singapore 069935, p. +65 9755 7115. Open Mon — Wed 10.30am — 3pm and 5pm — 11pm, Thu 10.30am — 3pm and 5pm — 12am, Fri — Sat 10.30am — 12am, Sun 10.30am — 10pm.
Images courtesy of Birds of a Feather.