Restaurant Review: Miznon, Singapore's First Israeli Eatery With Free-Flow Pitas and Veggie-Forward Plates
PUBLISHED December 25th, 2020 06:00 am

You've probably seen roasted cauliflower on many a restaurant menu – brushed with oil, cooked to glorious crustiness, and served whole. What you might not know is how this usually vegetarian dish came to take restaurants worldwide by storm. By some accounts, it all started with an Israeli eatery called Miznon – a global chain whose pillowy pitas and baby cauliflower are the stuff of legend, and which recently launched its first Asian outpost in Singapore.
Singapore has plenty of broadly Middle Eastern restaurants, but Miznon is our first dedicated to Israeli cuisine. First launched in Tel Aviv by celebrity chef Eyal Shani, this casual joint quickly spread its brand of gourmet street eats across the likes of New York and Paris.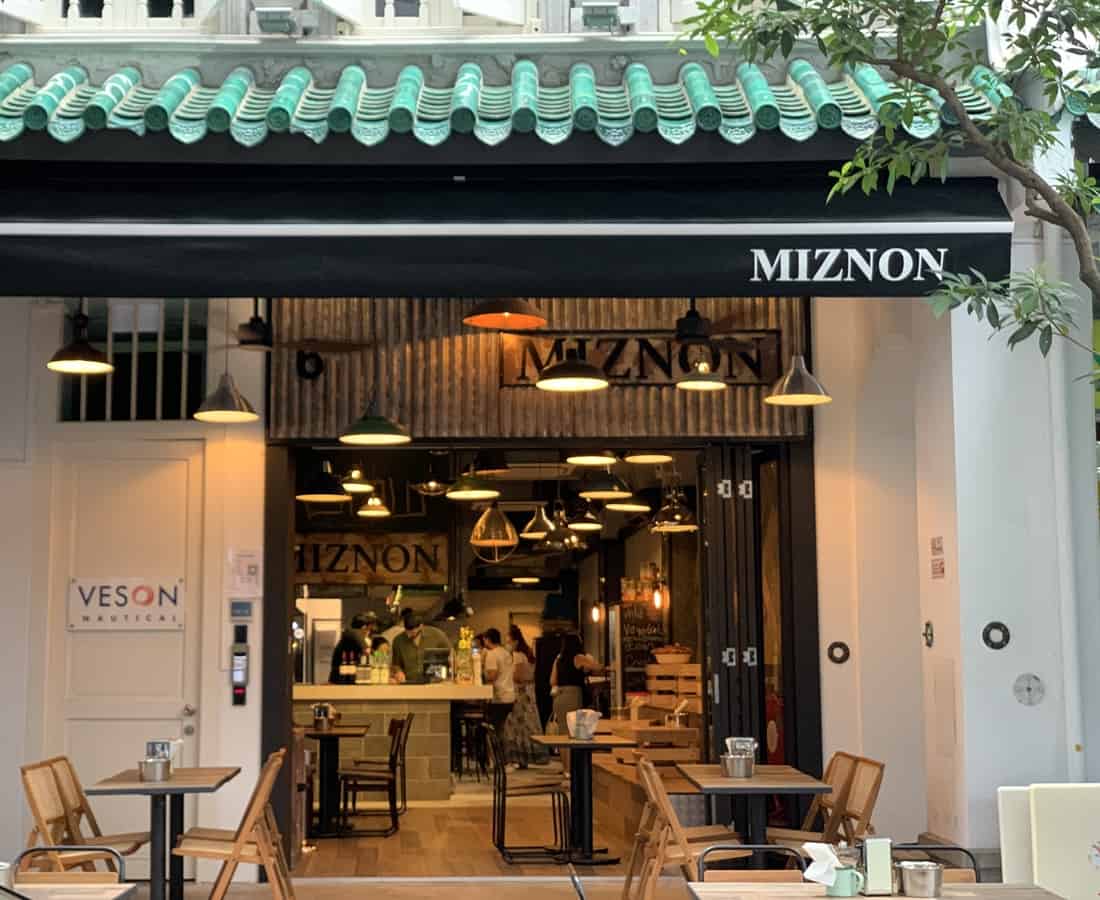 Its 42-seater eatery in Singapore along Stanley Street – its eleventh around the world – stays true to its rustic-chic style, with olive green walls scrawled with cheeky slogans (we can certainly get behind 'Make Falafel Not War'). Dining tables are in short supply in this tiny shophouse, so those strapped for time can perch at the eat-and-go area – basically a flight of wooden steps with crates for tables. Or snag a stool by the buzzy show kitchen to see your pitas being assembled – though you might have even more fun watching executive chef Or Hakmimi dancing as he works.
Pitas take centre stage on the menu, and it goes without saying that this isn't your run-of-the-mill dough. Miznon's pitas are made from a secret blend of flours by a bakery in Israel and shipped frozen to Singapore, yielding fluffy flatbread with a moreish chew and nutty notes. Available free-flow from the kitchen counter, you'll need superhuman self-restraint to keep from stuffing yourself. Stay strong with the thought of greater things to come – namely, their lineup of 11 well-stuffed pitas.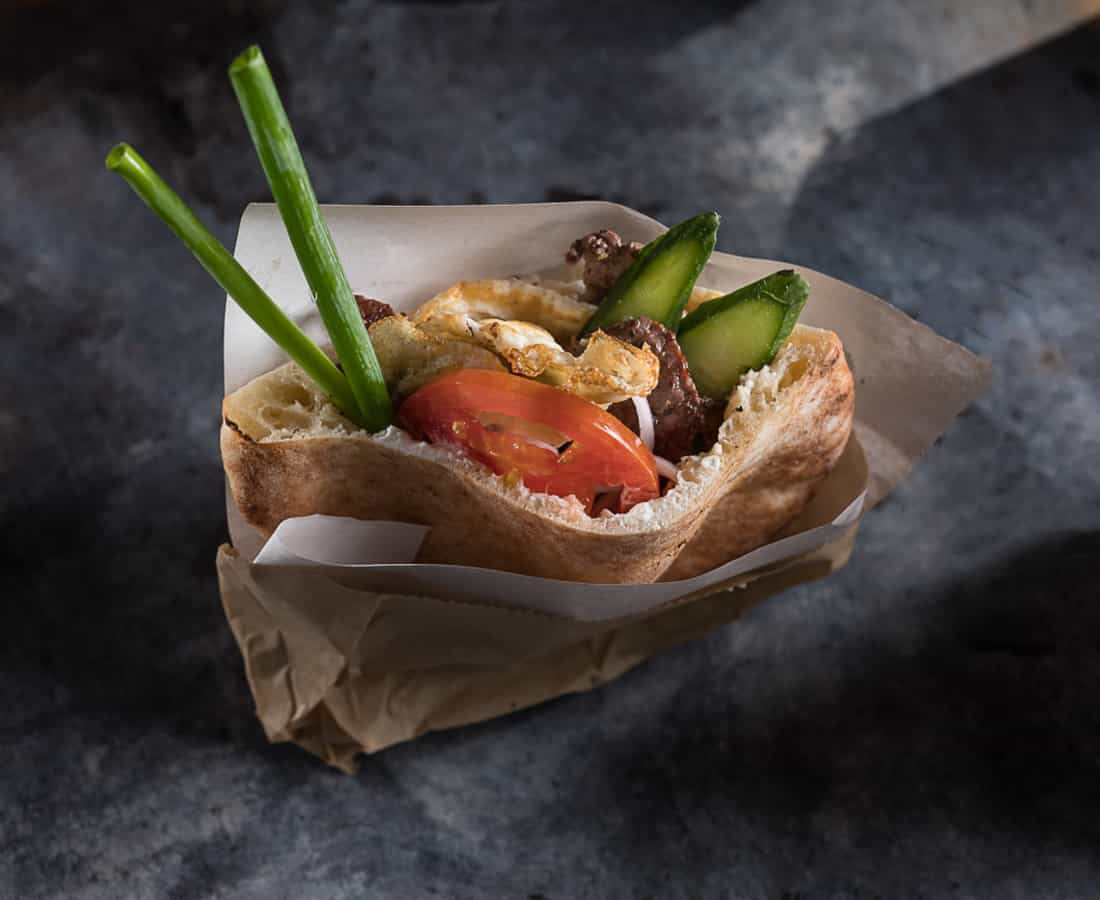 Practically any dish can be turned into a pita, as Miznon's flatbread riffs on everything from cheeseburger to ratatouille prove. Inspired by the Provençal vegetable stew, the Ratatouille (S$17) comes brimming with summer produce: eggplant, zucchini, tomatoes, and carrots, baked in tomato sauce till thick and silky. Chopped hardboiled eggs beef up this already hearty number; a creamy dash of tahini, sourced from an undivulged mountain town in Israel, tops off the addictive mash-up.
For meatier fare, the Steak & Egg (S$21) is exactly what it says – a pita stuffed with thin slices of sirloin steak and a fried egg yolk. Seared on high heat for a minute, the steak is a little tough to tear at – what with a juicy explosion of tomatoes, onions, Japanese cucumber, and sour cream sliding about, you can expect quite the mess.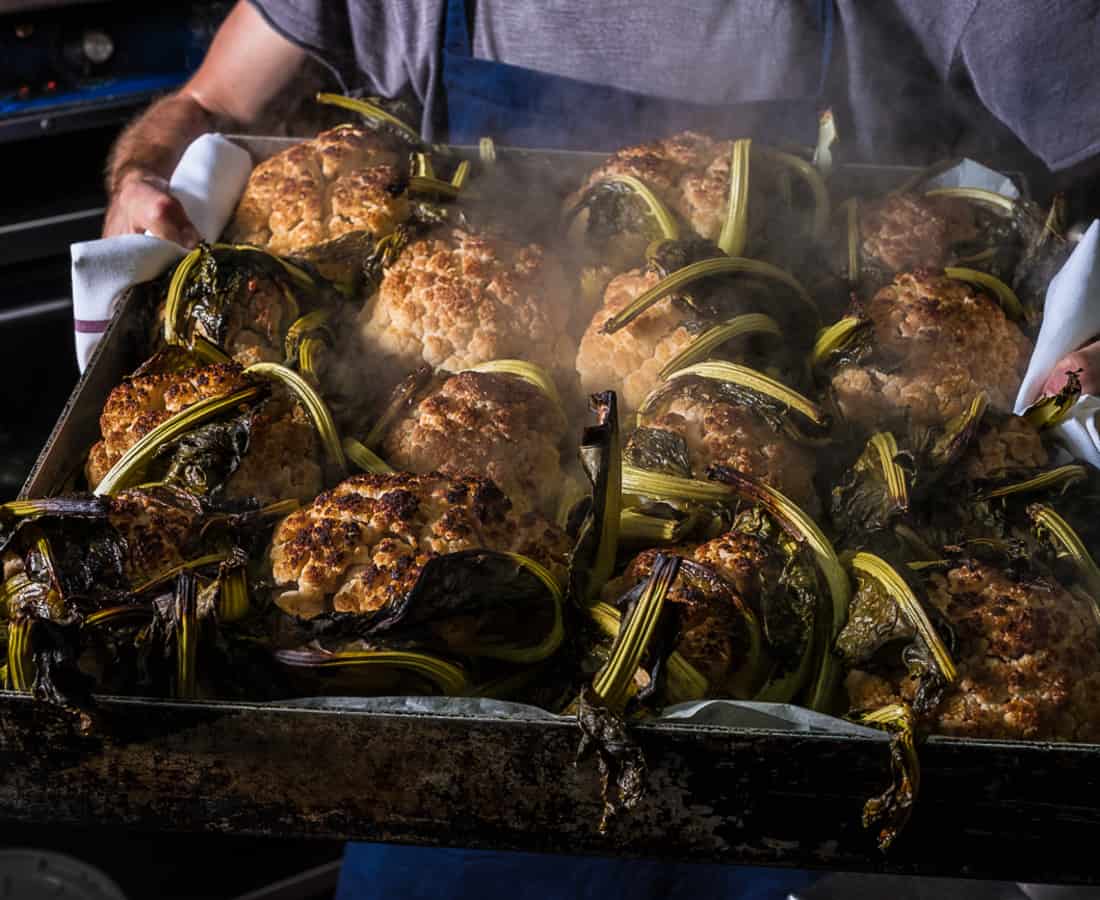 But really, where's the fun without a bit of mess? The most famed of their veggie-forward range of small plates, the Baby Cauliflower Flower (S$16) calls for digging in with bare hands for maximum satisfaction. Oven-roasting yields a smoky crust, which you can easily pull apart to reach the sweet, fabulously tender interior.
The stews are comfort fuel on a rainy day, particularly with options that pack heat like Hraime (S$26). This Moroccan-style barramundi stew is spiced with a potent mix of garlic, paprika, cumin, and harissa, best mopped up with more pita on the side. Meanwhile, the Intimate Plate (S$24) features fork-tender beef short ribs braised in a stew of celeriac, carrots, and chickpeas, with a punch of green chili dressing atop.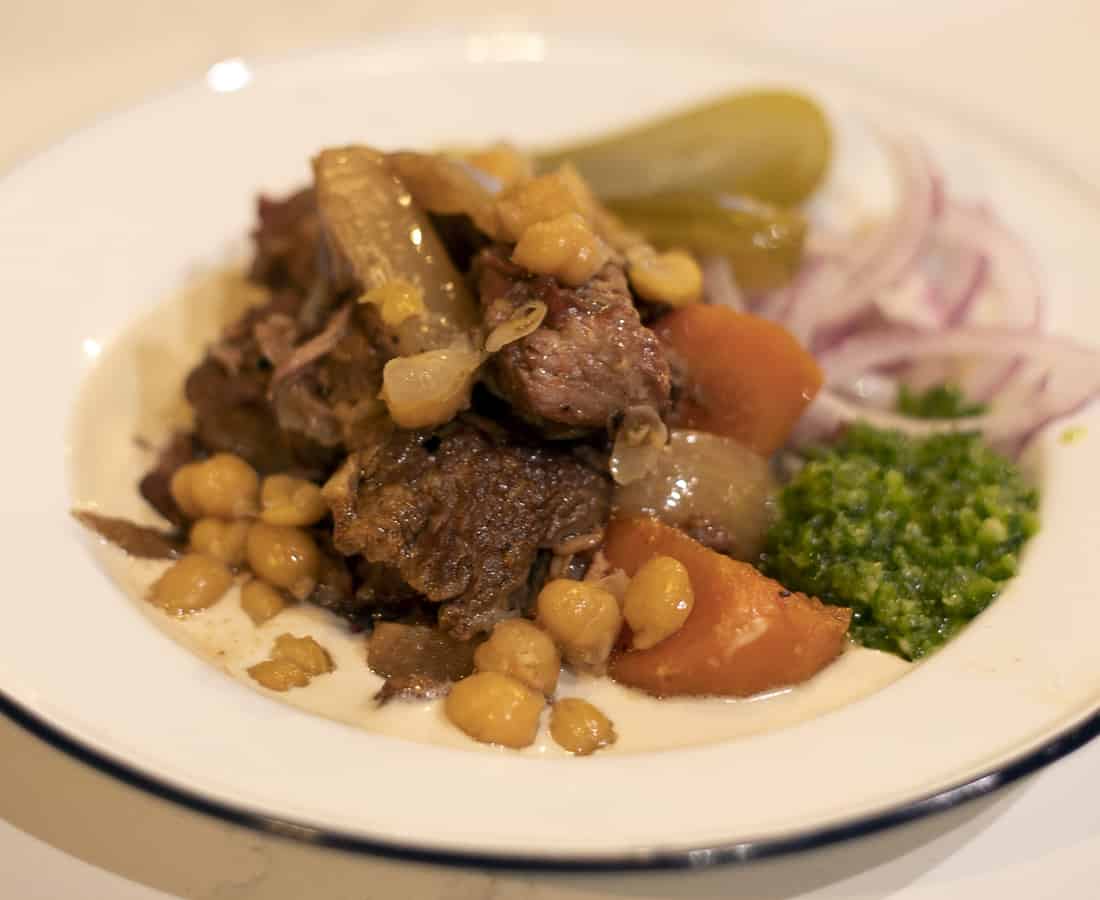 Miznon's pitas might run a little pricy, but for these generous portions and robust flavours, you'll certainly leave stuffed. We hear a Singapore-special pita is in the works – we'll be back for that.

Miznon is located at 6 Stanley St, #01-01, Singapore 068725, p. +65 9015 5319. Open Mon-Sat 11am–11pm. Closed Sun. 
Top Image: Ratatouille