Bottomless Brunch in Singapore: Manhattan Bar's Adults-Only Cocktail Brunch at Regent Singapore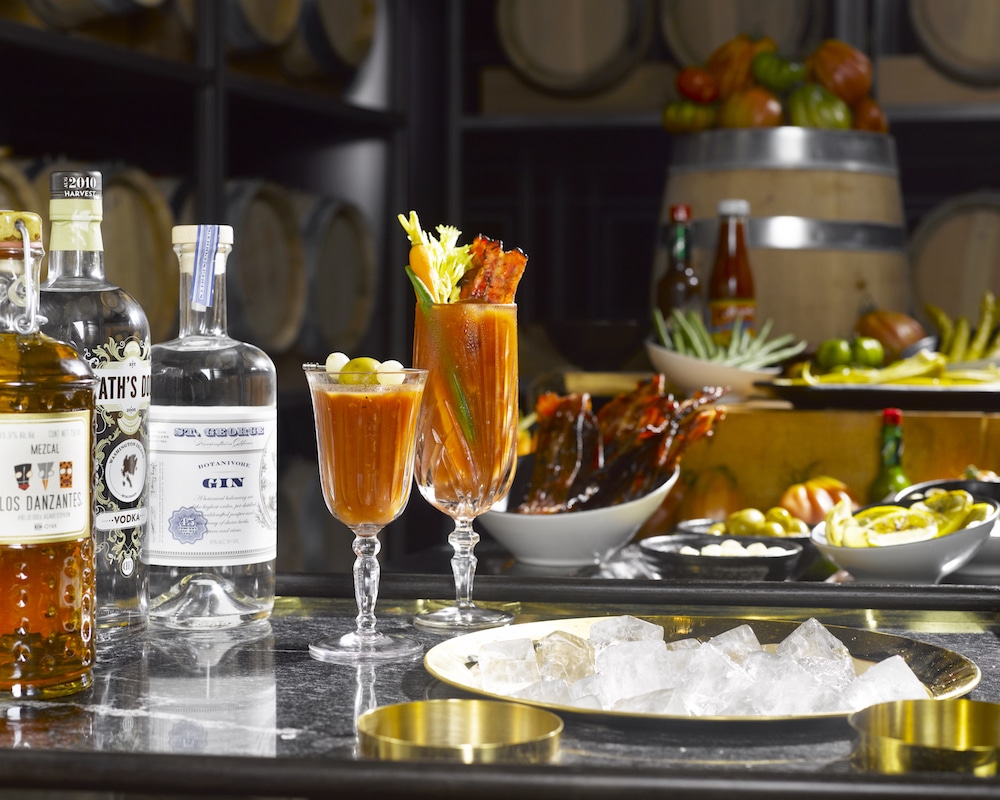 PUBLISHED April 23rd, 2018 05:00 am | UPDATED May 18th, 2020 04:24 pm
For those looking for a free-flow champagne brunch or a wine brunch in Singapore, there's no simpler task since diners are spoilt for choice (which in itself might be a problem, we suppose). However, if you're not a fan of bubbles or are looking to switch things up a little, consider checking out Manhattan's adults-only cocktail brunch. Running every Sunday from noon to 3pm, we returned recently to find that Singapore's best bar not only have they updated their menu with some delightful new dishes, they – naturally – still serve up some of the best brunch cocktails on the island.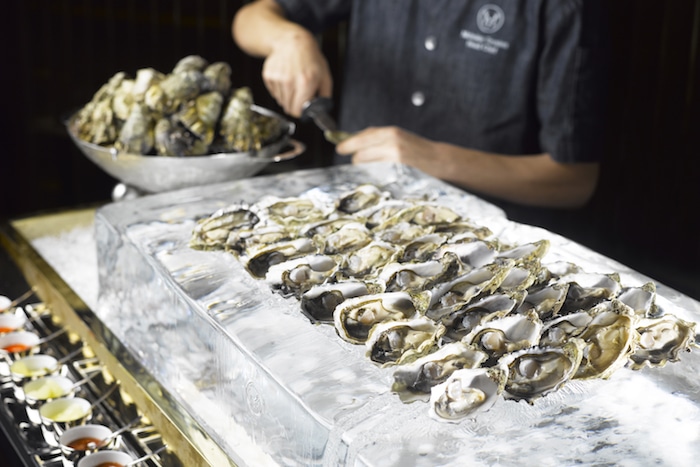 Priced at $150++ per person for free-flow cocktails, wines, and beers (top up $45++ for unlimited Billecart-Salmon Brut Reserve Champagne as well), the Manhattan brunch experience starts as soon as guests enter the 1920s New York-inspired threshold, and are handed a glass of welcome punch. Repeat visitors would be quick to notice that the much-loved fresh seafood station and mini bagel bar remain. Aside from the quintessential freshly shucked American oysters, the crustacean selection extends to browned Hokkaido scallops, sweet and juicy Alaskan crab legs, mussels, and Maine lobsters.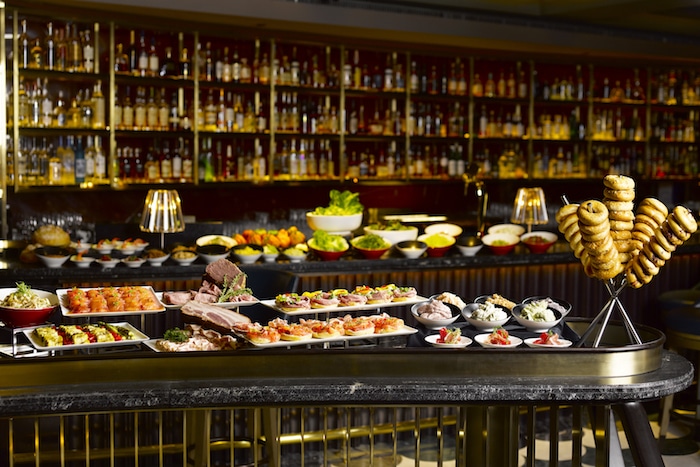 It was difficult not to be captivated by the aromas of whisky-infused, slow-roasted Tomahawk and bourbon-infused roasted Rack of Lamb from the carving station across from the seafood. While the use of spirits in the meats were not apparent – to be fair, we already had two cocktails by that point – the execution and quality of the produce was excellent. The meats were well-seasoned, but try experimenting with the different types of mustards and salts (think chili lime and squid ink) available!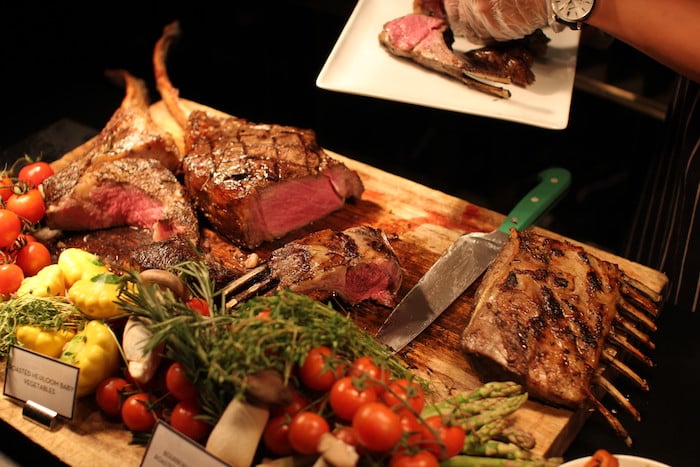 On top of their signature Bloody Mary Cart, where guests can custom build Bloody Marys and dress it up at the Ingredients Room with the likes of bacon, pickles, and more hot sauce, Manhattan has added a DIY Milkshake Counter. Though one can definitely get a virgin milkshake, there's a choice between Plantation rum and Michter's whiskey for the base spirit – a request from a guest for Bailey's was also met – and options of chocolate, blackberry, and banana for flavor. As with the Bloody Marys, there's also a counter-full of toppings, from fresh berries and mint leaves to all sorts of candy.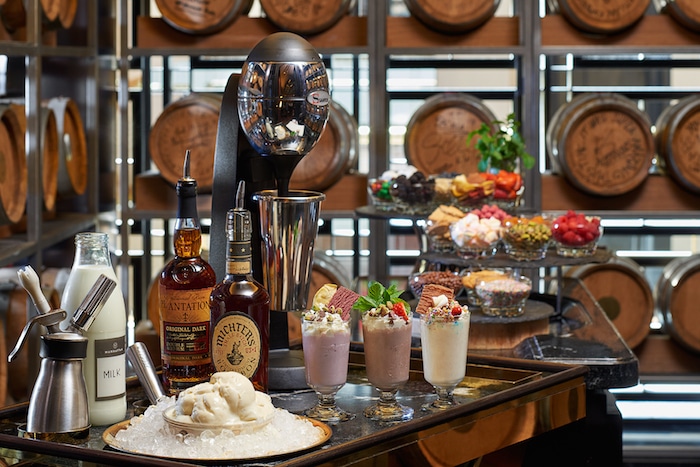 The six cocktails on the brunch menu cover most of the bases. Start with the refreshing Mora Fizz, or if tequila gives you nightmares, the Elderflower Spritz. The former is slightly spicy in pairing tequila with lime, housemade ginger syrup, cassis, and seltzer water; personally, I'm not a fan of ginger or tequila, so on the low ABV end, the latter is more drinkable with an inoffensive and floral combination of elderflower liqueur, lemon, and seltzer water. A little sweet, the Amaretto Sour made with rye, almond liqueur, lemon, and egg white might not be for everyone with its sharp almond flavor reminiscent of the local almond jelly dessert. We then asked for a whisky sour – basically just removing the amaretto – and was answered.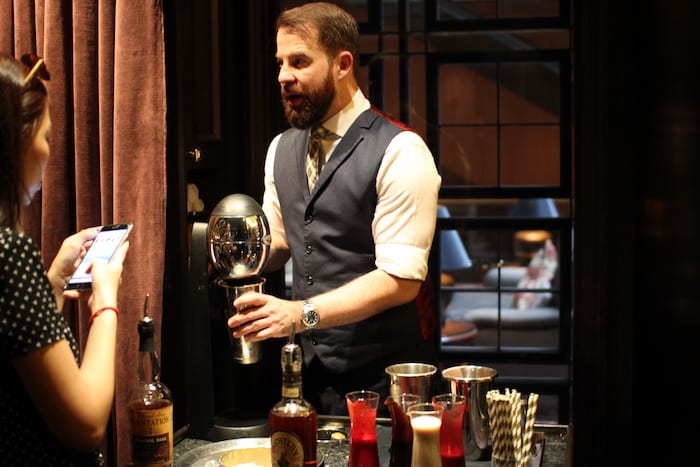 Cocktails that delve into higher ABV territory include their classic Single Cask Negroni and Gold Rush, which ended up being my favourite. A simple stirred drink of bourbon, housemade honey syrup, and lemon, it's incredibly well balanced. The Old Cuban is the most dangerous of the lot, featuring rum, champagne, and mint. We probably had one too many of these.
Besides the spread laid out around the bar, there's a short list of small plates served a la minute to try too. The "what's brunch without eggs?" crowd can look forward to Egg, Truffle & Caviar, where truffle shavings and Sevruga caviar sit atop a 63-degree egg and sliced asparagus in black butter and beanaise. A light but flavourful starter, to be sure. A similar approach is taken with the poached Salmon Confit sitting amidst olive soil, anchovies, avocado mousse, and haricot beans.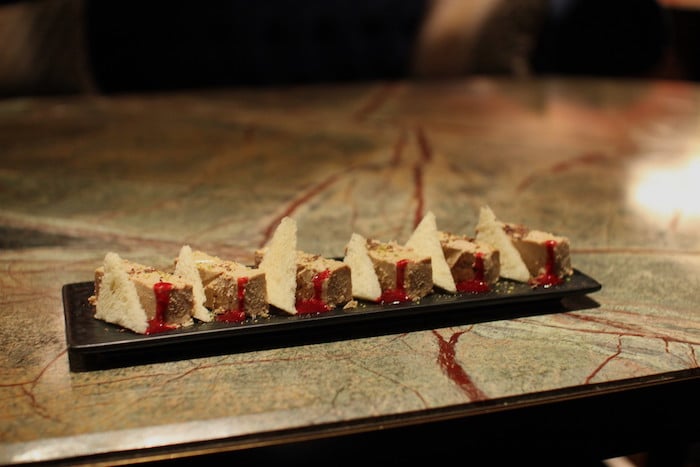 The Foie Gras Chocolate Bar was the main highlight of the offerings in this section; the bitterness of the chocolate shavings was a pleasant contrast with the foie gras terrine. The apricot gel provides acidity while the light dusting of pistachio powder added a slight nuttiness. We have absolutely no complaints about the crispy, corn-coated Free-Range Chicken Thigh served with mushroom pate, and the only flaw in our portion of BBQ Pork Belly was it being slightly burnt. A well-balanced dish with accompaniments of sour cabbage (their version of sauerkraut), as well as pear compote and pomegranate seeds for freshness.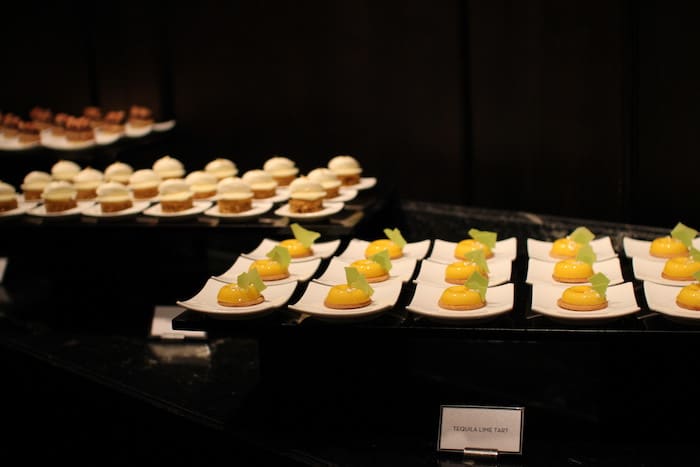 Those with room for dessert will find them back at the buffet. Highlights for us were the Irish coffee crème bcreme brûlée, the New York cheese cake, and the apple pie. Don't be shy to grab a double chocolate cookie and head to the DIY Milkshake Counter for a scoop of ice cream to go with it.
All eyes are on Manhattan as the 2018 edition of Asia's 50 Best Bars is gliding around the corner on 3 May – will they keep their crown? Or will they be toppled by new heavyweight Atlas? – the folks keep doing what they do. By that we mean providing a space where people can get well-watered and well-fed all day, err'day.

Manhattan is located at Level 2, Regent Singapore, 1 Cuscaden Road, Singapore 249715. The Adults-Only Sunday Cocktail Brunch is available weekly 12pm-3pm.