Catering Services in Singapore: Restaurants and Caterers Bringing Top-Notch Food To Your Doorstep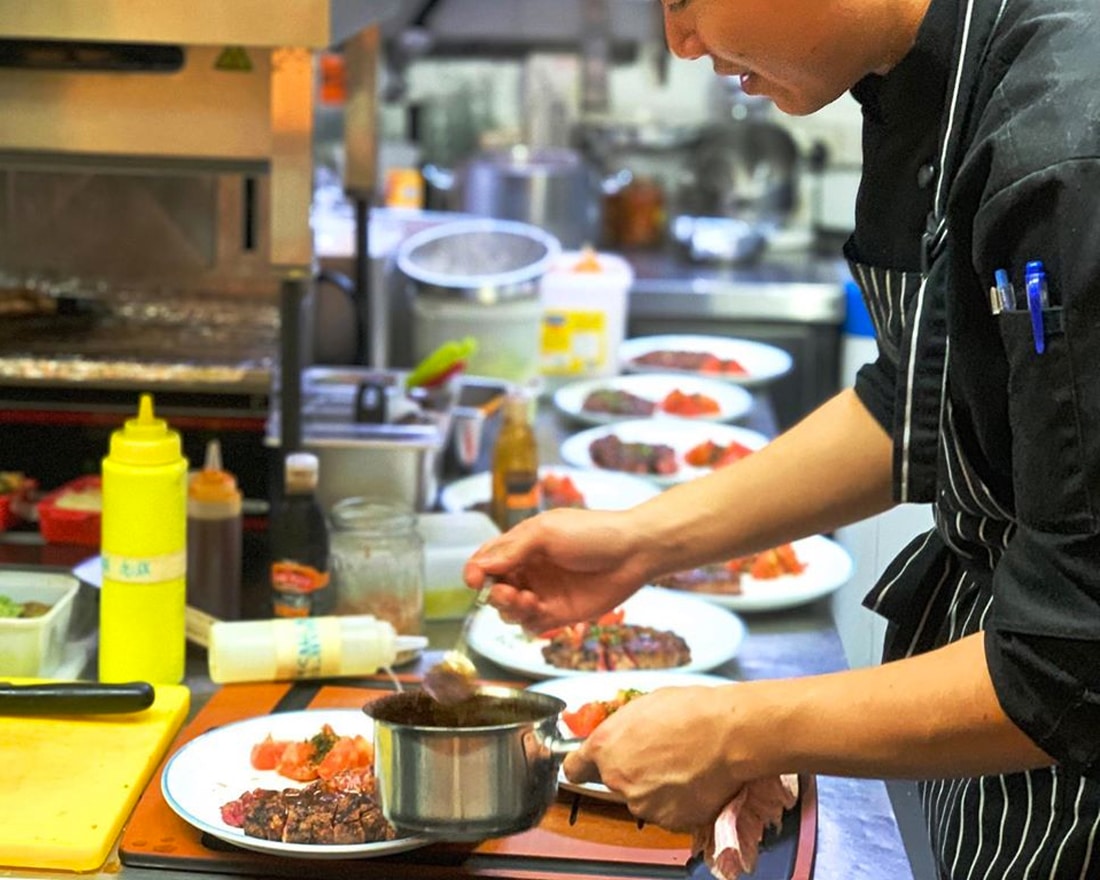 PUBLISHED November 13th, 2019 05:00 am | UPDATED November 19th, 2019 02:15 pm
There's no party like a house party, but it can get a little difficult or messy preparing and feeding your hungry guests. Sometimes, you just want to let your hair down, not be bothered by the logistics of it, and just enjoy. Instead of fussing over the nitty-gritty, let these catering services in Singapore handle the heavy work so that you can focus on entertaining your guests for a great time!
fȳr

Looking to wow your guests with flame-grilled meats and seafood, but worried about the smell or just don't have the right equipment? Fret not, fȳr (pronounced "fire") has got you covered. This popular modern grill restaurant in the CBD offers catering and delivery services for its delectable premium-cut meats and seafood done the signature fȳr way, whether it's grilled, barbecued, seared, or smoked. Party platters include the Duo Meat Platter (2 pax), the Let's Feast Platter (6 pax), and for those that just can't get enough, how about a Snack Box and 24 Sliders as add-ons for a complete, no-frills flaming experience?
Check out fȳr's range of platters here.
Purple Sage
One of Singapore's full fledged boutique caterers, Purple Sage has been servicing events small to large all year round since 2002. With its team of passionate chefs and hospitality professionals, Purple Sage has won multiple prestigious awards such as 'Caterer of the Year' by World Gourmet Summit, so expect nothing but the finest in food and service. Purple Sage offers a plethora of catering options from the usual buffet lunch to exquisite cocktail reception menus complete with butler service. Party for a whole group of vegans? No problem.
Check out Purple Sage's menus here, or drop them a line at +65 6396 6990.
3 Embers
Helmed by an all-star team including celebrity chef Eric Teo, 3 Embers provides a luxurious private dining experience in the comfort of your own home, from entree to dessert. 3 Embers also delivers its culinary expertise and sophistication to the office with its corporate menu, infusing both Western and Asian flavours together to create familiar dishes that you've come to love, with a unique twist that'll leave your guests wanting more.
For more information on 3 Embers' menus, click here.
Violet Oon Singapore
Violet Oon Singapore is a household name when it comes to Peranakan cuisine, but did you know that the restaurant does catering as well? Whether it's a large party celebrating birthdays and festivities or just a small, intimate gathering session with friends, Violet Oon Singapore caters to all. The party trays are perfect for a party of 10, but if you're looking for a more tailored Peranakan experience, drop them a line and curate your own bespoke Peranakan spread.
Click here for more information, or drop them a line at +65 8533 1122.
Kazbar Catering
Enjoy an authentic, savoury Middle Eastern experience at your event with Kazbar Catering, the catering arm of popular Middle Eastern restaurant Kazbar. Prepared and guided by chefs from Lebanon, the wonderful buffet menu selections will take you on a gastronomical journey across the Middle East, and the optional but highly recommended Shawarma or Ouzi Lamb Live Station solidifies the Middle Eastern experience.
Check out the wonderful spread from Kazbar Catering here.
Bellygood
With multiple dining concepts across the island, it's only par for the course that the Tung Lok Group entered the catering space. Offering delicious, halal-certified bento and buffet menus for small and large gatherings alike, Bellygood is an affordable way to feed your guests without breaking the bank. The sheer amount of packages is mindboggling, and can be designed around seminars, weddings, barbecues, health-conscious parties, and even your baby's first month – all for as low as S$10 per head!
Browse Bellygood's bentos and packages here.
Top Image: fȳr