Chilli Crab in Singapore: Where to Go for the Famous Singaporean Seafood Dish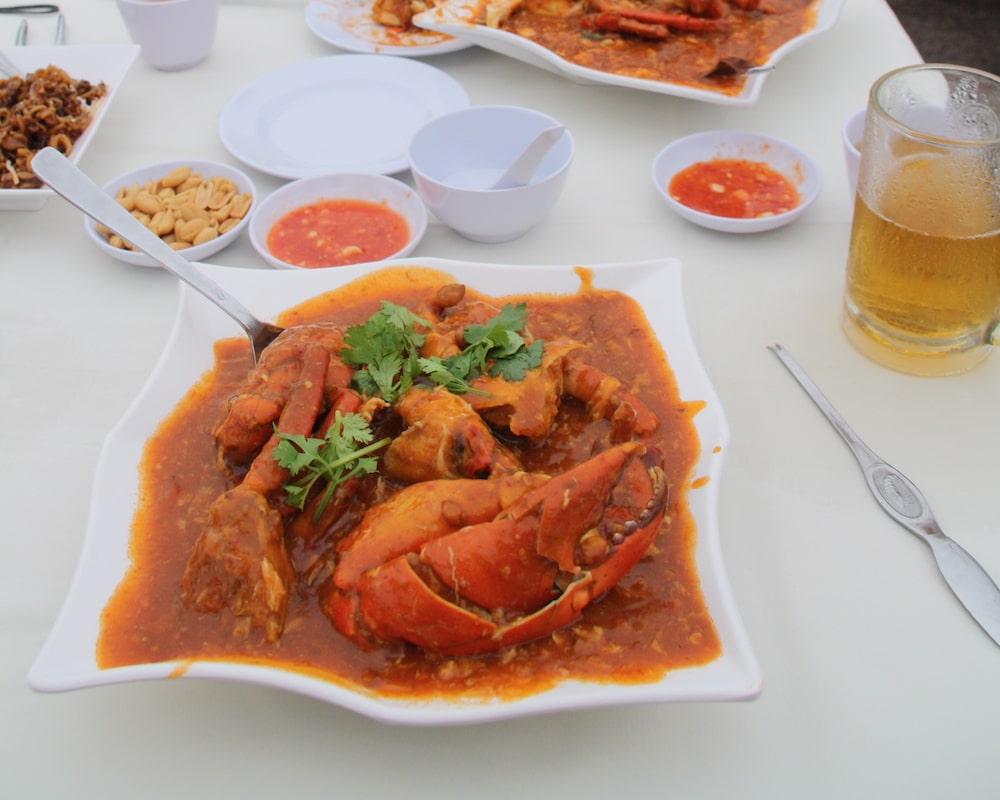 PUBLISHED July 5th, 2018 05:00 am | UPDATED October 22nd, 2019 08:36 pm
Some prefer it spicier, sweeter, or perhaps stronger on the ketchup. It is, however, a general consensus that the abundance of sauce is quintessential to the iconic Singapore Chilli Crab experience. More than just a local favourite, this dish has gained international acclaim with approval from celebrity chef Anthony Bourdain (we're still in mourning) as well as a spot on CNN Go's World's 50 most delicious foods list. Plus, The Hawker Heroes challenge in 2013 also spotlighted this favourite, in which Gordon Ramsay pitted his culinary skills against local hawkers in three dishes, including chilli crab (the only two were laksa and chicken rice).
Said to be invented in 1956 by Cher Yam Tian with her tomato-chilli coated stir fried crabs, the recipe has evolved to include the flavours of sambal, lemon juice and/or vinegar in a savoury sauce thick with egg white ribbons. An almost must-have companion comes in the form of mantous, or fried Chinese buns, for mopping luscious sauce in a perfect crispy-fluffy-juicy combination.
It is going to be messy, for there's no better way to enjoy this dish but with bare hands, sans prudent table manners – don't say you weren't warned. Chilli Crab is a dish worth scouring the island for the best, and here are five of the top masters that should be on your to-try list.
Roland Restaurant
The founder of Chilli Crab has grown from its humble beginnings as a two-table makeshift stall along the Kallang River to a long-serving restaurant that retains the integrity of their original dish. Fresh and succulent Sri Lankan crabs are doused with a sauce that balances sweet, tanginess and a touch of spice, and unlike many other establishments, you can always expect a good dose of roe to be found in their crabs.
Roland Restaurant is located at Blk 89, Marine Parade Central, # 06-750, Singapore 440089, p.+65 6440 8205. Open Mon-Sat 11.30am-2.30pm & 6pm-10.30pm, Sun 11am-2.30pm & 6pm-10.30pm. 
Mellben Seafood

Some of the best food in Singapore is found at innocuous places, and Mellben Seafood is one of these. The gravy used in their version is a little spicier with sweet and sour tones, and their crabs are reliably meaty and fresh. Also worth a try are their Claypot Crab Bee Hoon Soup and Butter Crab – but be sure to arrive early (before 6pm) as they take no reservations, and the queue gets quite out of hand after 7pm.
Mellben Seafood is located at 211 Toa Payoh Lorong 8, Singapore 310211, p.+65 6353 3120. Open Mon-Fri 4pm-12am & Sat-Sun 12pm-12am.
Jumbo Seafood
Founded in 1987, Jumbo Seafood has various outlets around the island and is well known for their seafood dishes. Their crabs are tender and fleshy, and their gravy more tomato-ey than spicy, which may be more suitable for Western palates. Notable is the addition of peanut sauce in their Chilli Crab gravy, which adds a depth and creaminess that is perfect for some mantou mopping. We recommend their East Coast outlet for the ambience, lovely wind and seaside view.
Jumbo Seafood is located at 1206 East Coast Parkway, #01-07/08, Singapore 449883, p.+65 6442 3435. Open Mon-Fri 5pm-11.45pm & Sat-Sun 11.30am-12am. See here for other outlets. 
Blue Lotus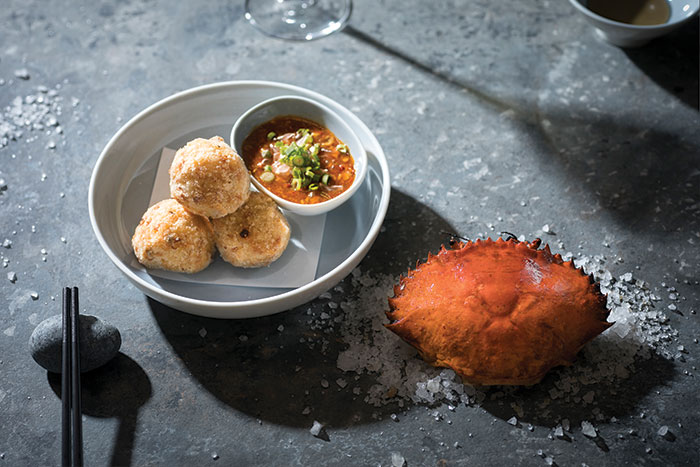 Don't expect to the usual here at Blue Lotus – their signature chilli crab sauce uses chopped herbs and spices such as lemongrass and curry leaves as well as fresh tomatoes and lacks the common starchiness. The chilli oil in the sauce ensures a slow burn in your mouth, but thankfully the ingenious addition of a fresh pomelo topping brings a refreshing burst of sweet acidity that moderates its fire. Inspired by Emmanuel Stroobant's own love for chilli crab, Blue Lotus's offering is a fresh perspective on this favourite that is definitely worth the try for die-hard fans.

Blue Lotus is located at 31 Ocean Way, #01-13 Quayside Isle, Singapore 098375, p.+65 6339 0880. Open Mon-Fri 6pm-10pm & Sat-Sun 11.30am-3pm & 6pm-10pm. 
Mattar Road Seafood BBQ
You know it is going to be good when the sauce for their chilli crab not only takes two days to prepare and rest over the week, but infuses the hawker centre with its pungent sambal smell to no complaint. Mattar Road Seafood BBQ has been operating for a long time, and for a mere hawker stall, the crabs are always great and reasonably priced – get the female crabs for an extra savoury touch with the roe. If you have already made the trip down, make sure to try their white pepper crabs and barbeque stingray as well.
Mattar Road Seafood BBQ is located at Old Airport Road, Singapore 390051.
No Signboard Seafood Restaurant
No Signboard Seafood Restaurant doesn't need a signboard, that's just how good it is. With a legacy dating back to the 1970s, when good things were shared via word of mouth, No Signboard has garnered an impressive reputation for not only quality seafood but a consistent delivery of their famed seafood dishes. When it comes to Chilli Crab at No Signboard, you get to choose the level of spice so you won't need copious amounts of water or complain it's "too sweet". That said the recipe for White Pepper Crab that No Signboard's founder Madam Ong Kim Hoi crafted is responsible for No Signboards stellar seafood rep, so be sure to try it!

No Signboard Seafood Restuarant is located at 1 Harbourfront Walk, #03-02 VivoCity, Singapore 098585, p.+65 6376 9959. Open Daily from 11am-10.30pm. See here for other outlets.
Red House Seafood Restaurant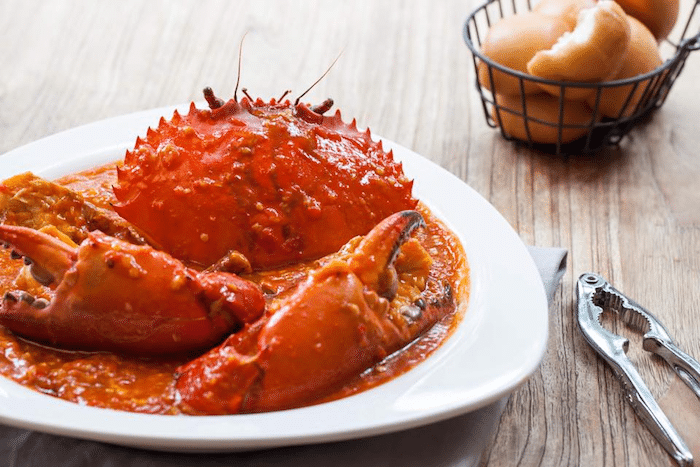 Fresh seafood and Asian flavours have been a match made in heaven at Red House Seafood Restaurant since 1976. At the core of Red House's fresh seafood is a strong focus on sustainability. Red House sources directly from sustainable suppliers in Scrabster, Scotland for their Brown Crab and Colombo, Sri Lanka for their Mud Crab. Their Red House Chilli Crab comes with a generous amount of chup. Less spicy with a stronger tomato flavour and a touch of vinegar, the sauce will go down perfect for those who like their chilli crab sauce on the sweet side.
Red House Seafood Restuarant is located at 68 Prinsep Street, Singapore 188661, p.+65 6336 6080. Open Daily from 11.30am-2.30pm & 5.30pm-10.30pm. For other outlets see here. 
Long Beach Seafood Restaurant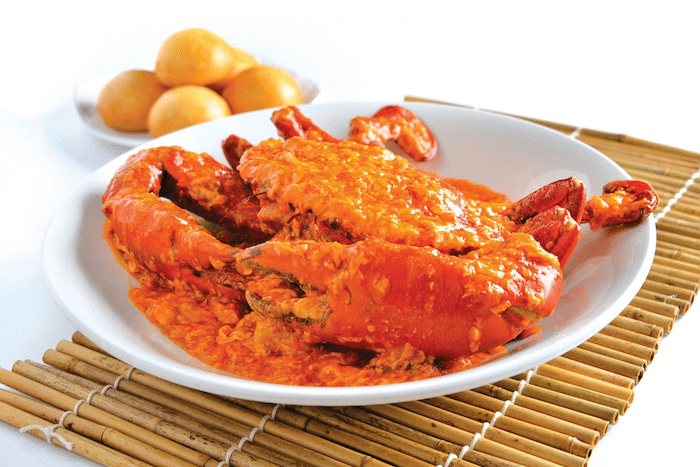 If you have a penchant for spice, you are gonna love Long Beach Seafood's version of the Chilli Crab. A thicker sauce that packs a full flavoured punch when paired with the sweet fresh crab meat, it brings the heat. While they are known best for their Black Pepper Crab, get the Chilli Crab for some delicious variety.
Long Beach Seafood Resturant is located at 25 Dempsey Road, Singapore 249670, p.+65 6323 2222. Open Daily from 11am-3pm & 5pm-1am. See here for other outlets. 
Majestic Bay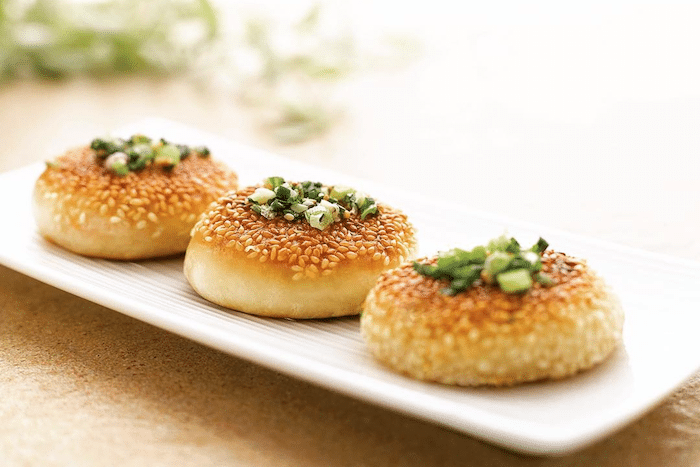 Located under the Flower Dome at Gardens By The Bay, Majestic Bay's Seared Chilli Crab Meat Buns ($4.50 for 3) are perfect little morsels of generous crabmeat, sauce and bun all tied into a single bite (or two). You don't even need to get your hands dirty! They are also experts when it comes to unconventional flavours, try their signature Kopi Sauce Crabs made from a blend of three different varieties of coffee beans – you won't be disappointed.

Majestic Bay is located at the Flower Dome, Gardens By The Bay. 18 Marina Gardens Drive #01-10, Singapore 018953, p.+65 6604 6604. Open Daily from 11.30am-3pm & 5.45pm-9pm. 
Top images courtesy of Kojach.