The City Nomads Christmas Gift Guide 2017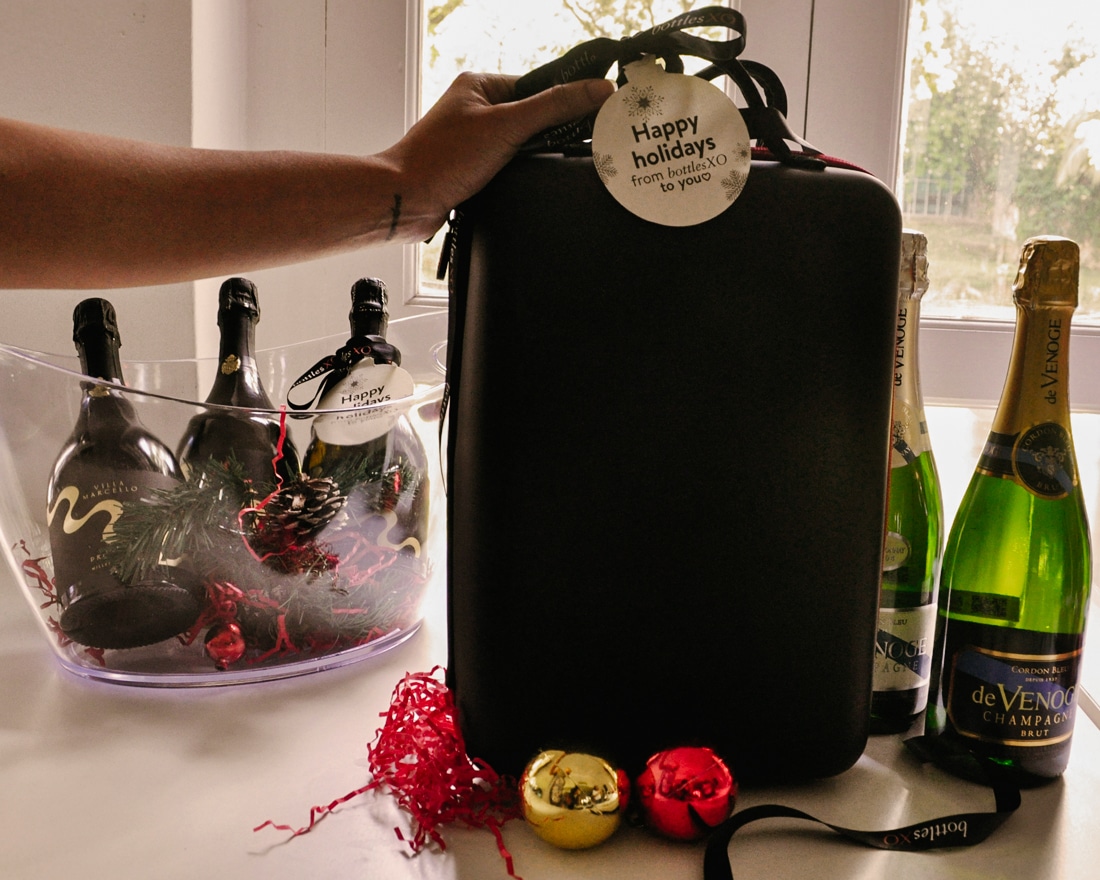 PUBLISHED December 6th, 2017 03:17 pm | UPDATED December 14th, 2017 11:28 am
Haven't gotten your Christmas shopping done? Don't worry, you're not alone. Whether you're looking for the ideal gift for your mother or want an indulgent treat after a year of hard work, we've got you covered with a gift guide to top them all – and only because we know too well the challenge of buying our loved ones a mind-blowing present to show how much we care. Here are our top 10 Christmas gift picks that might just put Santa to shame.
Christmas Gift Sets, BottlesXO
From $120
Is there a better time to drink than during the festive season? We think not – and when it comes to alcohol, only the best will do. BottlesXO recently released its range of Christmas gifts in the form of Wine Cooler Cases (each comes with two bottles of premium wines and a bottle opener) and Limited Edition Buckets filled with a selection of house favourites. For the former, pick from the French ($128), Biodynamic ($180), or Champagne ($222) set, while the latter sees a glorious mixed bag of Cider ($120), Craft Beer ($135), and Prosecco ($140).
But! Just for our readers, BottlesXO is offering these Wine Cooler Cases and Limited Edition Buckets for free! Simply spend a minimum of $100 on the app to receive a complimentary Bucket or $120 to claim your free Wine Cooler Case – just use the code "CITYXO" upon checkout to qualify.
Available through the BottlesXO app.
What's Important Bracelet, The Mindful Company x SAMH
$39

Acquire a sophisticated Christmas gift and help raise funds for youth currently battling health issues at the same time with The Mindful Company's What's Important bracelets. Inspired by the personal stories of five youths under the Singapore Association for Mental Health's YouthReach programme, they've designed five stylish bracelets revolving around family (house), growth (leaf), dreams (cloud), knowledge (book) and the appreciation of the small things in life (ice cream) – plated in 18k gold and rose gold.
Available online at mindful-company.com.
The Face Oil, Want Skincare
$69

You know it's all about that glow – so what more practical a gift than The Face Oil from ethical Singaporean brand Want Skincare? Handmade from pure botanical oils, this ultra moisturising serum is light, absorbs quickly, and is chock full of vitamins and essential acids that promote skin regeneration and prevent free-radical damage. Plus, by making a purchase, you're contributing to marginalised women in cooperatives in Bali in Indonesia and Benin in West Africa.
Available online at wantskincare.com.
Nahala Head Wrap, OliveAnkara
$55

For people with a vivid imagination and fashionable flair, try the carefully-designed Nahala Head Wrap by OliveAnkara, the Singapore fashion label inspired by African prints. This limited edition blue and red head wrap can be worn any number of ways, whether your recipient has dreads, an afro, or a big curly cut, with a cocktail dress or with a t-shirt and jeans. Made of 100% bright cotton, this is the chance to get creative with all kinds of knots and bows.
Available online at oliveankara.com.
Tickets to Laneway Festival 2018
$158

Festival tickets are hardly a common Christmas present, but frankly, we don't see why not. Make a music lover's day (or two, if you count the actual Saturday) with a ticket to St. Jerome's Laneway Festival Singapore next January, where the line-up sees music megastars and fresh faces like Anderson .Paak & The Free Nationals, Bonobo, Wolf Alice, The Internet, Mac DeMarco, and Father John Misty.
Available online at singapore.lanewayfestival.com.
Smoked Maple Bourbon Whisky, Demochoco
$22

For the person who has everything, you can't go wrong with chocolates, especially when it's the seasonal Smoked Maple Bourbon Whisky from Demochoco. Made from rare Venezuelan cocoa beans in the nama-choco style that's popular in Japan, these babies feature a superior melt-in-mouth quality that is incredible. Enjoy alternating notes of smoke, maple syrup, and bourbon that culminates in an exceptionally long finish of vanilla and smoked oak – available only this Christmas.
Available online at demochoco.com.
Specter CG1 Travel Wallet, Faire Leather Co.
$169

Imagine a perfect travel companion that has dividers to separate different crash currencies, an abundance of card slots, sleeves to organise and protect your ejector pins, SIM cards, and memory cards, as well as a back slip pocket that fits your mobile phone. Stylish and polished, the Specter CG1 is a must have for jetsetters who wish to travel light and smart, not to mention safe – RFID blocking technology means you'll be protected against card fraud and identity theft.
Available online at faireleather.co.
Panda Luxe Bowl, Glambue
$38

Bamboo homeware is all the rage now, and Glambue's Panda Luxe Bowls are pretty darn fine. With a classy exterior decked in eggshell black and white patterns, use these for everything from regular table decor to holding fruits and serving dishes for up to four people. Perfect for holding some roasted vegetable or mash during that upcoming Christmas dinner. And did you know bamboo is one of the fastest growing plants on the planet? That makes them eco-friendly and very sustainable.
Available online at glambue.com.
Manhattan Gift Box, Proof & Co
$250

If you're looking for something more high-end, the luxurious cocktail gift boxes from spirits professionals Proof & Co won't disappoint. The handmade black lacquer Manhattan gift box in particular includes a bottle of Willett 3 Year Single Barrel Rye Whisky, Mancino Rosso Vermouth, and two artisanal Wormwood Presidente glasses. Basically, everything you need to make a fantastic Manhattan and more.
Available online at ecproof.com and Proof & Co, 43A Hongkong St, Singapore 059682, +65 8228 0113.
Gardens by the Bae Tea, PIN TEA 品茶
$19.90

Because who doesn't like tea? Celebrate local culture with PIN TEA's exquisite whole leaf teas inspired by famous sites in Singapore. In particular, the Gardens by the Bae blend sees silken pyramid sachets of fragrant osmanthus, chamomile, and lavender tea, as charming and calming as taking a walk through the city's most captivating urban garden with your loved one. Zero artificial flavourings and pesticides!
Available at KEEPERS, National Design Centre, 111 Middle Rd, Singapore 188969 and Naiise outlets around Singapore.