Dumpling Lust: Where to Find Singapore's Best Xiao Long Baos, Wontons, Gyozas, and Potstickers
PUBLISHED October 24th, 2017 06:00 am | UPDATED December 21st, 2017 04:14 pm
Be it rustic-styled dumplings in a hawker centre or designer dim sum in a Cantonese restaurant, when it comes to these tasty pillows of goodness we call dumplings, we don't discriminate in Singapore. Steamed, fried, half-steamed-half-fried? We'll take them all. It's crazy to think that just a single person could ever eat enough of them to discover where the absolute best xiao long baos, guo tie, wontons, and shen jian bars are. But of course, we can surely try.
Xiao Long Baos

It's no surprise that these popular soup dumplings first originated from China (the Jiangnan region in particular), as does most of the items on our list. What most may not know is that it gets its name from the small bamboo baskets, xiao long, it is steamed in. A holy trinity of juicy meat filling – typically pork – flavourful broth and paper-thin skin, eat them by first biting a small hole at the top, drinking the soup, and then swallowing it whole with some sliced ginger and vinegar.
Din Tai Fung
This Taiwanese restaurant brand is in every corner of the world, and for good reason too. Largely popular among locals and visitors alike, the classic xiao long baos here are crazy good for its price of $11.30 for 10 pieces, boasting a consistent juicy minced pork filling and delicate skin with precisely 18 folds. Once you're done with the classics, make an order for the premium truffle rendition ($25/five) which features the finest sliced black truffles mixed into the filling.
See the list of Din Tai Fung outlets and their respective closing times here.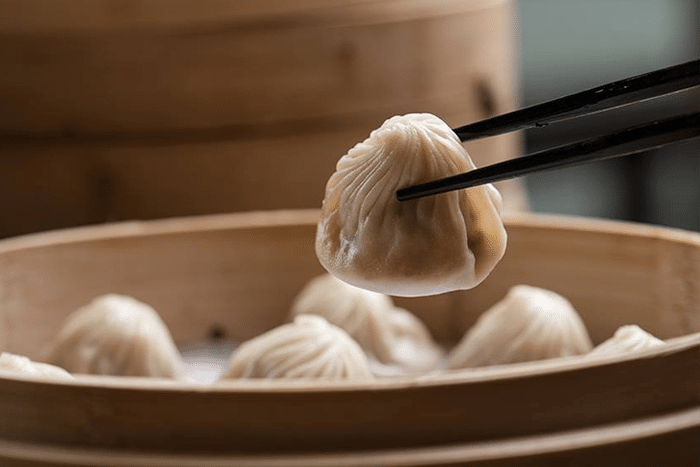 Shanghai La Mian Xiao Long Bao
Quality food can easily be found in the humble hawker centre, especially when we're talking Chinese cuisine. While the xiao long bao skin here is slightly thicker than usual, the rich pork filling is silky almost to the point of melting in your mouth, unleashing a mouthful of delicious soup broth. At $4.50 for seven pieces, it's a real steal.
Shanghai La Mian Xiao Long Bao is located at 120 Bukit Merah Lane 1, #01-56 Alexandra Village Food Centre, Singapore 150120. Open Tue-Sun 11.30am – 8.30pm. Closed Mon.
Imperial Treasure La Mian Xiao Long Bao
In Singapore, Imperial Treasure is often what comes to mind when one thinks fine Chinese cuisine. This particular outlet in Resorts World Sentosa specialises in la mian (pulled noodles), as well as the glorious Shanghai-style soup dumplings available at $7.60 for six pieces. Crafted by certified master chefs, expect silky hand-rolled skins, fresh ground pork filling, and an especially thick flavoursome broth.
Imperial Treasure La Mian Xiao Long Bao is located at Resorts World Sentosa, #B1-202 The Forum, Singapore 098269, p. +65 6686 2922. Open Mon-Fri 11am – 9.45pm, Sat-Sun 10.30am – 9.45pm.
Wontons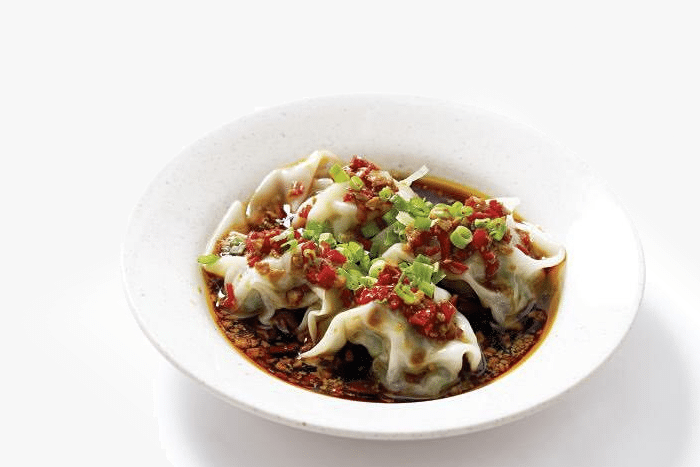 Wontons are small folded or rolled dumplings typically filled with ground pork, finely chopped green onions, spices, and occasionally shrimp. Each region of China has its own variation of the dish, from Beijing and Sichuan to Guangdong and Fujian; though it almost always served steamed and as a side dish or in soup.
Swee Choon
Ask any Singaporean foodie and they'd tell you to head to this late-night Jalan Besar eatery for some of the city's best dim sum, including the signature Sichuan Chilli Oil Wantons ($4) that will surely give your tongue a spicy welcome and a tangy kick. Made in the traditional chao shou (crossed hands) method, bite through the semi-pentagonal shell into a generous morsel of minced pork filling.
Swee Choon is located at 191 Jalan Besar, Singapore 208882, p. +65 6225 7788. Mon, Wed-Sat 11am – 2.30pm, 6pm – 6am. Sun 10am – 3pm, 6pm – 6am. Closed Tue.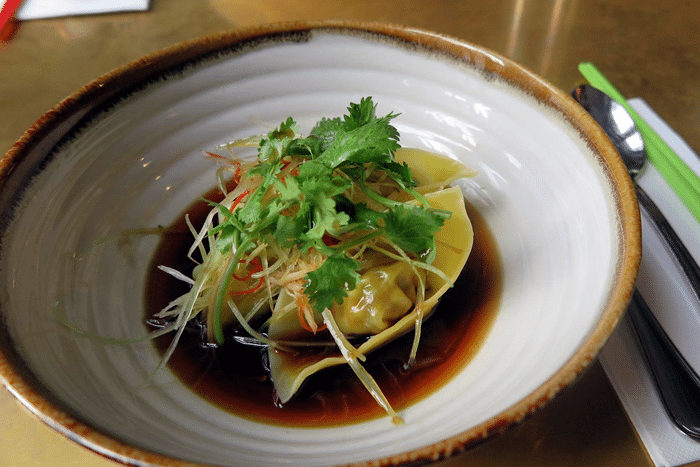 Ding Dong
Granted, this may not be your ordinary wonton, but the Asian-inspired fusion restaurant Ding Dong sure makes an awesome interpretation of the Chinese dumpling. Think Roasted Duck Dumplings ($18) stuffed with shiitake mushrooms, steeped in a fragrant clear duck consommé that brims with comforting flavour. Eat with caution – it's incredibly addictive.
Ding Dong is located at 115 Amoy St, Singapore 069935, p. +65 6557 0189. Open Mon-Sat 12pm-3pm, 6pm-12am. Closed Sun.
Potstickers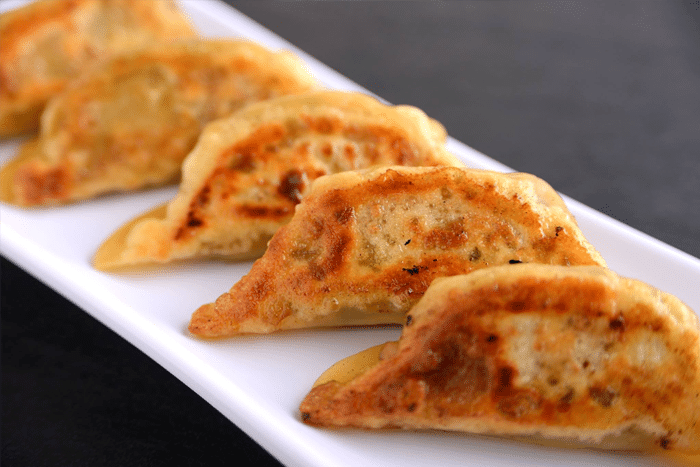 Here comes the fried stuff! Potstickers, or guo tie, refer to meat or vegetable dumplings that are first lightly fried, steamed to preserve their juiciness, and then fried again to make the bottom side brown and crispy. The wrappers are fairly thick compared to the previous two dumpling types, while the insides are still soft and fantastically succulent.
Fun fact: the name potsticker originated from an old story where a chef, who intended to boil dumplings in a pot, accidentally let the water boil off, leaving them stuck to the pot and crisped up.
Hong Hu Express
This cosy cafe at Far East Plaza sells all sorts of Chinese cuisine and is particularly famous for a particular speciality: guo tie densely with generous portions of meat and pan-fried to a beautiful golden brown with a resounding crisp. Get a plate of nine sizeable pieces for $6, which is an excellent value for money. And trust us, you'll want to keep coming back for more.
Hong Hu Express is located at 14 Scotts Rd, Far East Plaza, Singapore 228213, p. +65 6732 5089. Open daily 10am – 10pm.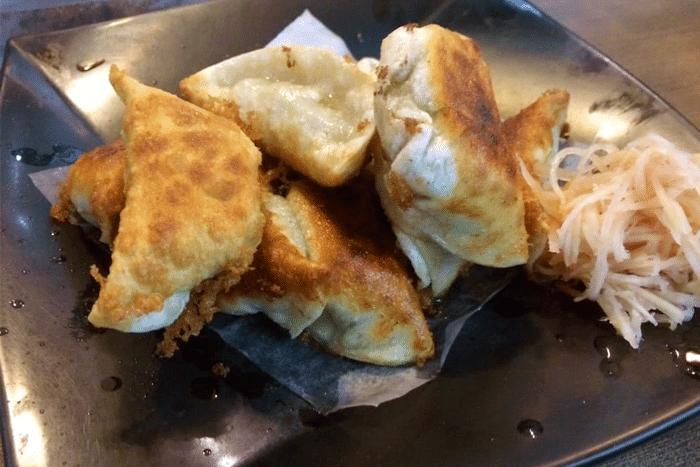 Keisuke Gyoza King
Technically, gyozas are simply the Japanese equivalent of guo tie, seeing as their soldiers were exposed to the dish during World War II in Manchuria. There are tons of beautifully-seasoned dumplings to choose from here, including those with pork, prawn, and vegetable fillings starting from $5 for eight pieces. Our top pick goes to the delectable Keisuke Gyoza, a prawn and chicken variant with crab ramen broth!
Keisuke Gyoza King is located at 1 Tras Link, #01-15, Orchid Hotel, Singapore 078867, p. +65 6604 6674. Open 11.30am – 2.30pm, 6pm – 10.30pm.

Sheng Jian Baos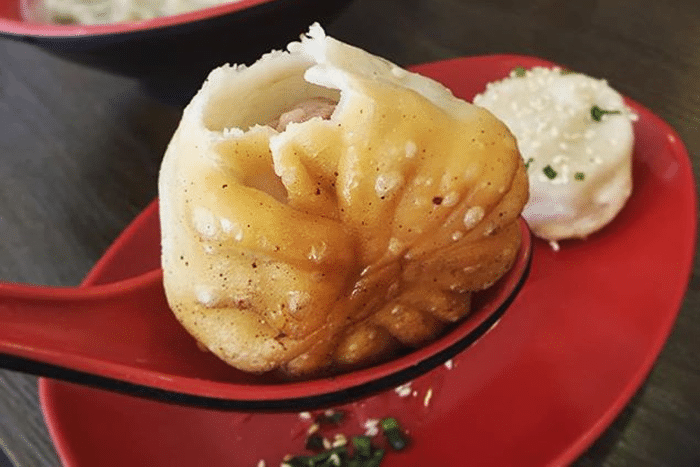 If you like xiao long bao, chances are you'll also fall in love with its larger Shanghainese cousin, the sheng jian bao. They're similar enough – it's just that the latter is made with semi-leavened dough thick enough to be fried on the bottom, and contains about three times the amount of meat and delicious broth that's fresh from the pan and quite potentially explosive. Plus, you can carry these babies around and still eat them after an hour, an otherwise impossible dream for XLBs.
Xiang Yuan Ji
Expertly fried on a giant custom griddle large enough to hold more than 50 buns at once, these hot babies ($5 for three pieces) are full of savoury soup (made from fatty pork collagen!) and impressively tender pork chop filling. Soft and fluffy at the side, crispy on the bottom, this is pretty much what you'll find around any corner in Shanghai – that's where the chef is from, after all.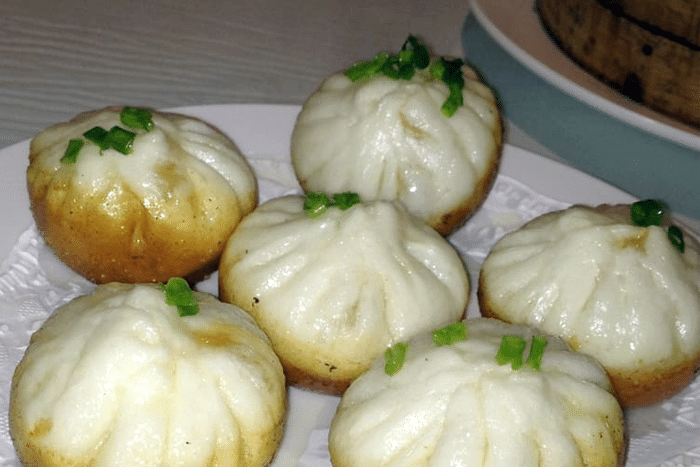 Xiang Yuan Ji is located at 405 Jalan Besar Rd, Singapore 209011. Open daily 10am – 11.30pm.
Shanghai Ren Jia
Shanghai Ren Jia's sheng jian baos are perfectly plump, fluffy on top and respectably crunchy at the bottom thanks to a layer of nut-like seeds. At $8.40 for six pieces, just one serving is bound to satisfy your dumpling cravings, what with the copious amounts of sweet soup and tasty meat fillings. They're certainly one of the best in Singapore.
Shanghai Ren Jia is located at 151 Ang Mo Kio Avenue 5, #01-3046, Singapore 560151, p. +65 6368 6927. Open Tue-Sun 11am – 3pm, 6pm – 10pm.