Eye Candy: We Chat With Cally Cheung, The Woman Bringing Singapore's LGBTQ+ Community Together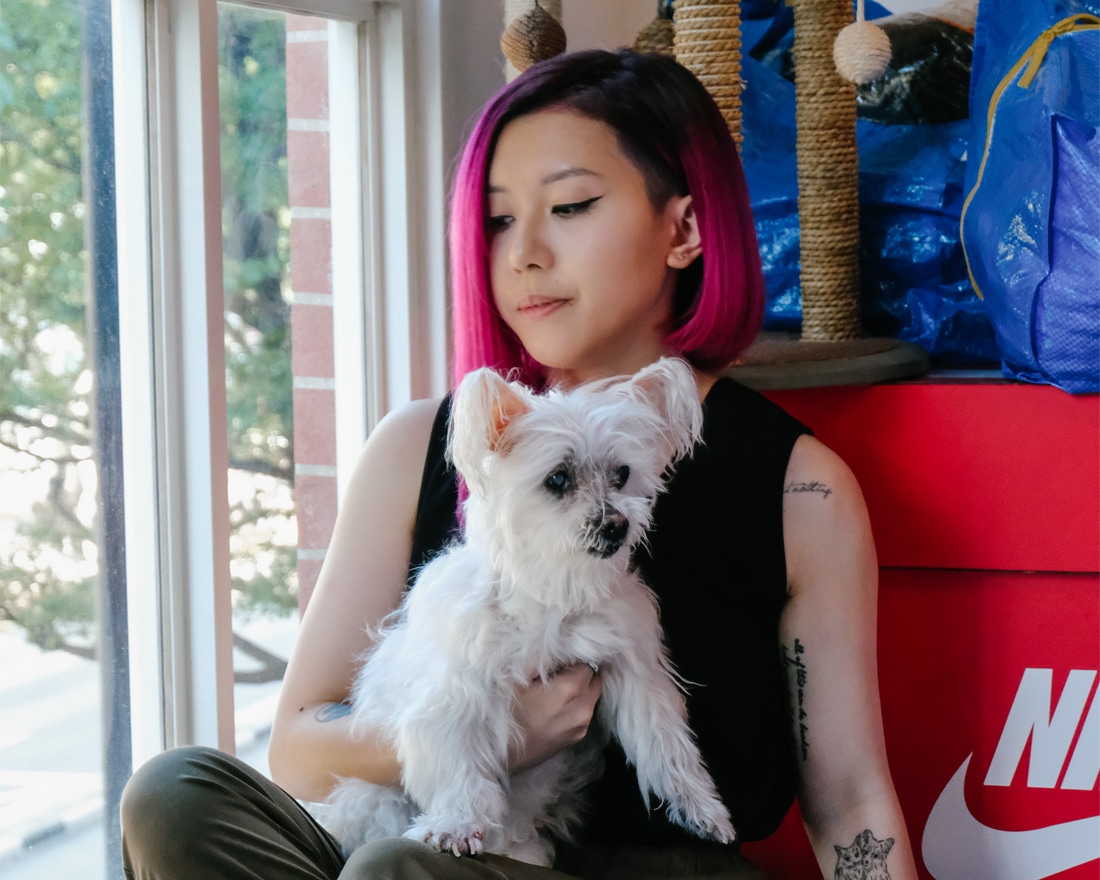 PUBLISHED February 15th, 2019 06:00 am
Whether you've been to Pink Dot or are a spectator regarding the recent debate on repealing Section 377A, discussions on LGBTQ+ rights and issues have started gaining real traction in Singapore. Social networking app Prout's humble beginning was borne out of a need to provide a safe networking and social platform for the LGBTQ+ to make friends and build communities. In this edition of Eye Candy, we sit down with Cally Cheung, co-founder of Prout (and Telegram news channel Qurrent) about her experiences and thoughts on the issues that the community faces in today's society.
Hi Cally, how did your coming out story go?
If I explicitly came out to my traditional Hong Kong parents, it'll be the start of a new TVB drama series spanning three seasons. I prefer to approach it as an ongoing awareness campaign to not only get them educated about LGBTQ+ issues, but also habituated to the community.
My coming out to myself story is more fun because it started when I was in primary school, an all-girl convent institution. During the first week of class, I saw an attractive classmate and thought to myself, "Wow, I'll like to be her." After three days, it revised to be, "Wow, I'll like to be with her." I've been committed to women ever since.
What made you want to come up with Prout?
While each segment of the LGBTQ+ community has a different experience, the desire to connect in an authentic fashion remains concordant. Personally, I rely on dating apps to meet other lesbians, and sometimes you make a new friend (or more likely you meet your friends' exes because it is a very small circle), but the environment is still highly sexualised, toxic, and unpredictable. Queer people deserve platonic friendships too, and we deserve a safe, online space to create these meaningful relationships.
Before Prout, we currently have Qurrent, the first Asian LGBTQ+ news and events Telegram channel. By curating and sending out consistent biweekly newsletters, it gives people more opportunities to socialise beyond the typical parties or cloistered groups.
What are the next big steps for the app, and what kind of obstacles or negative feedback have you faced so far?
We closed our fundraiser back in December, so the real fun begins now. Between research, development, as well as user testing and feedback, we have our work cut out for us. Funding's definitely a huge obstacle because of the app's controversial nature. We're unable to apply for any governmental grants or approach any mainstream organisations for support, so we're thankful for the contributions from our users and private donors.
During the earlier stages, we do get questions about what exactly is Prout. Are we an event directory? Dating platform? Resource portal? When you want to do everything, you generally end up achieving nothing. We took a step back to redefine our product with guidance from the community, and we're still experimenting, failing, and learning.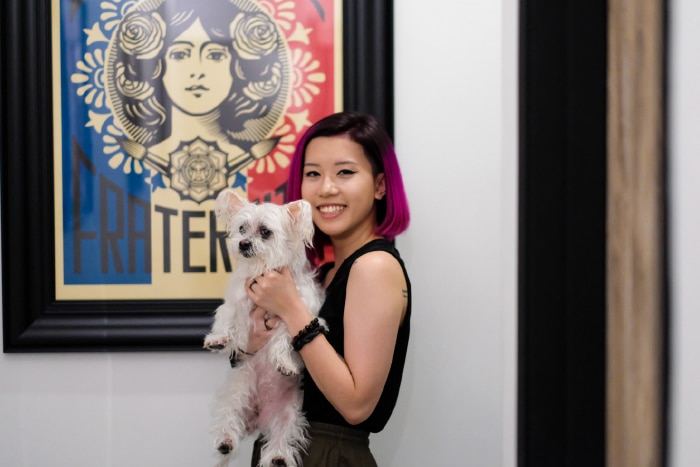 How do you deal with that?
If I'm being professional, I call for a team meeting and we hash it out over Skype. If personally, I eat some death-inducing mala xiang guo to remind myself that there will always be worse shit in the world waiting for me.
Apart from a lack of social spaces for the LGBTQ+ online, what sort of physical spaces do you hope to see in Singapore in the future?
LGBTQ+ people are just like everyone else, so there's really no need to carve out new spaces for us, only to change the current perception of how we utilise and subsequently embody these spaces.
Though as a shameless bibliophile, I will love to see more second-hand bookstores-cafés, or even niche, independent subscription libraries operated by book lovers. Also, more shelters for mongrels (Singapore Specials) because every non-pure/hybrid/identity-in-flux fighter deserves a place to belong.
What kind of projects are you looking to work on next? Say, if you had unlimited funding?
A series of meaningful events to draw the LGBTQ+ folks out of their nests, especially in Singapore. Particularly in cosmopolitan cities, the media might portray us as loud, fabulous with kaleidoscopic unicorns, but we're also closeted, lonely, and marginalised. As I get older, mental wellbeing and mindfulness are two concepts that become increasingly crucial.
I'd also like to organise some workshops for the older generation to be more acquainted with the LGBTQ+ community, such as engaging in civil dialogues. I believe that their prejudice is fungible, and we can work to change their perception by increasing their awareness with real stories and kickass people. Harm reduction is another initiative that I want to do more with, because it is almost a human right issue to not give people a choice to choose an alternative to cancer and or death. Our country has the "smoke-free" mantra right, but the approach (where smoke-free equates to nicotine-free) is ill-founded and ridiculous.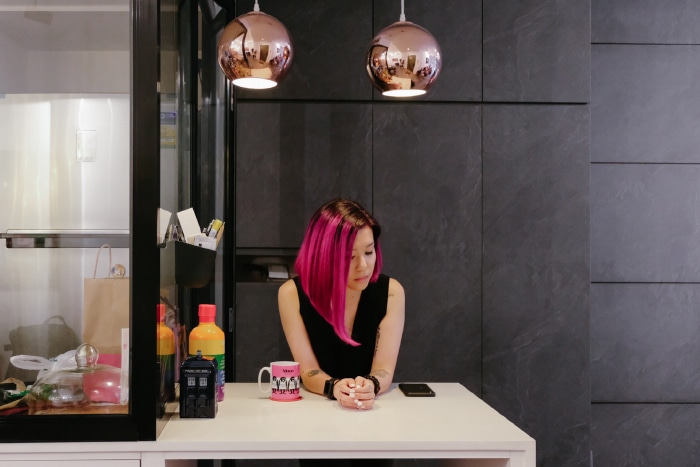 Any words of wisdom for the LGBTQ+ community in Singapore?
Have faith that there will be progress for our LGBTQ community in Singapore. It may take a while, but we'll get there eventually. There will always be setbacks, but the fight will go on.
What advice do you have for those who want to make change, but are not supported by their family members?
You can create your own family the same way you create change. Friends are family members you choose.
Finally, where do you get your hair done? It's fabulous.
Hahaha, thank you! I started out as a hair model with my friend, Raymond (@raymondyeowj), an award-winning hair colour technician. My most recent cut and colour is with Libby at Vetica Salon, an LGBTQ+ identified and friendly salon. Usually, when I tell those who compliment my hair that they can also rock the same colours, I get a shudder or grimace in response. But at the end of the day, it's just hair – if it turns out unsightly, snip it off or eat some mala xiang guo.