Eye Candy: We Chat With Qi Tian, Founder of DUANMU, About Chinese Aesthetics and the Luxury Industry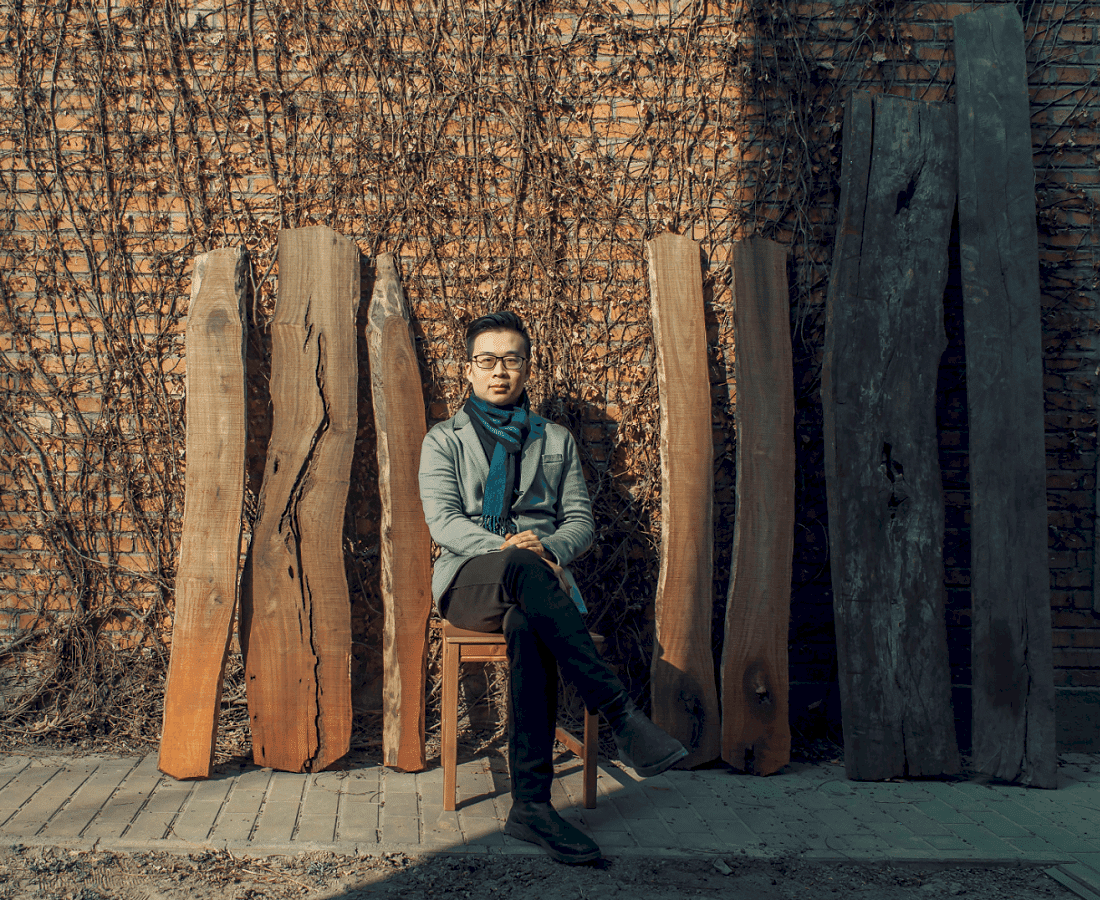 PUBLISHED March 19th, 2021 05:00 am | UPDATED March 25th, 2021 10:22 am
Bag person or not, you can't help but gasp when you see Qi Tian's (祁天) exquisite, woodcrafted handbags. An architect by training and a designer by passion, his Chinese luxury label, DUANMU, is celebrated for its bags showcasing the rich heritage and craft of Chinese aesthetics. Inspired by mythology from the Tang and Song dynasties, he painstakingly builds up dreamy scenes and patterns with Tang Dynasty-style wood inlaying techniques – up to thousands of wooden parts can go into the making of just one bag. We chat with him about traditional craftsmanship and the booming Chinese luxury industry today.
Hi Qi Tian! We understand you first trained as an architect. What made you decide to move to fashion design, and how has this influenced your work?
After graduating in architecture in the U.S. back in 2010, I knew that I didn't want to work as an architect. I didn't think a stable 9-to-5 job was suitable for me, and at that time, I saw construction as a sunset industry. It felt like being an architect wouldn't give me the sense of accomplishment I was seeking, and I wanted to do something I really liked.
As a kid, I was obsessed with antiques. When we began DUANMU, we first set out to design and produce collectible-grade wooden cabinets that were tailored to house antique artworks and all sorts of rare collectibles. Five years on, I wanted to step out of this niche field, and create something that could appeal to a broader audience.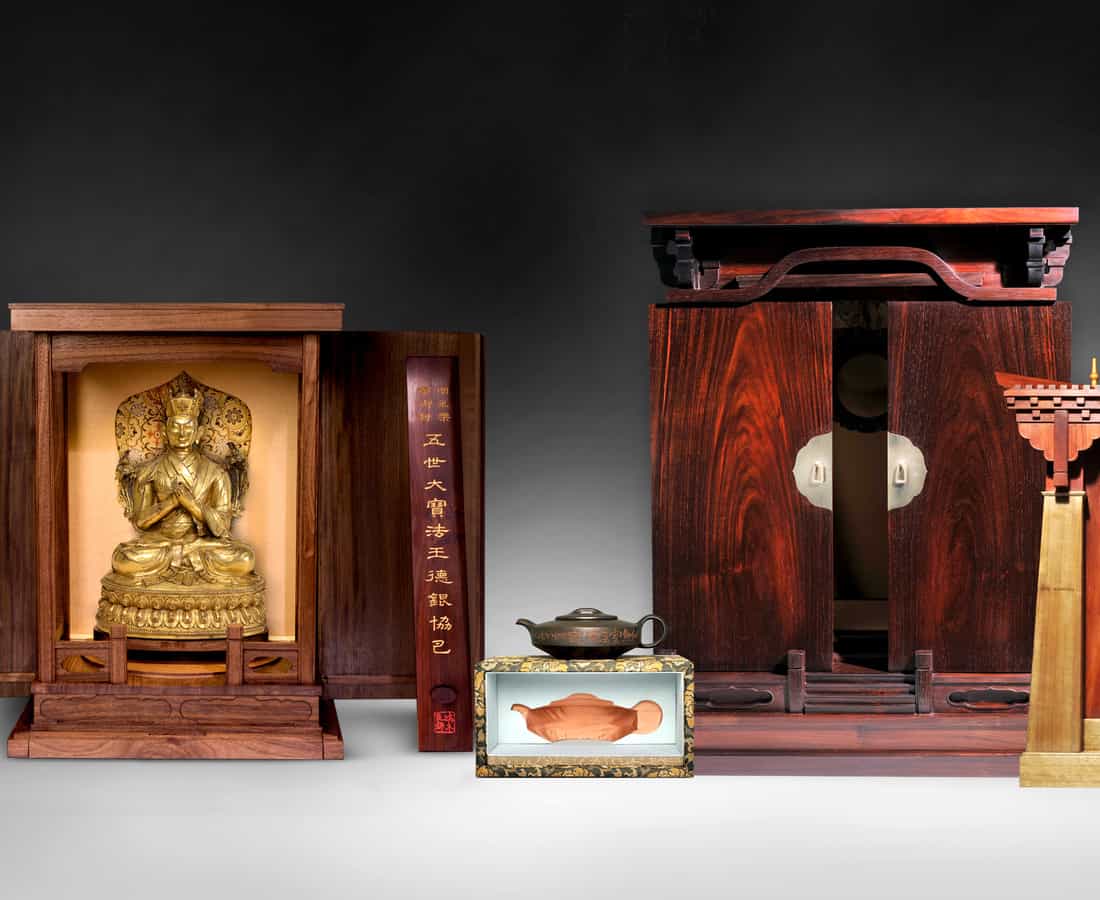 I turned to the fashion world. In Chinese, the inspiration came from simply removing the word "装" from "包装" ('Bao' meaning bag and 'Zhuang' meaning packaging), which led me to begin the process of designing bags. With seven years of architecture under my belt, the way I thought about constructing bags differed from the inherent thinking of those trained in fashion design. This is what makes our bags stand out – for example, our bag openings are created through a veneering method that originated in the Tang Dynasty to make musical instruments.
We're also deeply influenced by ancient Chinese architectural ideas, such as mortise and tenon construction, wall column systems, and the rituals of space – all of which are noticeable the first time someone sees and touches a piece from our collection.
We love that your bags pay homage to the traditional craftsmanship of China's Tang Dynasty. They're pieces of art in themselves! What is it about craftsmanship during the Tang Dynasty that inspires you?
The Tang Dynasty is considered China's renaissance period. It was a time when free-thinking was embraced, and many consider it the peak of Chinese civilization – it was a poetic time for China.
At the time I was transforming the brand from designing cabinets to bags, I saw a picture online of a Chinese wooden red sandalwood Pipa from the Tang Dynasty that was part of the cultural relics of Shokurain. It was housed in Nara, Japan. I was immediately attracted to the motif which, I later learned, resembled the patterns of Louis Vuitton's monogram. These exquisite designs and craftsmanship were founded during the Chinese Tang Dynasty. To create these motifs, wood, animal horn, and other materials were used.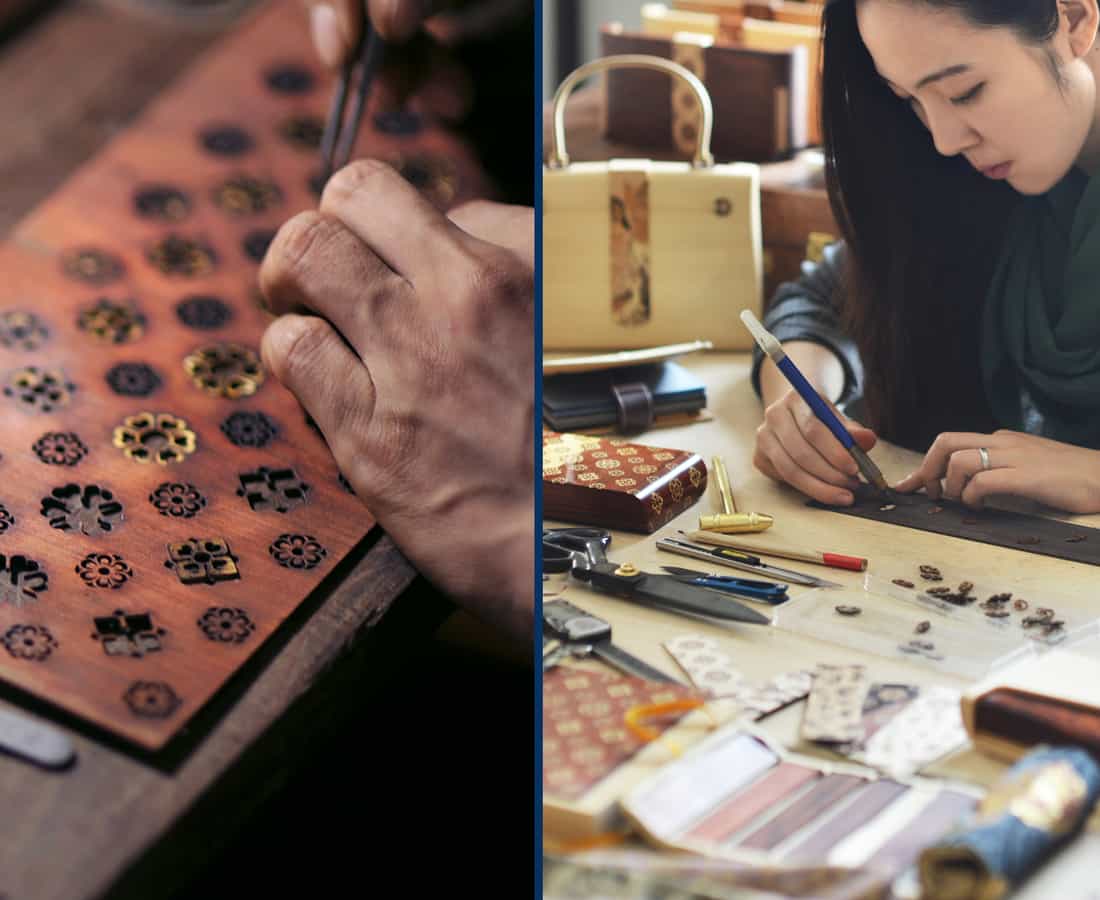 These wood inlays are core to our brand's signature designs. Wood inlay is an intricate process requiring incredible skill: a variety of wood is first sliced into thin layers and then cut into mosaic patterns, to be embedded into the carved wooden base that forms the bag. These mosaic pieces are then polished to ensure that the surface is smooth and flat, giving it the name 'flat inlay'.
Today, while we've stayed true to the ancient technique of wood inlay, we have also perfected how we produce the bags, to ensure we can accommodate differing shapes and types of wood with varying densities, hardness, and sensitivity to climate change.
The patterns and motifs on the bags also draw inspiration rooted in the pre-Song dynasties of China. What is one of your favorite patterns from your collection, and why?
Our collections house a variety of motifs based on traditional Chinese culture, some deriving from ancient practical utensils, some from ancient bricks and stones, and others from Dunhuang murals. We seek to deeply understand each pattern we create, paying respect to its history and tradition, while re-interpreting them to give them new meaning today.
My favorite pattern at the moment is in our latest 'Luo Shen Fu' (洛神赋) piece. It is inspired by the famous Chinese story of 'Luo Shen Fu', which depicts the beauty of the stunning Goddess of the Luo River when she meets Cao Zhi (a prince and poet of the late Han Dynasty).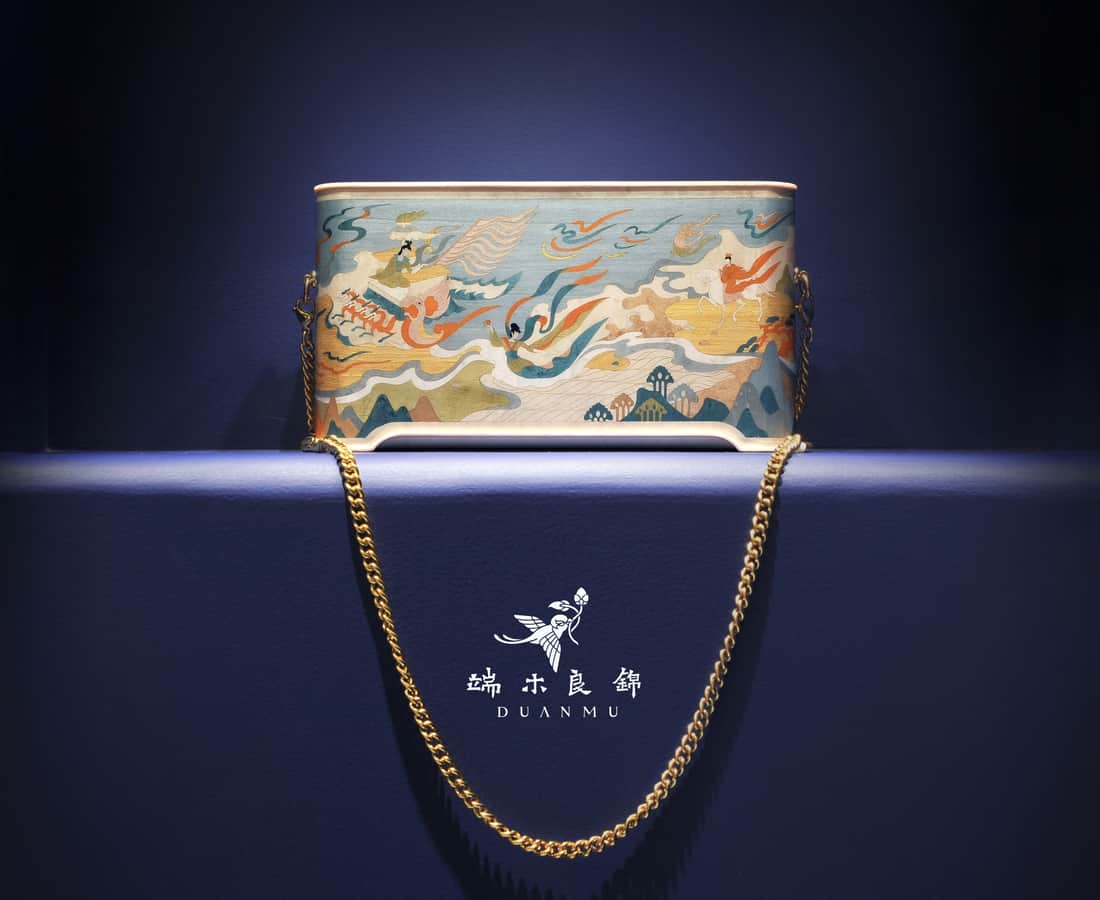 To bring the scene of 'light clouds cover the moon, the wind returns to the snow' ("轻云蔽月、流风回雪") to life, I consulted a number of ancient books, collecting a variety of artistic materials from ancient China, including paintings of the Eastern Jin Dynasty, stone carvings of the Northern Wei Dynasty, brick statues of the Southern Dynasties, and Dunhuang frescoes. The scene's details were incredibly difficult to create: we embedded thousands of wooden parts as small as 0.1mm in layers to achieve the final piece.
What made you decide to start a brand with roots in the rich heritage of Chinese culture?
My own love for Chinese traditional culture – particularly Chinese calligraphy, paintings, and rubbings – was one of the main reasons for doing so. It is also this love that has helped me overcome the challenges that come with choosing to be an entrepreneur. I hope that DUANMU will eventually become a brand that's known for having its aesthetics deeply rooted into Chinese culture.
You've just opened your first store in Shanghai. What are your aspirations for DUANMU, and might there be plans to expand internationally?
Opening our first store in Shanghai earlier this year at well-known luxury mall Grand Gateway 66 is a milestone for us – given that it is our fourth store, and the first outside Beijing. We're also the only Chinese brand on the first floor of the mall, where luxury brands gather!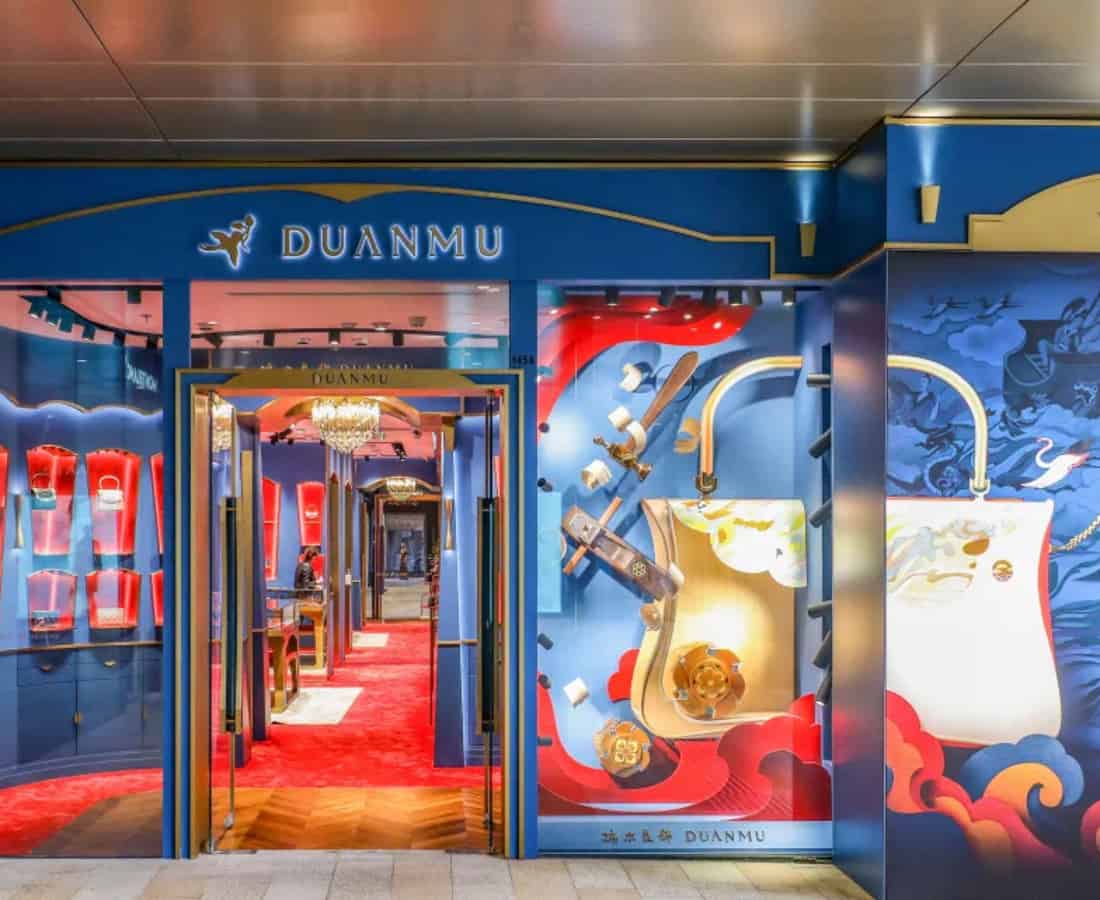 We hope that we'll be able to grow into China's own luxury brand that has a unique place in the luxury market occupied by Western brands. We'd like to continue growing within China, expanding into cities like Shenzhen, Chengdu, Nanjing, Hangzhou, and Hong Kong. If there are opportunities in the future, we certainly hope we can go abroad, so that more foreign friends can feel the 'luxury' from China.
Switching gears to the design industry in general, how would you describe the current local design scene in Shanghai and Beijing? Are there any designers you think are doing great work?
China's design industry is booming. As more Chinese students go to well-known design colleges abroad for further studies, they have the opportunity to integrate Eastern and Western design-thinking. We're also seeing more and more Chinese designers and brands emerging in malls.
Chinese consumers today are on the lookout for high-quality local brands. I think that Chinese consumers have gone through the era of blind pursuit of foreign brands, and now pay more attention to the design, quality, brand story, and value orientation behind them. They're also willing to pay for a brand that resonates with them.
I like the work of UMA Wang, a fashion designer from Shanghai. She has a unique view on her choice of materials, organically combining the spirit of ingenuity and commercialization, while finding a good balance between the East and the West.
Lastly, as the world turns their attention to China's growing luxury industry, what do you hope Chinese designers like yourself will be able to share with the world about China's creativity and design scene?
Today, China is the largest luxury market in the world. Yet, there is no known brand that has originated from China. When it comes to exploring Chinese aesthetics, many Western brands still approach it from a surface level, embellishing symbolic elements of dragons and phoenixes, when in fact there is so much more to be explored about Chinese society.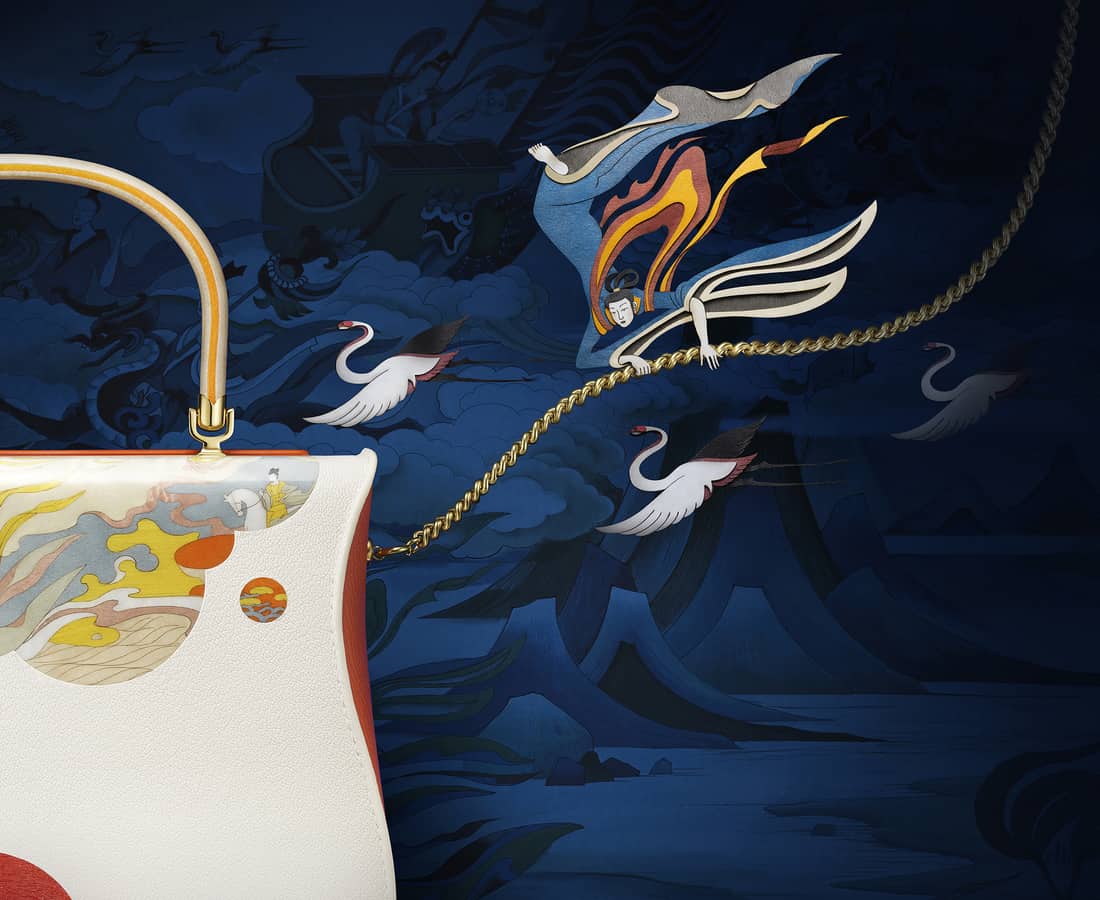 It's important to know that for almost half a century, much of Chinese luxury aesthetics centered around court culture and the elite class. This makes it hard to find a common language with young people today, given that palace culture is full of privilege and hierarchy.
At DUANMU, we try to remove this barrier by excavating the cultural themes of the Tang dynasty and before, incorporating fairy tales and mythology that occupy an imaginative space such as Shanhaijing (山海经 ) and the mentioned 'Luoshenfu' story. By doing so, we hope to help extend the narrative of Chinese culture, in a way that can appeal to younger audiences and the Western world.
Keep up with DUANMU via their website, e-store, and Instagram.