Hong Kong Island – Essential Travel Guide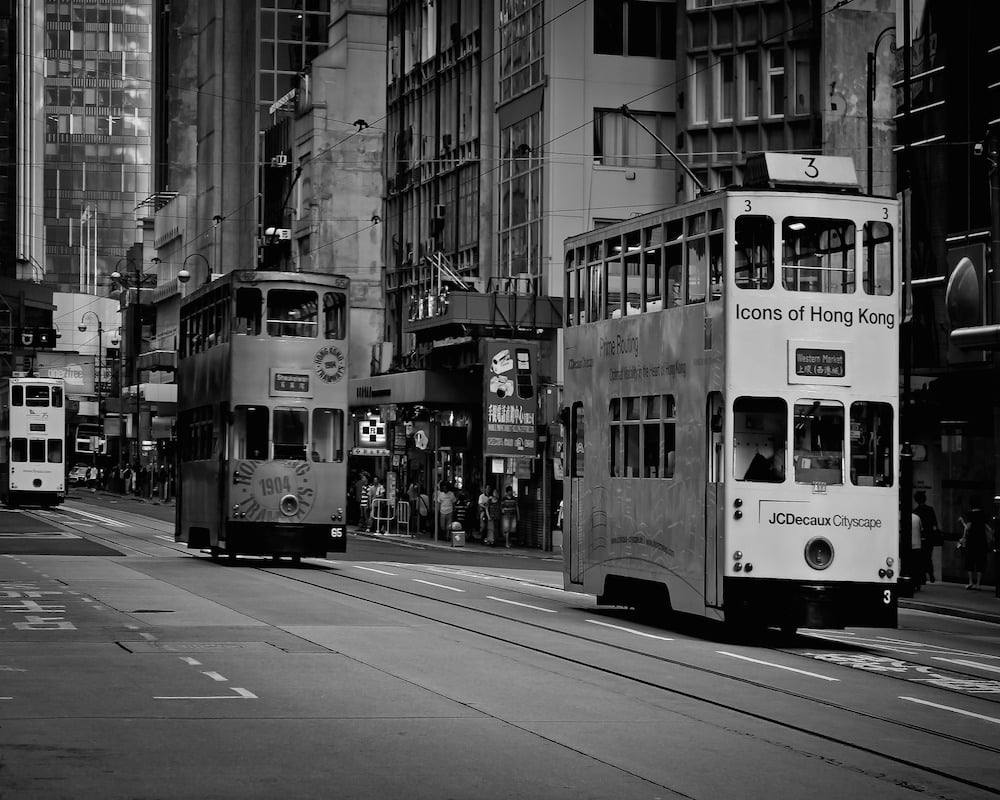 PUBLISHED September 20th, 2016 09:35 pm
Hong Kong has a reputation of being one of the world's most energetic and vibrant cities. Under British colonization since 1899, it has become a bridge between Western and Chinese cultures, thus paving the way for it to be home to the most unique third culture experiences you can find in Asia.
Before we get right into the nitty gritty of Hong Kong Island, there are a couple of things you need to know and brace yourself for…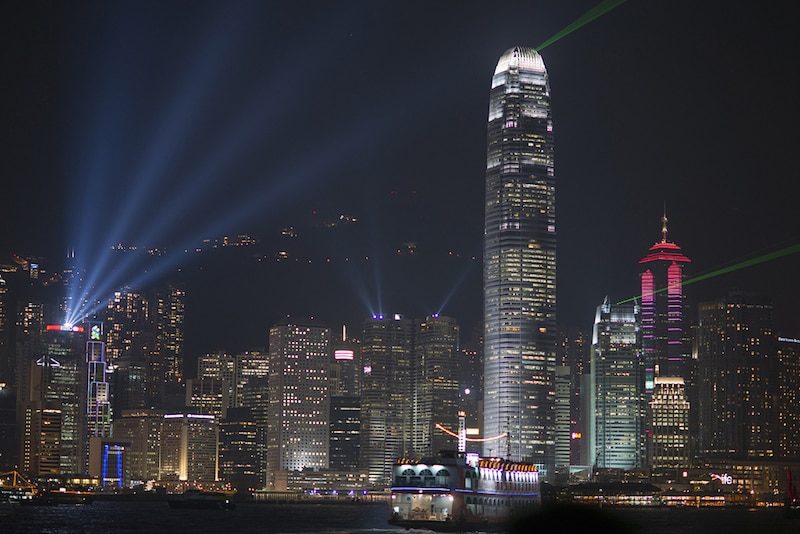 Don't expect personal space. You will be sharing your space with nearly 7.5 million other people, and it's going to get a little cramped. In the streets people would brush past you (sometimes roughly), stop suddenly, walk in all sorts of directions, and push their way through with various carts and trolleys at all hours of the day. Don't wait for apologies or polite hand gestures, it's better to embrace the vibrancy and energy instead.
Short and curt. In Hong Kong it's all business, no matter where you are and what you are doing. Tell them what you want, and be quick about it. Expect this everywhere, including restaurants (especially at cha chaan tengs). The phrase 'time is money' has never been truer than in Hong Kong.
Weather and Climate
Hong Kong has a humid, subtropical climate that's influenced by the monsoons. Typhoon season begins in May and ends in November.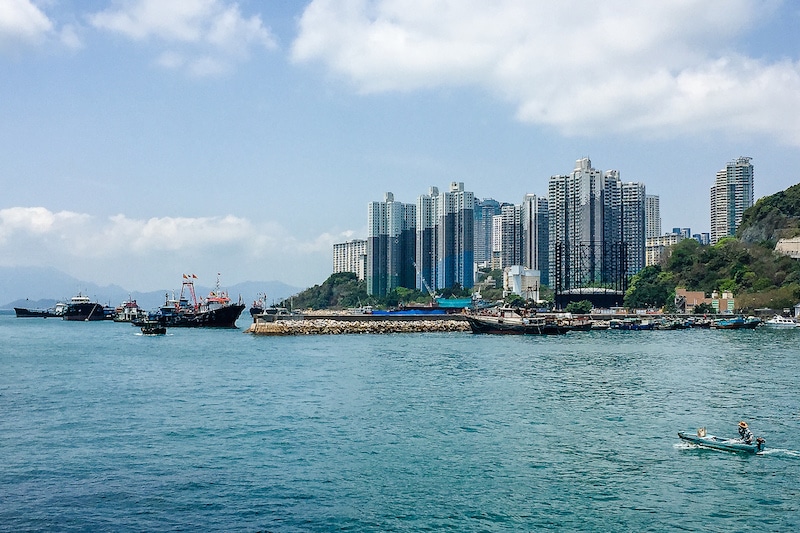 Mid-December to February – Winter. Dry and cool, temperatures within the range of 10-20ºC.
March to May – Spring. Cool evenings, temperatures range 17-26ºC.
June to September – Summer. Hot, sunny, and humid; temperatures range 26-35ºC.
October to early December – Autumn. Best time to visit Hong Kong with sunny, dry weather, and pleasant breezes.
Getting There and Away
Air. Hong Kong International Airport is the main point of entry for all major airlines. The airport, like most modern metropolitan airports, is easy to navigate. The immigration lines are NOT very efficient and you should keep this in mind if you have time sensitive transfers.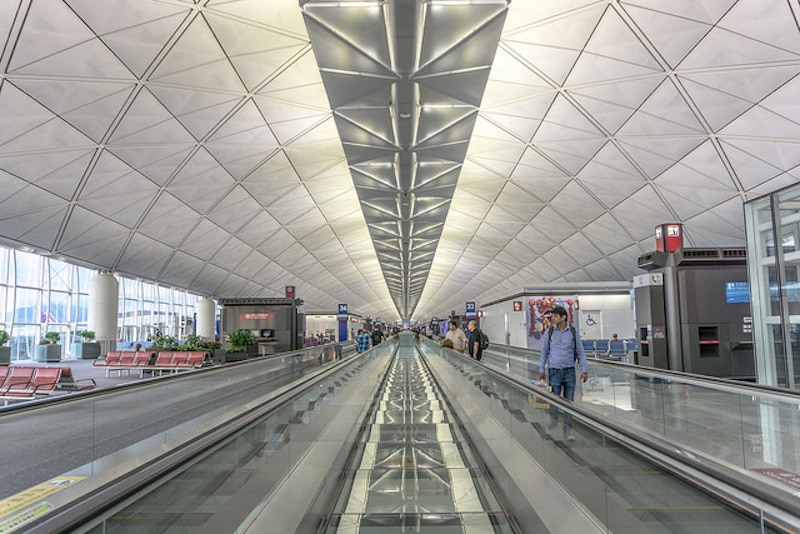 Ferry. Hong Kong, being a major seaport city, means you can get to Macau and various parts of China via ferry. The TurboJet, which transports you between Macau and Hong Kong in 55 minutes, is the fastest but prices do vary whether you are coming to or from Hong Kong, and what day of the week it is. The Chu Kong Passenger Transport (CKS) also provides ferries from other areas in China, such as the Pearl River Delta cities of Shenzhen, Zhuhai and cities in the Guangdong province. Again, the prices do vary depending on which city and which day of the week it is.
There are four major ferry ports in Hong Kong, which are all located near an MTR station (Hong Kong's subway system) and they are in Central (closest station Sheung Wan MTR), Wan Chai (closest MTR Wan Chai), Tsim Sha Tsui (closest MTR is Tsim Sha Tsui), and Lantau island/Hong Kong International Airport.
Getting To and From the Airport
Getting to and from Hong Kong International Airport is quite easy and there are a few options.
Octopus Card. Before you even start planning your journey from the airport, get yourself an Octopus card. The Octopus card is your best friend if you plan to take full advantage of the public transportation system in Hong Kong. At the airport you can purchase a card at the MTR customer service center. Each card would require a HK$50 deposit, and an addition HK$100 is enough for your first trip. You can top up at various MTR stations and 7/11 convenince stores all over the city. Hong Kongers also use the card various retail and food and beverage stores, so it's a really efficient and convenient card to have.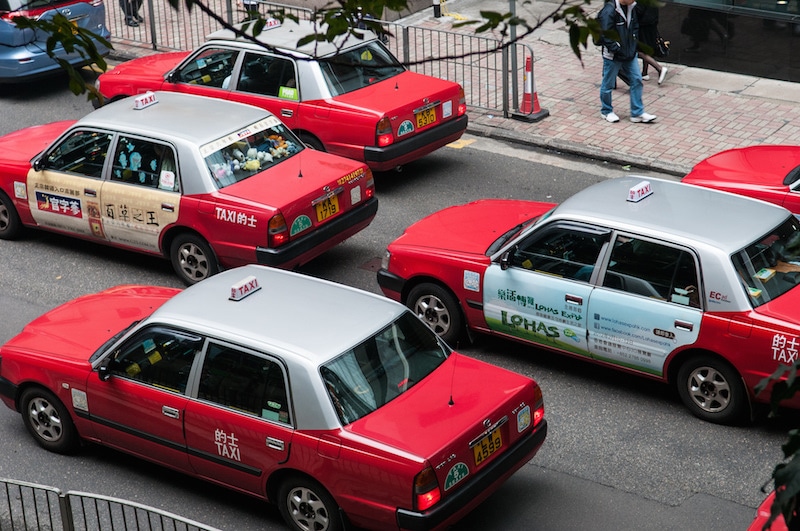 Taxi. There are plenty of taxis at the airport and they would be able to get you to most places around Hong Kong. We recommend having your destination written in Chinese and ready to show it to the driver (saving a whole lot of miscommunication and heartache). Expect to pay around HK$300 to $400 to and from the airport (including tolls), and don't be surprised if the driver charges you an extra of HK$5 per luggage/bulky item (though loading and unloading the luggage depends on the driver). Uber is also available in Hong Kong, and is slightly cheaper.
Airport Express. Hong Kong's Airport Express is a cost efficient way to get from the airport to all the major parts of Hong Kong (Kowloon and Hong Kong Island). Once you're out of the arrival hall, the Airport Express at the same level opposite the airport lobby. With your Octopus card (loaded with at least HK$100) you can just swipe and board. Tip: you can also check in to most major airlines at Hong Kong Station and the luggage will be transported to the airport for you.
From Hong Kong station you can opt for many different modes of transport to get you to where you need to go and they are all listed below:
Shuttle Buses. If you take the Airport Express to Hong Kong Station, there are complimentary shuttle buses to various parts of Hong Kong. You can see the routes and schedules here.
MTR. The MTR is Hong Kong's train service system (including the Airport Express). From Hong Kong Station, you can easily transfer to Central MTR to access MTR stations across Hong Kong. View the MTR map here.
Getting Around Hong Kong
With your Octopus card in hand, you can easily travel around Hong Kong.
MTR. The MTR is the best way to get around in Hong Kong if you want to do it quickly. Peak hour is incredibly hectic (and somewhat claustrophobic). The locals are also pretty regimented when it comes to standing to one side of the escalators, so keep right and give way.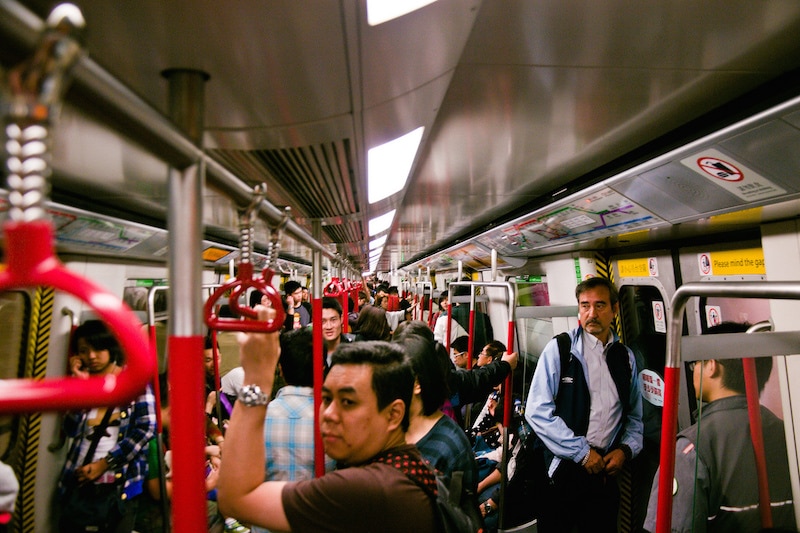 Tram. The tram system is a fantastic way to enjoy a little bit of Hong Kong heritage and see the city at ground level. The tram system runs from east to west of Hong Kong island and is pretty easy to understand. Keep in mind that you pay for your trip upon alighting from the tram and you pay where the driver is, at the front of the tram. So if you're near your stop make sure you ready and make your way to the front early.
Buses. You would need the bus to get to the beaches of Hong Kong Island, in the south (Stanley or Repulse Bay). Citybus – the major bus system in Hong Kong – has a route planner and can be accessed here.
Taxi. Taxis are readily available and Uber is also commonly used in Hong Kong. If you were travelling to or from Kowloon, the drivers would take one of the three tunnels, try and avoid the Western Harbour Tunnel as it's the most expensive, but also the fastest. The Cross Harbour Tunnel is the most popular and the cheapest. Again, have your destination written in Chinese to avoid miscommunication.
Star Ferry. While tunnels now connect both sides of the harbor, millions of people – both locals and tourists alike – still use the Star Ferry for Hong Kong-Kowloon crossings. Fares start from HK$2.50 per adult, with a 6-8 minute frequency during peak hours.
Where to Stay on Hong Kong Island
Budget Hotels – HK$300 (US$40) or less per night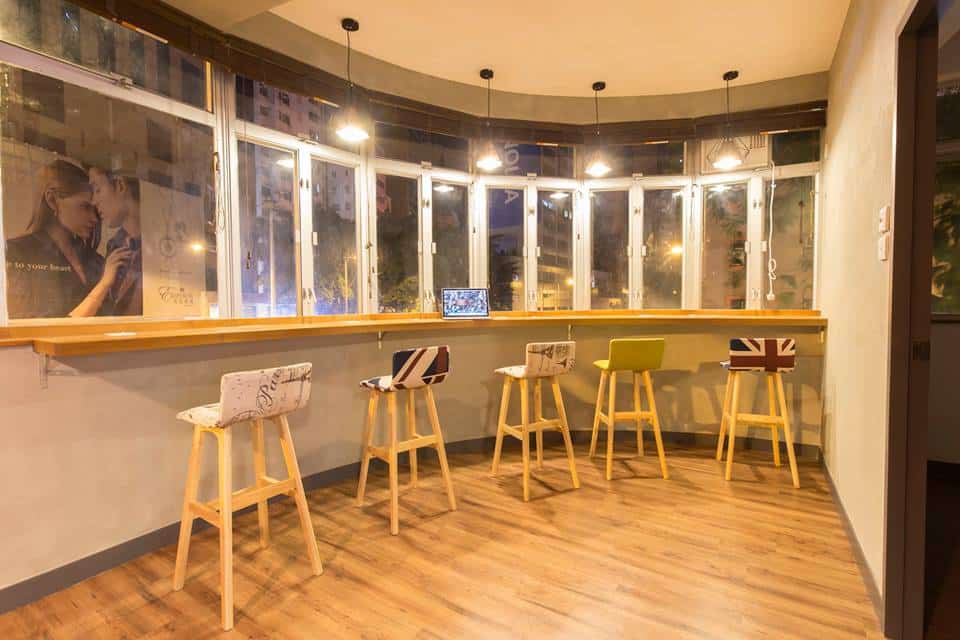 Comfort Hostel (from HK$125 per night) – Located in the heart of Causeway Bay, the shopping district is right on your doorstep. A good value for money option if you're on a tight budget. Do book early as it's one of the more popular hostels in town.
Check Inn HK (from HK$195 per night) – Check Inn might not be next to an MTR station, but it is on one of Hong Kong's main strips, Hennessy Road. Situated between Wan Chai and Causeway Bay, local cha chaan tengs, shopping, and the tram are all easily accessible. Rooms are clean, with basic amenities for a budget traveller.
Homy Inn (from HK$172 per night) – A little way out in North Point, which is a few stops away via MTR from the more lively districts of Hong Kong. Modern and well-maintained, Quarry Bay MTR is also just one stop away for those looking to enjoy a more serene, scenic part of Hong Kong at Quarry Bay Park.
Mid-Range Hotels – HK$800 (US$103) or less per night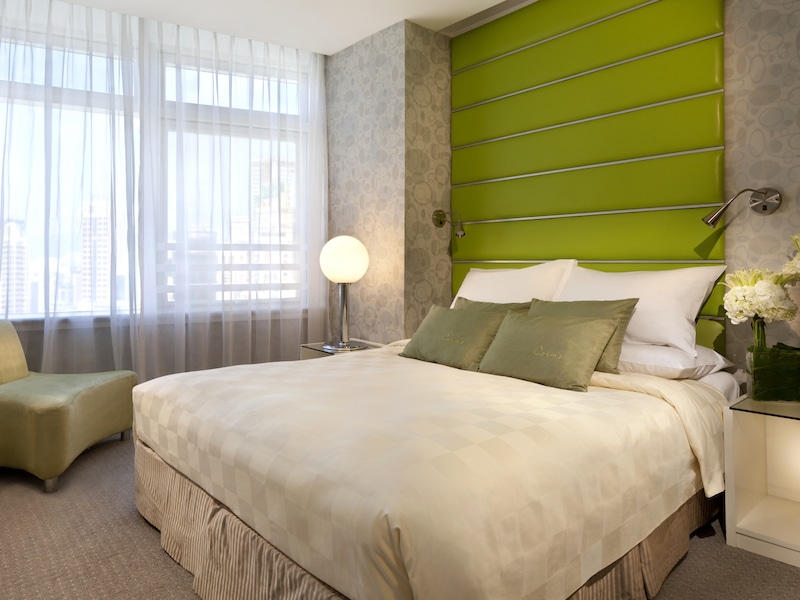 60 West Hotel (from HKD$625 per night) – A great little service-apartment styled hotel located between Sheung Wan and one of Hong Kong's up and coming districts, Sai Ying Pun. A favourite with business travellers.
Cosmo Hotel (from HKD$770 per night) – If you're on a shopping holiday in Hong Kong, the Cosmo Hotel is the place for you. Really conveniently located from Times Square (one of the major shopping malls) and the other malls in Causeway Bay. See our full review here.
iClub (from HKD$600 per night) – iClub has three different locations all over Hong Kong, Fortress Hill, Wan Chai and Sheung Wan. The latter is best if you're looking to explore some of the more vibrant cafes, nightlife and bars on Hong Kong Island. The rooms are small, but perfectly cosy.
Luxury Boutique Hotels – HK$1200 (US$145) or more per night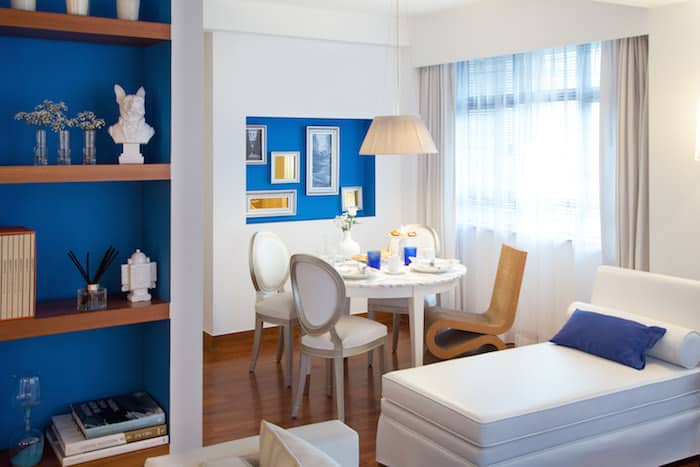 J Plus Hotel by Yoo (from HK$1300 per night) – Beautifully designed and fitted out with unique art pieces, the suites are spacious and very well equipped, with all the major facilities of home. The lobby is quite a wonderland to sit and admire. Causeway Bay MTR is minutes away by foot and so is the major shopping district. See our full review here.
Dorsett Wanchai (from HK$1100 per night) – Some of the rooms overlook the Happy Valley Race Course, which is one of the most unique views in Hong Kong. Spacious rooms in the centre of bustling Wanchai. See our full review here. 
Hotel LKF By Rhombus (from HK$1650 per night) – Located in the middle of Hong Kong's nightlife and minutes to Central MTR, this Lan Kwai Fong hotel sports large rooms with goose down pillows and tailored sheets. Pet-friendly.
Eat
Hong Kong is full of great eateries ranging from cheap and easy local food to Michelin-starred fine dining establishments.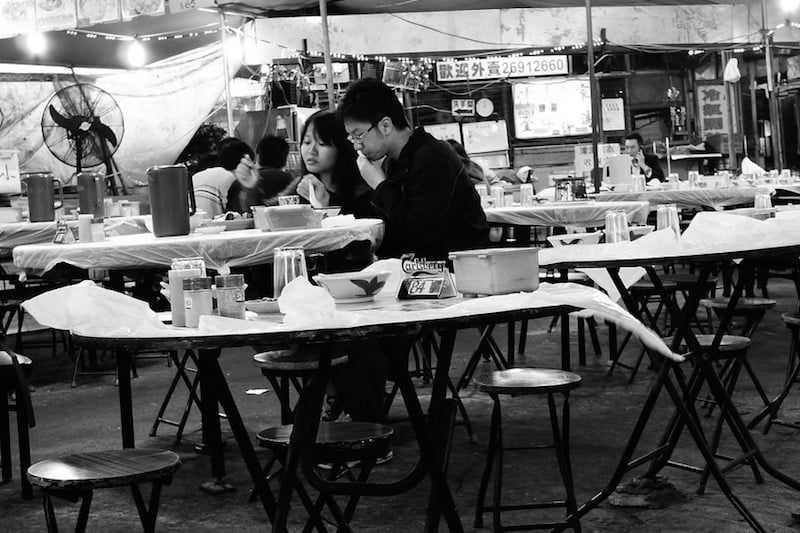 Street Food. Dai pai dongs are street food stalls in Hong Kong. The government has ceased to give out licenses to stalls since the 1950s, and those that remain are passed down from generation to generation. Sing Kee (82 Stanley Street, Central) is one of the more popular stalls in Hong Kong, serving homely stir-fried dishes. Try the sizzling clay pot chicken and the pork ribs with chilli and black bean. Go local and have a Blue Girl Beer with your meal. Expect to pay around HKD$75 per person.
Dim Sum. You can't come to Hong Kong and not eat dim sum. There are many little houses around but we recommend Dim Sum Square (27 Hillier Street, Sheung Wan). The selection is not vast but the quality is consistently high. Approachable and convenient for non-Cantonese speakers; expect to pay about HKD$60 to $100 per person.
Cha Chaan Teng. Cha Chaan Tengs is the beating heart of Hong Kong food culture. Literally meaning teahouses, they offer some unique Western-Canto cuisine. Make sure to venture to a local Cha Chaan Teng for breakfast and try the macaroni soup (a local breakfast favourite) breakfast set.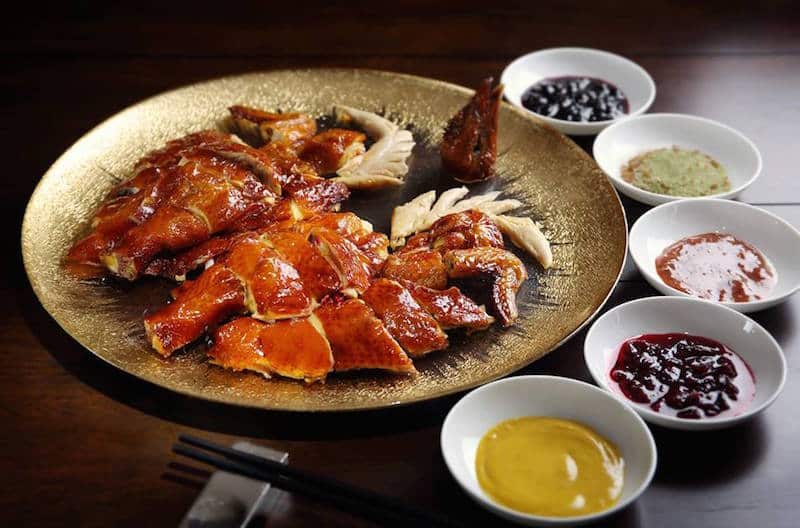 Fine Dining Cantonese Cuisine. Lai Bun Fu (5F, 18 On Lan Street, Central) is at the top of our list. Having cooked for world political leaders, Master Chef Chung Kin Leung's traditional Cantonese flavours are made it to suit the modern palate. Try Sifu's crispy chicken with five flavours; expect to pay HKD$300 to $400 per person. Named after New York's first Chinese convenience store, Mott 32's modern Cantonese, Sichuan, and Beijing offerings have also won the heart of Hong Kong. Expected damage: HK$600-900
Roasted Meats. The roast meats at Joy Hing Roasted Meat (Block C, 265-267 Hennessy Road, Wan Chai) are recommended in the Michelin Guide 2014 and the roasted meats do not disappoint. Try the roasted goose, a Hong Kong delicacy. Expect to pay HKD$150 to $200.
Western Cuisine. Limewood (Shop 103/104, The Pulse, 28 Beach Road, Repulse Bay) is a beach side diner that is perfect for a lazy weekend afternoon hangout or a hearty beach side dinner. Generous portions, impactful flavours – try the pork neck salad and the cocktails. Expect to pay around HK$300 to $400 per person. On Dining Kitchen & Lounge (29F, 18 On Lan Street, Central) is great for dinner, with an amazing cocktail programme (headed by Giancarlo Mancino) and an impressive selection of cheese. Splash out on the degustation (HK$1688 per person) – the best way to sample On's dishes.
Drink
With recent awards and recognitions highlighting Hong Kong as one of Asia's best cocktail and beverage cities. You can expect most of these bars to have cocktails between HKD$100 to $160.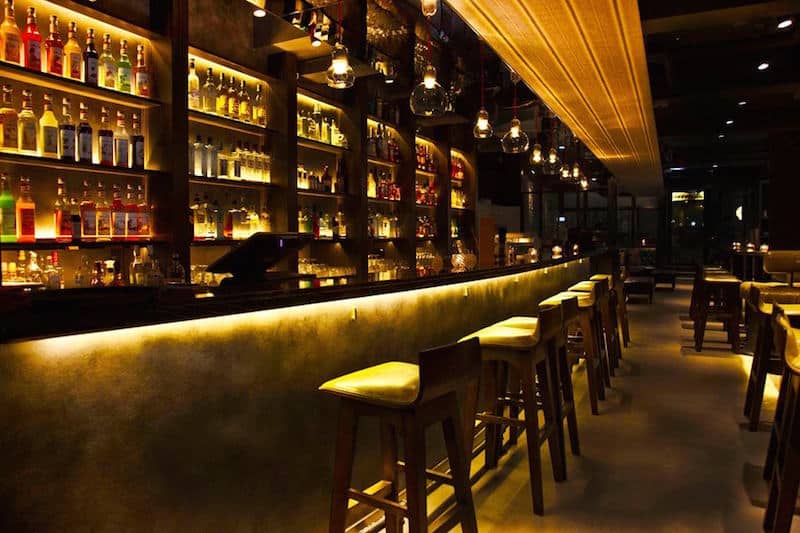 Quinary (56 Hollywood Road, Central) is a must. Their innovative cocktails make them one of the most interesting and fun bars to drink the night away. Antonio Lai's first cocktail bar still has got it.
001 (basement, Welley Building, 97 Wellington Street, Central) is the ultimate "speak-easy" in Hong Kong. The entrance, located in the wets markets of Wellington Street, is very discreet and can be easily missed. Look for a plain black door with a spot light on a doorbell. For inventive twists on classics. 
The Woods (basement, 17 Hollywood Road, Central) has one of the most unique cocktail concepts in town, including seasonal changes on the menu, exploration of techniques and a Prix Fix cocktail tasting menu for the adventurous.
The Pontiac (13 Old Bailey Street, Central) is a lot of fun! Cocktails start at HK$88, Don't expect much glitz and glamour but be open to having the time of your life. Make sure you are there for the daily midnight specials, at midnight (duh).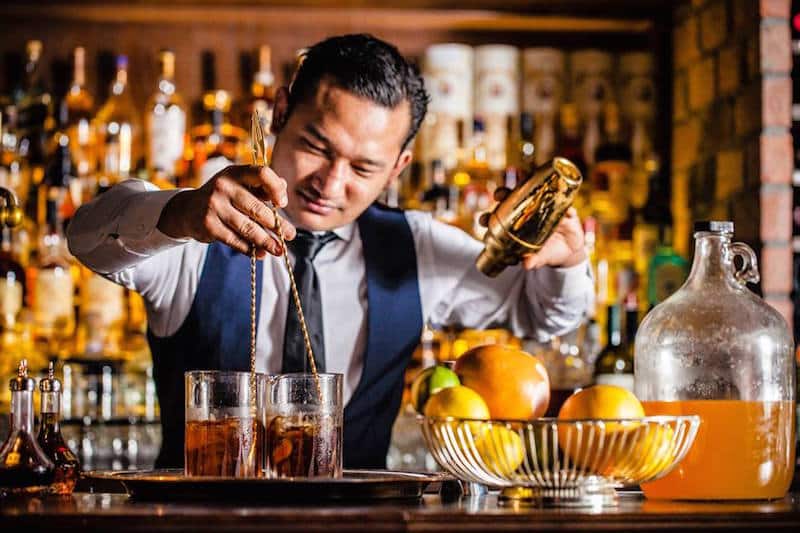 Stockton (32 Wyndham Street, Central) is a classy alternative for late night cocktails and revelry. Dark and sensual, lined with exposed bricks, leather chesterfields and soft yellow lights. Classics are off the hook.
Potato Head Hong Kong (100 Third Street, Sai Ying Pun) is located in the up and coming neighbourhood of Sai Ying Pun. Boasting five different concepts in one building including an Indonesia tribal inspired restaurant, Kaum, a music room, a retail store, I Love You So coffee and the bar. Expect Potato Head Beach Club cocktails and some local innovations too.
Mrs Pound (6 Pound Lane, Sheung Wan) is a speak-easy with Asian inspired cocktails, such as the Tom Yum infused Pound's Mary (HKD$110). The storefront is of an old Chinese stamp shop, look for the open window and push down on the stamp that you can grasp and then, the revelry begins.
The Bottle Shop Central (15 Bridges Street, Sheung Wan) is the place for lovers of beers and brews. Their list of craft beers is fun to explore and the team is always happy to help you find the right beer. Chilled out, relaxed and best enjoy after work or a lazy weekend afternoon.
Ham & Sherry (1-7 Ship Street, Wanchai) is a Jason Atherton restaurant; their back bar is accessible through a nondescript entrance from the side laneway. The bar (and restaurant) has a well-curated sherry selection and a whimsical cocktail selection by Ryan Nightingale.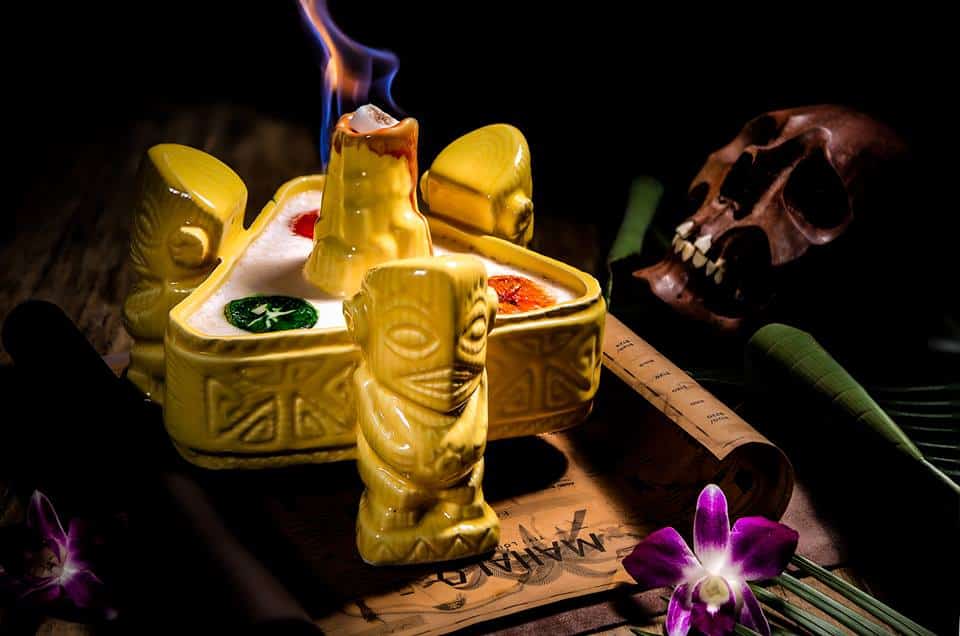 Mahalo (29F, QRE Plaza, 202 Queen's Road East, Wanchai) is for the lovers of rum and tiki. Fun tiki surprises and tropical flavoured goodies await. Explore their ron, rum, rhum collection too and find the pirate in you!
Nightlife
Boujis (37 Pottinger Street, Central), a brand from London town, takes partying to a classy level. Expect international DJs, delicious cocktails, and the best party atmosphere four nights a week.
Play (1F, On Hing Building, 1 On Hing Terrace, Lan Kwai Fong) comes a very close second for us. Play, as its name suggest, is fully equipped for grown up fun! Check out play and soak in some of Hong Kong's best nightlife.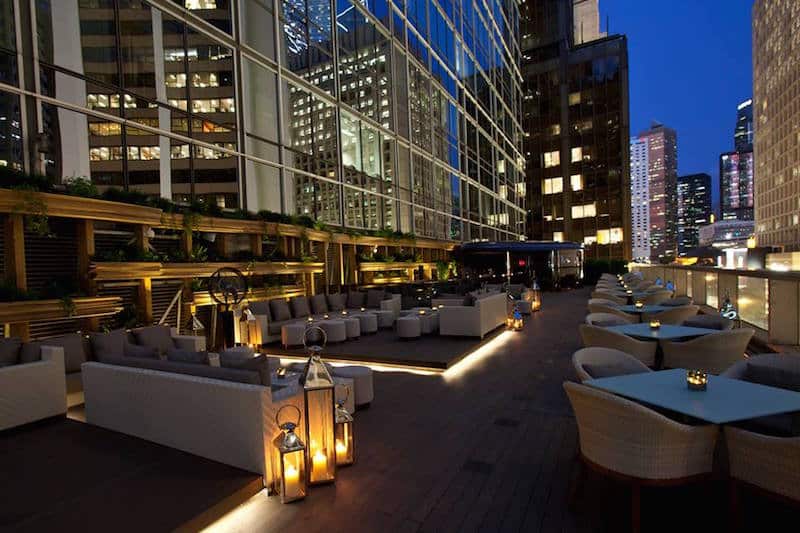 Armani Prive (2F, Landmark Chater, 8 Connaught Road, Central). For those looking for the same atmosphere with less people, Armani Prive is the perfect place for you. The roof terrace is also a great place to just hang out.
Attractions in Hong Kong
Victoria Peak. As touristy as it is, you haven't been to Hong Kong if you haven't been to Victoria Peak. Easily accessible, but be sure to go early and during the week for a more enjoyable time.
Ocean Park is Hong Kong's premier marine mammal park, oceanarium, and theme park. Great for small and big people alike, it's best to get your tickets (available at any 7-11 outlets) before heading to the park itself. Take Citybus 629 from Admiralty or Central.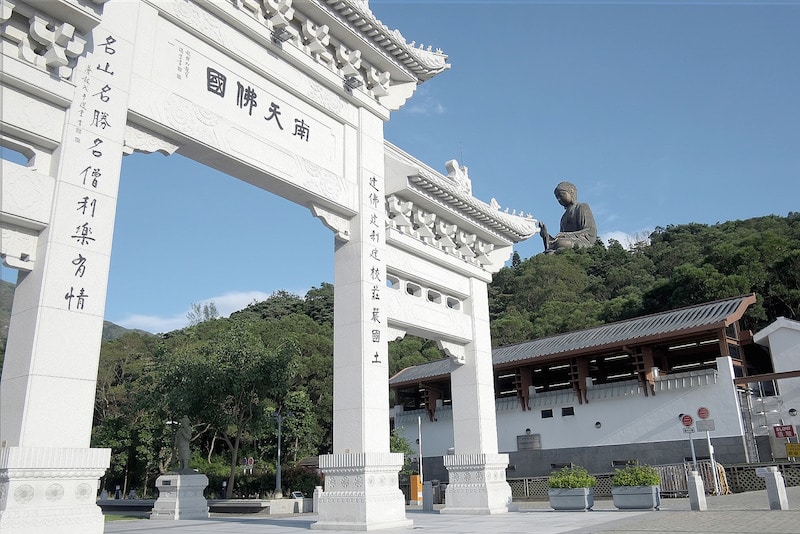 The Big Buddha and Po Lin Monastery. One of the most iconic sites in Hong Kong…and probably the most tranquil. From Tung Chung Station, take the gondola (HK$185, round trip) or the bus (HK$17.20 one way). If you have time, we recommend the bus for less crowds, more greenery and mountain views.
Shopping in Hong Kong
Most consumer goods in Hong Kong are tax-free, so you might be able to save some money when you shop here, versus your home city. Sale seasons are typically December to February (around Christmas and Chinese New Year) and July to September (summer sales). Credit cards are widely accepted in the malls while bargaining is not.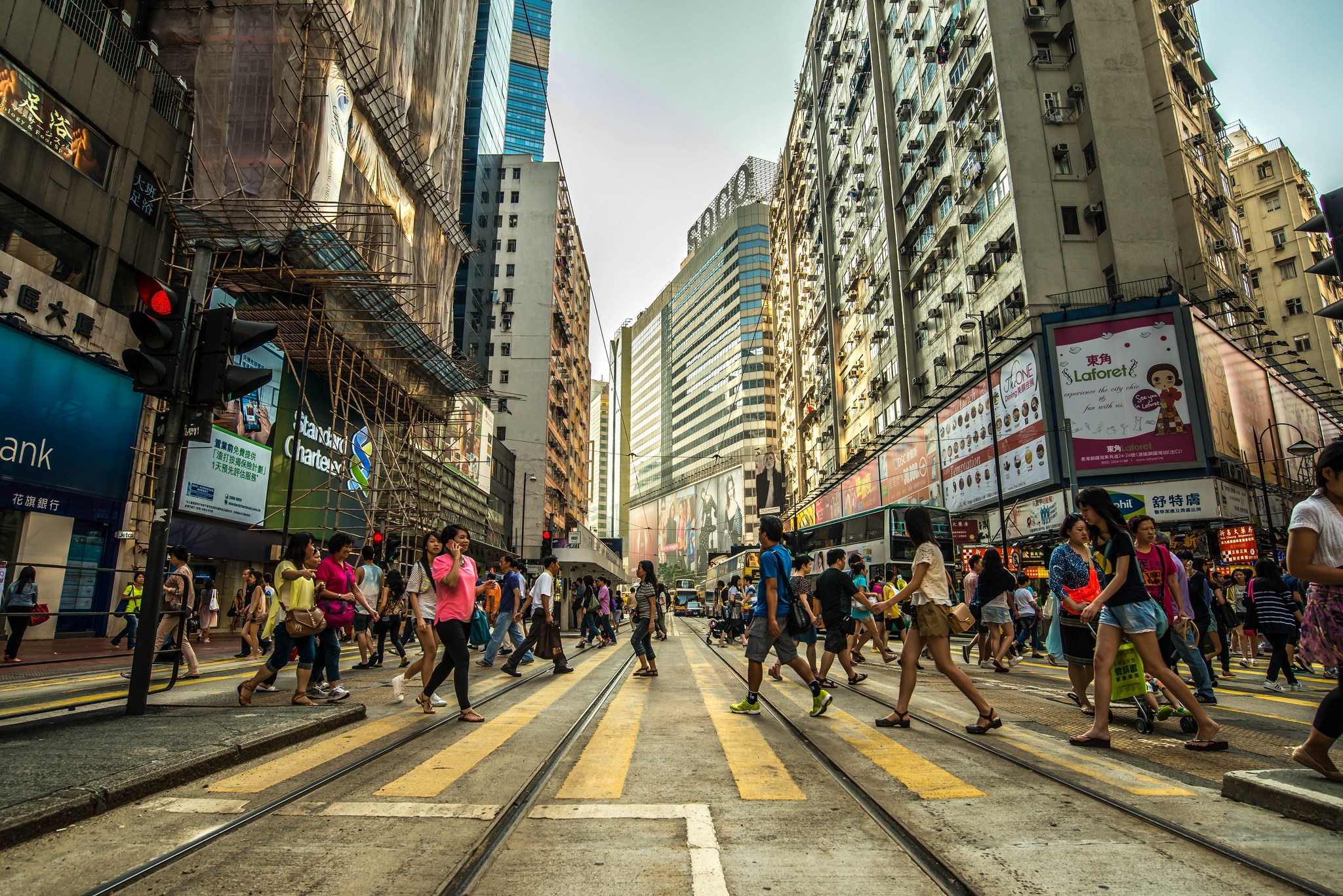 Causeway Bay is a microcosm of the Hong Kong shopping scene, with everything from bargain shops to departmental stores, and high-end luxury brands. Most retailers with international presence can be found in the area.
Street Markets. For domestic good and inexpensive clothing, Jardine's Crescent and Li Yuen Street East and West are your best bets. Tai Yuen Street has inexpensive toys, while Stanley Market is great for picking up kitschy knick-knacks and curios.
Electrical goods and technology. You'll probably find what you need at 188 Shopping Center (188 Wan Chai Road, Wan Chai) or Wan Chai Computer Center (130 Hennessy Road, Wan Chai).
Top Image: akwan.architect