Hotel Review: The Trans Luxury Hotel, A 6-Star Property in Bandung, Indonesia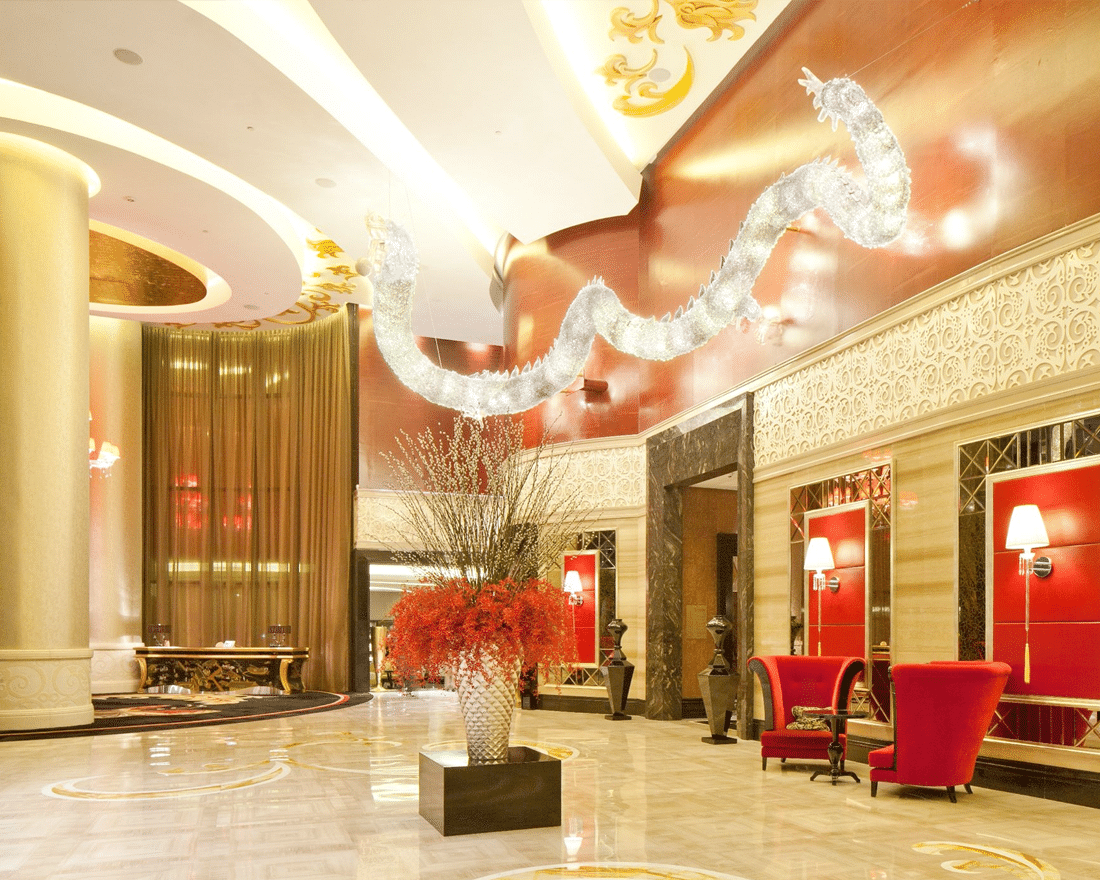 PUBLISHED May 5th, 2018 06:00 am | UPDATED March 26th, 2019 05:39 pm
The Trans Luxury Hotel in Bandung is quite near the pinnacle of luxurious comfort. It's opulent to the point of being gaudy at times, but located as it is next to the gargantuan Trans Mall and its indoor theme park (one of the largest in the world), it doesn't look out of place. Rather, its high glamour continues to draw in throngs of Indonesians from out of town, if only because it's the place to be seen at.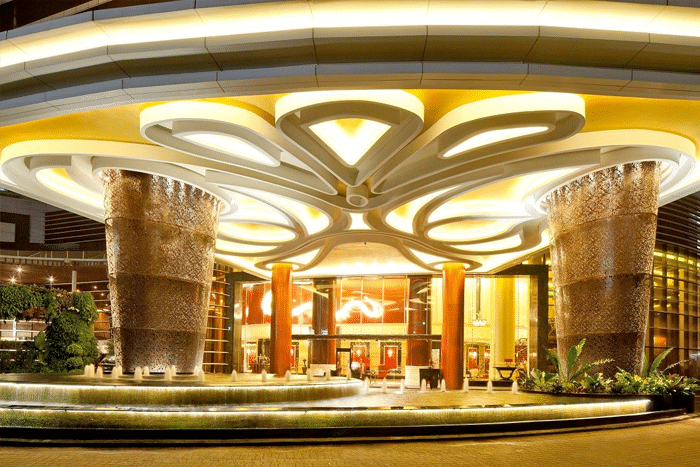 Dominating the center of the city, the 280-room establishment touts itself as the region's first six-star hotel, and it's difficult to miss its towering frame even from a distance. Taxi drivers all know this place, and you're never far from one of the city's many delicious street eats.
Space & style

From the get go, we're greeted with a soaring double height lobby laid out in Serpiente marble from Italy and a statement staircase that leads up to the grand ballroom. A crystal dragon made from Swarovski gems is sprawled halfway up the wall to set the tone – as if its stunning glitziness is not evident enough. The colours of the hotel are warm: gold, red, and cream adorn the building's sofas, carpets, and pillars, and there are oriental motifs and patterns as far as the eye can see.
Rooms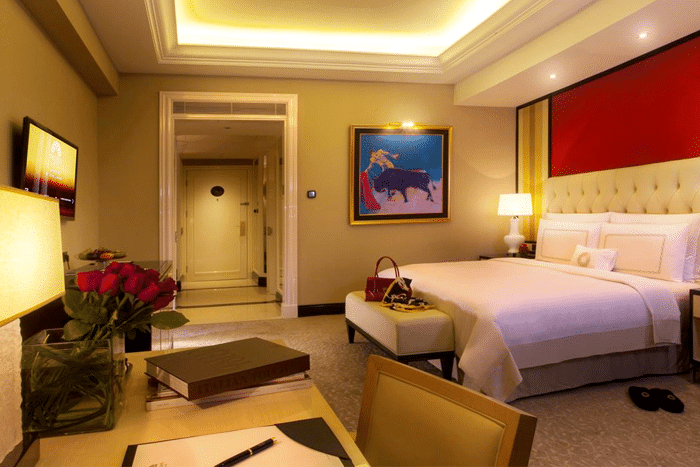 As we expected, the warm palette from the public spaces extend to the rooms – on the armchair, wallpaper, and plush headboards – together with the same Italian Serpiente and hand-tufted carpeting. Our basic Premier room at 40sqm is spacious and has all the facilities you'll ever need to be comfortable. The roomy bathroom has a reasonably-sized soaking tub, and an assortment of paintings line the wall. For those who love to have their fragrance always with them, the Acqua di Parma amenities are perfect. There are superb skyline views which you observe from floor-to-ceiling windows, and at night, you see the lights (or lack of it) from the quiet streets below – look out for the magnificent Masjid Agung mosque, designed after the Masjid Al Nabawi in Madinah, Saudi Arabia.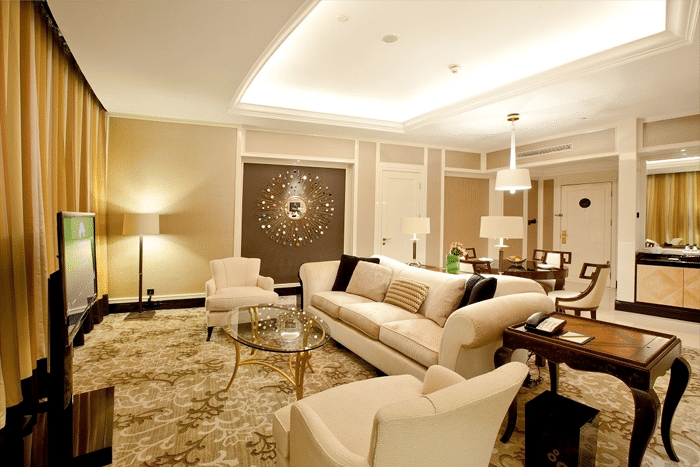 On the second night, we upgraded to the larger, and of course, more expensive Celebrity Suite (95sqm). Aside from a private reception for our check-in, we got access to the Club Lounge where guests can enjoy evening pre-dinner drinks and canapes and afternoon tea. Interestingly, there was a 24-hour personal butler service that we did not have to utilise, but it's a much appreciated gesture that lends an intimacy one might not otherwise expect in a hotel of this size.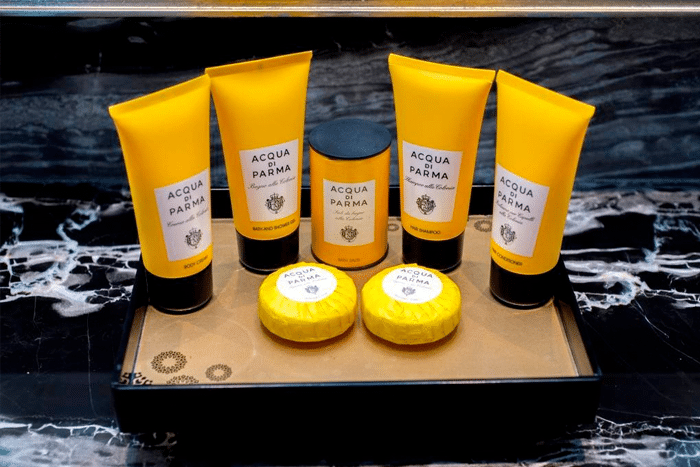 Facilities & service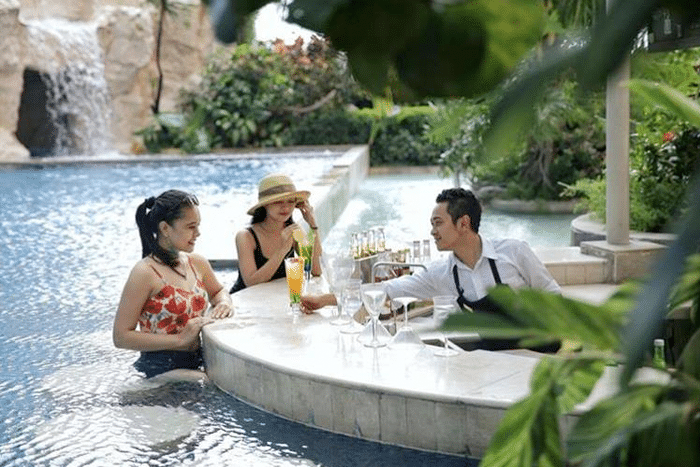 What stands out at the Trans Luxury is its outstanding spa, which heightens our already luxurious experience to something more extraordinary. Think divine Indonesian rituals with bits of exotic Balinese nuances, like facials and full body massages in nature-inspired rooms equipped with a juice bar and relaxation area. On the third floor, you'll find a sandy beach pool with sand imported from Australia, a long heated lap pool, as well as one for kids – with a water slide, no less. And yes, there's a jacuzzi.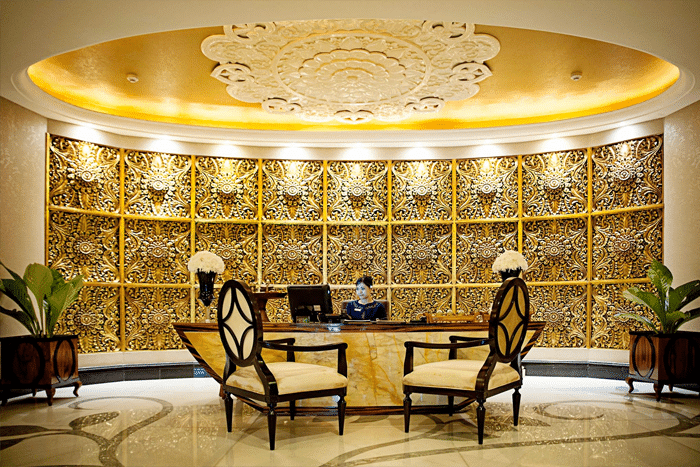 The hospitality is as spectacular as one might expect from such a property, and staff across the hotel are unfailingly friendly and generous, especially so in the Club Lounge. In the afternoon, I get a knock on my door from a well-dressed staff offering a plate of fruits. I decline because there was already another plate on my table, but you get the idea.
Food & drink
Aside from the hotel's international buffet restaurant – the breakfast spread is spectacular, and if I could dedicate an entire article to it, I would – on the third floor, there is the speciality 18th Restaurant, situated on the same level as the hotel's Club Lounge. Here, Chef Marco Medaglia (from Palazzo Versace in Dubai, Vincenti Los Angeles, and Fujiya Hotels Japan) dishes out impressive Western-style dishes using local recipes and ingredients. Our advice? Get the steaks. My US Prime Tomahawk comes as the night's special, is well-seasoned and brilliantly seared to a tender medium rare – best paired with a glass of good red. Speaking of wine, The Cellar at The Lounge offers more than 3000 wines from around the world.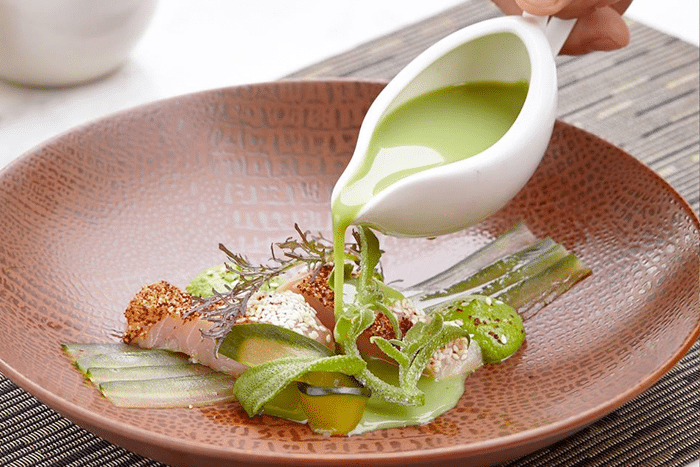 If you prefer to eat out, you can be out of your room and at the Trans Studio Mall in just a few minutes, where a plethora of affordable options, from international fast food imports (we're looking at you, A&W) to local street-style eats for which Indonesia is deservedly famous, can be found at its food court.
The Trans Luxury Hotel is located at Jl. Jendral Gatot Subroto No. 289 Bandung, Jawa Barat 40273. Rates start from 2,750,000RP (USD$198) per night. For reservations, please call +62 22 8734 8888 or email to [email protected].